This post was most recently updated
Saute Mushroom Sauerkraut was inspired by sauerkraut and mushroom pierogi filling. This savory sauerkraut side dish recipe is perfect to pair with pork. It has Roasted Garlic Kraut from Cleveland Kraut.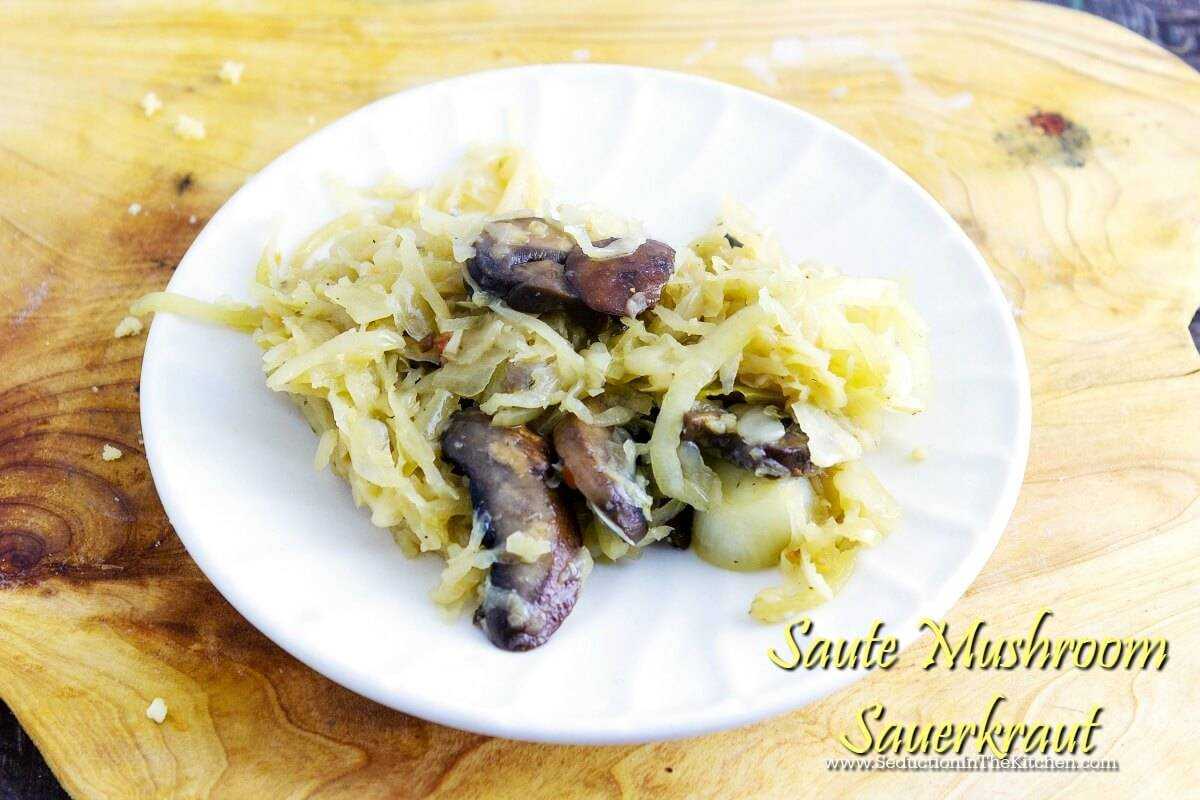 Little Pleasures
D
o you have things that give you little pleasure in life? Like for me, I get the simplest of pleasures from getting something new to play with. For example, I had an idea of using a device in my day job of Phlebotomy.
This device helps the patient not feel the needle in the arm during a blood draw. I pitched the idea for the device to my bosses. The one request we get in the lab is from parents for kids is: "Do you have numbing cream?"
No, we don't. One it a prescription and two it takes 30 minutes for to work. This device I found works in 30 seconds, it isn't a prescription or is it a medication of any sorts at all.
My bosses loved the idea. They ordered the device for me to pilot in my lab. If it goes the way I feel it will go, they decided they will introduce it at all the labs in the system to have!
This is huge! My device showed up on Thursday and I was like a little kid in a candy store. I get to play with a new gizmo!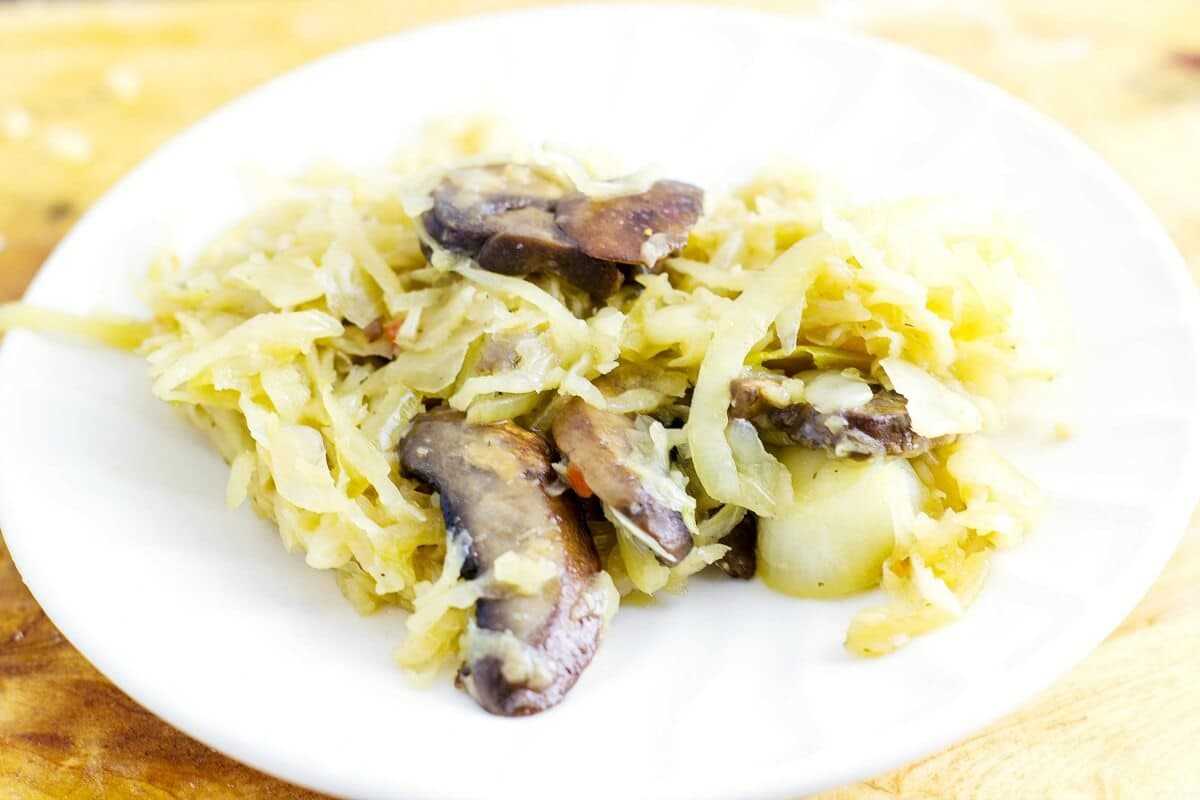 The New Lens
The new gizmo for work isn't the only thing new I get to play with. As I said in my last post of Springtime Lemon Peep Brownies, I got a new lens. This Saute Mushroom Sauerkraut photos I got to use that lens with.
So if you look at the first photo of the Saute Mushroom Sauerkraut, the one with the wording. That is the old lens that I have been using. Now if you look at this sauteed sauerkraut photo that is right above the title "The New Lens",  I took that photo with the new lens.
I'm loving the definition it gives. I understand why food bloggers said to get a 50MM f1.8 lens. So shameless promotion with an affiliate link here.
I found this lens on Amazon, it didn't break me moneywise. So for anyone that does food photos, and is always on a budget like I am. This is worth getting.
Saute Mushroom Sauerkraut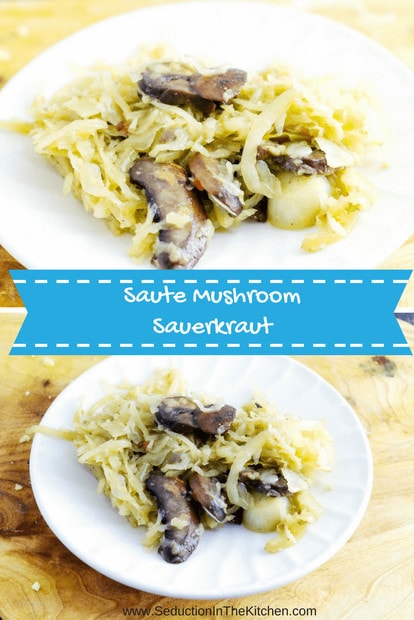 So how did this sauerkraut side dish recipe come about? I like sauerkraut. This isn't the first sauerkraut recipe on Seduction in the Kitchen though.
If you recall I also have Hawaiian Vodka Sauerkraut with Pau Maui Vodka. Plus, I have also featured some sauerkraut in Pierogie Soup. I like sauerkraut recipes.
Speaking of pierogies, I love pierogies as you know. My polish friend at work, well the old work I should say makes from scratch homemade pierogies. My favorite that she makes is a sauerkraut mushroom version.
I asked her one time what was the recipe for this wonderful sauerkraut and mushroom pierogi filling. She gave me the sauerkraut and mushroom pierogi filling recipe. Well, she kind of did I should say.
How To Cook Sauerkraut
She never measures when it comes to her homemade pierogies. She just knows what to do. She told me what she puts into the Mushroom Sauerkraut filling.
The key to her sauerkraut mushroom filing was the seasoning. I asked her what do you season sauerkraut with? She said Vegeta. This seasoning just makes food pop with flavor.
I was lazy after I made the mushroom sauerkraut filling. I did not want to make the dough for the pierogies and then stuff and fil them. So I just ate the sauteed sauerkraut filling as a side dish, and really liked it.
Since then, I have used Cleveland Kraut for this sauerkraut side dish recipe. I was first introduced to them 2 years ago at the Fabulous Food Show here in Cleveland. They have a Roasted Garlic Kraut that I love using.
This sauerkraut mushroom side dish recipe I have made for many meals. I love it with pork and kielbasa recipes. It was quite good with my Kielbasa Bacon Bombs. Trust me you will love this sauteed sauerkraut.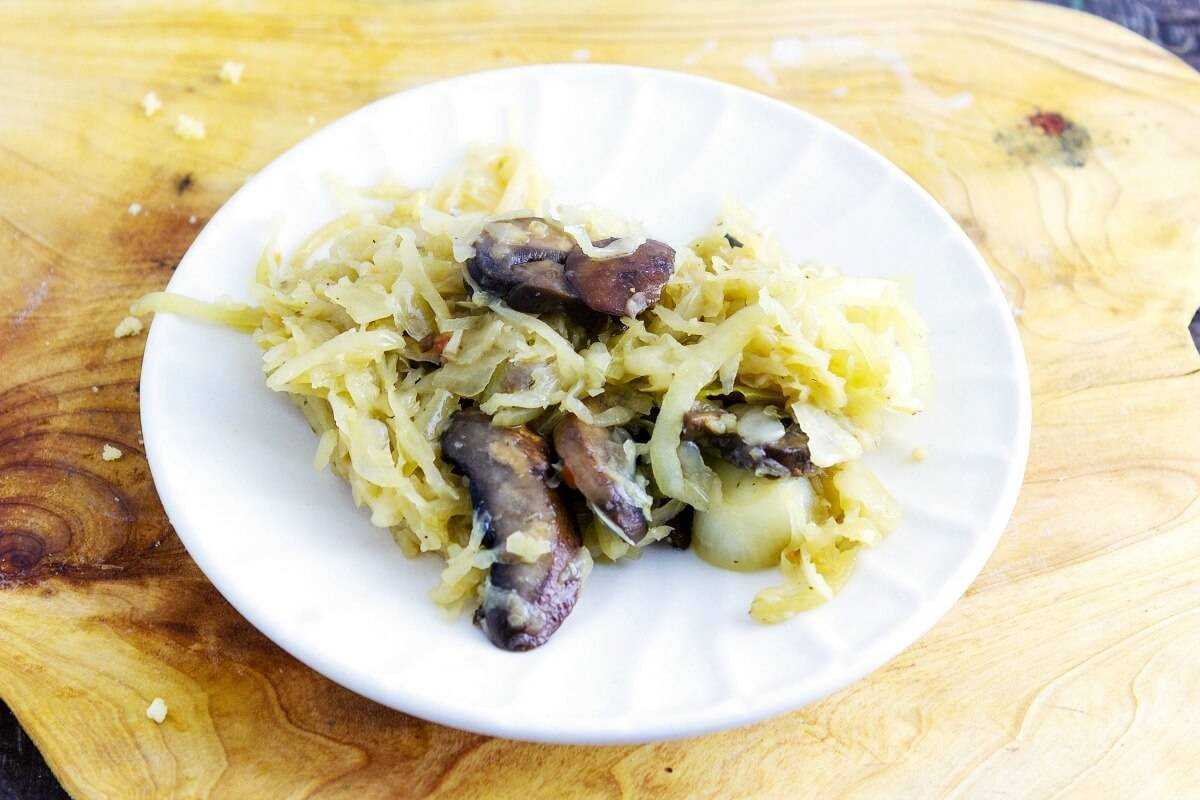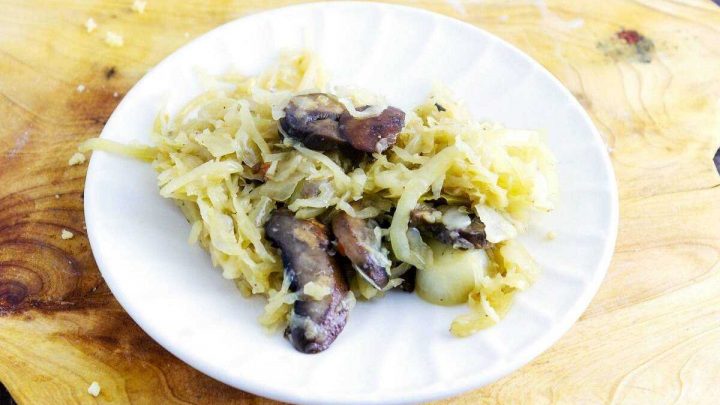 Yield:

6 servings
Saute Mushroom Sauerkraut
Saute Mushroom Sauerkraut was inspired by Pierogi filling. This savory side dish is perfect to pair with a pork entree.
Ingredients
1 jar Cleveland Kraut Roasted Garlic Sauerkraut (,drained 16oz)
4 oz wild mushrooms (sliced and chopped)
1 large onion (chopped)
2 teaspoons Vegeta Seasoning
1 teaspoon sugar
1/2 teaspoon black pepper
4 tablespoons butter
Instructions
In a saute pan, melt the butter.
Next, add the onion and mushrooms and cook till the onion starts to turn clear.
Then add the sauerkraut to the mushroom mixture.
Season with the Vegeta, sugar, and pepper.
Stir everything together and let it saute in the pan for 2-3 minutes. Be careful not to burn anything.
Take it off the heat and serve it up and ENJOY!
Nutrition Information:
Amount Per Serving:
Calories:

0
Check out my the latest on my other blog: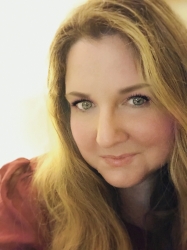 Latest posts by Deanna Samaan
(see all)