Pierogie Soup is comfort food in a bowl. Pierogies combined with the garlic kraut from Cleveland Kraut make a satisfying soup!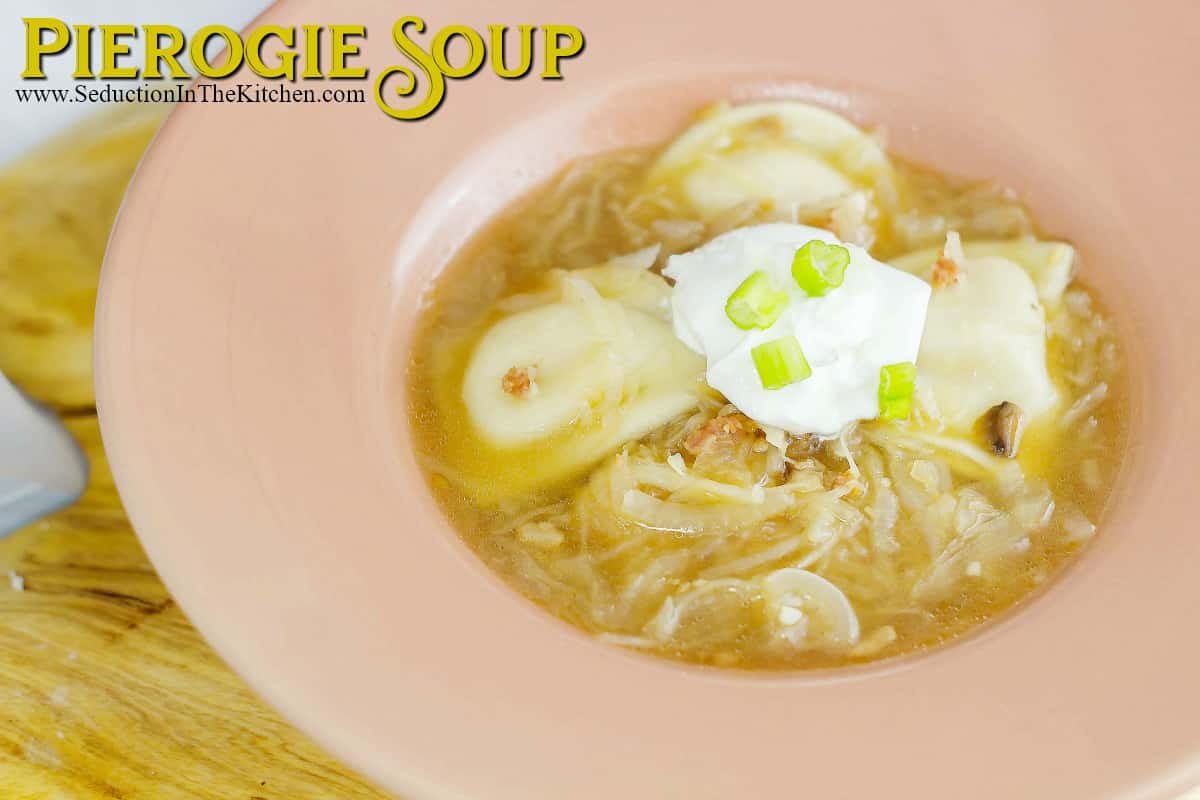 Thinking Outside Of The Box
I worked with a friend recently. I have not worked with her in a long time since she became full-time at another health center. She was asked to cover a health center with me since we were both former floats.
This health center usually has 2 workers, but both workers called off. The bosses knew we could cover this health center without an issue, so we got the rare chance to work together again. It was great to see her again.
Anyway, she pulls out of her purse this huge tube and starts applying it to her lips. She says, "this thing is so amazing on my lips and is so great for this harsh weather we have been having." I asked her what it was, she looks at me then blurts out: "I got it at a toy party." She then explains she looked for the cheapest thing in this catalog, which is what most of us do when we are forced to go to a catalog party.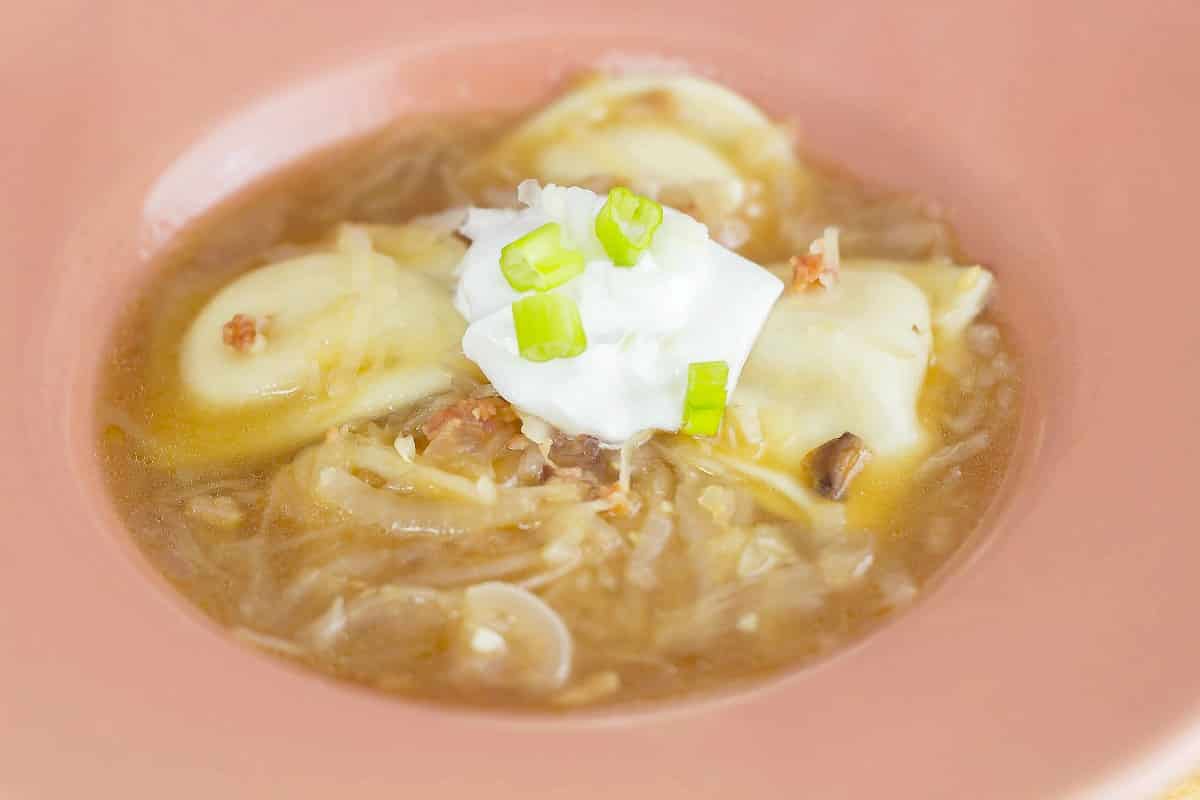 She then explains she looked for the cheapest thing in this catalog. Which is what most of us do when we are forced to go to a catalog party. Usually, you go to these parties because it is a friend who is hosting. Then feel like you have to buy something, so you look for the cheapest thing. I am sure you know what I mean.
Anyway, she then shows me the tube. The name of this product, it isn't for cold weather. It is to, well, let's just say give a tingle to something else. Now, why did I bring this up your asking?
It because both she and I like to use products in ways that are not the typical way. I do it all the time with food. I have done some wild recipes that you not expected. One of my most popular is the Bacon Wrapped Stuffed Fried Pickles. It is something you don't expect.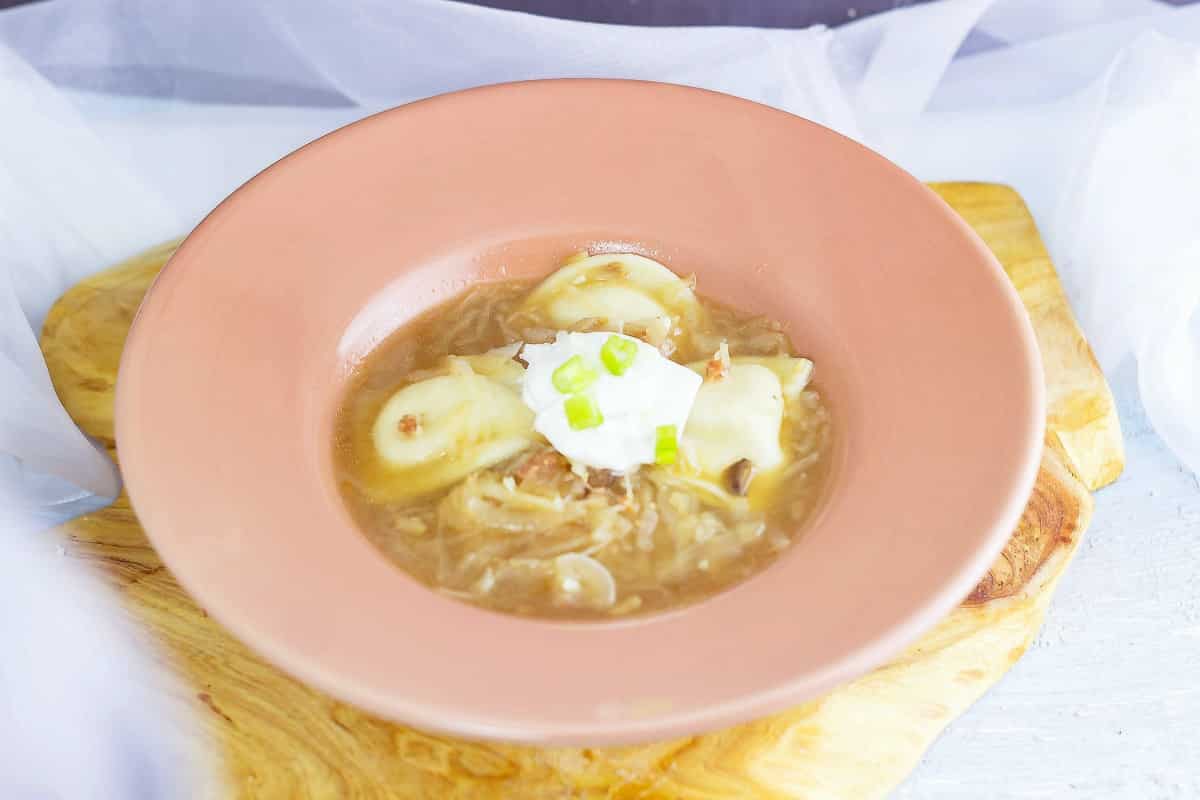 However, when comes to experimenting. my choice is pierogies. They are the one food item I love experimenting with the most. You can see that is evident in my recipe grid.
Pierogie Soup
Speaking of pierogies, pierogie soup has been in the back of my mind for a while I admit. When I went to the Fabulous food show, I did get lots of products to play around with there. I also met the guys that have Cleveland Kraut.
Now I have seen them at one the farmer's market I like to go to prior to this show. So I was a little familiar with the kraut. Had a quick conversation with them, gave them my card and I got a call. They sent me some of their products and this is the first of the recipes I come up with using their amazing kraut.

What makes Cleveland Kraut different? One it is fresh and also fermented naturally. Plus the flavors on this kraut are simply out of this world! One bite and you will be addicted to the kraut, it is that good, you won't want to buy that canned kraut in the store after trying one of these krauts from Cleveland Kraut.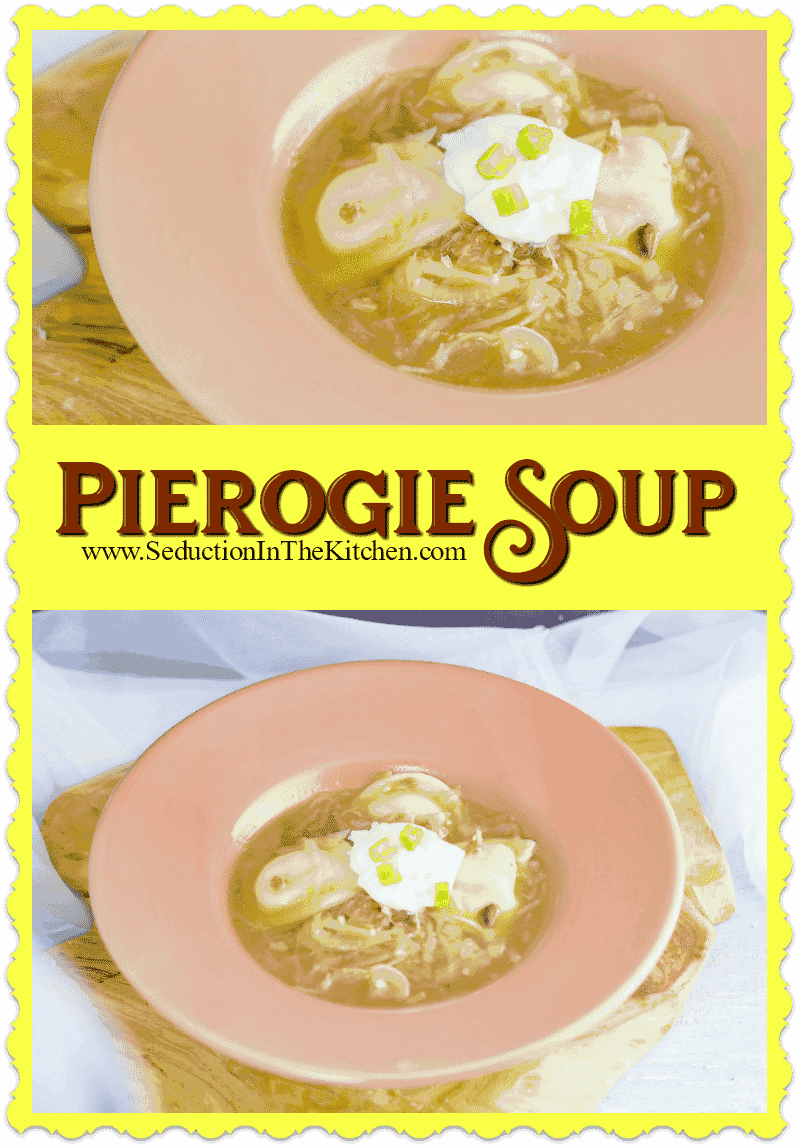 This is winter and winter is the perfect time for soup. Why use the pierogies? Well, it would make a great noodle in my opinion, almost like a wonton. For a good soup, you need flavor. That is where sautéed onions, bacon, and of course the kraut come into that flavor. Top off with a little sour cream, and you have pierogie soup!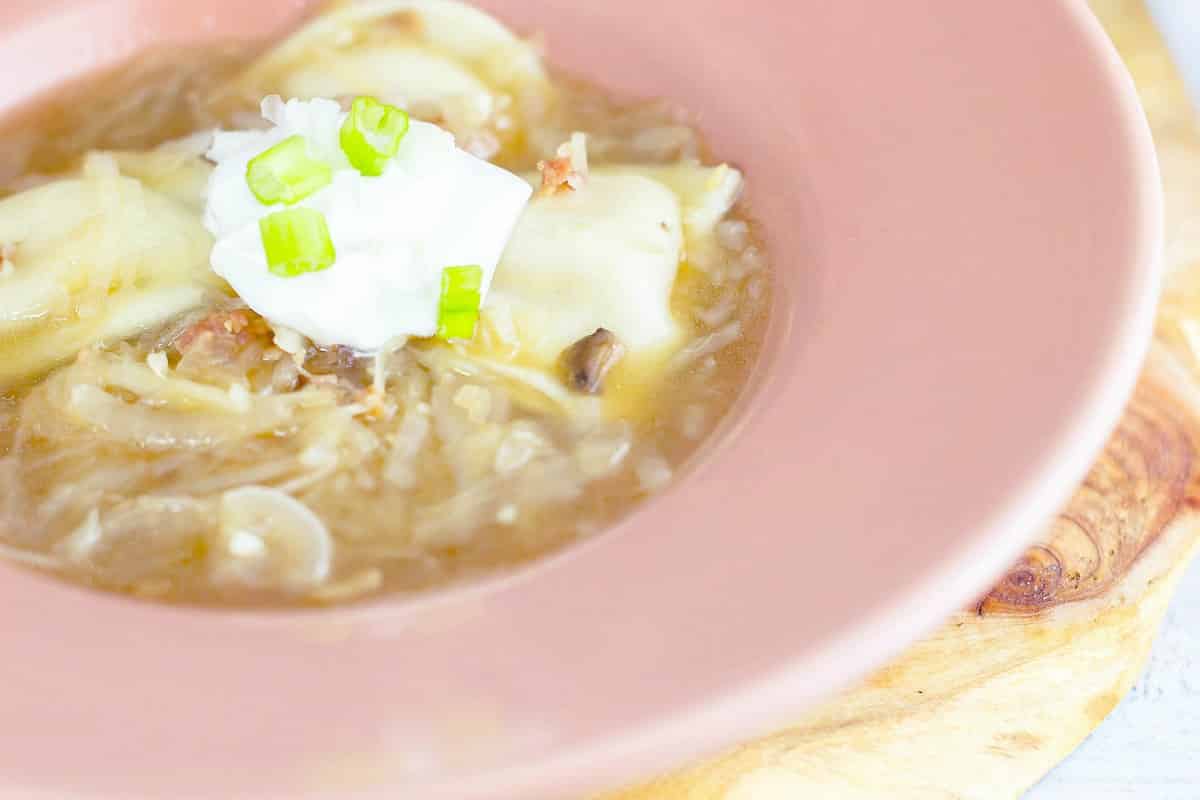 Updated
This post was originally posted on 1/30/16. This pierogie soup is one my favorite recipes to make. I admit when I am sick I make it because so easy to make.
I realized the old photos: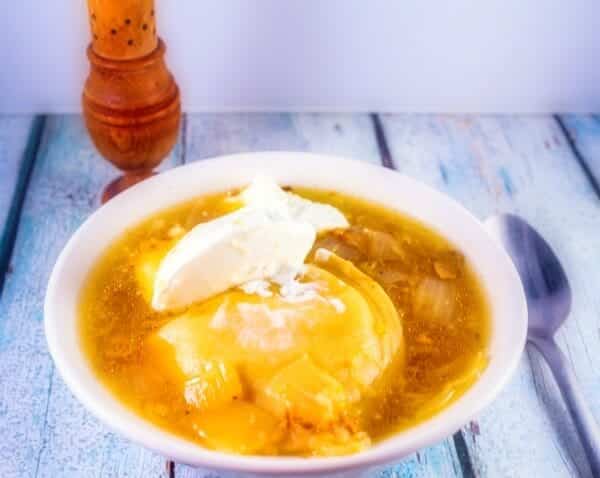 Did not do this soup justice. I was never happy with that photo. Now that I have learned to take better photos and a recent sinus infection, where I made pierogie soup helped me decide I need to do a mini makeover with better photos for this recipe post. You got to admit the newer photos do look more appetizing than this old photo!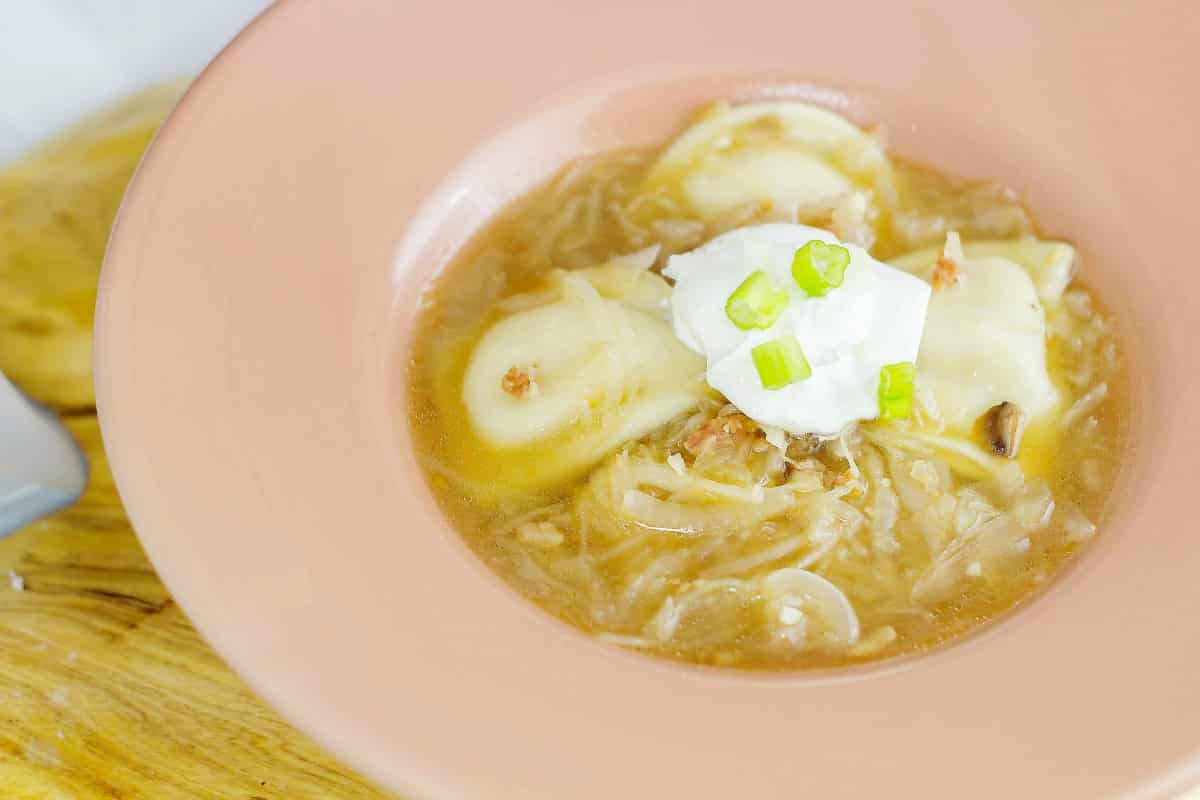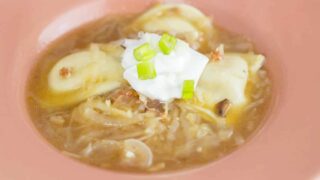 Yield:

6 servings
Pierogie Soup
Pierogie Soup is comfort food in a bowl. The wonderful flavor of this soup combined with the garlic kraut from Cleveland Kraut make this one satisfying soup! A recipe from Seduction in the Kitchen
Ingredients
1 ounce box frozen pierogies (potato and cheese filling, thawed partially, 15)
3 tablespoons butter
1 cup ⁄2 chopped onion
1 jar of Roasted Garlic Kraut from Cleveland Kraut (drained)
4 1 cups ⁄2 chicken broth
1 envelope of onion mushroom Lipton soup mix
3 strips of bacon (crumbled)
sour cream
Instructions
In a saute pan melt the butter and saute the onions until they are tender.
Once the onions are tender, add the kraut and saute everything for about two minutes and then take the pan off the heat and set aside.
Next, in a soup pot add the broth and add the Lipton mushroom onion soup mix. Stir that it is all mixes together.
Add in the onion kraut mixture and bring to a boil.
Add the pierogies, and turn the heat down so that simmers for about 20 minutes.
Mix in the bacon, and turn the heat off.
Ladle some the soup into a bowl, garnish with a dollop of sour cream and ENJOY!
Nutrition Information:
Amount Per Serving:
Calories:

610
This post was most recently updated
I want to hear what you have to say about this recipe that is on
SEDUCTION IN THE KITCHEN!
Let's get this conversation started! What do you think of this recipe?