This post was most recently updated
Chocolate Chip Fluffernutter Nice Cream is a dairy free, healthy alternative to ice cream. It uses frozen mashed bananas, marshmallow, and peanut butter in this frozen dessert. Nice Cream is super easy to make and will quickly become a new summertime treat.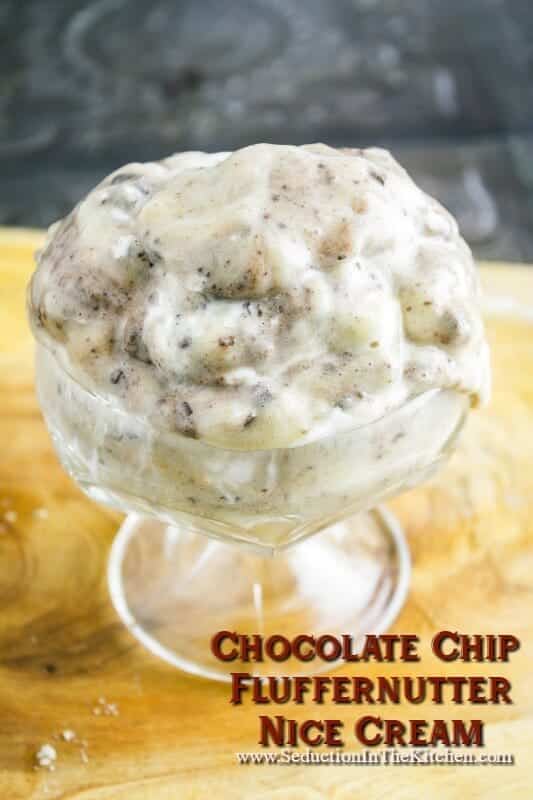 Healthy Life
I woke up the other day and saw myself in the mirror. I did not like what I saw. Recently I had put on some weight again, and really upset me.
I have already talked to my doctor, I know I have some medical stuff that is contributing to my weight gain, namely my PCOS. I don't think the metformin is working for anymore. Plus I feel like maybe my thyroid is going a little funky.
After seeing myself in the mirror, I realized I need to do something. My doctor even said to me, part my problem is I am a stress eater. Everyone knows I had tons of stress at the old work location. It was a very toxic work environment. I being told by one's still there, it actually has got much worse, that people are leaving because it is so toxic there.
Now I have much less stress with this new lab. I actually have more time too. No more working short. I only work Monday through Friday. I can not tell you the last time I work just the week and had my weekends off. It has been years since I did that. I actually can take time for me.
Anyway, my doctor after talking about adapting to this newer stress-free life from work, she said, "Dee, your environment changed, but your bad habits didn't." She is so right. I actually need to reprogram my body. So after I get back from vacation, which June 1. I am starting a special diet to help rebalance my body.
It is a strict diet, however, it should be easy for me to do. Why? Because of my new work location. You see. I don't get normal lunches here, so smaller something quick is actually ideal, so smoothies and the protein shake I have to incorporate will be easier to do here. She, my doctor has me doing a semi-liquid protein diet.
I need to rebalance myself. I am a Libra after all and we love balance. The stress has been taken care of, now it is time to take care of Dee.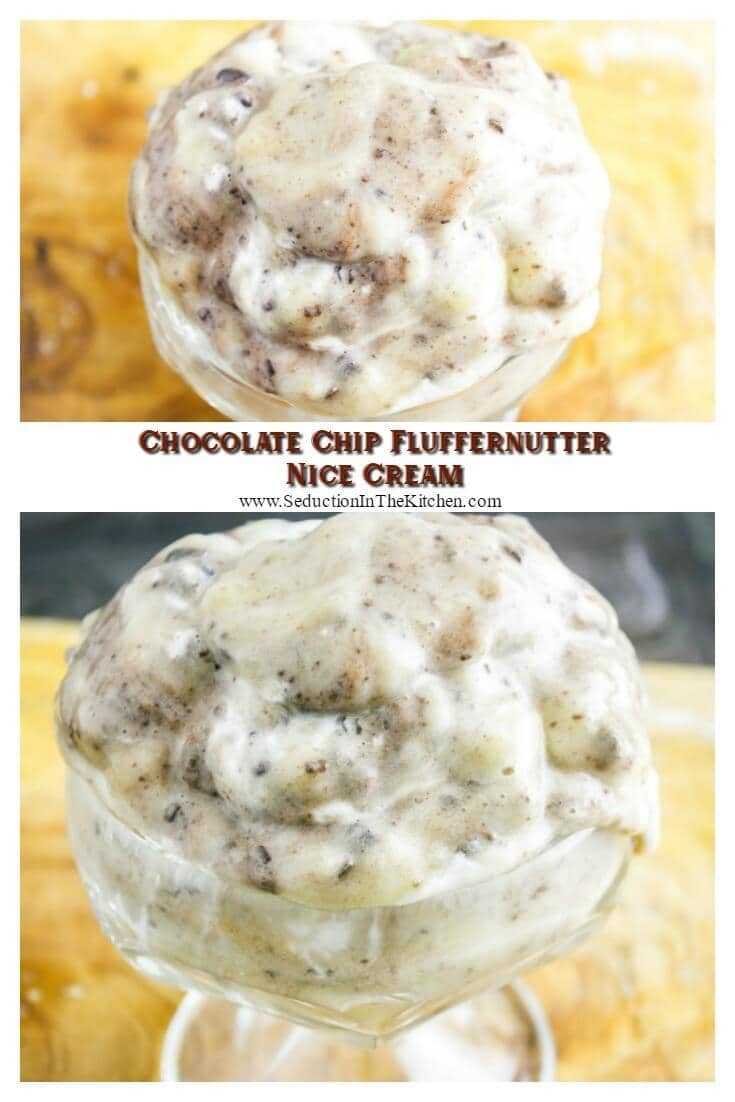 Chocolate Chip Fluffernutter Nice Cream
So nice cream, what is it? With honesty, I didn't know myself until about a month ago what nice cream was. I was cruising Facebook when I saw another food blogger post a photo of her "Nice Cream." I thought I had misread the post, nice cream?
What is Nice Cream?
So I did the Google thing and looked it up. Turned out Nice Cream is a dairy free alternative way to have ice cream. It is actually made with frozen bananas instead of milk and creams.
Interesting, wonder what would taste like? Truthfully, I didn't think much more about it till last weekend. I went home to Pittsburgh and I went to church rummage sales with my mom and one sister.
Dessert Bullet For Nice Cream
What does a church rummage sale have to do with Nice Cream? I am getting to that. You see, I spotted, brand new in the box a Dessert Bullet for $5. You know I love getting bargains, and I get good bargains at these Church rummage sales.
Of course, I snatch up this dessert machine. I realized reading it, it makes nice cream. Plus, I was deciding I want to really cut down on my whites, meaning sugars, white flour, and dairy. This $5 purchase was perfect.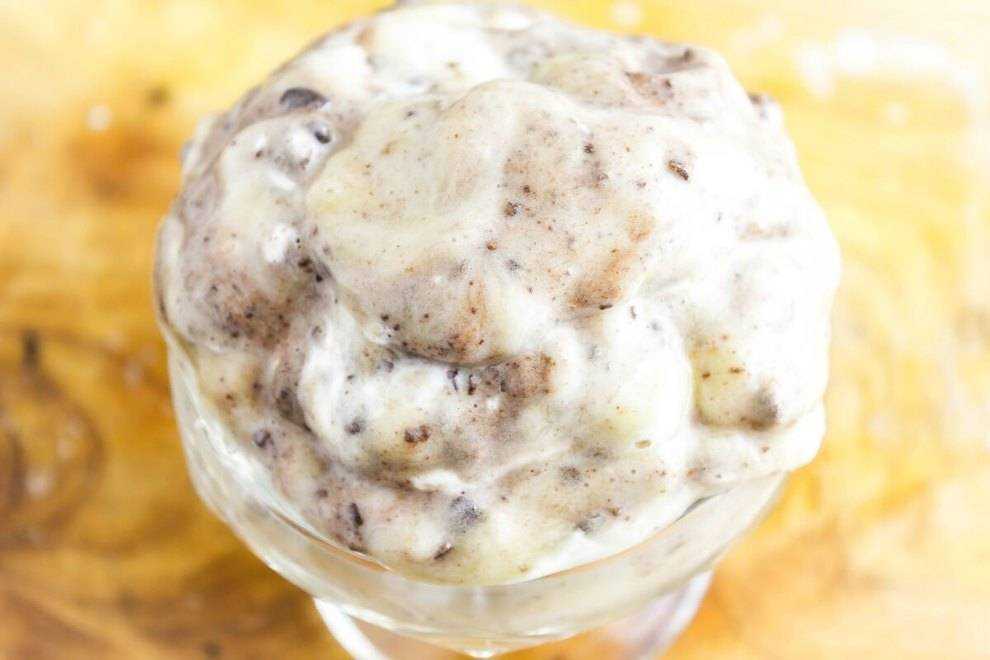 Frozen Banana Dessert
I had got some bananas at Costco, sliced up 2, put them in the freezer. What can I do to make a truly good decadent Nice Cream? I looked in my pantry and saw the marshmallow fluff. Sitting next to it was a peanut butter powder, I had yet to use.
Fluffernutter came to mind. I wanted to balance it out a bit, that was when the idea of chocolate chips came to my mind. I waited anxiously for those bananas to be frozen. I was like a little kid, I wanted to play with my new toy.
Finally, it was time, I put the ingredients into the dessert bullet and bingo! I had nice cream! Not just Nice Cream but, Chocolate Chip Fluffernutter Nice Cream.
It was great, what surprised me is it melts just like ice cream, even though it was made from bananas. Plus it is actually low in sugar believe it or not. Which is good, I do want to put healthier recipes up on Seduction like I mentioned in Honey Roasted Strawberry Cheesecake Smoothie.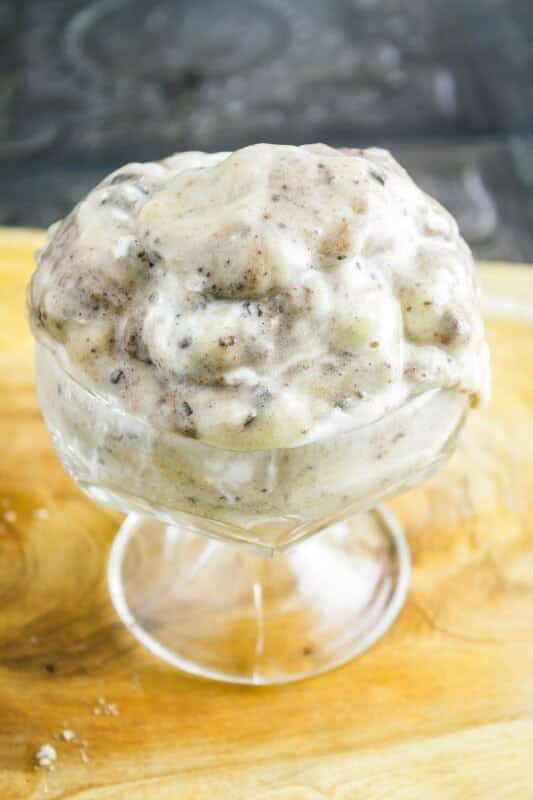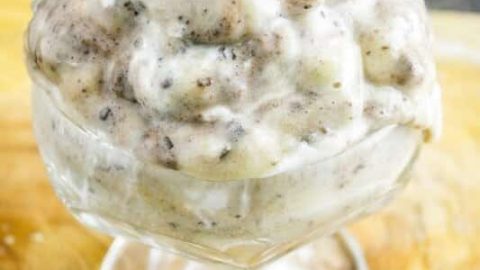 Yield:

2 Servings
Chocolate Chip Fluffernutter Nice Cream
Total Time:
1 hour
5 minutes
Chocolate Chip Fluffernutter Nice Cream is a dairy free, healthy alternative to ice cream. It is super easy to make and will quickly become a new summertime treat.
Ingredients
2 bananas (peeled, sliced and frozen)
1/2 teaspoon vanilla
1 tablespoon peanut butter
1 tablespoon marshmallow fluff
2 tablespoons chocolate chips
Instructions
In the dessert bullet or a blender. Add the frozen bananas, peanut butter, vanilla, and marshmallow fluff.
Blend it till all nice and smooth.
If you use the dessert bullet, run the mixture through it a second time, only add the chocolate chips to it as you run the mixture through.
If you're using a blender, put the chocolate chips in it and just pulse it a few times to chop and mix them into it.
Serve it up and ENJOY!
Nutrition Information:
Amount Per Serving:
Calories:

125
Like this Recipe? Pin it!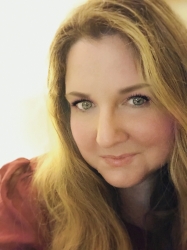 Latest posts by Deanna Samaan
(see all)