I am a participant in the Amazon Services LLC Associate Program, an affiliate advertising program designed to provide a means for me to earn fees to Amazon.com and affiliate sites.
[intro]Spicy Italian Stuffed Eye Of Round is a wonderful eye of round roast recipe. This Italian beef recipe stuffed with spicy pepperoni and mozzarella cheese. This stuffed steak is baked to perfection for a nice romantic dinner.[/intro]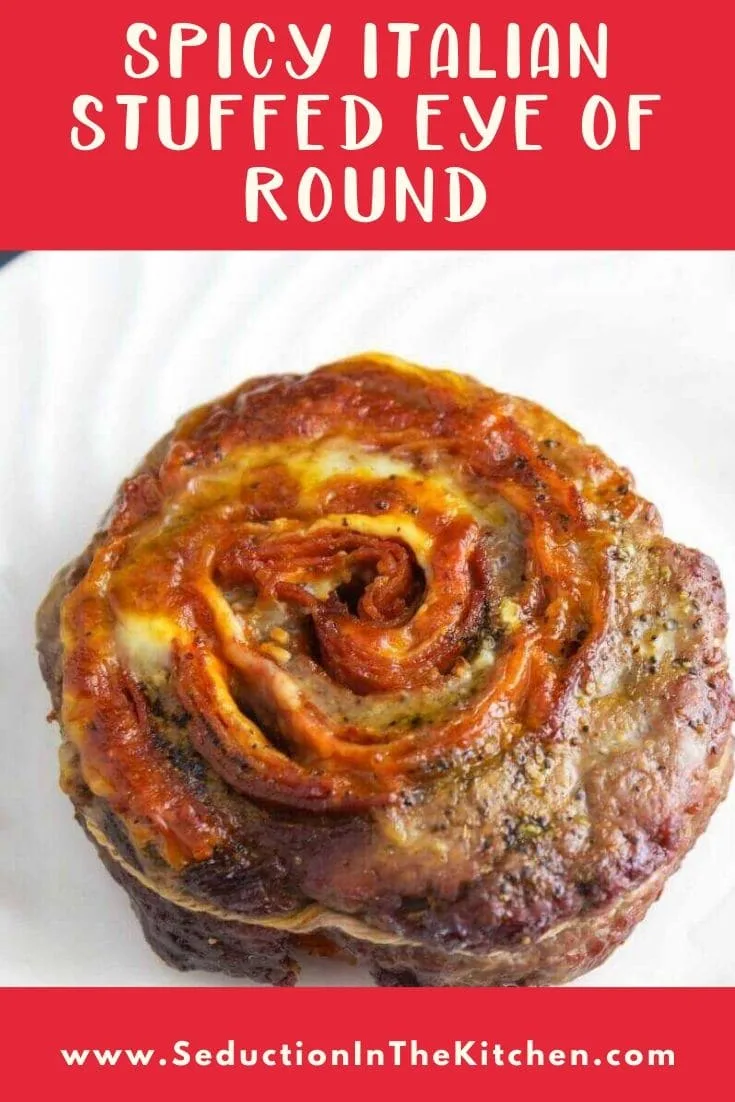 Eye Of Round Roast
What eye of round roast recipe can I make? Growing up my mom makes a roast every Sunday, 70% of the time it would be an eye of round roast.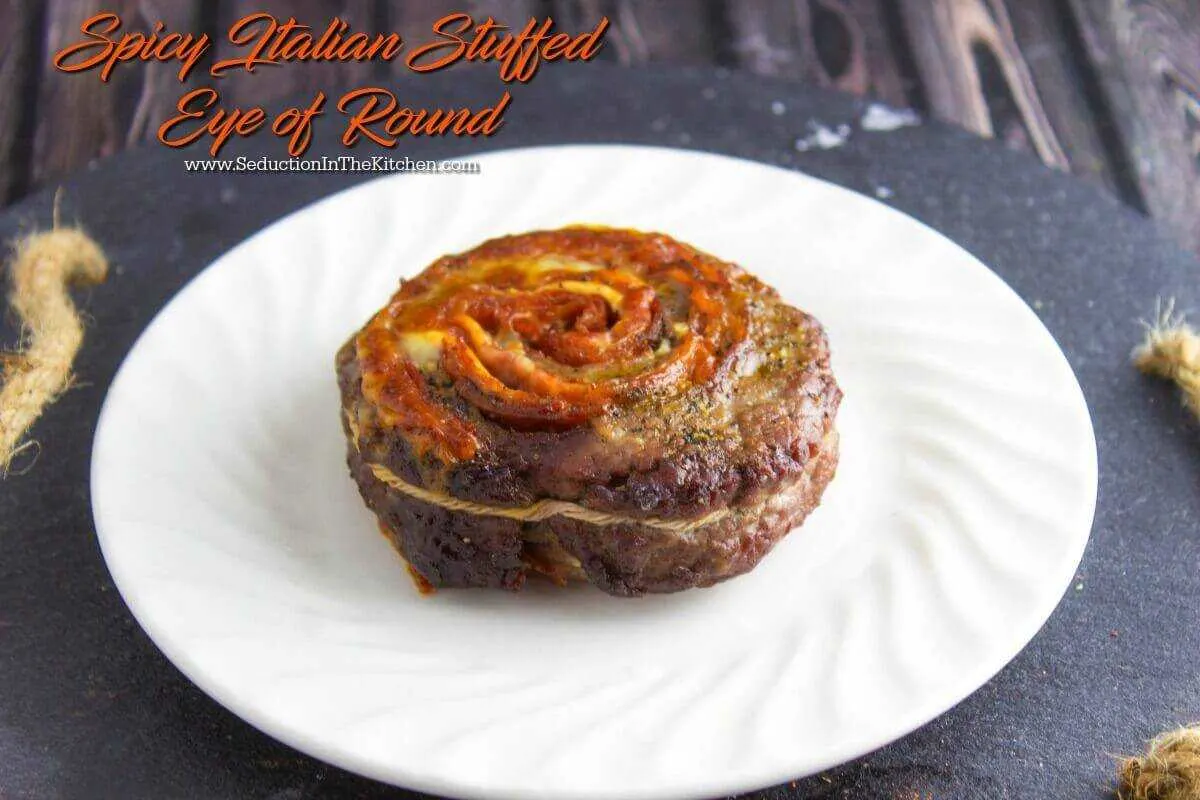 Italian Beef Recipe
I admit I love Italian foods, especially pepperoni. I wanted something different for this eye of round roast recipe to create like an Italian beef recipe with it. Best way to make this an Italian beef recipe would be to create it as an stuffed steak!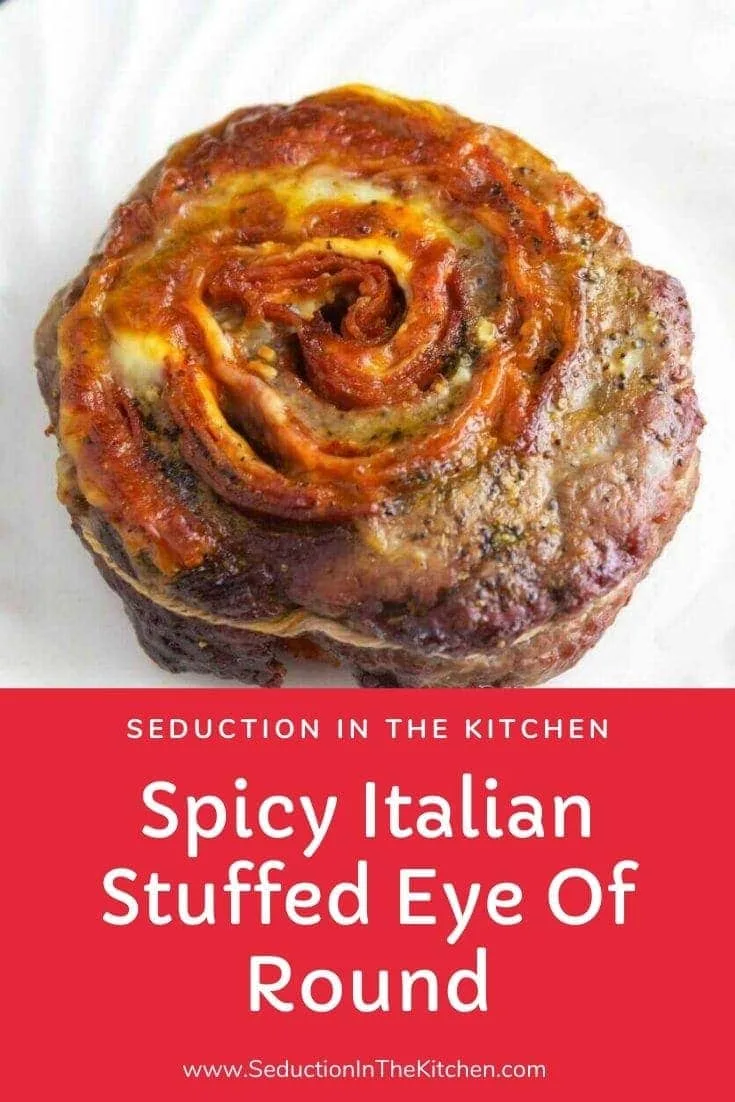 Stuffed Steak
I saw this nice cut of Certified Angus eye round roast at the supermarket, I knew it would be perfect for a stuffed steak. I have been wanting to make a stuffed, or a rolled eye of round steaks recipe for a while, so this cut was perfect for the italian beef recipe I wanted to make.
Spicy Pepperoni
What can I make with eye of round steak recipe that is different? For some reason, I had a vision in my head for a spicy pepperoni stuffed inside the eye of round roast recipe. This sounded like a great idea! Of course to balance the pepperoni you have to add in some cheese! Now that is Italian beef!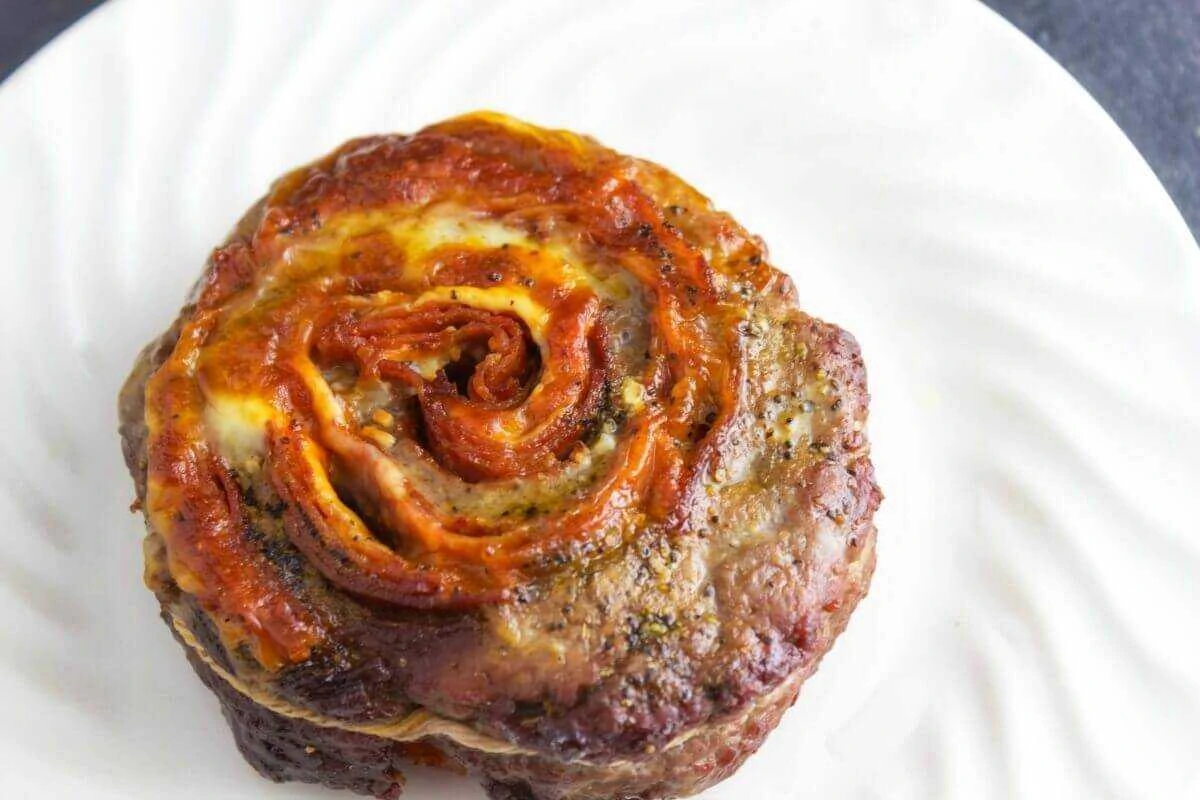 Eye of Round Steak Recipe
After stuffing the pepperoni and cheese into this eye of round steak recipe, I then season it with nice garlic salt and pepper. Finally, the baking this stuffed steak in the oven, it is perfection. It a perfect eye round steak recipe for a romantic dinner.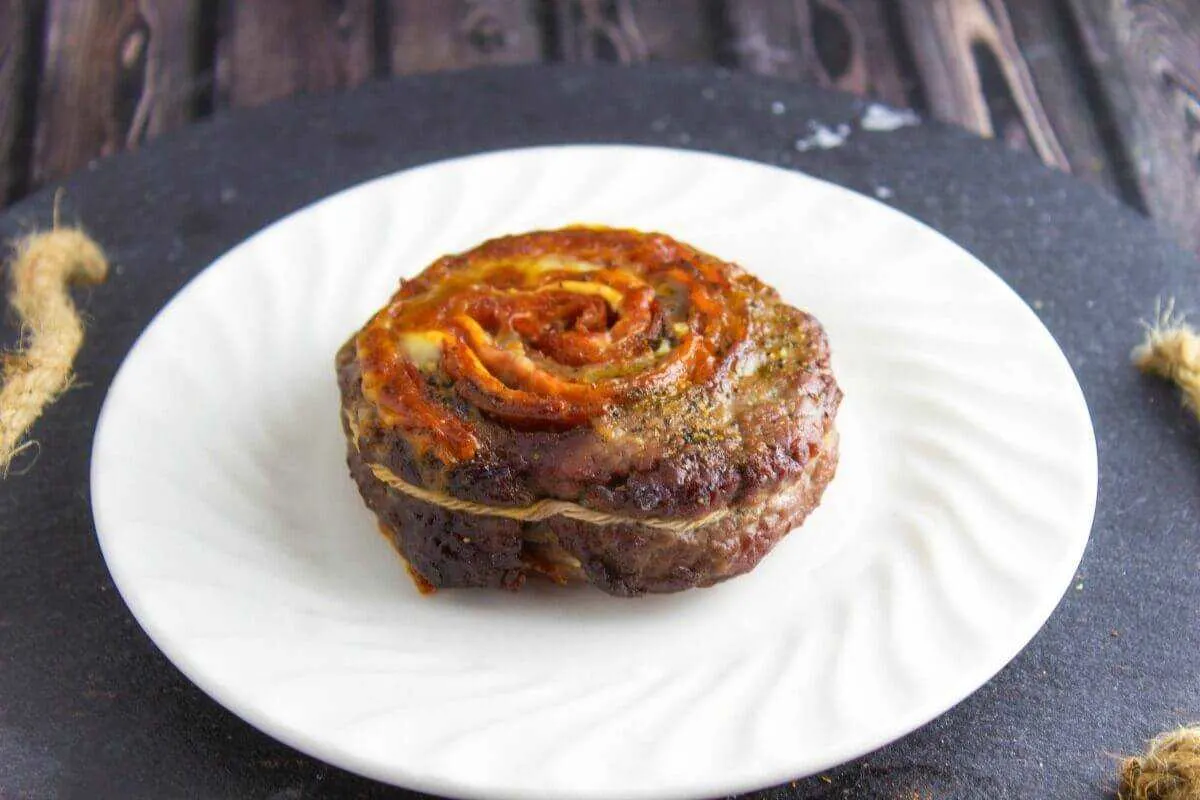 Yield: 4 servings
Spicy Italian Stuffed Eye Of Round Recipe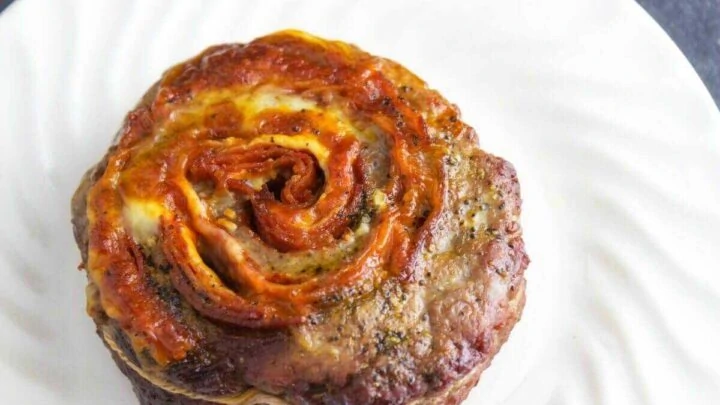 Spicy Italian Stuffed Eye Of Round is a wonderful eye of round roast recipe. This Italian beef recipe stuffed with spicy pepperoni and mozzarella cheese. This stuffed steak is baked to perfection for a nice romantic dinner.
Ingredients
1 (3 lb) Boneless Certified Angus Eye of Round
1/2 teaspoon sea salt
1/2 teaspoon dried thyme
1/8 teaspoon freshly ground black pepper
2 cloves garlic (minced)
3 oz pepperoni (sliced)
1/4 lb mozzerella cheese (sliced)
Instructions
Butterfly Eye of Round
Holding your free hand flat against the top of the roast, insert the knife along the edge of the roast and start slicing horizontally through the middle. The goal is to work the knife through, cutting with the grain, from one side to the other, leaving the back edge intact like the spine of a book. Work slowly and carefully until you get it all the way through from one end to the other.
Pull open the flap of meat you just released like a book, and using just the tip of your knife, very carefully cut into the seam, getting closer and closer to the edge until it's being held together only by the last 1/2- to 1/4-inch or so.
Lay the meat out flat, then pound the seam with the palm of your hand or a meat pounder (gently!) until the whole steak lays completely flat in a perfect rectangle
If this scares you to do, You can ask your butcher at the supermarket if they will butterfly it for you. Most will do it for free. Just need to ask.
Stuffing The Roast
Mix together the salt, pepper, thyme and garlic.
Season the rectangle of meat with the seasoning mixture.
Layer on the pepperoni on the seasoned meat.
Next, add a layer of the cheese.
After you add the pepperoni and cheese layers, start rolling up the meat, let it rest seam-side-down to keep it closed.
Measure the width of your roll in inches, divide it by 1.5, subtract 1, and cut off that many pieces of kitchen twine—about a foot long. The idea is that you want to tie your rolled flank steak off at 1 1/2-inch intervals (leaving 3/4 of an inch on either end). Tie the steak working from the outside in, so that the final piece of twine you tie is in the center of the steak.
Insert a skewer through each piece of twine. Without the skewer, the slices would buckle and collapse once they even start cooking. The skewer helps them keep their pretty shape until served.
Slice the roast cleanly into cylinders using long, steady strokes in between each piece of twine. Work slowly to make sure that your slices are completely even and that the string ends up in the center of each one.
Once the pinwheels are sliced, season them generously with salt and pepper.
Cooking
Remove the skewers, and place the pinwheels and place them into a roasting pan. Place the pan in a preheated 450F degree oven
Bake the pinwheels for about 30 minutes or until the meat reads 130F.
Take out the oven and let it rest for about 20 minutes.
Serve it up and ENJOY!
Recommended Products
As an Amazon Associate and member of other affiliate programs, I earn from qualifying purchases.
Nutrition Information:
Yield:
4
Serving Size:
1
Amount Per Serving:
Calories:

290
Total Fat:

21g
Saturated Fat:

9g
Trans Fat:

0g
Unsaturated Fat:

10g
Cholesterol:

78mg
Sodium:

805mg
Carbohydrates:

2g
Fiber:

0g
Sugar:

0g
Protein:

22g
Looking for more steak recipes? Check out these recipes:
Check out my the latest on my other blog: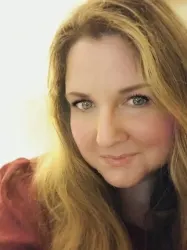 Latest posts by Deanna Samaan
(see all)