Disclosure: This post may contain affiliate links.
You are here:
Home » Bread » Polish Bobka Easter Bread #BreadBakers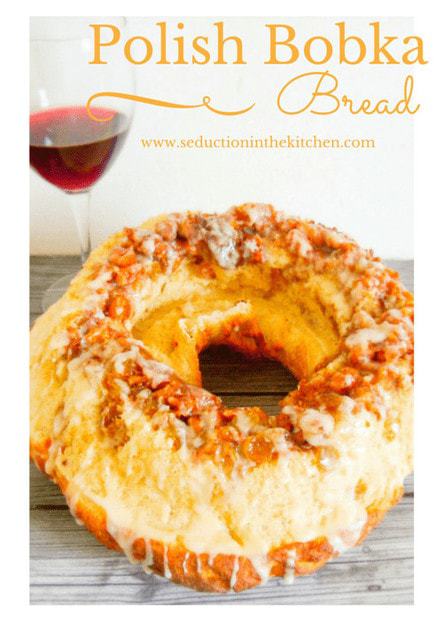 One of the things I like about Easter is the sweet loaves of bread that are made during Passover/Easter. Each bread usually has a story behind it too that you may not even realize. I recently joined #BreadBakers and this will be my first post with them and the theme is Easter/Passover/Spring breads. This is perfect for me since I adore the sweet loaves of bread this holiday has.
I love learning backgrounds when comes to the ethnic recipes. This Polish Bobka bread is no exception. Many people know about Polish Paska bread. The Bobka bread is similar meaning it has raisins like the Paska, yet it is different.
Paska bread is generally eaten during lent. It represents the body of Christ. That is why Paska bread is whole, meaning it does not have a hole in the middle like the Bobka Bread.
Bobka bread, as I said, has a hole in the middle and it is eaten on Easter. The hole actually represents the opening of the tomb and Christ rising. I find information like this about foods interesting, and that was why i decided to share what I knew about these loaves of bread.
Anyway, I had a little fun with this bread. I decided to add a little bit the nut and raisin on the top as a topping. Drizzle on the glaze and it was a great breakfast treat on Easter for me.
Polish Bobka Easter Bread #BreadBakers
A sweet Polish Easter bread from Seduction in the Kitchen.
Ingredients
4 cups flour
1 (1/4 ounce) package yeast
1/2 cup sugar
1 teaspoon salt
1/2 teaspoon cinnamon
1/2 cup butter
1 1/4 cups milk lukewarm
5 egg yolks keep one separate
1 1/4 cup golden raisin
1 fresh lemon rind
3 tablespoons orange juice divided
1/4 cup walnuts
1 tablespoon sugar
1 teaspoon cinnamon
1/4 cup powder sugar
Directions
Melt butter and add lukewarm milk.
Gradually add dry ingredients and beat at low speed, scraping sides of bowl, 2 minutes.
Add 4 egg yolks, orange juice, and 1 more cup of flour.
Beat at medium speed 2 minutes or until think and elastic.
Gradually stir in last cup of flour with wooden spoon, making a soft dough.
Cover and let rise until double.
Stir in 1 cup of the raisins and lemon rind.
Put in a well greased 3 quart fluted tube pan or heavy Bundt pan.
Beat 5th egg yolk with 2 tablespoons water and brush top of dough with this mix.
Sprinkle walnut mixture over the top and let rise for one hour uncovered.
Preheat oven to 350 degrees and bake for 30-40 minutes. Turn out of pan and cool on rack.
Mix the powder sugar with 1 tablespoon of the orange juice, add the second one if you need the glaze to be thinner, the drizzle it over the top the bread.
Slice it up and ENJOY!
Recipe Notes

Is this something you would love to whip up in your kitchen? Share it and inspire others with this recipe! 
So are you ready to see the rest of the #BreadBakers Spring/ Easter Bread line up?
Here's our International Easter/Passover/Spring Bread Basket, in alphabetical order…
Armenian Choereg by Chef Mireille's East West Realm
Bacci's Bread by A Day in the Life on the Farm
Bobka – Polish Easter Bread by Seduction in the Kitchen
Casatiello by Culinary Adventures with Camilla
Colomba Pasquale (Easter Dove Bread) by Cook's Hideout
Cornish Saffron Bread by Pastry Chef Online
Folar (Portuguese Easter Bread) by Passion Kneaded
Hot Cross Buns by En la Cocina de Caro
Hornazo – Spanish Easter Bread by Ruchik Randhap
Hungarian Egg Twist by Hostess at Heart
Hungarian White Bread by Magnolia Days
Individual Italian Easter Breads by Hezzi-D's Books and Cooks
Italian Easter Bread by La Cocina de Aisha
Kulich by That's My Home
Lambropsomo – Greek Easter Bread by Spice Roots
Lithuanian Easter Bread by My Catholic Kitchen
Matzo by A Shaggy Dough Story
Mennonite Paska by Food Lust People Love
Pääsiäisleipä – Finnish Easter Bread by Bakers and Best
Pane di Pasqua – Italian Easter Bread by Karen's Kitchen Stories
Spring Sweet Bread by cooking club
Strawberry Fritters by Cindy's Recipes and Writings
Tsoureki (Greek Easter Bread) by Simply Veggies
#BreadBakers is a group of bread loving bakers who get together once a month to bake bread with a common ingredient or theme. You can see all our of lovely bread by following our Pinterest board right here.
Links are also updated after each event on the BreadBakers home page.
We take turns hosting each month and choosing the theme/ingredient. This month Camilla at Culinary Adventures with Camilla has chosen breads from around the world that are traditional for Easter, Passover or Springtime.
If you are a food blogger and would like to join us, just send an email with your blog URL to Stacy at foodlustpeoplelove@gmail.com.
XOXO