Jump To Recipe
Print Recipe
You are here:
Home » Pittsburgh Recipes » Kielbasa Bacon Bombs
Kielbasa Bacon Bombs will be the hit of your tailgate party. This bacon bombs recipe is a cheese stuffed kielbasa. Then it's wrapped up in bacon and grilled. You will want to add this Kielbasa Bacon Bombs to your grilled kielbasa recipes.
 Issues
So, yes I did not put up 3 posts this week, but it isn't what you think. Seduction in the Kitchen had server issues. The site kept going down.
With it doing that, I could not even log in to write. So that was the reason, but the server issue fixed. Which is good, so now I can write.
Bacon Bombs Recipe
I was on Facebook and someone was asking about football tailgate recipes. Now I do have my famous Tailgate Crock Pot Pierogies with Kielbasa, Bacon, and Onions. I was in the mood to create a bacon bombs recipe.
I 'd seen this Tasty video for potato volcanos before I saw the post on asking about tailgate recipes. A thought popped into my head, why can't I turn a kielbasa into a bacon bombs recipe?
Kielbasa Bacon Bombs
I have been wanting to do grilled kielbasa recipes for a while. I am from Pittsburgh, we love kielbasa. It is the essential tailgate recipe in Pittsburgh.
I know they sell cheese stuffed kielbasa in the stores. I didn't want nacho cheese injected into the meat. I wanted a tasty cheese mixture for this bacon bombs recipe.
I wanted a mellow, yet a cheese mixture that packed a punch. So I choose to use shredded Colby jack cheese with green onions and canned green chilies. I figured this combination would give a nice compliment to the kielbasa bacon bombs.
I decided on using a cream cheese rather than regular cheese. I wanted to make this a stuffed kielbasa for this grilled kielbasa recipe. The cream cheese will stay put and will not ooze all over the place as it cooks. Plus, it is easier to place it this mixture in the center of the kielbasa bacon bombs.
My mother actually came up with the idea of using bacon to keep it all together for this bacon bombs recipe. Yes, that is right, my mom came up with that idea. I pitched the idea to her.
She suggested why don't you wrap it in bacon, that should make it all come together. It is a great idea. It makes this kielbasa bacon bomb a great recipe to add to your collection of grilled kielbasa recipes.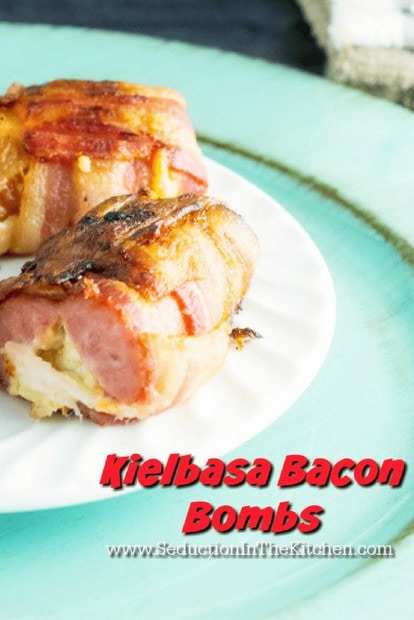 Print
Kielbasa Bacon Bombs
---
Author:

Prep Time:

0:10

Cook Time:

:20

Total Time:

-25448352.233333 minute

Yield:

4

Category:

Game Day Food

Cuisine:

American
Description
Kielbasa Bacon Bombs will be the hit of your tailgate party. A cheese stuffed kielbasa wrapped in bacon then grilled will be the winner at your party. A recipe from Seduction in the Kitchen.
---
Ingredients
8 oz cream cheese (soften)
1 green onion (chopped)
1 cup shredded colby jack cheese
pepper
1 package of kielbasa
1 package of bacon
toothpicks
---
Instructions
In a bowl, combine the cream cheese, green onions, shredded cheese, green chilies and pepper to taste together.
Once you have the cream cheese mixture together, set aside and slice the kielbasa into 4 links. Then slice those links in half lengthwise.
Spread the cream cheese mixture onto the kielbasa bottom sections of the kielbasa. Then put the top sections onto the kielbasa.
Wrap the kielbasa with the bacon, It took 2 slices to wrap around then a third piece to wrap around lengthwise.
Secure the whole kielbasa with toothpicks.
Place the kielbasas on the grill and grill them up for 20 minutes, till the bacon in nice and crispy and done.
Take off the grill, remove the toothpicks and ENJOY!
I want to hear what YOU have to say about this recipe that is on ~
Seduction In The Kitchen
~ I try to respond to questions asap, so ask away ~ and if you've made a recipe I really love it when you come back and share your experience with all of us. Now let's get this conversation started!