I am a participant in the Amazon Services LLC Associate Program, an affiliate advertising program designed to provide a means for me to earn fees to Amazon.com and affiliate sites.
Roasted Salmon and Summer Squash with Mustard Dill Sauce uses fresh zucchini and summer squash from the garden. When paired with this wonderful mustard dill sauce it will take your taste buds to a new level of yumminess.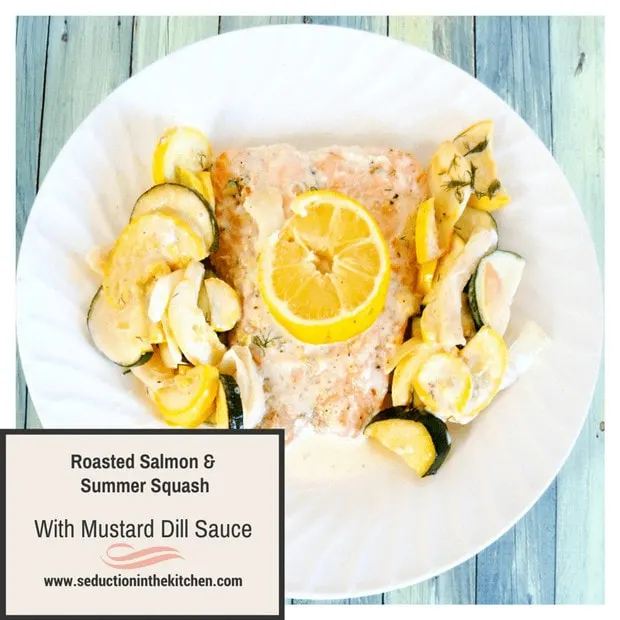 So originally I posted this post in July 2013. About July 2015 I decided it needed to be made over with a new photo and post. Why Well here is the old photo I took outside on my old apartment balcony. I just learned natural light was the best to do photos in, so I took it outside. I thought this photo was the bomb in 2013. I was using natural light, that was big for me.
Then came 2015, I wanted to improve the photos. I chose this recipe. So that is what you see now, the new photo but was in 2015.
The post needs to be made over again because, well it was just full of jibber jabber. Plus I am doing SEO on the old posts, so why not? It deserves another makeover.
Roasted Salmon and Summer Squash with Mustard Dill Sauce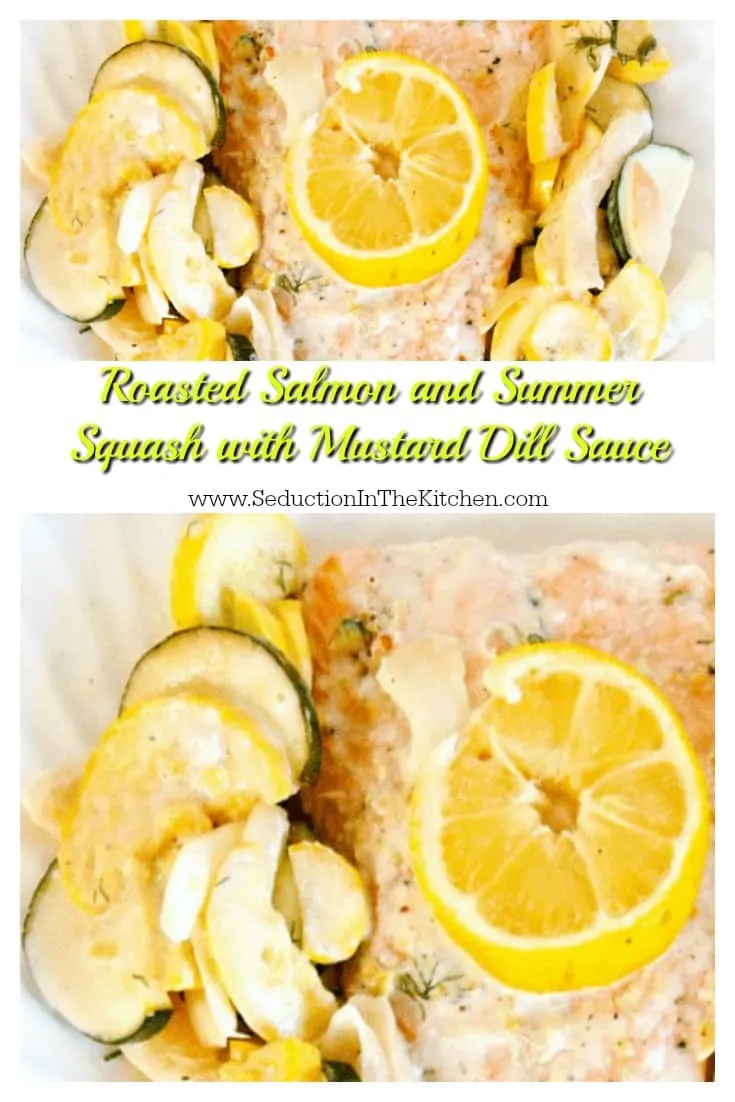 When comes to proteins, I admit I am a seafood lover. Besides meatloaf, I think I have more seafood recipes here on Seduction in the Kitchen. I have things like Caprese Salmon Healthy and Delicious, Citrus Salmon Stir Fry, Blackened Shrimp Pasta #SundaySupper, and Crockpot Asian Shrimp Soup.
I really love seafood, especially when comes to salmon. Like some recipes I am inspired by, this Roasted Salmon and Summer Squash with Mustard Dill Sauce was inspired by a dish I had in a restaurant. I had grilled salmon but never a roasted one before.
Roasting the salmon to me brought out that rich salon taste. The sauce was just a mustard sauce they served over the salmon. That bit of bite really complimented the fish so well.
I wanted to bring the flavor up a little bit in this roasted salmon dish I wanted to develop. My friend Richard, who I always bounce ideas off of, hates seafood. He did suggest dill to me to use. So I gave a shot and it was perfect!
The combo of the mustard and dill really made the sauce sing with flavor. Then adding fresh veggies like the zucchini and the summer squash from a farmer's market, really makes this dish pop with the flavor. this Roasted Salmon and Summer Squash with Mustard Dill Sauce really is one my favorite dishes.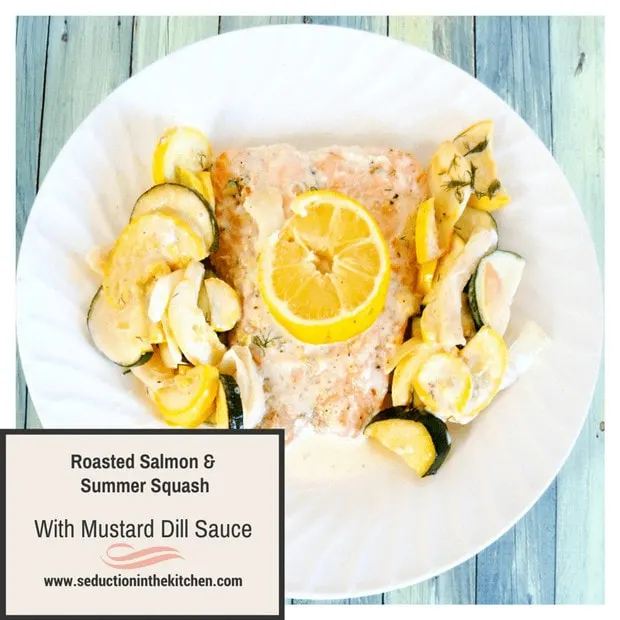 Check out these recipes:
Yield: 4
Roasted Salmon and Summer Squash with Mustard Dill Sauce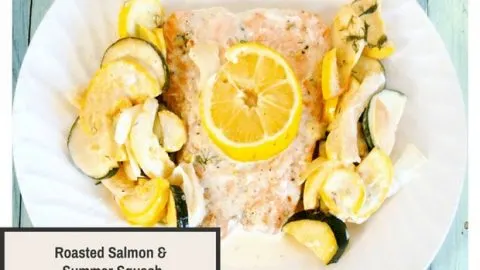 Roasted salmon in a dill mustard sauce with fresh zucchini and summer squash. This recipe from Seduction in the Kitchen will seduce your taste buds.
Ingredients
1 zucchini sliced
1 summer squash sliced
1 onion roughly chopped
4 pieces salmon
3 tablespoons mayonnaise
1 tablespoon Dijon mustard
1 tablespoon fresh dill chopped
2 tablespoons honey
1 lemon
lemon pepper seasoning
Instructions
Whisk the mayo, mustard, dill, honey, and the juice of 1/2 of a lemon together. This will be the sauce.
Season the salmon with with the lemon pepper.
Apply a thin glaze of the sauce on the salmon. You will notice there is no oils or butter in this recipe, The Mayo, that the fat, plus salmon is a naturally oily fish, and with those two factors, this recipe has enough oil or fat to flavor and cook the fish and vegetables.
After the salmon is glazed, mix the vegetables into the remaining sauce, coating them well with it.
Pour the squash mixture into a foil lined baking pan, then place the salmon on top of the squash.
Slice up the other half the lemon thinly and place it on top of the salmon.
Fold the foil up into a packet, and let sit in your fridge for about 30 minutes. This let the flavors really soak into the vegetables and fish.
Preheat the oven to 400 degrees, and bake the fish in a baking dish, I did use a pie pan, because it was the first thing I saw, it still works. Roast the foil packet for about 20-25 minutes. You know the fish is done because it will flake real easy with fork.
When all done, take out the oven sand serve up this tasteful creation and ENJOY!
Nutrition Information:
Amount Per Serving:
Calories:

320
Total Fat:

20g
Saturated Fat:

4g
Trans Fat:

0g
Cholesterol:

51mg
Sodium:

162mg
Carbohydrates:

16g
Fiber:

2g
Sugar:

13g
Protein:

19g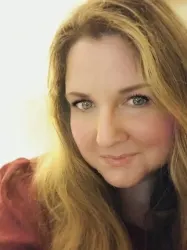 Latest posts by Deanna Samaan
(see all)