I am a participant in the Amazon Services LLC Associate Program, an affiliate advertising program designed to provide a means for me to earn fees to Amazon.com and affiliate sites.
Low Sugar Chicken Meatball Parmesan Sliders is perfect for Football tailgating season. They are snack size and best of all the sauce low in sugar!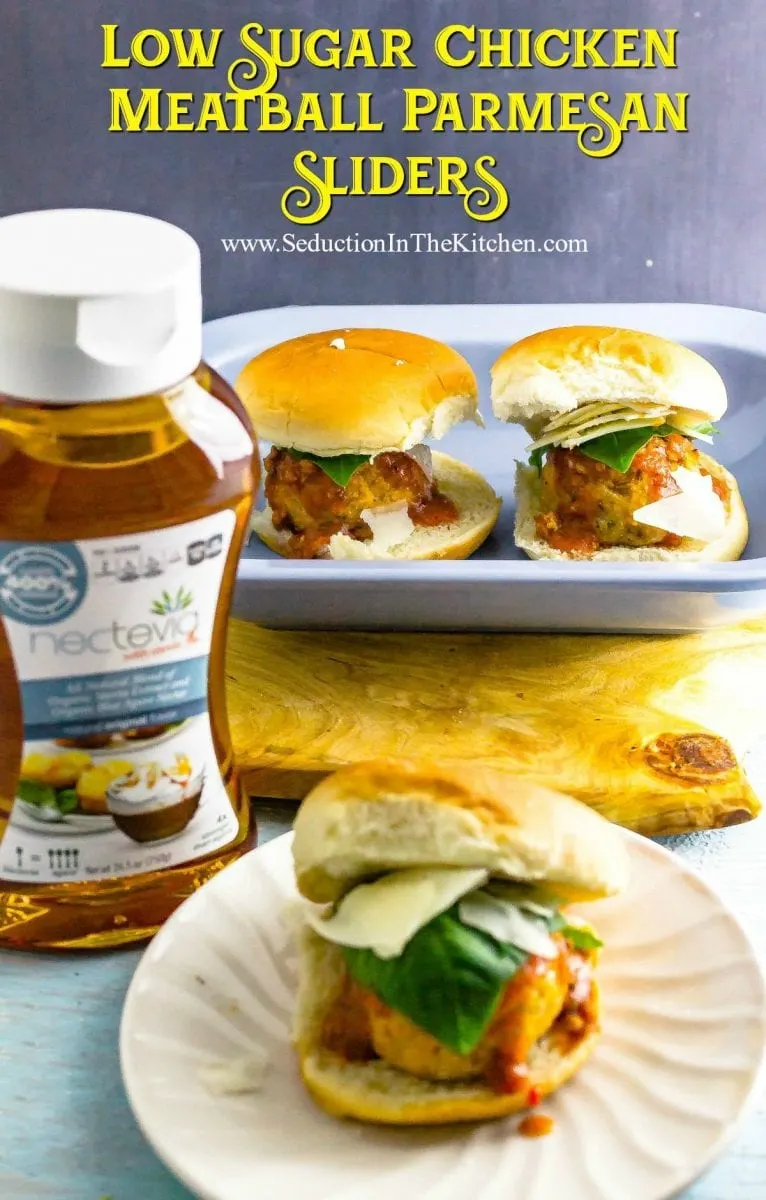 Healthy Changes
My dad recently was told he needs to change his eating habits because his sugar is a little high. He is like me the taste of artificial low-calorie sugar substitutes just does not taste right. So finding something that is low sugar that tastes good is how this Low Sugar Chicken Meatball Parmesan Sliders came to be.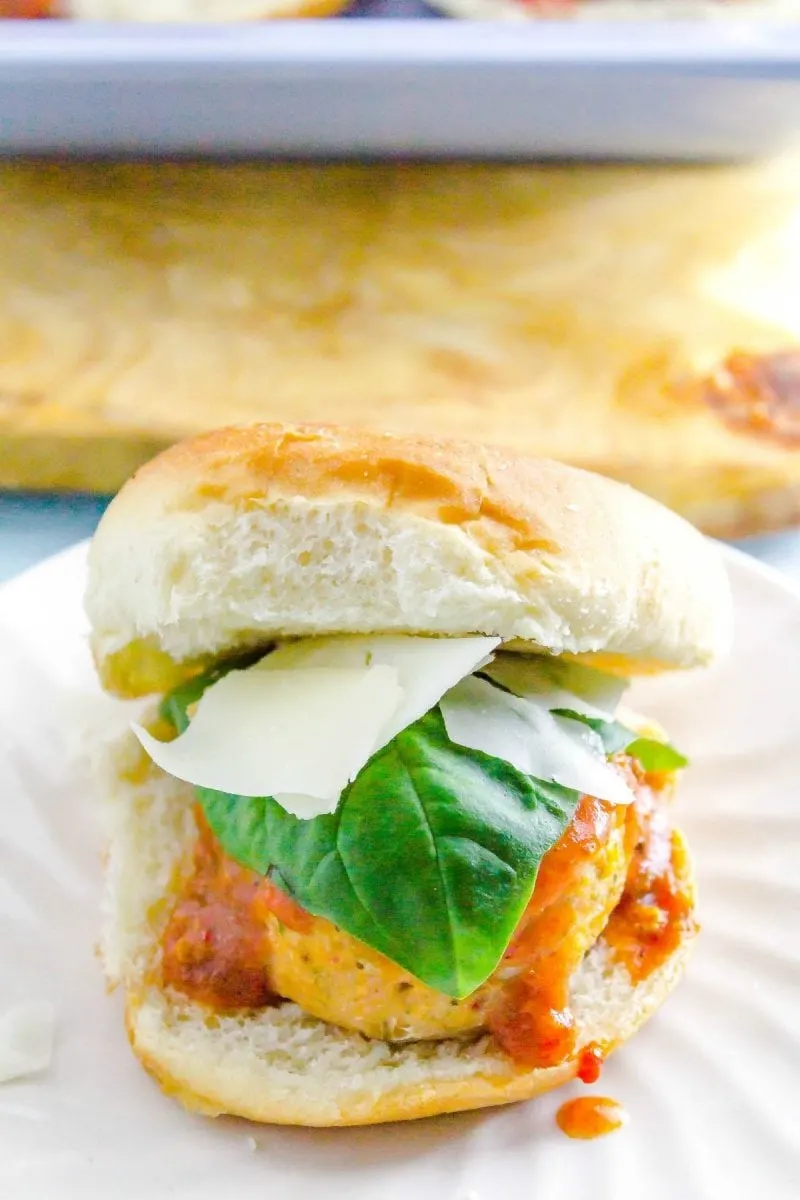 Low Sugar Chicken Meatball Parmesan Sliders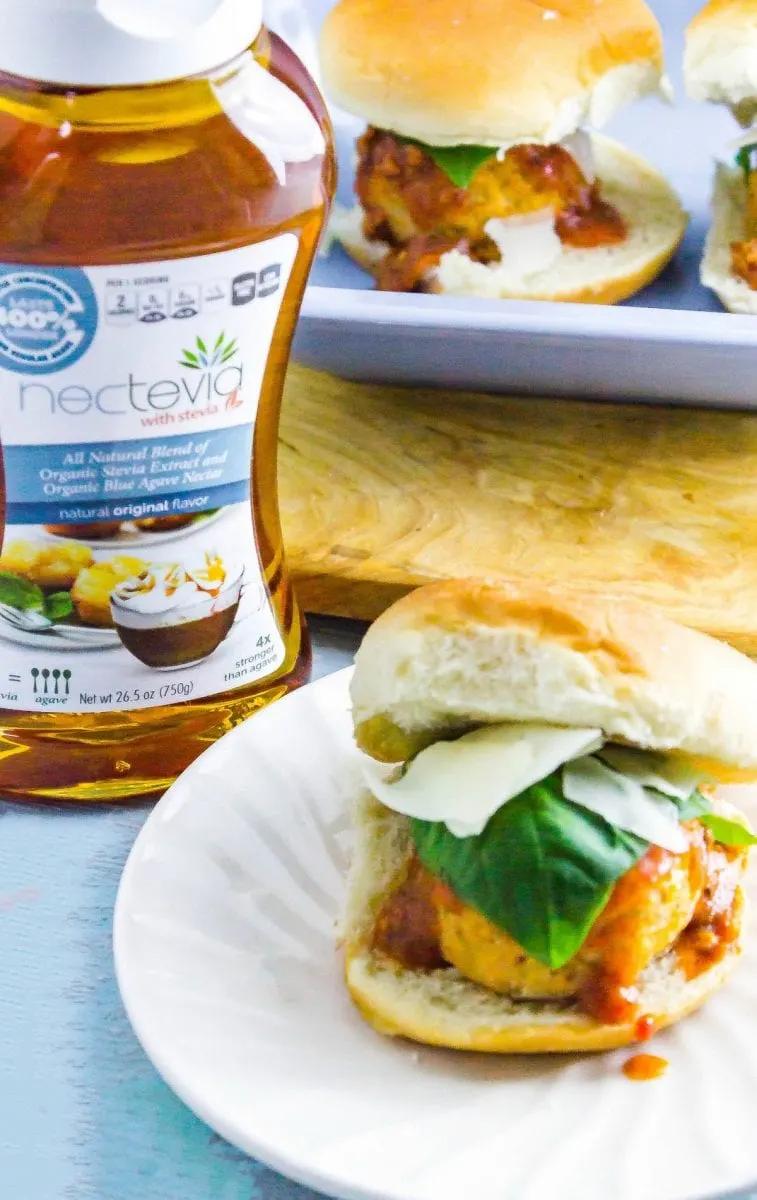 My dad is a huge lover of Italian foods with sauce, like Meatball Subs. Tomato sauce can be full of sugar. Not good for someone who has to watch their sugar intake.
My GBF, Richard, makes homemade tomato sauce. One thing he uses in his sauce is molasses. So I thought, how about using his recipe as a base, but use the Nectevia instead of molasses.

The sauce came out wonderful for these Chicken Meatball Parmesan Sliders. You could not tell that the sauce was low sugar. Best of all, it did not have that artificial taste. It because Nectevia is all natural. So this is perfect for my dad these Chicken Meatball Parmesan Sliders while he watches the Steelers play football!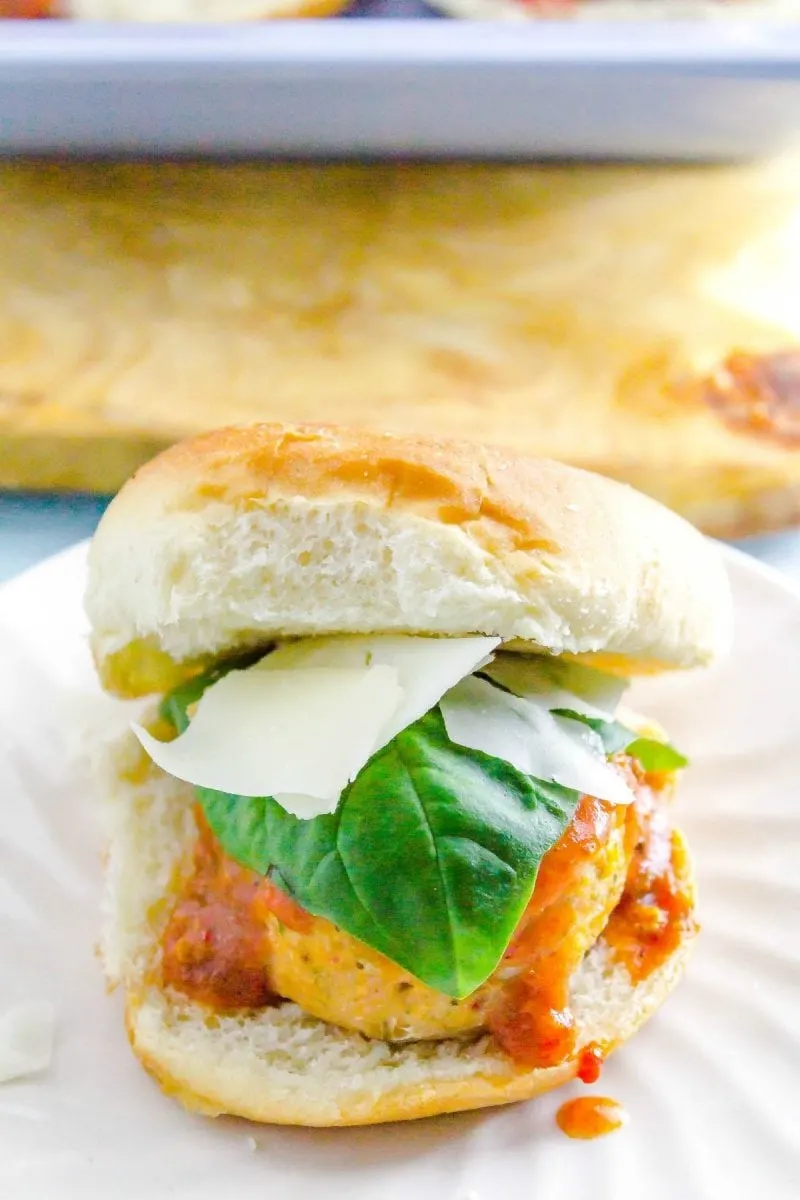 I decided since it was football time and tailgates are starting that doing a slider would suit this sauce perfectly. I wanted to add a bit of fun to the sauce as well. The Chicken Parmesan Meatloaf was my inspiration. Make it into meatballs. Add shaved parmesan and a basil leaf for this yummy tailgate snack.
Tailgate Month
October is Tailgating Snacks Month 2017
Hosted by Life Currents
October 12 Chili Relleno Dip Skillet by Take Two Tapas
October 14 Soft Pretzel Beer Cheese Dip by Mildly Meandering
October 14 Healthier Greek Yogurt Buffalo Chicken Dip by Full Belly Sisters
October 16 Garlic Butter Dipping Sauce by Life Currents
October 18 TBD by Seduction In The Kitchen
October 19 Potato Skins by Bowl Me Over
October 20 Chorizo & Pico De Gallo Queso Dip by LeMoine Family Kitchen
October 21 TBD by The Foodie Affair
October 22 Loaded Slow Cooker Cheeseburger Dip by Who Needs A Cape?
October 23 Tortilla Pinwheels by The Devilish Dish
October 24 TBD by An Affair from the Heart
October 25 TBD by Hostess At Heart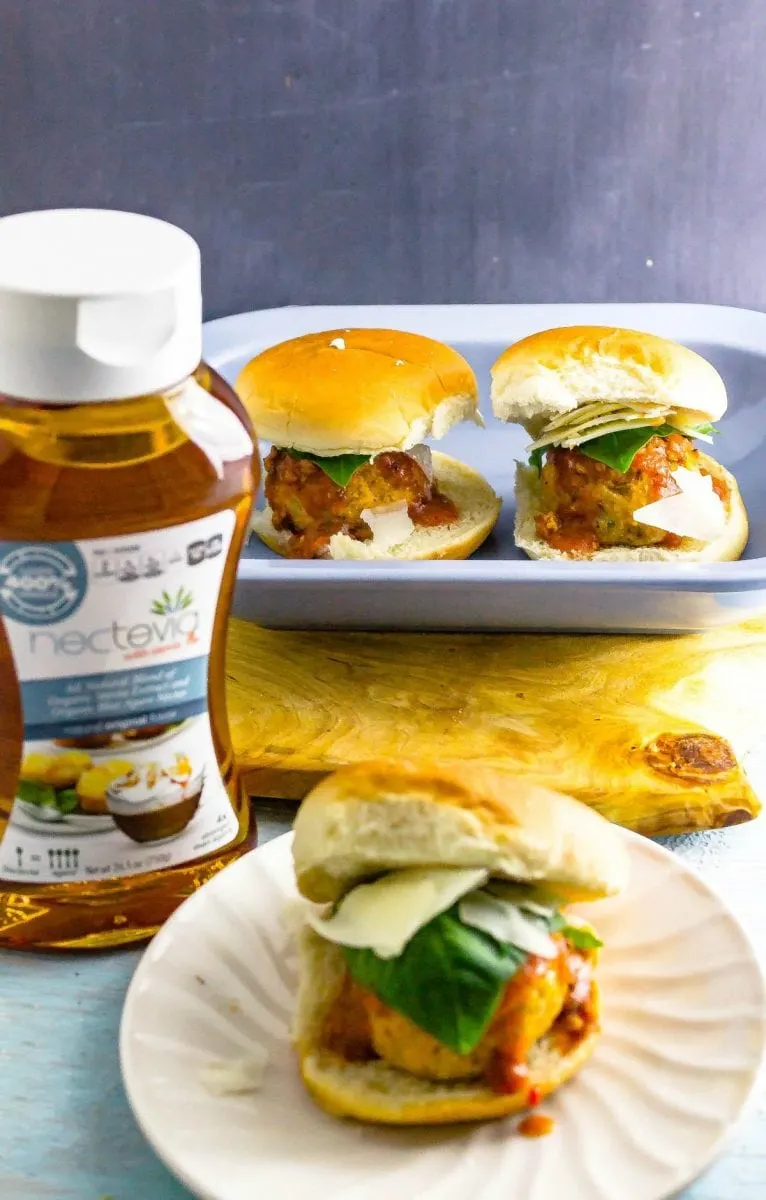 Yield: 12
Low Sugar Chicken Meatball Parmesan Sliders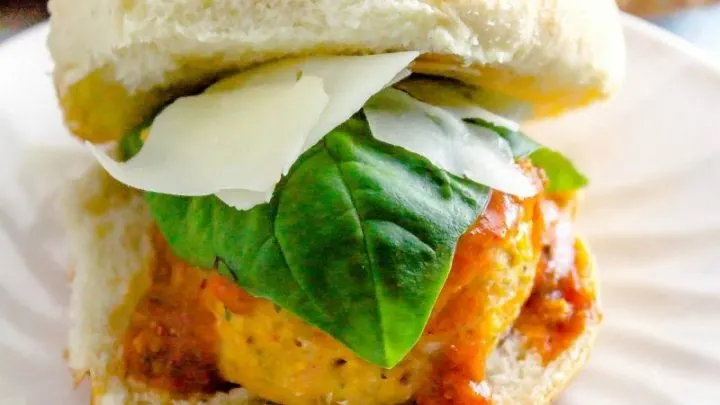 Low Sugar Chicken Meatball Parmesan Sliders is perfect for Football tailgating season. They are snack size and best of all the sauce is made with Nectevia to make it low sugar!
Ingredients
Sauce:
28 oz can of tomatoes
1/4 cup extra virgin olive oil
1/2 onion, chopped
2 tablespoons of balsamic vinegar
2 teaspoons Nectevia
5 cloves garlic, minced
2 teaspoons dried italian seasoning
Chicken Meatballs:
1 lb ground chicken
1 egg
1⁄2 cup parmesan cheese
1⁄2 cup breadcrumbs
2 cloves garlic, minced
1 teaspoons oregano
2 tablespoons olive oil
Sliders:
12 slider buns
Shaved Parmesan Cheese
12 Fresh Basil Leaves
Instructions
For the sauce:
Roughly chop tomatoes, reserving juice.
Put oil and onions in a pot and cook on medium heat until onions have softened, about 5-7 minutes.
Add the garlic and cook another 30 seconds stirring constantly.
Add chopped tomatoes and juice to the pot.
Add the seasonings and urn heat to high and bring to a boil.
Stir and crush the tomatoes as the sauce cooks.
Reduce heat and cook at a simmer, stirring from time to time, until sauce thickens, about 30 minutes.
Chicken Meatballs:
Place ground chicken, egg, Parmesan cheese, bread crumbs, garlic, oregano in a medium bowl.
Mix everything together until evenly combined.
Form mixture into 2-inch balls.
In large non-stick skillet,warm olive oil over high heat.
Place meatballs in pan and cook until all sides are browned, approximately 8 minutes for each meatball.
Sliders:
On the bottom buns of the slider buns place a chicken meatball.
Spoon a little sauce over the meatball.
Top with a little shaved parmesean.
Top with a basil leaf.
Place the top bun on the Chicken Meatball Parmesan Sliders.
Serve them up and ENJOY!
Notes
For the leftover asuce, it freezes nicely for another use.
Nutrition Information:
Amount Per Serving:
Calories:

290
Total Fat:

13g
Saturated Fat:

3g
Trans Fat:

0g
Cholesterol:

49mg
Sodium:

413mg
Carbohydrates:

28g
Fiber:

3g
Sugar:

5g
Protein:

14g

I am Deanna Samaan, a phlebotomist by day and a blogger at night! Born in Pittsburgh, rebuilt my life in Cleveland, found my true self in Orlando. No matter where I am at, food always seduces me! Let your taste buds be seduced too!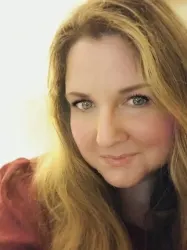 Latest posts by Deanna Samaan
(see all)