Citrus Salmon Stir Fry is a citrus ginger sauce combined with salmon in an Asian flavored dish.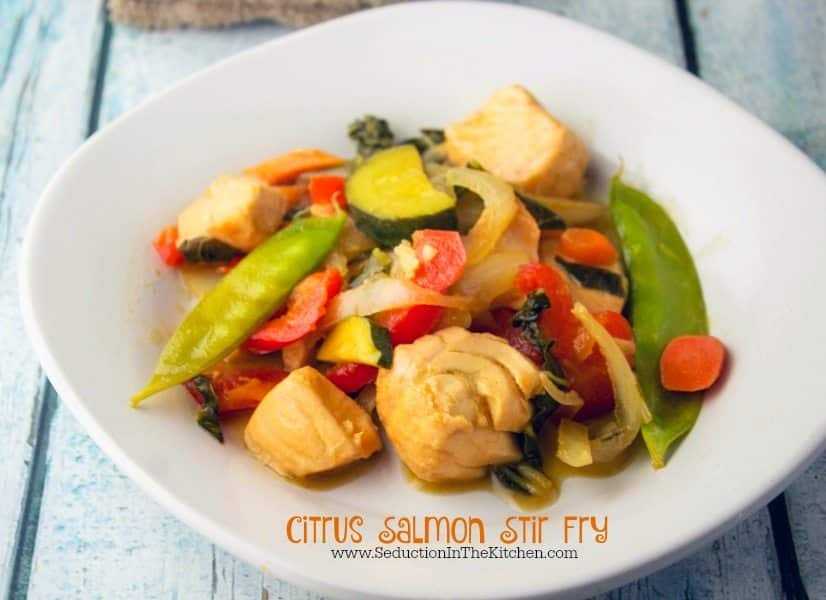 Most the time when I write a post for Seduction in the Kitchen, I try to stay on the positive side. I admit sometimes I get whiny in a post and sometimes I get bitchy in a post. Hey, I'm a female, what can I say except we can be emotional roller coasters.
I do write my posts in real-time. So if I happen to be inspired to write and I'm being whiny and bitchy that day, it will come out in the post. It is human nature, and it is part of being a woman.
What has me saying this is because I admit, I been trying to do some things behind the scenes here on Seduction in the Kitchen to improve it like speeding up the site speed. As I been tinkering around, I noticed how a few posts, were like, wow did I really write that? Boy, I was being really bitchy in that post.
I know what is going on in my life will influence what I write. An example is you can tell when I was having a lot of issues at the day job as a phlebotomist. A few years ago, I had the "Clique" I had to deal with, they were childish girls, who had high school mentality, and was jealous of my skills.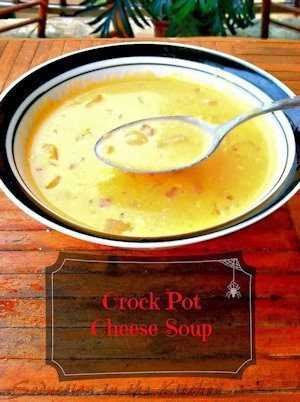 Crock Pot Cheese Soup
They really made my life a living hell then. Is a good example of some the hell that I write about.  What they failed to realize was I have 18 years experience to their 2-3 years experience. They didn't see it that way, they really wanted me to quit.  So my frustrations with that going on at work came out in the posts.
The ironic thing is, 2 of the three left and we got other people in to replace them. With them leaving everything changed at work. With all their efforts to get me to leave, they ended up leaving.
Back on point, I am doing what I can to improve Seduction in the Kitchen. As I mentioned, I have been playing around with the site speed. My site was at 17 seconds loading. The last tests I have done on it, I got it down to 9 seconds.
Ideally, I was advised to get to 7 seconds. So I am getting there. Another way I can improve Seduction in the Kitchen is to post more than 2-3 times a week.
I am not making promises on this yet, I am going to try. As I said I do post in real-time, I like writing as it happens. I don't like to write a post and schedule it to post. I feel if I do that, then my posts will be static, no heart.
That is what you as my readers love about this blog, that the posts have a heart. So guess I should warn you, posts might get bitchy and whiny if I post 4-5 times a week. So we will see how it goes I guess. No promises, I don't want post just to post. I still want to do posts with a heart. Just need to find some more inspirations to write about.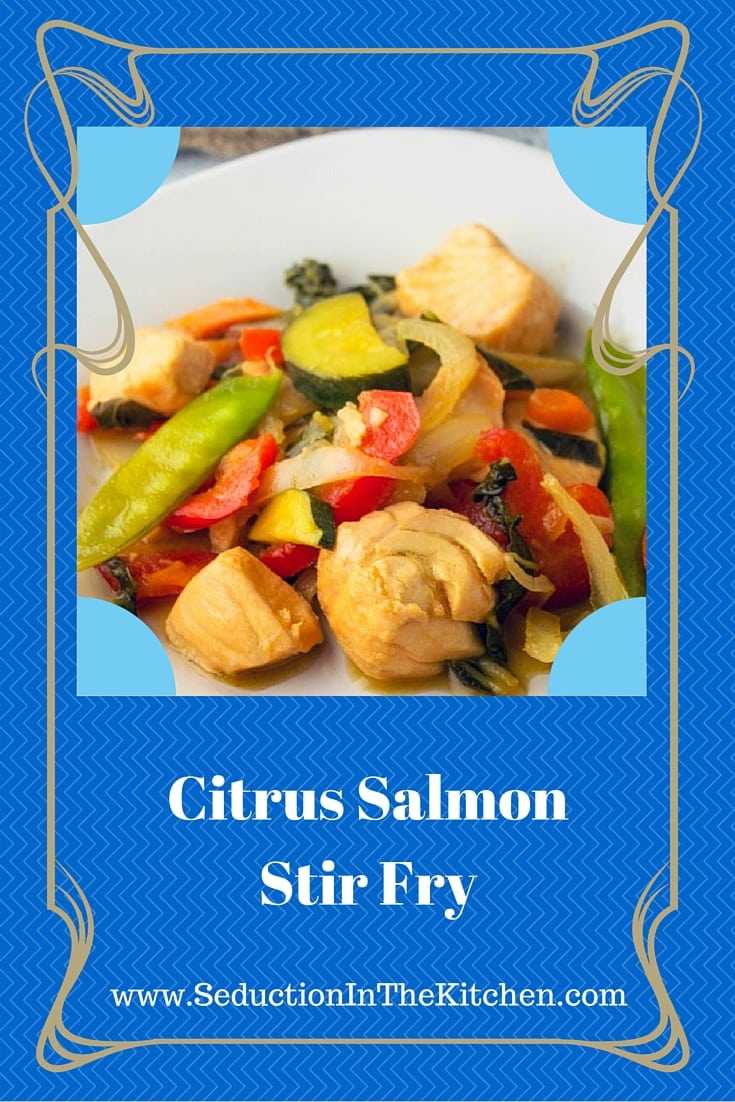 Love Seduction in the Kitchen recipes? Follow me on Facebook and Instagram! 
I have been eating healthier since I joined the gym. I really love stir-fries. They are healthy and can be very flavorful.
I admit I am more of a seafood lover then red meat, especially when comes to salmon. I love salmon. Some of the salmon recipes I came up with include: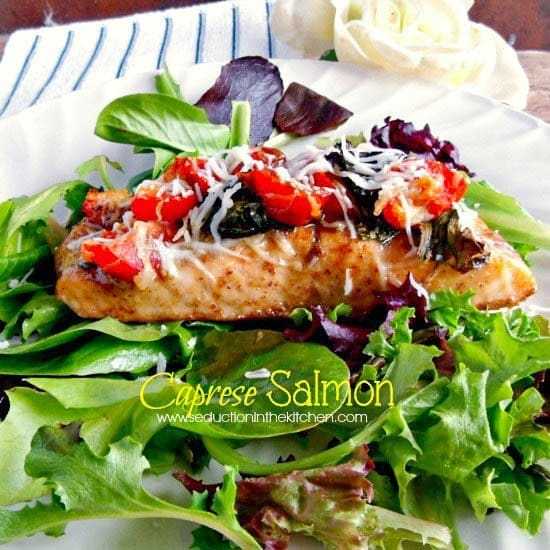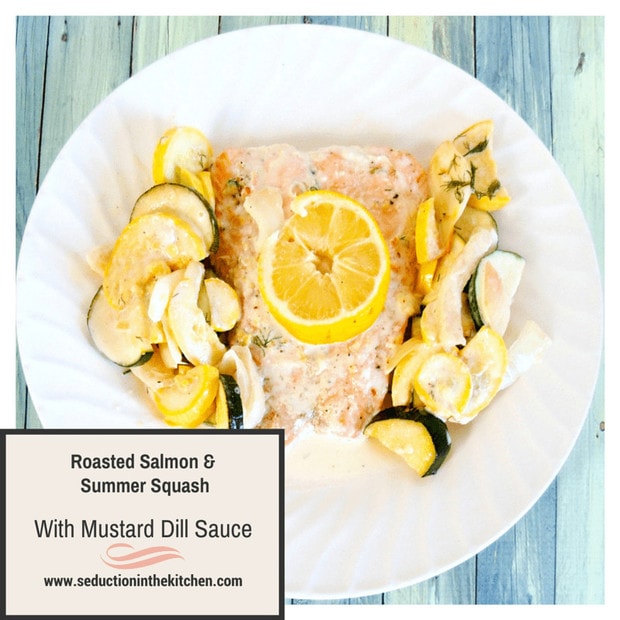 Roasted Salmon & Summer Squash
What inspired this Citrus Salmon Stir Fry was that I really wanted to make a good stir-fry. I wanted that stir fry to have salmon in it. However, I didn't want to do a teriyaki sauce, which is common to use.
I wanted something lighter, so citrus came to mind. I knew citrus would be wonderful for salmon. The end results on this Citrus Salmon Stir Fry was one yummy stir fry.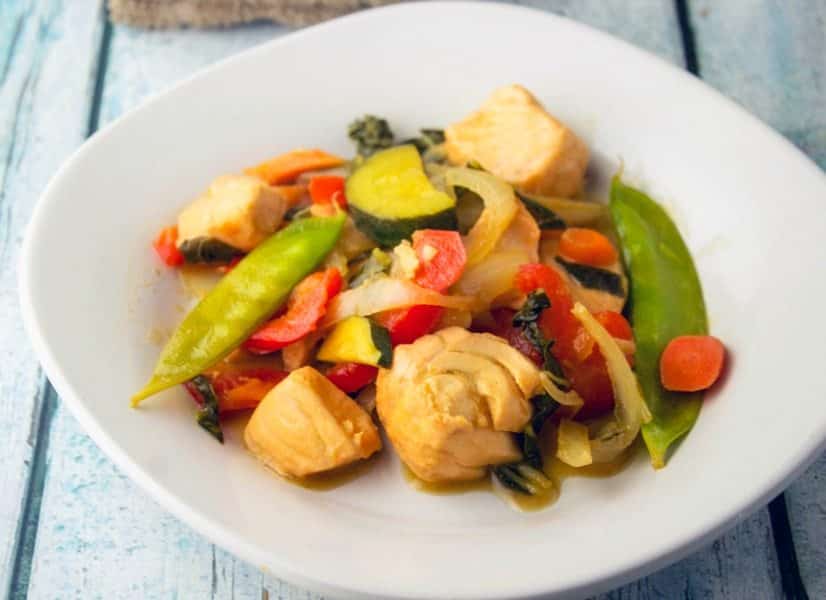 This Citrus Salmon Stir Fry would pair perfectly with:
CHINESE PORK EGG ROLL IN A BOWL from My Suburban Kitchen
Asian Chicken and Rice with Vermicelli Noodles from Culinary Flavors
ASIAN STEAK LETTUCE WRAPS from Shared Appetite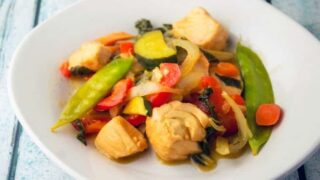 Yield:

4 servings
Citrus Salmon Stir Fry
Citrus Salmon Stir Fry is a citrus ginger sauce combined with salmon in an Asian flavored dish. A recipe from Seduction in the Kitchen.
Ingredients
1 tablespoon olive oil
2 cloves garlic (minced)
1 cup ⁄2 onion (chopped)
1 cup ⁄2 orange juice (no pulp)
3 tablespoons pineapple juice
2 tablespoons lime juice
2 tablespoons honey
1 ⁄2 lemon (juice of)
1 teaspoon ⁄2 ginger (ground)
1 teaspoon cilantro
1 lb salmon filet (cut up into cubes)
1/4 lb snow peas
1 small zucchini (sliced)
8 baby carrots (sliced)
1 small onion (sliced)
1 red pepper (sliced)
1/4 cup bok choy (chopped)
1 tablespoon sesame oil
Instructions
Sauce
In a small saucepan, heat up the oil.
Add onion and garlic to the skillet and cook just long enough for onions to become soft.
Turn heat to high under skillet and add orange juice, lemon juice, lime juice, pineapple juice, honey, cilantro and ginger.
Cook stirring frequently until sauce starts to thicken.
Turn the heat down to a simmer and let the sauce simmer for about 5 minutes.
Take the sauce off the heat and set aside.
Stir Fry
Heat up the sesame oil in a wok
Add the veggies and salmon to the wok
Constantly stirring, cook the contents in the wok until the salmon starts turning a light pink. About 5 minutes.
Add a little bit of the sauce to the wok, continuing to keep stirring. The amount of sauce depends on how much you want to add.
Let let stir fry cook for another minute then turn the heat off.
Serve up the stir fry and ENJOY!
Notes
The left over sauce can be refrigerated up to a week
This post was most recently updated
I want to hear what you have to say about this recipe that is on
SEDUCTION IN THE KITCHEN!
Let's get this conversation started! What do you think of this recipe?