This post was most recently updated
Meatball Salad is an Italian meal salad. Italian homemade meatballs on top of a white balsamic salad will fill you up with its yummy flavor combination. Plus this Italian salad is a great use for  leftover meatballs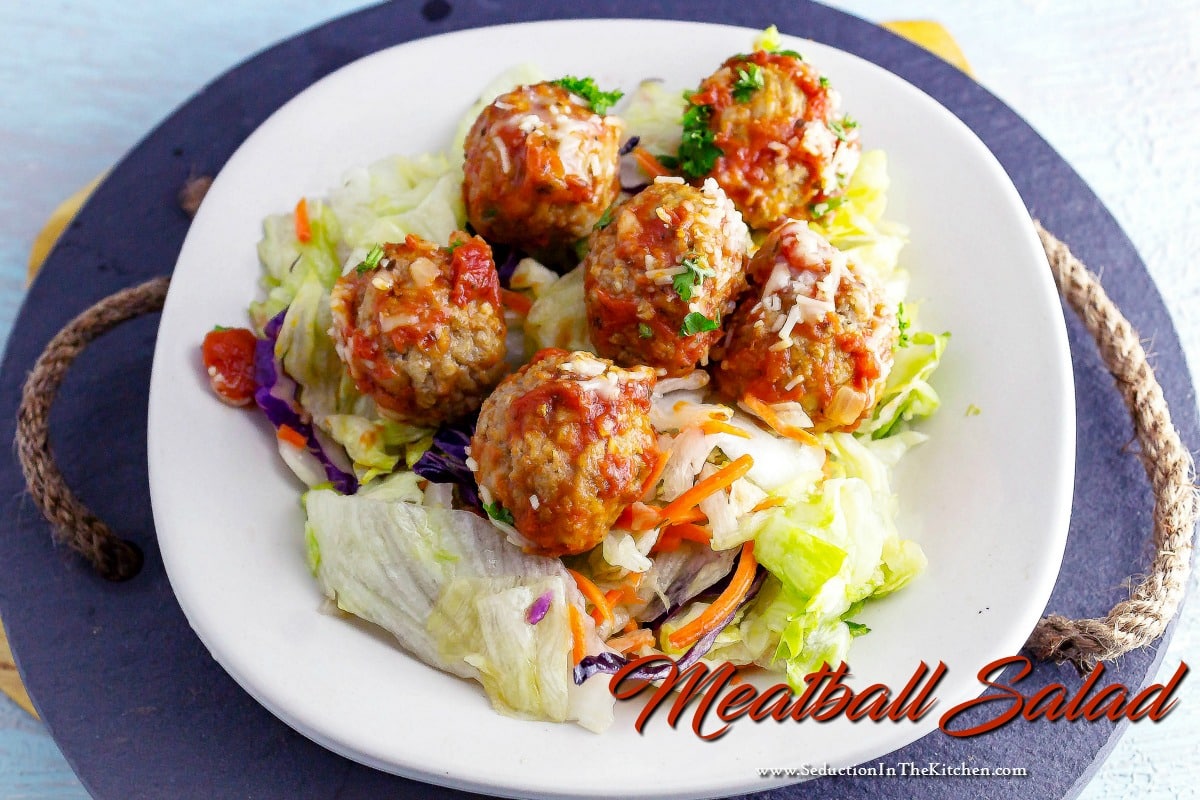 Meal Salads
Do you know what meal salads are? Meal salads are salads that so loaded with toppings they are an entire meal in one!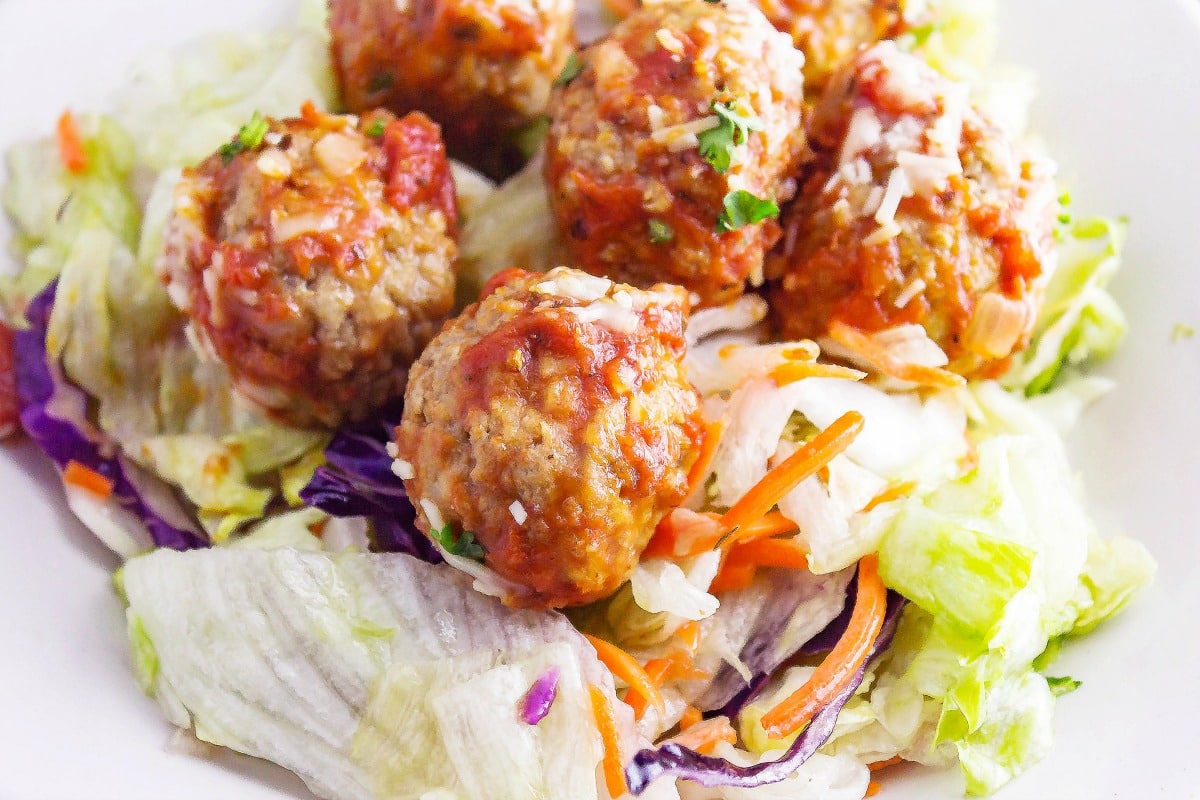 Meatballs
Can you tell I love meatballs? I have shown you recipes like Slow Cooker Caprese Meatball Subs, Slow Cooker Meatball Stew, and even Meatball Ranch Stroganoff. I love meatballs what can I say? Don't judge me!
Italian Homemade Meatballs
All seriousness, I think my love of Italian homemade meatballs comes from growing up. Meatball was a special thing in my family. My mom would make Italian homemade meatballs and hot sausage for special occasions and such. Leftover meatballs were used the next day in spaghetti. It always made the spaghetti taste so much better.
My family really loves meatballs. The funny thing is, we not even Italian. We are German, Irish and Polish. How this love affair with Italian stated not sure. I know my mom and dad when they lived in Mt Washington in Pittsburgh was friends with an Italian family owned a Pizzaria.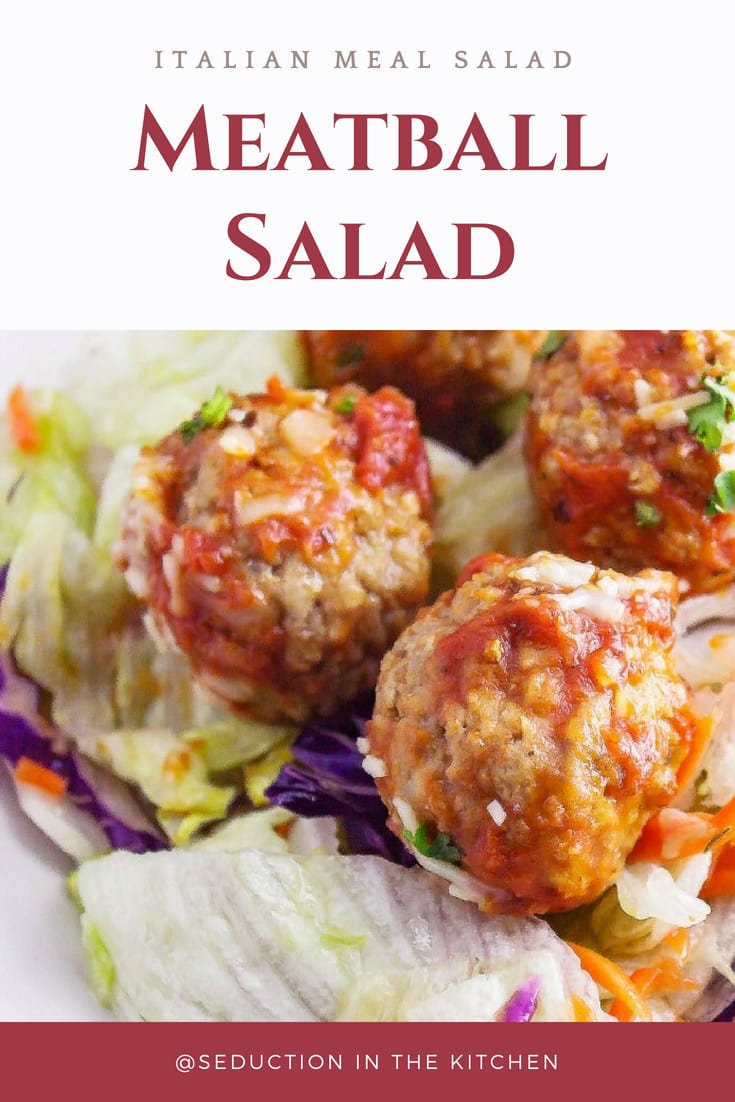 Funny Story Meatball Story
On that note, I will tell you a funny story about this meatball love and this Italian mother of the family that owned the Pizzaria. She was from Italy and she was older. So keep that in mind as you read this story.
I am the oldest in my family. When my mom was pregnant with me, the little old lady from this pizzeria in Mt Washington told her:
"Patty, Patty, eat lots of meatballs and little girl will have big boobs and little boy would have a big penis"
So, my mom did that as she was pregnant with me. I was about 4 months old when my mom got pregnant with my sister Lori.
We are only 13 months apart, Lori and I. My mom was sick of meatballs so she didn't eat them with Lori. Next up is my sister Chrissy, she and Lori are only 15 months apart. My mom did half and half with meatballs.
The results: I do have big boobs, Lori doesn't and Chrissy is in the middle. So maybe there was some wisdom in the old Italian woman's advice to my mom all those years ago. Let's see someone get a grant and research that notion about meatballs.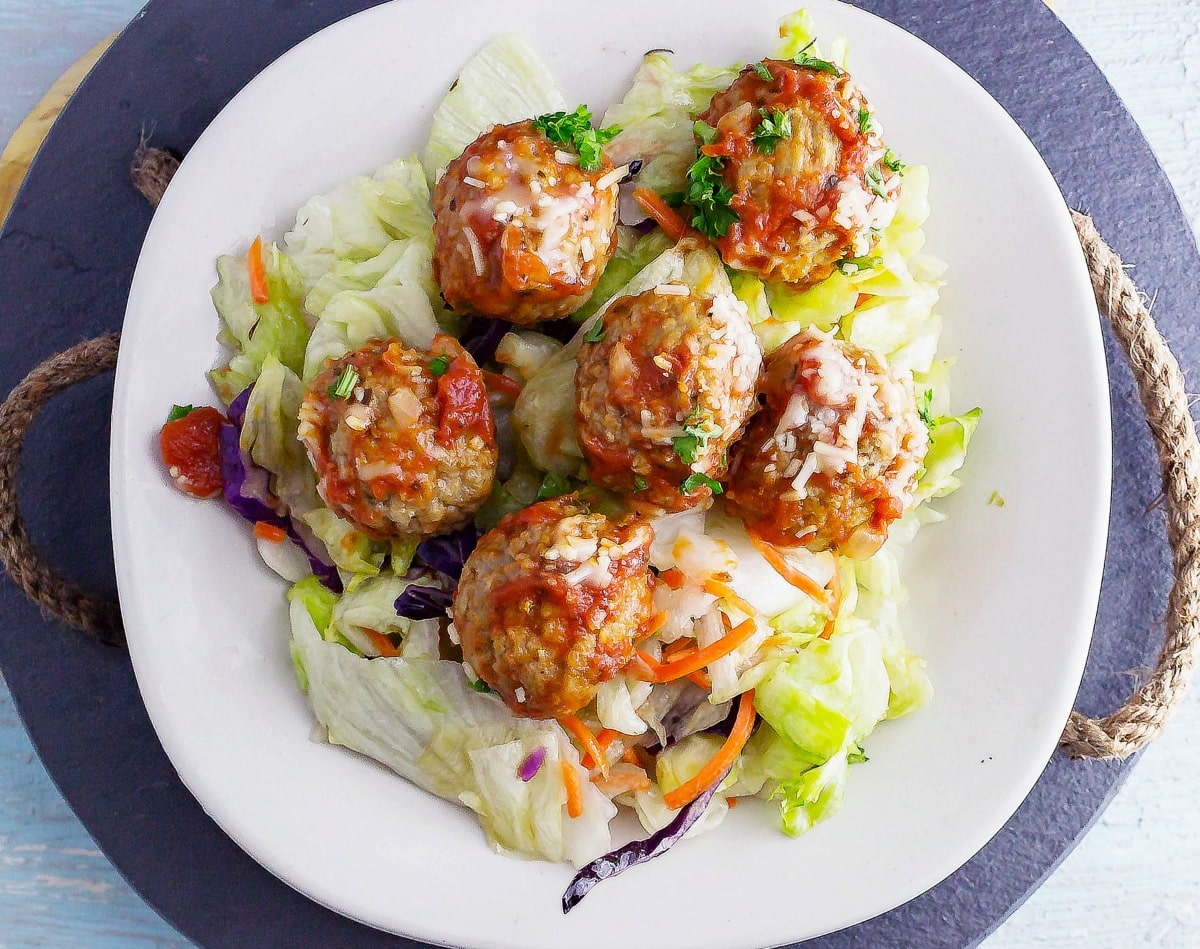 Meatball Salad
So how did the meatball salad come to be? The truth be told, it was originally going to be a redo of the Meatball Salad Sliders. However, I felt summer slump and decided I did not feel like making sliders.
Instead, I decided that the meatball salad needed to be its own post. It so good that is why. I was first heard of a meatball salad from a friend who goes to Vegas on a monthly basis. She has it there all the time.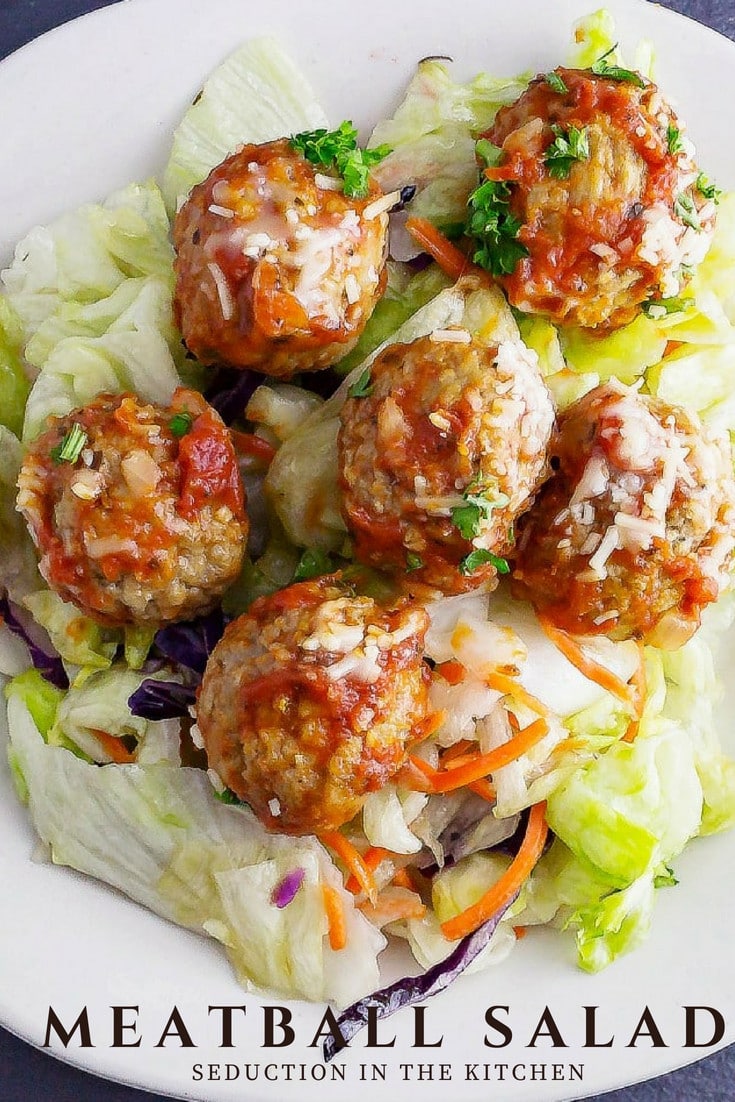 Leftover Meatballs Recipe
I had heard so much about meatball salad from her, that when I saw that a restaurant in Niles Ohio, which is famous for its Italian meatballs had a meatball salad, that I had to try it.
Anyway, she was right, the salad was amazing! This salad is the perfect leftover meatballs recipe.
Italian Salad Recipe
Anytime I had to cover in Niles I got that meal salad. I brought my friend one of that Italian salad recipe from Niles to her. She said it was identical to what she got in Vegas. So the Meatball Salad came about first in the sliders, and now on its own.
What To Do With Leftover Meatballs
So if you are looking what to do with leftover meatballs, then this meatballs with salad is perfect. This Italian salad recipe will fill you up in no time.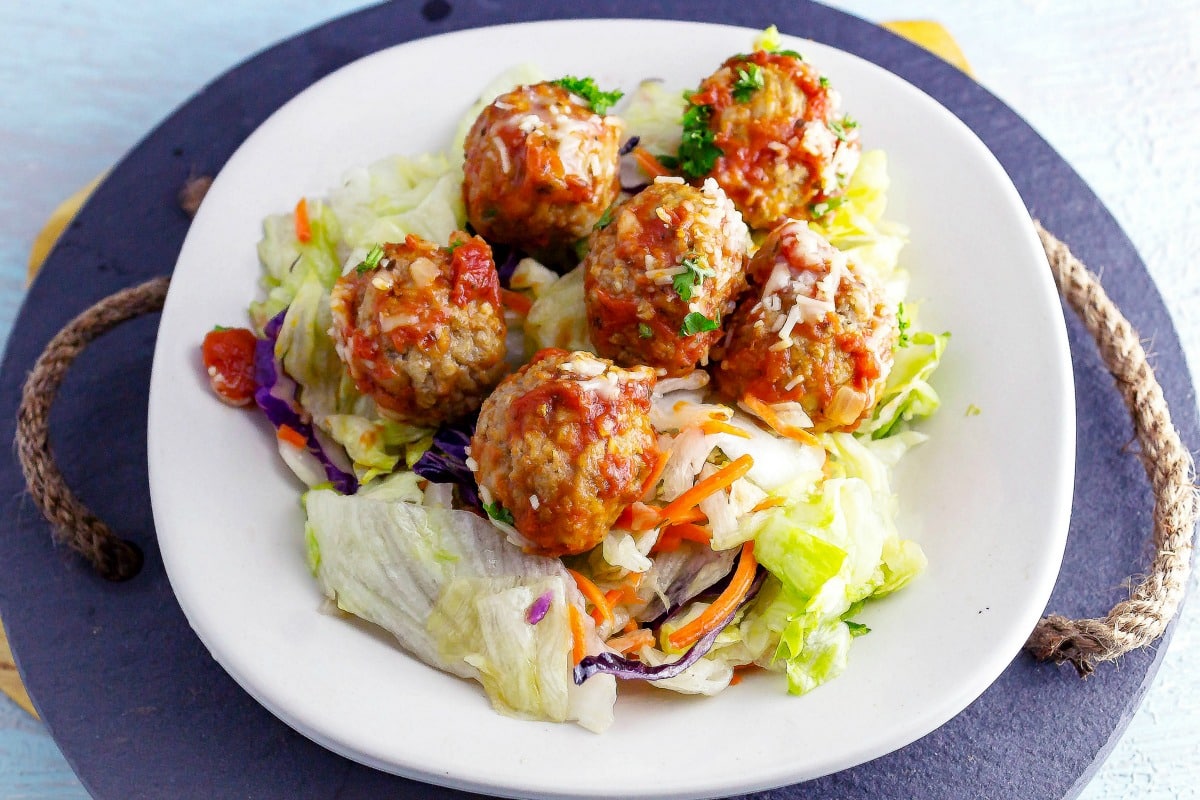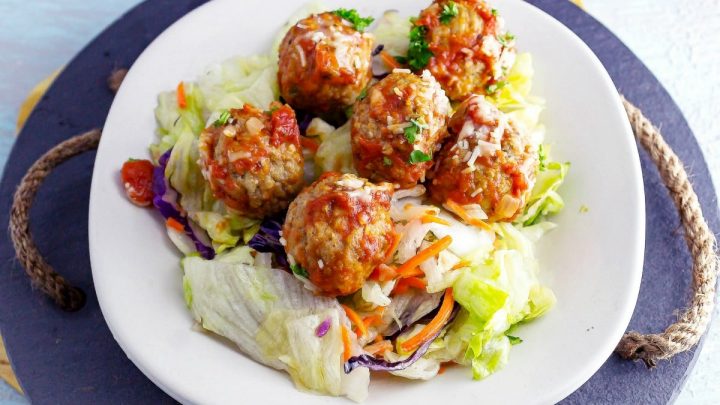 Yield:

4 Servings
Meatball Salad
Total Time:
1 hour
10 minutes
Meatball Salad is an Italian meal salad. Homemade meatballs on top of a white balsamic salad will fill you up with its yummy flavor combination.
Ingredients
1/2 red onion chopped
1/2 green pepper chopped
2 cloves garlic minced
3 tablespoons olive oil
2 tablespoons brown sugar
1/4 cup red wine vinegar
1 tablespoon balsamic vinegar
2 tablespoons molasses
2 tablespoons tomato paste
1 tablespoon Italian seasonings
1 teaspoon garlic powder
1/4 teaspoon red crushed pepper flakes
1/2 teaspoon cracked black pepper
1 can can of tomato sauce (16 oz)
1 package of meatball mix (it has pork veal ground beef it)
1 egg
1/4 cup bread crumbs
1/4 cup Parmesan cheese
3 tablespoons olive oil
2 tbsp white balsamic vinegar
1/2 tsp of truffle oil
1 clove of garlic minced finely
1/2 teaspoon Dijon mustard
1 tablespoon thyme
1 package of bagged salad
Instructions
Meatballs
Mix all the ingredients together for the meatballs
Form the meatballs
Bake the meatballs at 350 for about 20 minutes.
Sauce
Saute the onion and pepper in the olive oil, saute it till onions start to become clear.
Next, add the brown sugar, garlic, and the vinegar. You can experiment with vinegar, I like to use a variety of red wine and balsamic. Stir and let it cook for about 1-2 minutes in the sugar vinegar mixture.
Add the tomato paste and spices to the mixture, give a good stir and let cook another minute.
Then add the molasses to the sauce, stir it in and let cook for about 2 minutes, this what they call the black tar in making the sauce, the tar is the secret to good sauce I was told and, it is what binds it all together.
Add a can of tomato sauce to the black tar and stir it all together, this when you want to taste it and adjust, if too sweet add some more vinegar, need more spice, add it, too acidic add more molasses or brown sugar. Trust your judgment on this.
Once you have the sauce all mixed together, add the cooked meatballs and mixed them in so they covered in the sauce.
Set the meatballs aside
Salad
Whisk together the ingredients to make the dressing for the salad.
Place the lettuce in a bowl, and pour the dressing over the salad and toss the salad.
Assemble
Place the salad on a plate
Top it off with some the meatballs
Serve it up and ENJOY!
Notes
Now the one thing when comes to making the sauce, in all honesty, there is no measuring, it is all taste and trusting yourself. So all the amounts got listed in all honesty is approximate. You have to taste and adjust to what you like, this is what I like in a sauce. You could do a short cut and use a bottled sauce, I personally love making my own sauce.
Nutrition Information:
Amount Per Serving:
Calories:

510
Like it? Pin it!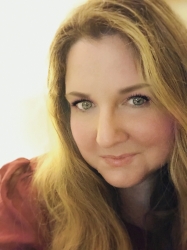 Latest posts by Deanna Samaan
(see all)