Caprese Salmon is a succulent salmon dish. This seafood dish combines salmon with a balsamic glaze and Caprese topping. It is a wonderful salmon recipe that seduces the taste buds.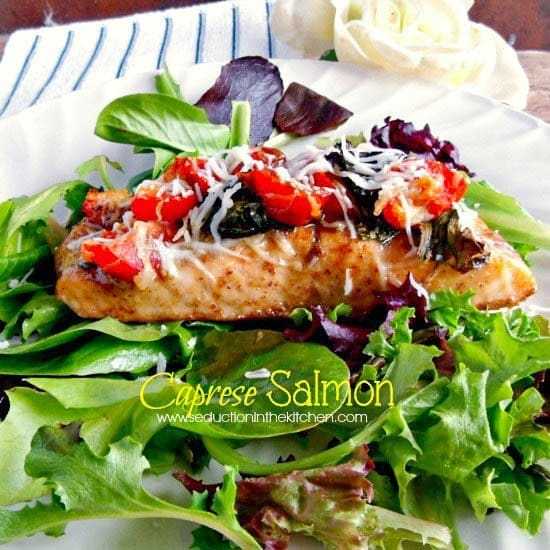 Not Feeling Well
So, you may have noticed I was silent this week. I got a very bad sinus infection that went into an ear infection. It is my allergies, they are in overdrive.
Actually, I am still trying to get over this infection. I got bad laryngitis right now. Let's just say I sound like a husky Minnie Mouse, I am squeaking with a husky voice.
Working at the health center has been fun as I have been going through this. I called off 2 days because I could not keep my balance, due to the ear infection. I don't think people want a dizzy phlebotomist drawing their blood.
When I lost my voice when, of course, I had to get all the hard of hearing patients asking "Who did you call?" I heard this so much over these last few days. My mom said I should rest my voice, yeah, not going to happen when you work in the medical field.
Yummly
Aside from that, I do have a few exciting announcements. One, I have partnered with YUMMLY! In fact, you will see a Yum Button on all the posts now.
It helps save the recipe to your Yummly recipe box. Plus it also a voting type thing too, when press it, it "yums" it up. You can check out the Seduction in the Kitchen's Yummly page to start yumming those recipes if you like.
Caprese Salmon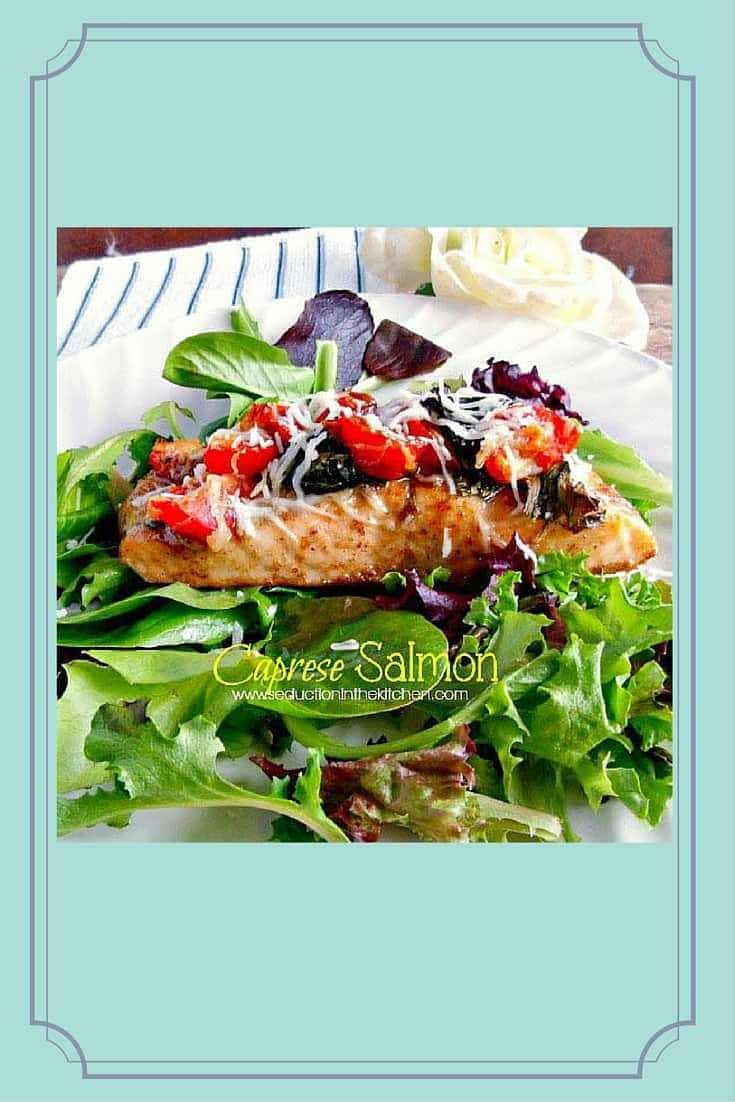 My local grocery store had frozen salmon on sale. Originally, I had this idea for a shrimp Caprese, but when I saw this salmon. I thought, no wait, I want to play this up different.
I love Caprese Salad. My friend Richard does one with this balsamic glaze that amazing. That is where I got this inspiration for Caprese salmon from. It tastes so superb!
I think doing caprese salmon was a much better idea than shrimp caprese. I think you will agree after having a bite of this wonderful dish. It will seduce you.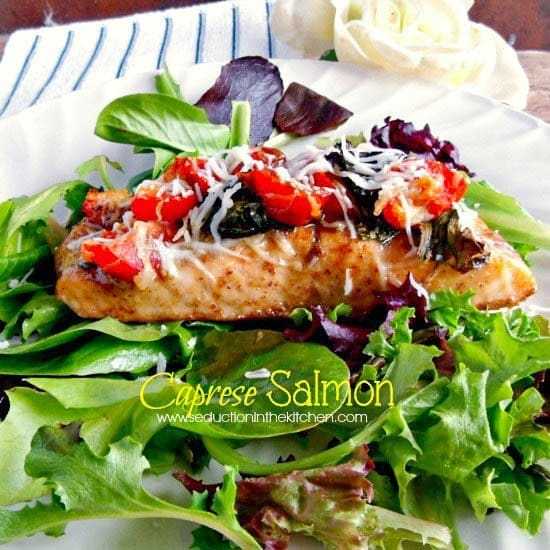 Do you like salmon? So do I! Check out: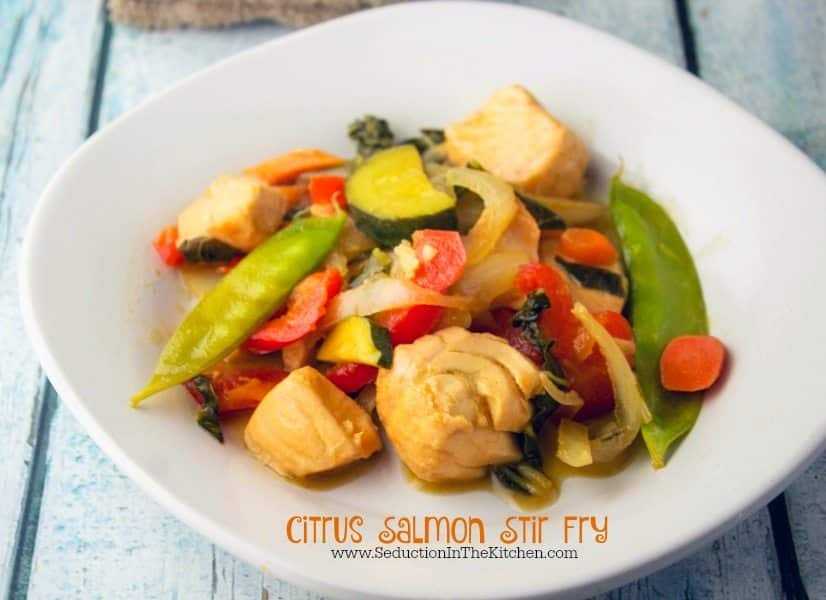 Citrus Salmon Stir Fry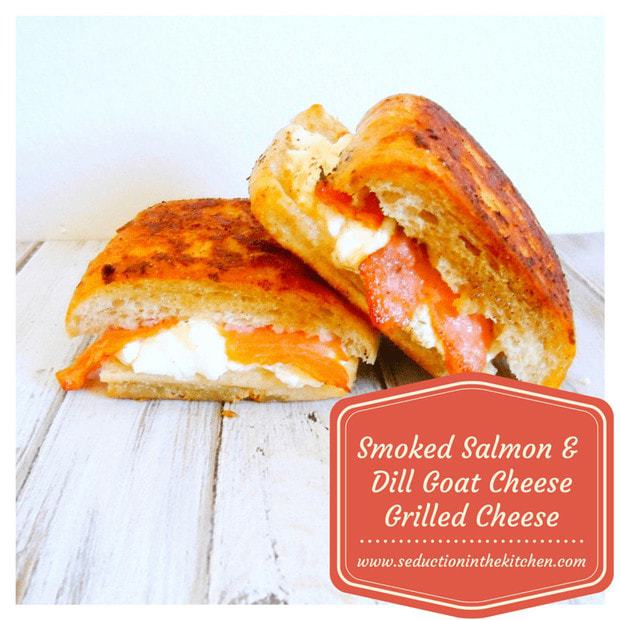 Smoked Salmon and Dill Goat Cheese Grilled Cheese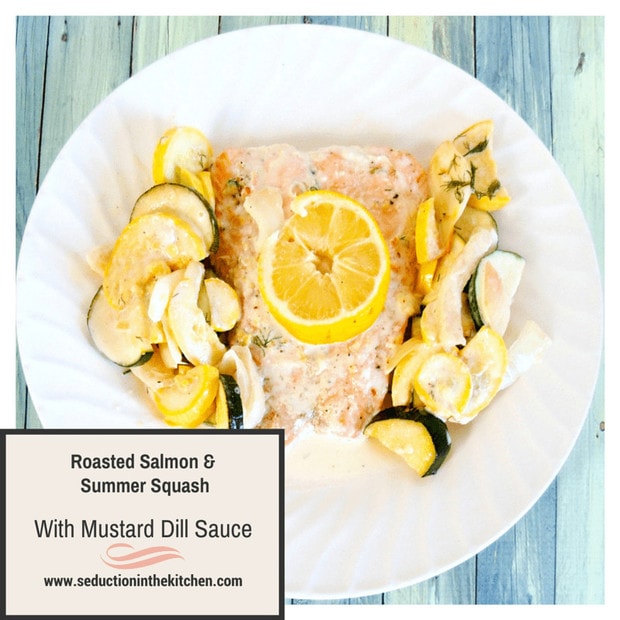 Roasted Salmon and Summer Squash with Mustard Dill Sauce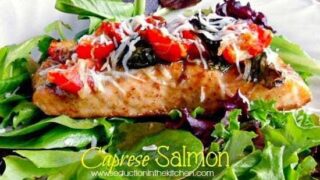 Yield:

4 servings
Caprese Salmon
Caprese Salmon is a succulent salmon dish that is a blend of flavors from Caprese salad. A recipe from Seduction In The Kitchen.
Ingredients
4 salmon fillets
mixed baby greens
2 tablespoons balsamic vinegar
2 tablespoons packed brown sugar
1 tablespoon stone ground Dijon mustard
2 teaspoons olive oil
8 leaves large basil (roughly chopped)
1/2 pint of cherry tomatoes (sliced)
1/4 cup shredded mozzarella cheese
Instructions
Preheat oven to 450°F.
Line a baking sheet or shallow baking dish with foil., and place the salmon fillet, skin-side down on the baking sheet.
Stir together the glaze ingredients and spoon it over the salmon.
Mix the basil, 1/8 cup the cheese, and cherry tomatoes together. The spoon it over the salmon.
Bake for 11-12 minutes per inch, until the fish flakes with a fork.
Use a thin spatula to remove the fish from the pan, and try to leave the skin behind on the foil.
Serve the salmon on a bed of mixed baby greens, sprinkle the remaining cheese over the salmon and ENJOY!
Nutrition Information:
Amount Per Serving:
Calories:

0
Like this Recipe? Pin it!
This post was most recently updated
I want to hear what you have to say about this recipe that is on
SEDUCTION IN THE KITCHEN!
Let's get this conversation started! What do you think of this recipe?