This post was most recently updated
Tailgate CrockPot Pierogies with Kielbasa, Bacon, and Onions is one of my tailgating recipes! Part of my recipes with perogies, this pierogi casserole recipe is a great crockpot casserole recipe. What makes this pierogies and kielbasa casserole so delicious is cream sauce for these crockpot pierogies. Serves 8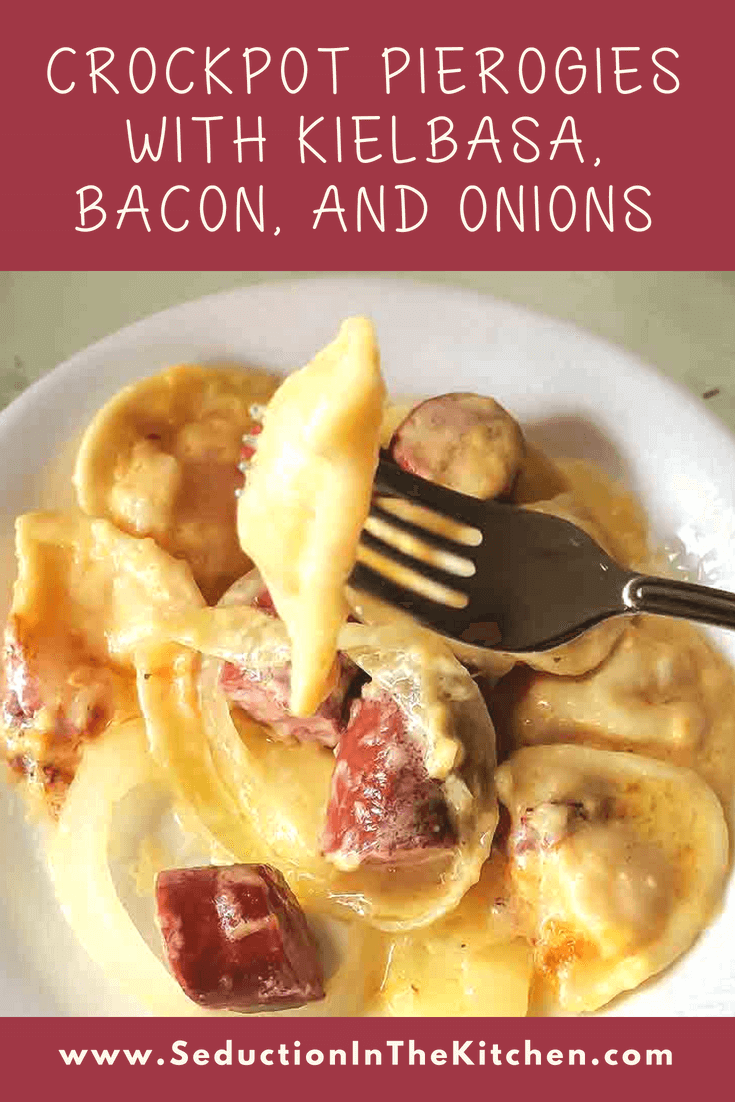 Recipes With Perogies
If you look through Seduction in the Kitchen, you will see many recipes with perogies. I love pierogies. I am from Pittsburgh, so I make recipes with perogies, it is a Pittsburgh thing.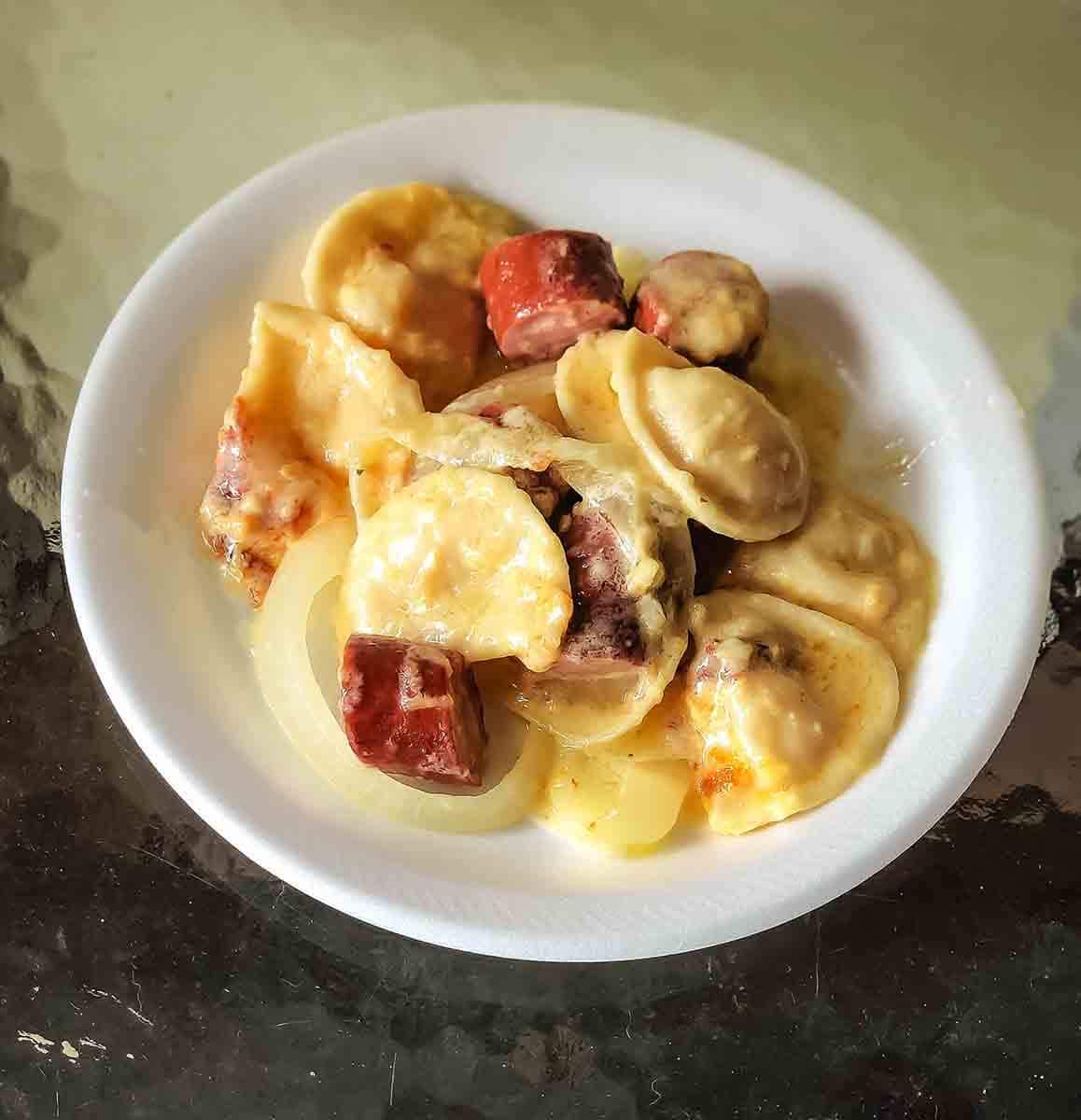 Crockpot Pierogies
I actually make crockpot pierogies all the time for work potlucks. With football season, I change up pierogies in crockpot to a be tailgating recipes. How do I change crockpot pierogies into tailgating recipes? It is easy, I make it kielbasa and pierogies!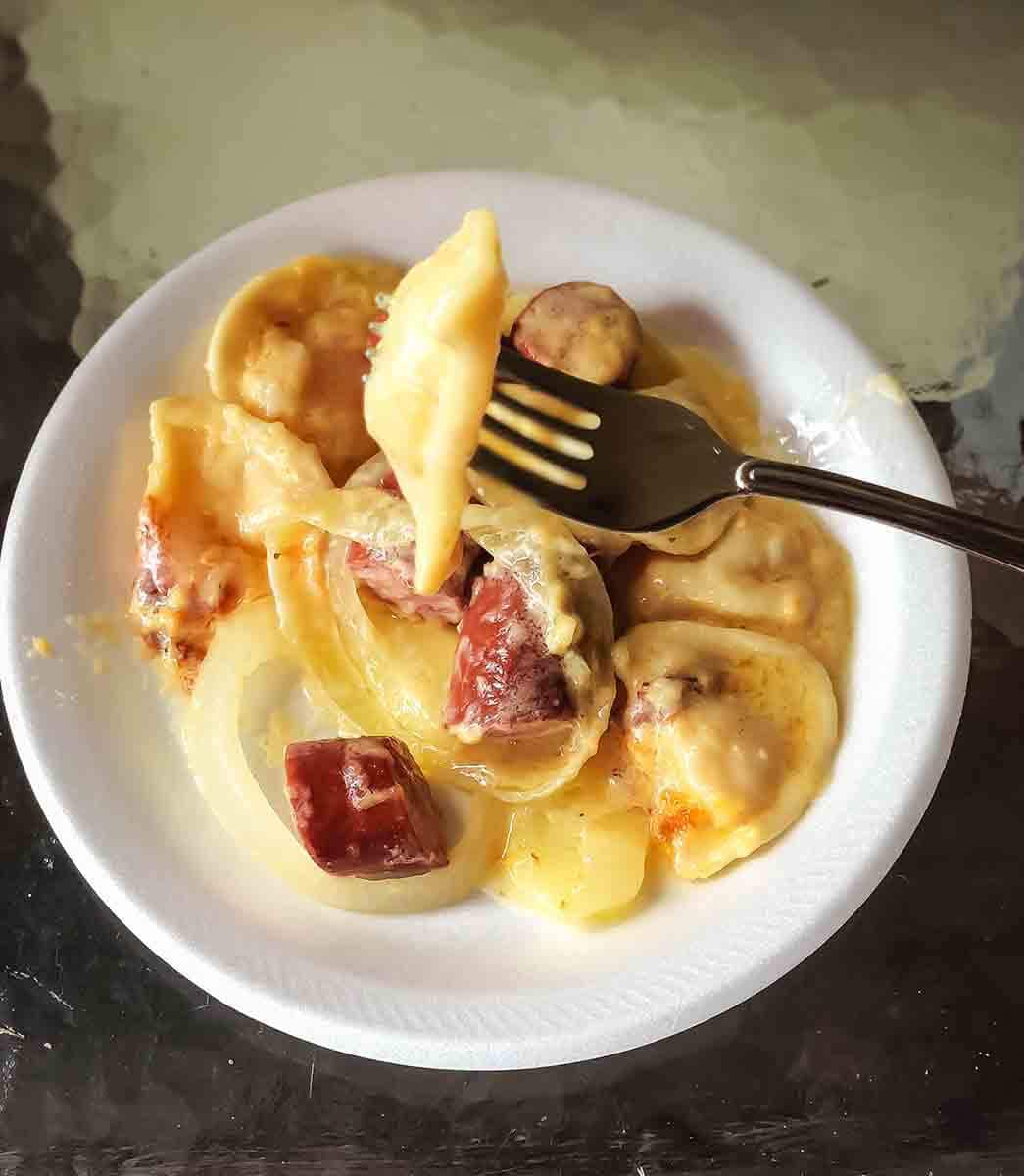 Tailgate Recipes
Tailgate recipes are essential to a Pittsburgher. I mean we hare the city of champions, The Pittsburgh Steelers. So how can I not have tailgating recipes on Seduction in the Kitchen? I could make kielbasa crockpot recipes but kielbasa and pierogies, now that is Pittsburgh tailgate recipes.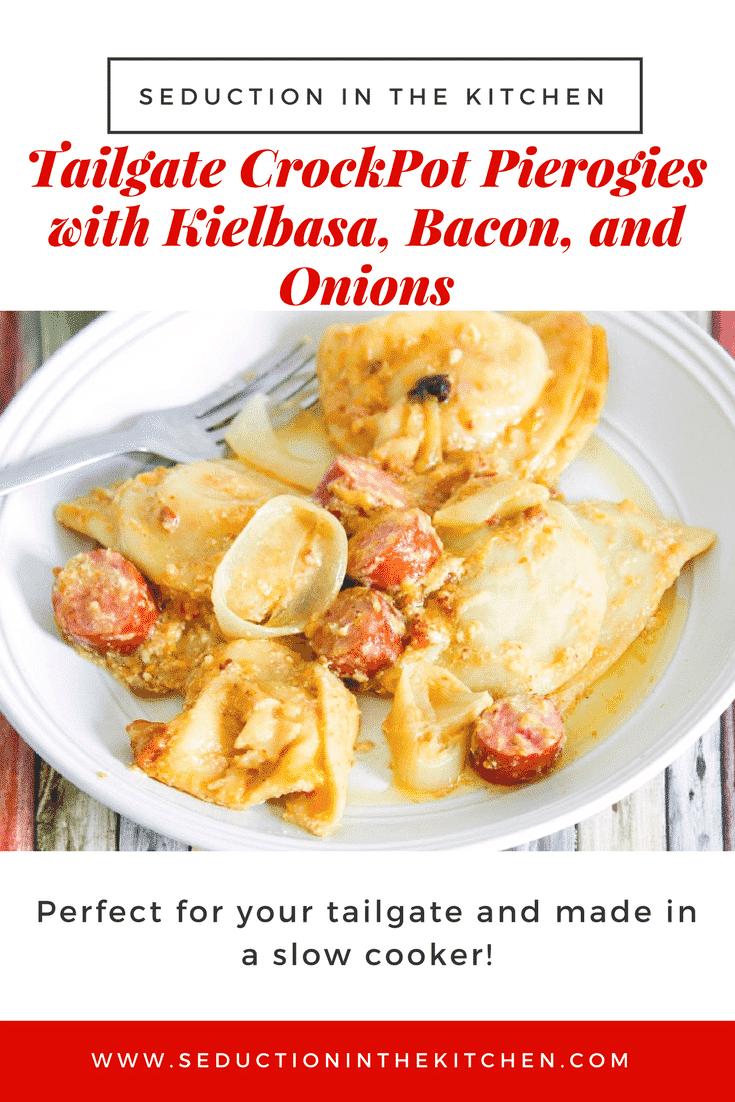 Kielbasa and Pierogies
Combinging kielbasa and pierogies into a crock pot is easy. What makes this crockpot casserole recipe stand out is the cream sauce. It makes this pierogi casserole just stand out from other recipes with perogies.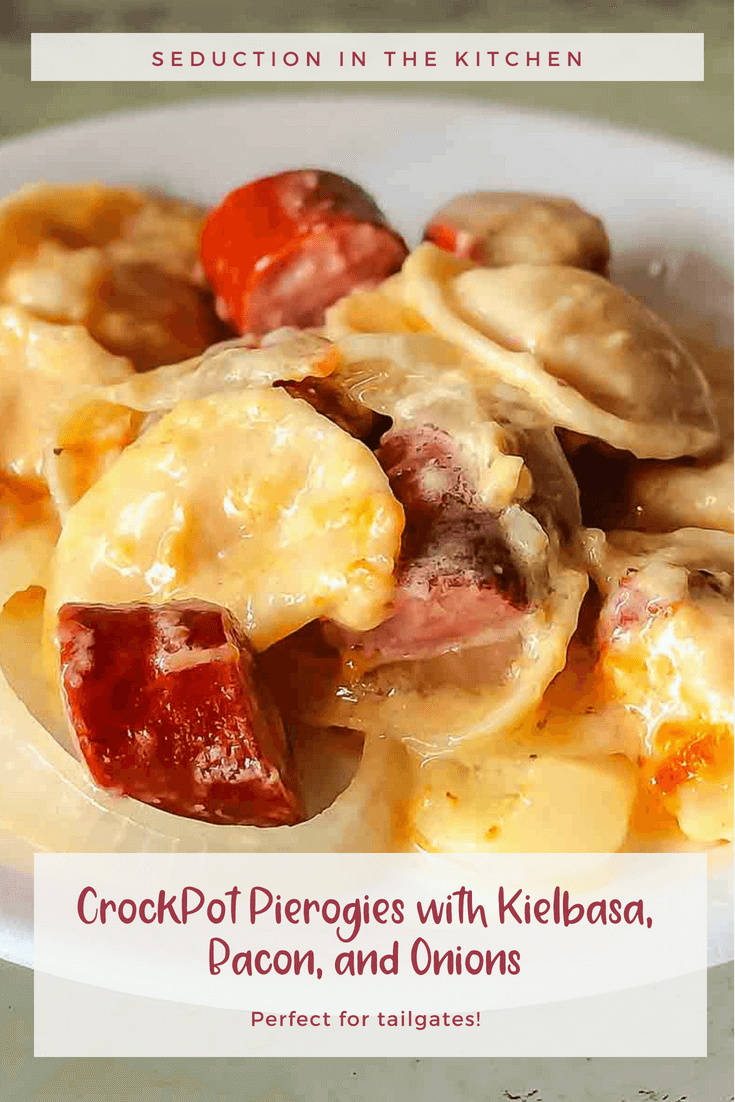 Best Tailgate Food
What is the best tailgate food? Well, a tailgate is people making stuff out the back of trucks and drinking beer in a parking lot. That is a tailgate party.
So yes, these pierogies, are part of slow cooker tailgate recipes. The cream sauce for perogies most likely will give you a heart attack, but they taste so damn good! You will love this pierogies and kielbasa casserole with the first bite.
Crockpot Casserole Recipes
I know crockpot casserole recipes may not be your first thought when comes to tailgate recipes. Trust me this pierogi casserole is perfect for tailgating recipes. Dump it all in the crockpot and it ready for kick off! For the true Pittsburgh spirit, serve these kielbasa and pierogies with Iron City Beer!
Anyway, that is my opinion for these pierogies with onions. Trust me you will love these CrockPot Pierogies with Kielbasa, Bacon, and Onions. You will agree these pierogies are one the best slow cooker tailgate recipes.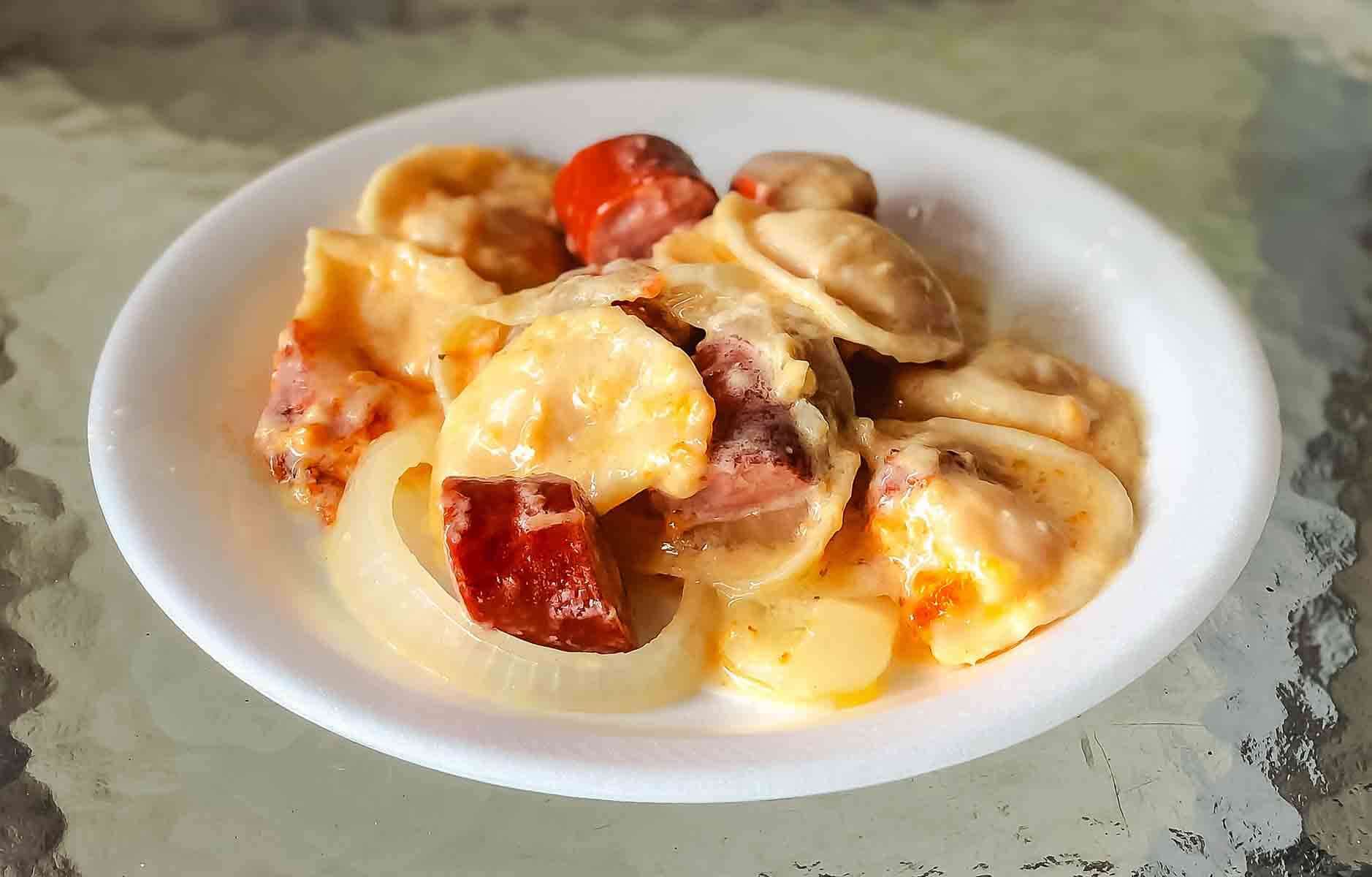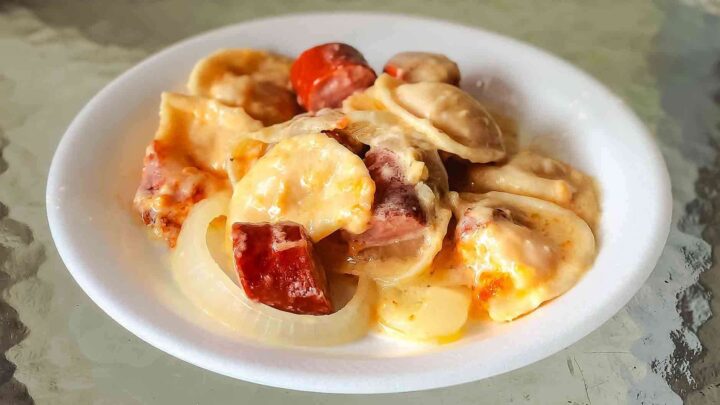 Yield:

8 servings
Tailgate Crock Pot Pierogies with Kielbasa, Bacon, and Onions Recipe
Total Time:
4 hours
10 minutes
Tailgate Crock Pot Pierogies with Kielbasa, Bacon, and Onions are perfect for your tailgate is made in the slow cooker! A recipe from Seduction in the Kitchen
Ingredients
1 stick of butter (divided)
1 large onion (sliced thin)
1 bag of Oscar Meyer Bacon recipe pieces
2 boxes of Ms 's Pierogies (I like one box potato and cheese and another with sauerkraut)
1 package of skinless polish kielbasa (cut up)
1 pint of heavy cream
1 tablespoon of white balsamic vinegar
2 slices of Muenster cheese
8 oz sour cream
Instructions
First thing want to do is lightly spray the crock pot with a cooking spray, this help with the pierogies sticking to the crock pot. After that, place 4 tablespoons of the butter in the crock pot, and turn the crock pot on high. This is going to melt the butter.
Next, melt the rest the butter in a fry pan and saute the onions, saute them till they are just starting to get golden.
Once the onions are starting to turn golden, add the bacon to the onions, and let them cook for about a minute together, stir constantly in that minute.
Next, add the balsamic vinegar and heavy cream to the onion mixture. reduce the heat and let it simmer for 3-5 minutes. make sure your stirring so you do not burn.
Next add the muenster cheese to the sauce and turn the heat off. You just want it to melt into it, takes about a minute for this. stir and set the sauce aside. You can use another cheese, I happen to have this cheese and I was surprised how good it made the sauce.
The butter should be melted or half way there in the crock pot, add the kielbasa to the crock pot.
Layer the pierogies on top the kielbasa. I like to use both potato and sauerkraut, that just a taste thing but you can use all potato kinds if you choose.
Pour the onion mixture on top the pierogies
Top it off with the sour cream. Cover and let it cook on high for about 4 hours. Half way to cooking give the crock pot a stir, so the butter comes up and the sauce is coming down. Plus it helps with the pierogies sticking.
Take some out the pot and ENJOY!
Recommended Products
As an Amazon Associate and member of other affiliate programs, I earn from qualifying purchases.
Nutrition Information:
Amount Per Serving:
Calories:

415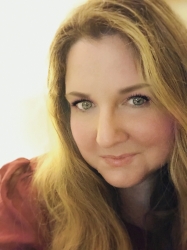 Latest posts by Deanna Samaan
(see all)