Stuffed Pierogie Shells is a recipe with jumbo shells! These stuffed lasagna shells have a potato pierogi filling. This poor man's homemade pierogies! 4 Servings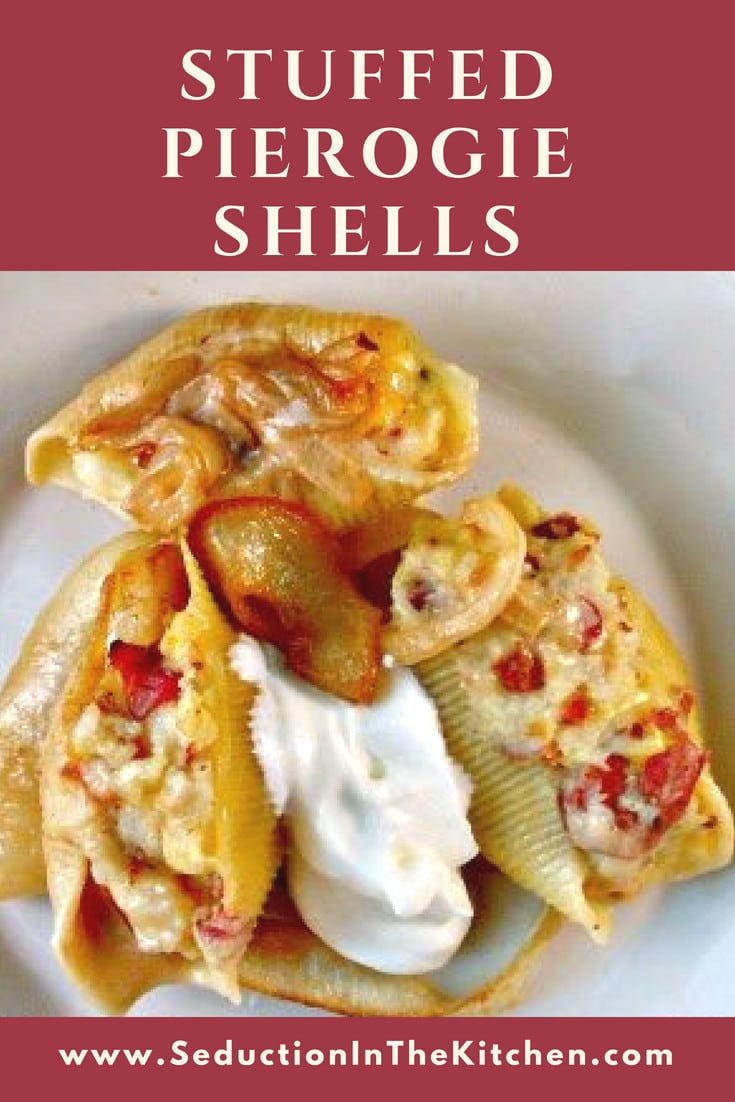 Sunday Supper Movement
I am excited, I have joined the Sunday Supper Movement! Yes, this  Stuffed Pierogie Shells is my first post with Sunday Supper. For the longest time on Facebook and Twitter, I was seeing these great recipe themes all with the #SundaySupper on them, now I am finally part of the Sunday Supper family.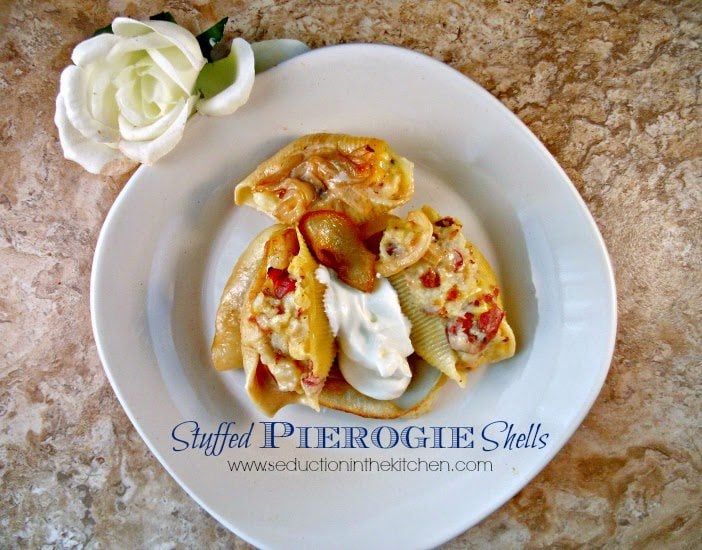 Homemade Pierogies
So this week the theme is "Stuff, Roll, and Wrap," Well one thing came to my mind, homemade pierogies! Being from Pittsburgh and living in Cleveland, pierogies rule! However, making homemade pierogies is not so easy.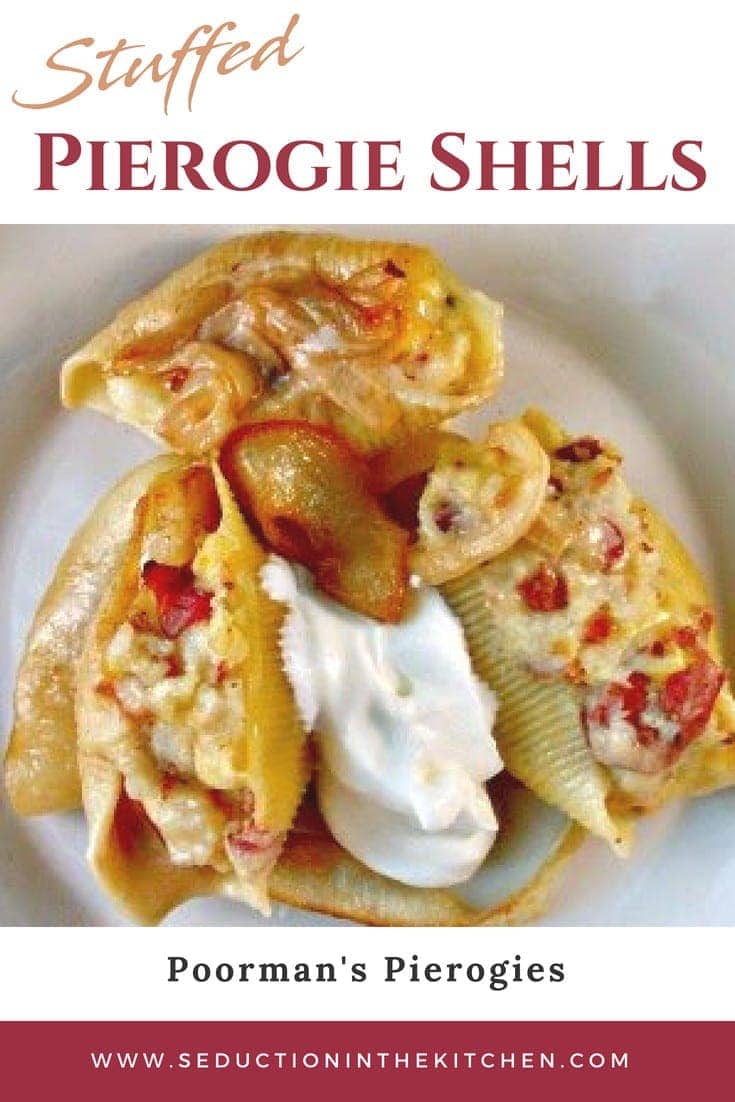 Stuffed Lasagna Shells
Someone at a work potluck made these stuffed lasagna shells. The only this is those stuffed lasagna shells was actually pierogies! That idea of a pierogi stuffed shell is what inspired this homemade pierogi recipe.
Potato Pierogi Filling
I made own version of this recipe with jumbo shells.  The secret to this Stuffed Pierogie Shells is the potato pierogi filling. This potato pierogi filling is full of really good flavor. You would swear you're eating a real homemade potato pierogi!
For This Recipe You Will Need
Pierogi Lasagna
Isn't this recipe with jumbo shells the same as pierogi lasagna? Well yes, both this stuffed shell version and pierogi lasagna are a poor man's way of making homemade pierogies the easy way!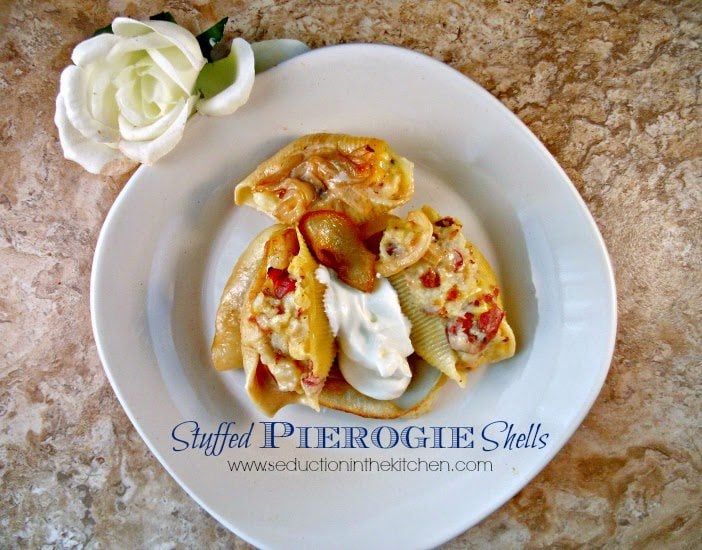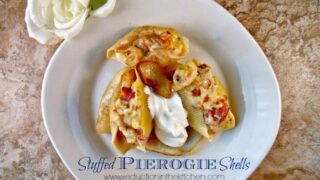 Yield:

4 servings
Stuffed Pierogie Shells Recipe
Pierogies made easy by using jumbo shells!
Ingredients
6 red potatoes
1/4 cup sour cream
1/2 teaspoon garlic salt
3-4 strips bacon (cooked and crumbled)
1 tablespoon milk
1/4-1/2 cup of shredded Colby Jack cheese
black pepper taste
1 stick of butter (divided)
1 onion (sliced thin)
1 tablespoon balsamic vinegar
1/8 cup heavy cream
Jumbo shells (cooked)
Nutrition Information:
Amount Per Serving:
Calories:

450
[convertkit form=785110]
This post was most recently updated
I want to hear what you have to say about this recipe that is on
SEDUCTION IN THE KITCHEN!
Let's get this conversation started! What do you think of this recipe?