Honey Mustard Pretzels is sweet, but tangy snacking pretzel that is only 2 ingredients! A recipe from Seduction in the Kitchen.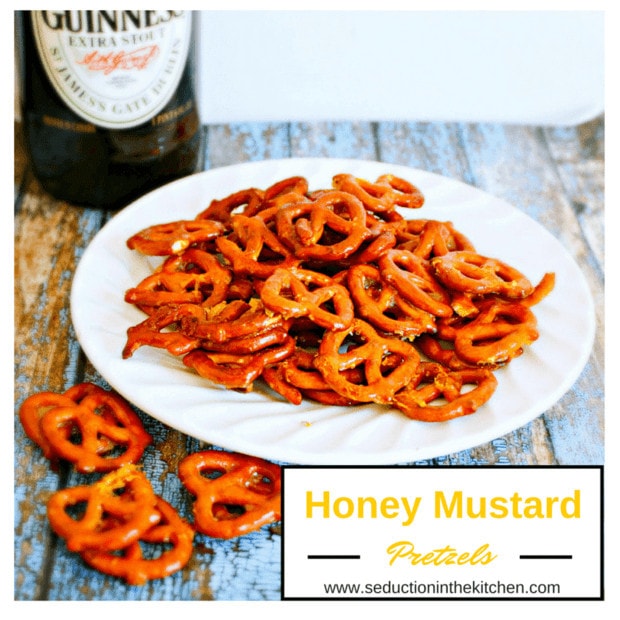 I'm always saying change is good, right? Well, I'm trying a change to see how it will work here on Seduction in the Kitchen! I'm trying out the WordPress app on my phone to see if it makes life easier for writing posts.
I installed it but never used it, so was thinking: hey if I can use that app, it could make writing a little easier. I write as things happen around me. My phone is always on me, hmm this is interesting. So this first post doing this let's see how it does. I admit I do see a few issues, I think I may need my actual laptop before I publish, though. Will this way actually be easier?
About when I started Seduction if memory serves. My laptop and desktop both decided to go. Luckily had under warranty. I think I did try doing posts via my iPad and didn't work out. But I think that's because I published it too. I'm thinking if I write on this app in the draft but publish… All I will say we see.
I'm big into trying things. Like said I think I tried this once before, writing on something wasn't my laptop. It didn't work out, I'm not giving up 100% on the idea. I am revisiting it and just doing it a different way. There has to be a reason for this app right?
Sometimes what you try at first doesn't work, so try again but do something a little different. Recipes are like that. I will confess there is one recipe I have tried so many times to develop and fails every time. It a Sheppard's Pie idea I have, but with frozen meatballs. I call it Poorman's Sheppard's Pie. I had this dish end up like slop on a plate to a very thick stew. It just isn't turning out what I envision, but I'm determined there has to be a way to do this recipe. It is just finding that right combo that will work.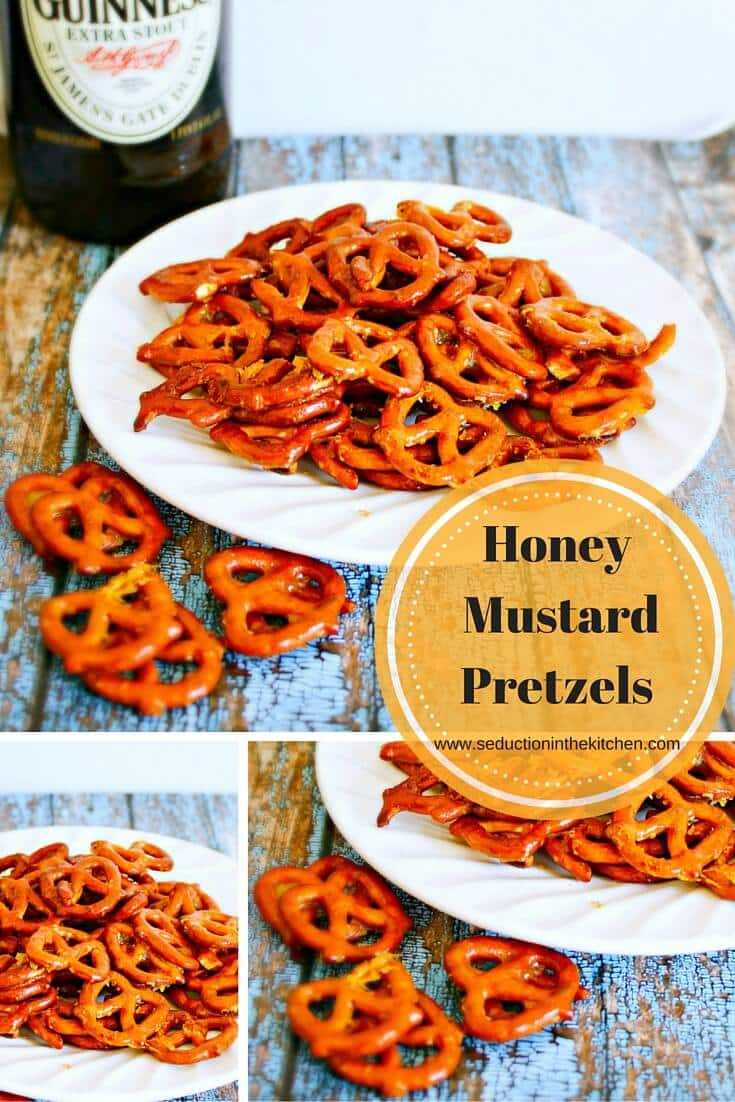 So when comes to pretzels, I found that winning combo in my BBQ Pretzels. Well wanted to try to find a new flavor could do with pretzels. Right now, I admit I'm kind of on a honey mustard condiment kick right now. I like that tangy sweet taste it has, especially with chicken. So why not do it with pretzels. Best part, this can be a budget recipe too with only 2 ingredients!!
Yield:

6 servings
Honey Mustard Pretzels
Sweet, but tangy snacking pretzel that is only 2 ingredients! A recipe from Seduction in the Kitchen.
Ingredients
1 lb bag of pretzels
1/2 cup of honey mustard sauce
Instructions
Pre heat the oven to 350F
In a large bowl add the pretzels and drizzle on the honey mustard sauce.
Mix them together so the pretzels are coated with the mustard. Depending on the size the pretzels you may have to add more honey mustard.
On a parchment lined cookie sheet spread a thin layer of the pretzels on it.
Bake in the oven for 10 minutes.
Take out the oven and let them cool, then ENJOY!
Nutrition Information:
Amount Per Serving:
Calories:

320
I want to hear what you have to say about this recipe that is on
SEDUCTION IN THE KITCHEN!
Let's get this conversation started! What do you think of this recipe?