Pierogie Stuffed Meatloaf is a meal all in one! Buttery onions and pierogies stuffed inside meatloaf. A Recipe from Seduction in the Kitchen.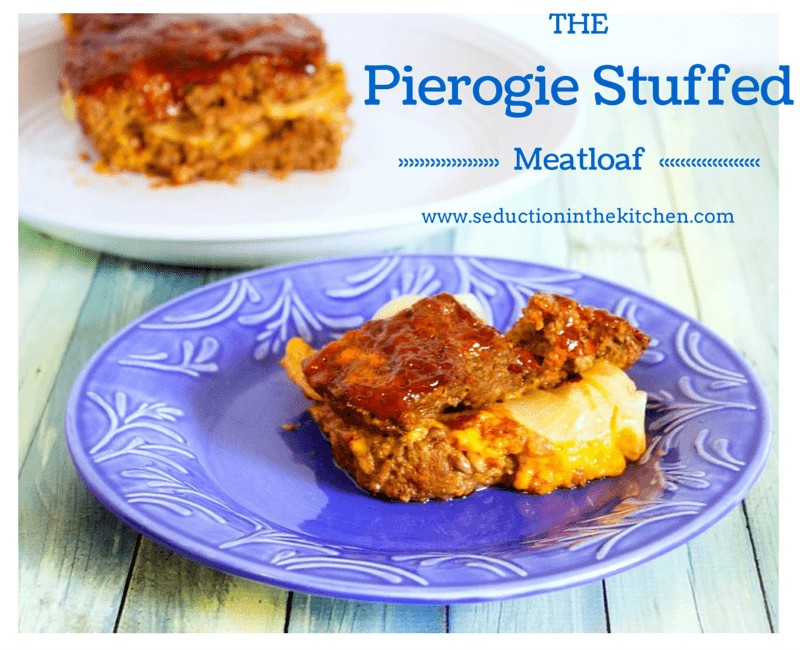 I know I am behind on posting! I do have a good excuse, though, my new template was to go live this week, so I wanted to hold off on a new post until it was live, but some issues with the developer came up and have pushed it back. I have seen previews of it and I have to say, I  really like it, and I think you guys will like it too. I can not wait for you all to see it.
Have you ever did something that simply was not planned? Well, last Friday I did something I simply did not plan for, here let me give you a little background. My car has less than $2000 left owed on it. So you know when your very close to paying off a car, you get stuff in the mail, urging you to buy a car? I have been getting that stuff in my mail.
One for some reason one caught my attention. I thought I look up this dealership online and honestly, wasn't impressed with what they had. I was planning in January, when my car was paid off, to start the search to find a new car. So I decided, I am going on AutoTrader.com, my dad has always looked in Auto Trader 's paper magazines when he was looking for cars. I just wanted an idea, I wasn't planning on buying right now.
A car caught my attention, I didn't know anything about this dealership it was at, so I did a quick google search, found this North Coast Auto Mall. To look at the cars, you have to put your phone number and email in. Keep in mind I am just want to look, I am not buying. 10 minutes later my phone rang, it was this woman, I told her I was just looking, I plan on getting a new car in January. We talked and in all honesty, I don't know what I qualify for or how much my down payment would be, so I thought, ok I will go there and I will at least find this out so I know come January.
I will be the first to admit, my credit sucks. I was stupid in college with it, you know how it is, sign up for a credit card get a free T-Shirt, bill comes, "oh mom and dad will pay it." Yeah, um no, I am the one that was responsible for it not them. When I started getting my credit together, divorce happened and my credit was shot yet again!
Trust me, since I have been rebuilding my credit from all the divorce damage, I got lucky with my current car finance company, Red Rock Financial, I loved them, they really helped me rebuild my credit. I never missed a payment with them. Plus they even gave me pointers, like split up my payment to pay the car off quicker, that it would look good for getting my credit better. I knew I could finance a car through them if I found something, but like I said, that wasn't my plan last Friday. I was just looking.
Guess who bought a car without planning, me! I got a great 2013 blue Hyundai Elantra with very low miles:
I am super impressed with how my Salesman, Adam Miller. He took care of me and found me a car that fit my needs, budget and, well me. The car I wanted to see was sold. There was another car there it had everything you can think of but it was more money.  He was honest with me and said, he didn't think it is a good car for me. It was in my budget it fit my needs, but he didn't think I really like it. He was right, he talked me out of a more expensive car. Not many salesmen, especially in car sales, will put a customer's actual needs first and what will really suit them. He did!
I found out my brother-in-law and a friend has bought cars from this place in the past, and they never had any issue with the cars from there. My dad looked it over, my dad knows everything when comes to cars, and he said I did a good job of selecting a car by myself. In the past, I have always had my dad or a male friend go with me when I bought a car. I don't know anything when comes to cars, food yes, cars no. This time, it was all me. I am extremely proud of myself and love this car, plus my payment is lower then what was paying, so guess who found out her credit is better! If anyone needs a good used car, Go see Adam Miller at North Coast Auto Mall. Tell him Deanna from Seduction in the Kitchen recommended him!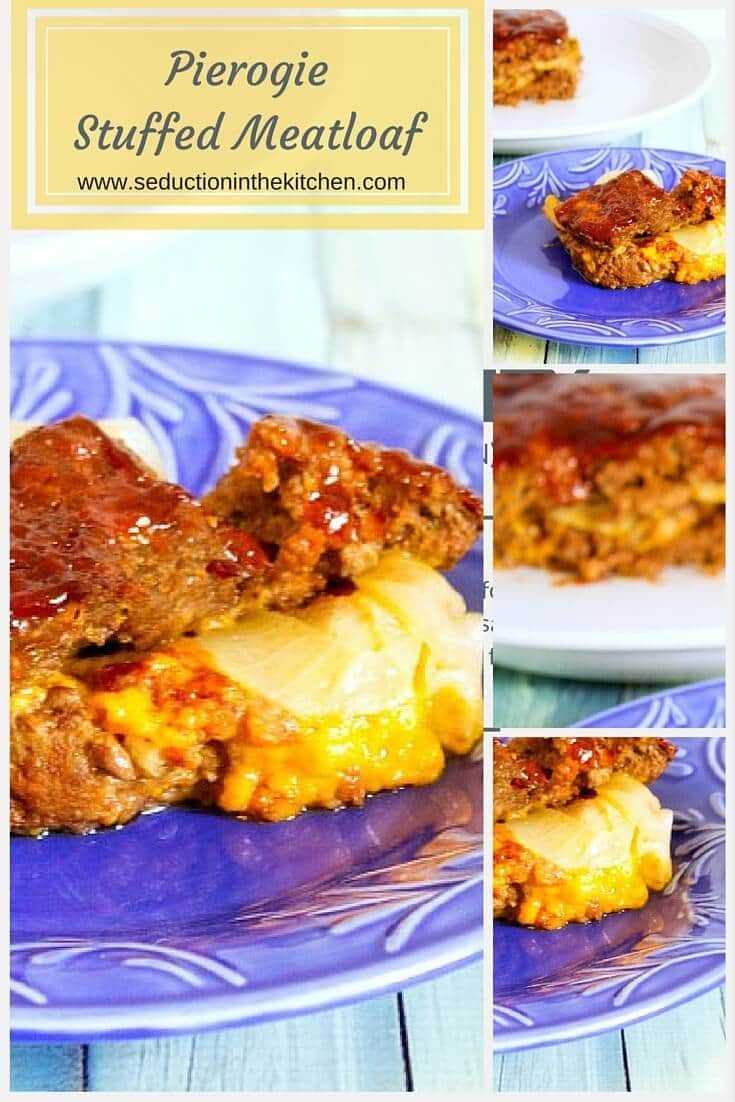 It is funny how you can do something without planning for it and turns out to be very good. Recipes are like that, you can just do something on impulse, like make a meatloaf, just on impulse add something different to it and get a great result. That is what happened with the creation of this meatloaf. I knew I had mini  4 cheese pierogies in my freezer, I decided on impulse to add to meatloaf, and the results was an amazing all in one meal that I loved. Sometimes you need to do something without planning, you never know, you may get results that you will love.
Yield:

6 servings
Pierogie Stuffed Meatloaf
A meal all in one! Buttery onions and pierogies stuffed inside meatloaf. A Recipe from Seduction in the Kitchen.
Ingredients
1 lb ground round beef
1/4 lb ground pork
1/4 lb ground veal
2 eggs
1 tablespoon worcestershire sauce
1/2 cup bread crumbs
2 cloves garlic (minced)
1 tablespoon McCormick's Montreal Steak seasoning
1 onion (sliced)
4 tablespoons butter
1 T package of Mrs 's Mini 4 cheese Pierogies
1 cup of shredded cheddar cheese
1/4 cup sweet BBQ sauce.
Instructions
In a fry pan, melt the butter and add the sliced onion. Saute the onion until it just starts to become translucent.
Next add the pierogies, and continue cooking until the onions are completely transluscent and the pierogies are starting to brown. Set them aside.
In a bowl, add the ground meats, eggs, steak seasoning, garlic, worcestershire sauce, and bread crumbs. mix everything well. You do not want the meat to be "wet" so you may have to add a little more bread crumbs.
In a well oiled large bread metal bread pan, take half of the meat and pat it on the bottom.
Next, spread a layer of the cheese on top that meat.
Then add the onions and pierogies on top the cheese.
Then take the rest the meat and form it on top of everything in the pan.
In a pre heated 400 degree oven, place the foil covered meatloaf in it and cook for 45 minutes.
Uncover the meatloaf, and brush on the BBQ sauce and continue cooking, uncovered for 15 minutes.
Take out the oven, cut off a slice of it and ENJOY!
Notes
You could get meatloaf mix, some meat sections in grocery stores have it so your not having to buy all the ground meats separate.
Nutrition Information:
Amount Per Serving:
Calories:

620
This post was most recently updated
I want to hear what you have to say about this recipe that is on
SEDUCTION IN THE KITCHEN!
Let's get this conversation started! What do you think of this recipe?