The Persia Burger is one of my award winning burger recipes. This burger kebab is similar to a grilled kebab. One bite and you will agree that this is the best beef burger recipe!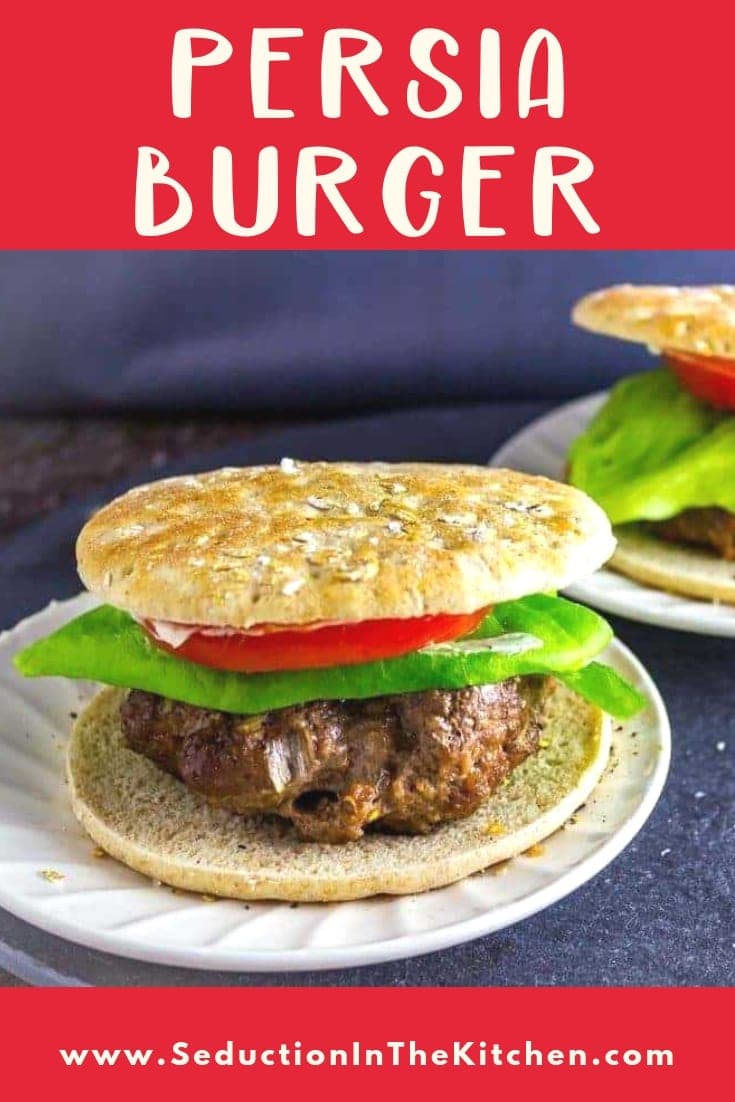 Persian Recipes
When Seduction In The Kitchen began, it was in part to impress a Persian man I had a serious crush on. I thought I could make a few of his Persian recipes and win him over. Well, I have won him over with my cooking but not his heart.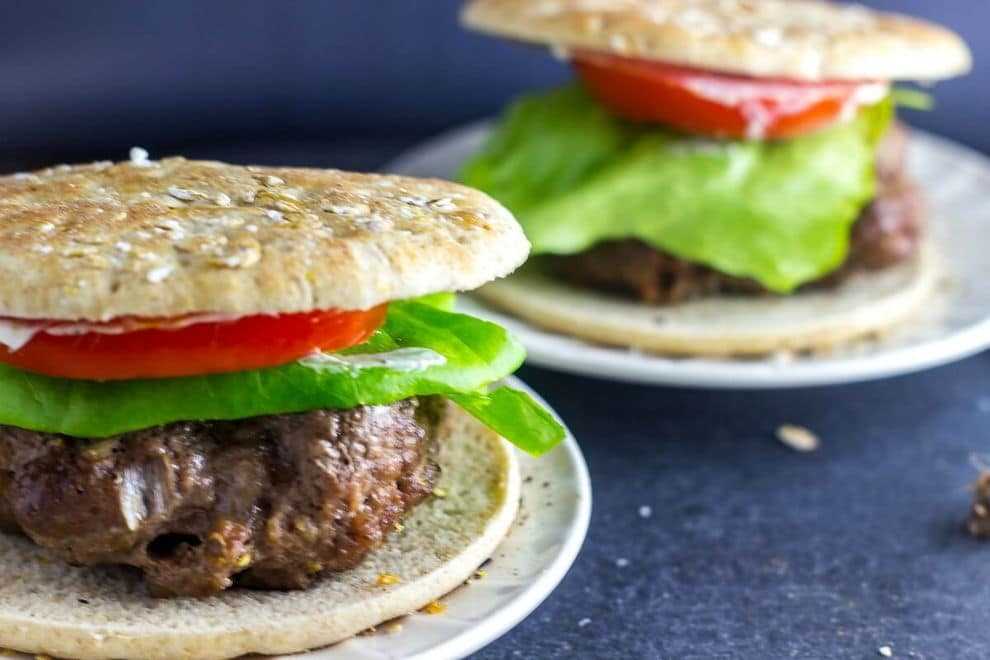 Grilled Kebab
One of the Persian recipes I learned was the grilled kebab. The grilled kebab was something I really wanted to learn to make since I knew that it was a favorite of this guy. Years later that grilled kebab would inspire hamburger recipe ideas!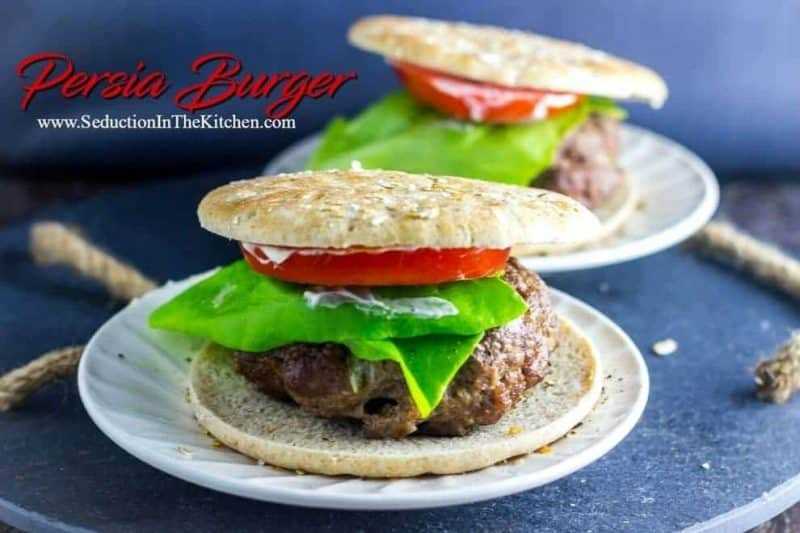 Hamburger Recipe Ideas
I am no stranger when comes to hamburger recipe ideas. I have made the "Pitts" Burger With Iron City Beer Braised Onions, The Red Wine Burger, Jerk Chicken Burgers with Tropical Fruit Slaw, Canadian Poutine Burger, and many others that are over the top like this.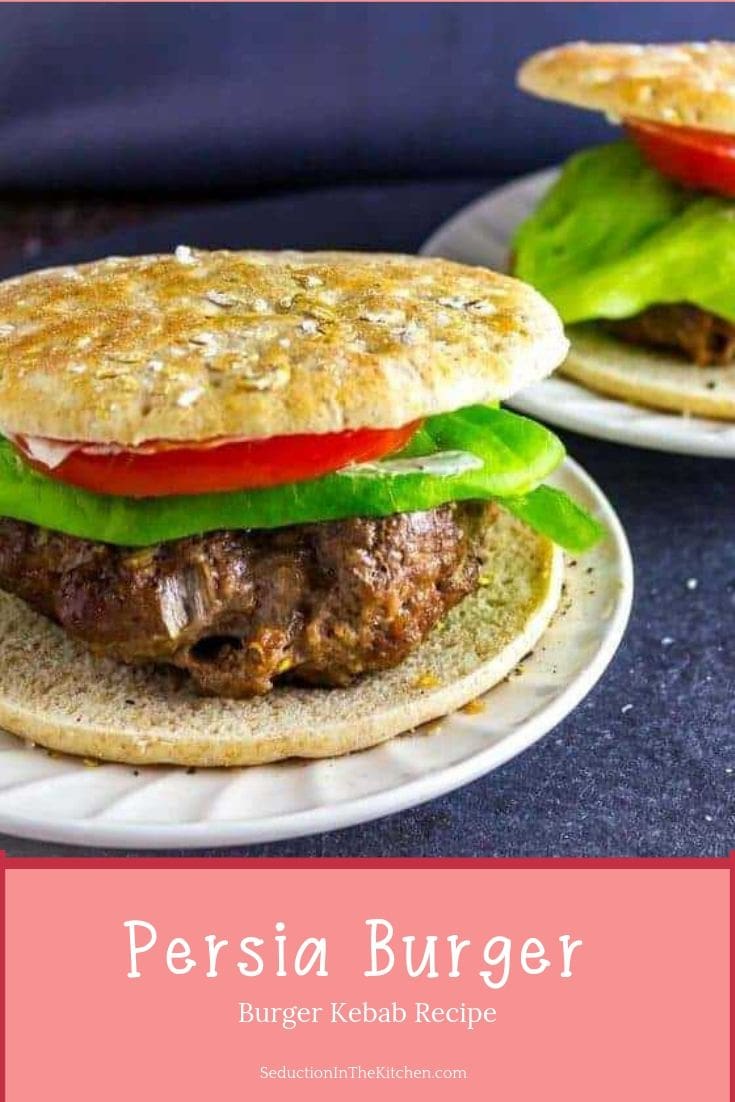 Best Beef Burger Recipe
With all the hamburger recipe ideas I have already done, can I make the best beef burger recipe yet? I really wanted to try with a burger kebab!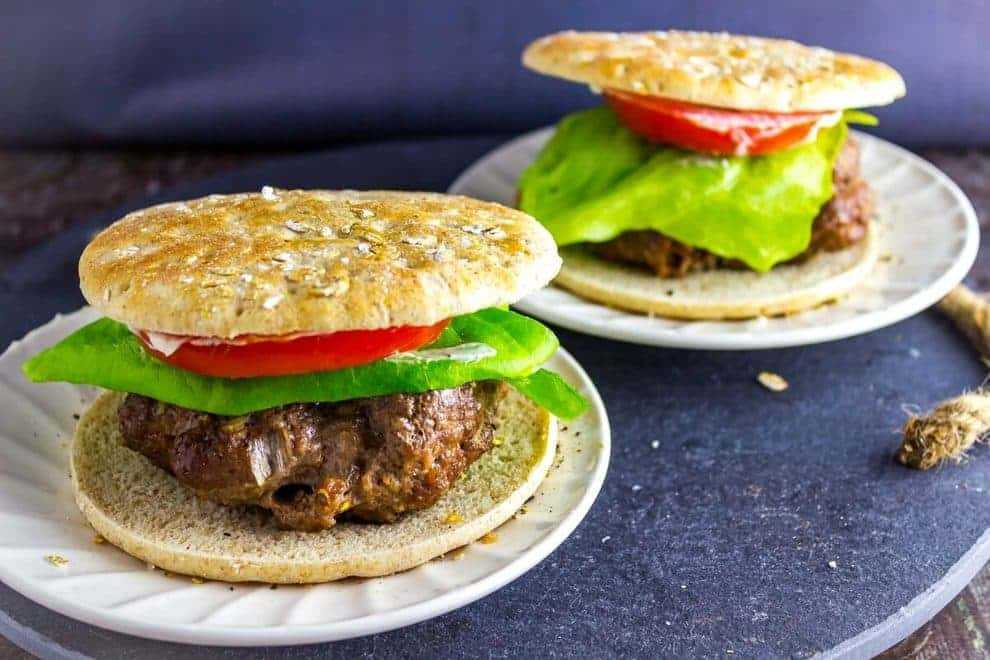 Burger Kebab
Using a grilled kebab as inspiration for a burger kebab, I thought this could be the a great addition to my award winning burger recipes! Plus I admit I asked the Persian man what would he want in a burger? He said chopped up onion mixed in with the meat like you would for Persian recipes.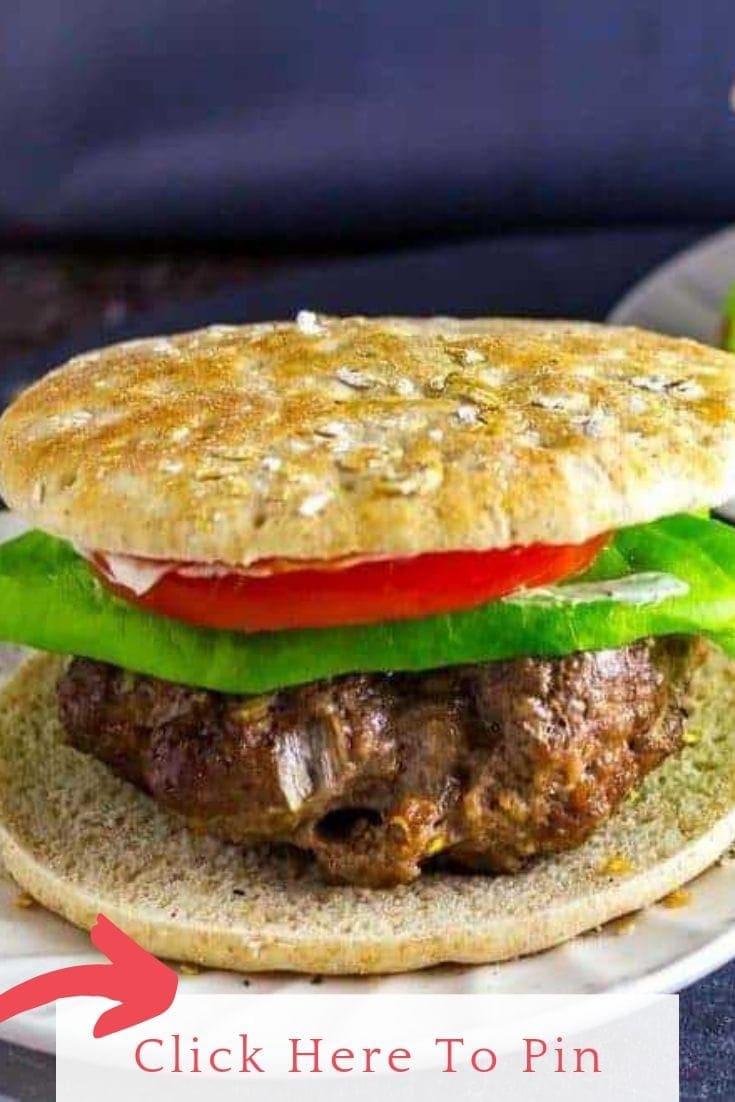 Award Winning Burger Recipes
What makes this burger kebab one of my award winning burger recipes? The secret is the onion! The onion not chopped you have to grate it. That is what makes this the best beef burger recipe. Plus the spices added to this burger recipe makes it a unique burger recipe.
To top it off the burger kebab, I decided to whip up roasted garlic with lemon infused olive oil. Then serve this unique burger recipe a pita bread, but I did find sandwich thins which hold up even better. The Persia Burger was born!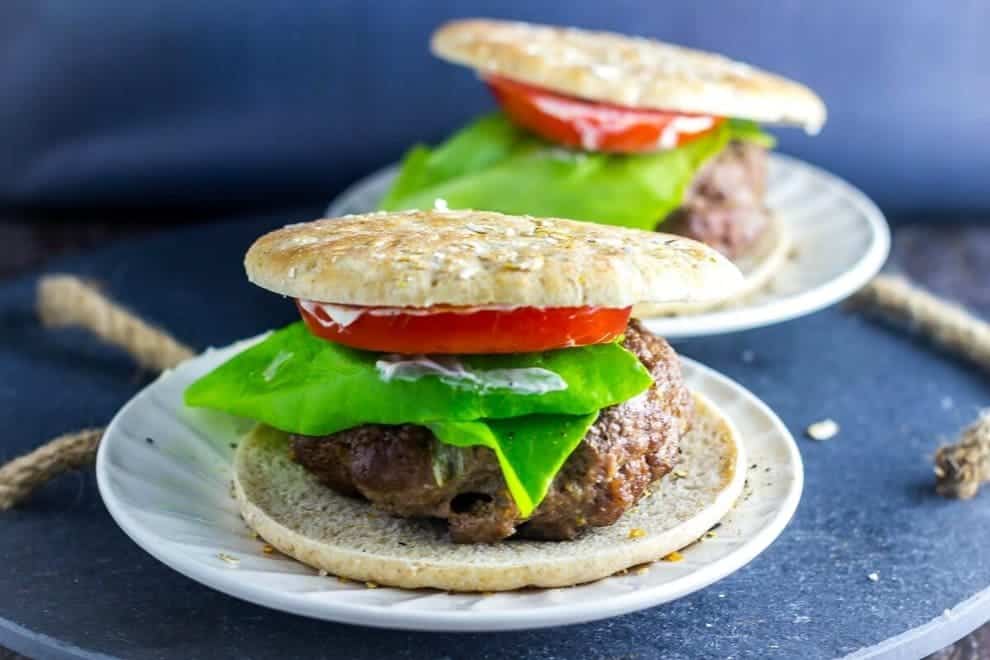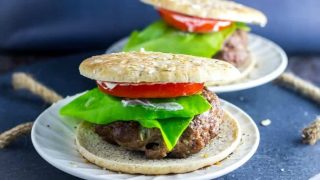 Yield:

4 servings
Persia Burger
The Persia Burger is one of my award winning burger recipes. This burger kebab is similar to a grilled kebab. One bite and you will agree that this is the best beef burger recipe!
Ingredients
Burgers:
1 medium onion (, grated)
1/2 lb ground lamb
1/2 lb Certified Angus ground round
1 clove garlic minced
1/4 cup plain bread crumbs
1 egg lightly beaten
1 teaspoon turmeric
1 tablespoon fresh lemon juice
1/2 teaspoon black pepper
1 teaspoon salt
1/2 teaspoon saffron
1 tablespoon butter melted
Garlic Lemon Aioli:
4 heads of garlic
3 cups canola oil
1 juice of a lemon
lettuce
sliced tomato
Sandwich Thin Rounds
Instructions
Burgers:
Squeeze out as much water out of the grated onion as possible.
Then add the onion to the meats along with the garlic, bread crumbs, egg, turmeric, lemon juice, black pepper, and salt.
Mix everything together well.
Shape the meat into patties.
Melt the butter and add the saffron whisk it up well.
Place the patties on the grill, brushing them with the saffron butter.
Grill up the burgers basting them as they cook with the saffron butter.
Garlic Lemon Aioli
Add the garlic to a food processor and run for 10-20 seconds.
Stop processor, scrap garlic down the sides, then run processor again for another 10-20 seconds. Repeat process 3-4 times until garlic starts to look like paste.
Turn the processor back on, add the oil to the processor at a very slow rate, in a very thin stream, each ½ cup at a time. After adding the first half cup you will start seeing the garlic emulsify.
Add ½ teaspoon of lemon juice very slowly, in a thin stream.
Wait on it a few seconds until the lemon juice is well absorbed.
Repeat the same process of slowly adding ½ cup of oil, waiting a few seconds, then adding ½ teaspoon of lemon juice until you've used all ingredients. This process should take 8-10 minutes.
Assembly
Open the Sandwich Rounds, place the burger on the bottom portion. Then top off with lettuce and tomato. On the top portion of the Sandwich Round, add a layer of the Garlic Lemon Aioli. Serve the burgers up and ENJOY!
Notes
For the Garlic Lemon Aioli, there will be a lot, but this does keep well. Keep in the fridge, and covered and it is wonderful on many sandwiches.
Recommended Products
As an Amazon Associate and member of other affiliate programs, I earn from qualifying purchases.
Nutrition Information:
Yield:
4
Amount Per Serving:
Calories:

430
Looking for more burger recipes? Check out these recipes:
Check out my the latest on my other blog:
40.6K Followers
This post was most recently updated
I want to hear what you have to say about this recipe that is on
SEDUCTION IN THE KITCHEN!
Let's get this conversation started! What do you think of this recipe?