I am a participant in the Amazon Services LLC Associate Program, an affiliate advertising program designed to provide a means for me to earn fees to Amazon.com and affiliate sites.
The Pitts Burger With Iron City Beer Braised Onions is inspired by the Steel City of Pittsburgh for Burger Month 2016!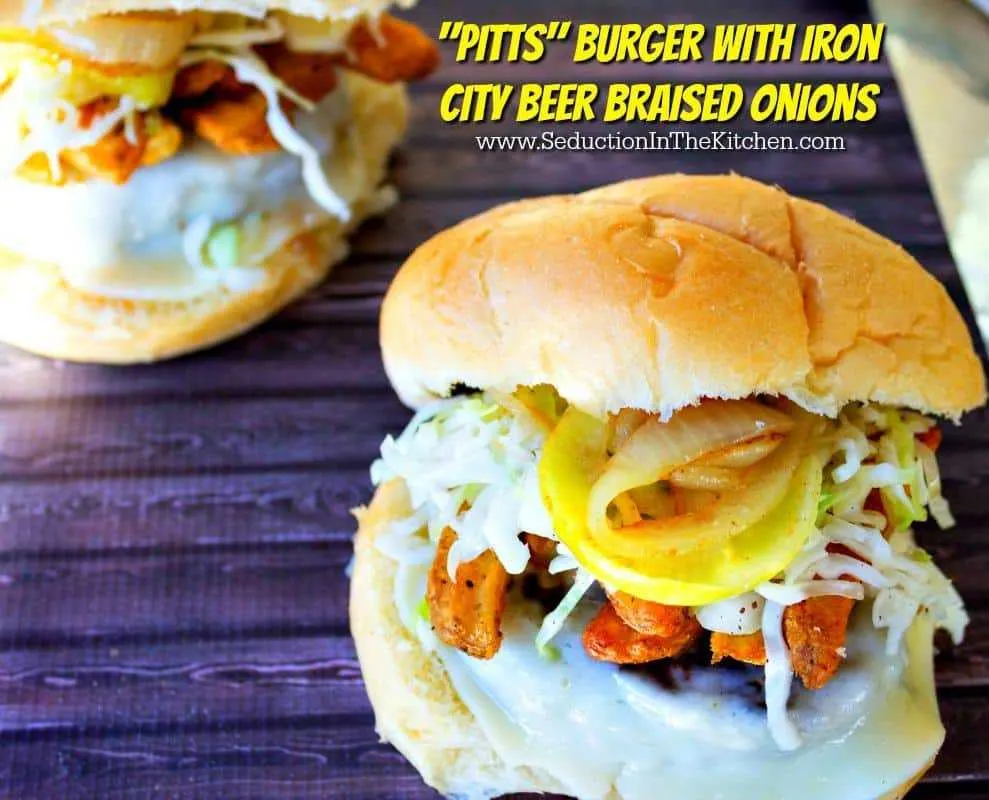 I took time off blogging, but I am back to it and I starting back with a bang by participating in Burger Month 2016, which is being hosted by the talented Kita Roberts of Pass the Sushi and Girl Carnivore. I love taking part in these theme challenge recipe collaborations. It is fun to have a theme and allow the creativity to flow.
I'm no stranger to coming up with over the top burgers. I have done The Red Wine Burger, The Philly Burger, California Burger with Balsamic Wine Sauce, Canadian Poutine Burger, Goat Cheese Stuff Burgers With Roasted Garlic Truffle Oil Mayonnaise, and The Cleveland Hogg Burger. I love coming up with burger ideas can you not tell?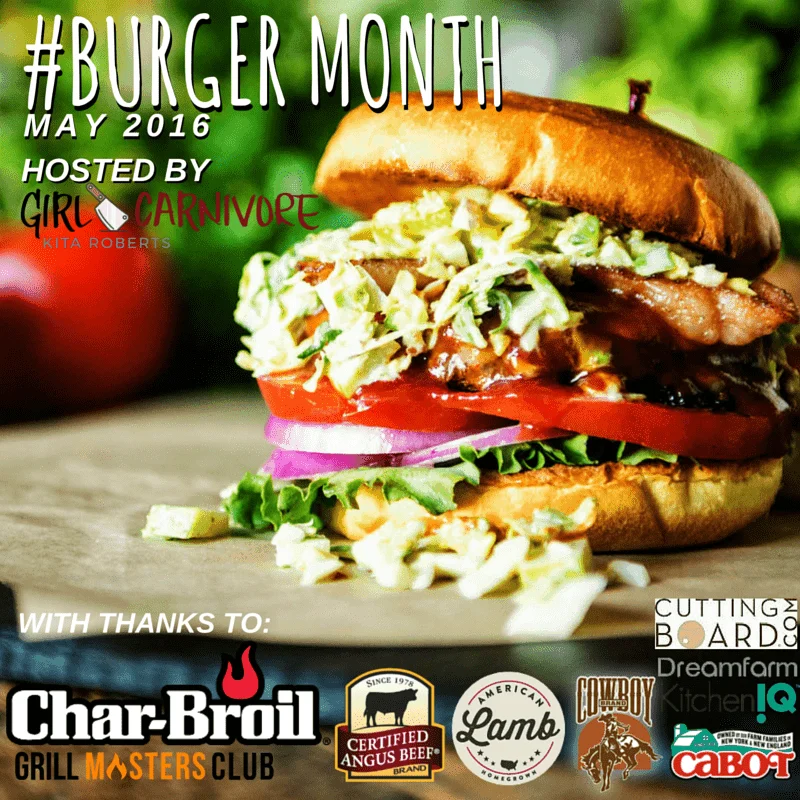 Burger month is huge and it has been going on all May with many talented burgers, which you will be able to see on the Pinterest Board for you to save your favorite recipes:
Also, did I mention there is a giveaway? Kita and the gracious sponsors of this event will be shipping someone all of this:
Swissmar Glow 7PC Fondue Set ($15.00)

American Lamb

Cabot cheesebox

Cert Angus Beef

Charbroil Grill

Cowboy Charcoal Samplers

Cuttingboard.com cutting board

GrillMasters Club Box
Pitts Burger With Iron City Beer Braised Onions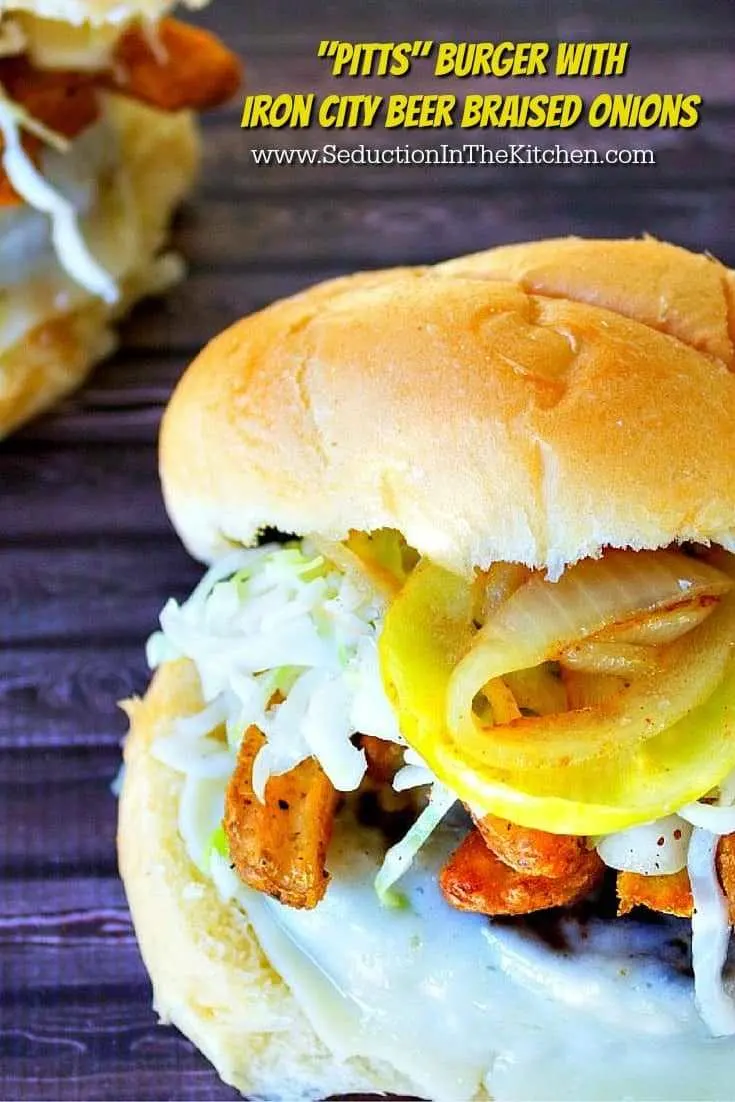 Love Seduction in the Kitchen recipes? Follow me on Facebook and Instagram!
I have had an idea to make a Pitts Burger for a while. It is no secret that I am a proud Pittsburgher. My idea was to take the famous Pittsburgh sandwich and make it burgerfied.
As a friend said to me, that sandwich has been done to death. He is right, but how can I make it do the signature Pittsburgh sandwich and add more of a Pittsburgh taste to it? The answer, Iron City Beer, the beer of Pittsburgh.
Mixing a little Iron City into the Certified Angus Beef® and cooking the onions it, it is perfect. The idea for the "Pitts" Burger came to me when I saw beer-braised onions on a menu at a restaurant.
The real secret to this great tasting burger is the slaw. Now many think creamy coleslaw when comes to making a Pittsburgh sandwich with fries and slaw. That is the mistake, you see a Pittsburgh sandwich has an oil and vinegar slaw.
It is an Italian style slaw, it makes the biggest difference. The other secret is the fries. Now when I was at the store going to buy the fries, I noticed Ore-Ida has new bold flavors and the black pepper and garlic.
That sounded like a good fry to add to this Pittsburgh-inspired burger. Pittsburgh, after all, is known for putting together flavors in its food. The cheese is good, the Cabot American cheese tastes very good on this, but so does a good provolone. One bite you will be craving this Pitts Burger!
This epic burger creation is my own for #BurgerMonth 2016, I would love to thank American Lamb Board, Char-broil, Cowboy Charcoal, Swissmar, Cabot Cheese, Grill Master Club, Certified Angus Beef, and CuttingBoard.com for the kick-butt grill prize packages!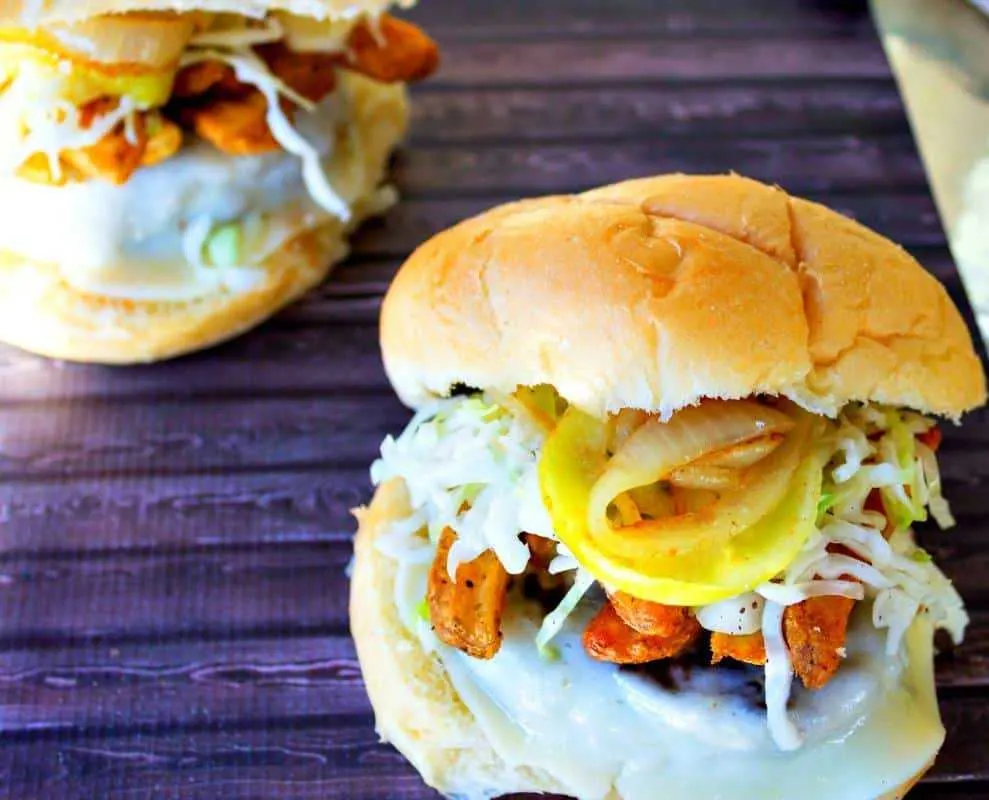 Yield: 4 burgers
"Pitts" Burger With Iron City Beer Braised Onions #BurgerMonth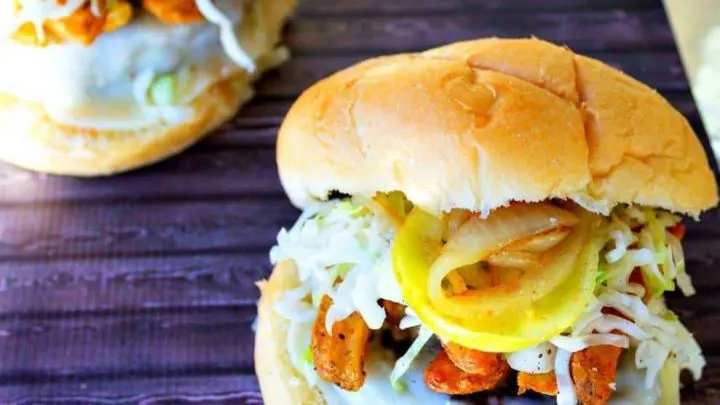 The "Pitts" Burger With Iron City Beer Braised Onions is inspired by the Steel City of Pittsburgh for Burger Month 2016! A recipe from Seduction in the Kitchen.
Prep Time
1 hour
10 minutes
Total Time
1 hour
40 minutes
Ingredients
1 bag of coleslaw
1 small onion (minced)
2 Tbl apple cider vinegar
2 Tbl extra virgin olive oil
1 tsp kosher salt
1 tsp black pepper
2 Tbl sugar
1/2 tsp celery seed
1 tablespoon butter
1 large onion (sliced thin)
1 cup Iron City Beer
1 teaspoon sugar
1 teaspoon ⁄2 salt
1 1/2 lb Ground Certified Angus Beef®
2 tablespoons Iron City Beer
1 teaspoon ⁄4 Worcestershire sauce
salt and pepper
4 Kaiser hamburger buns
4 slices cheese Cabot American Cheese or Provolone Cheese
1/2 bag of Ore-Ida Garlic and Black Pepper Bold Fries (baked)
Pittsburgh Slaw
Instructions
Slaw
In a bowl add the slaw mix and onion.
Stir with a fork to mix up.
In a smaller bowl add the vinegar, oil, salt, pepper, sugar and celery seed, whisk to combine.
Pour over the slaw mixture and mix. (you may need to double the dressing, depending out much dressing you like on your slaw)
Cover and refrigerate for at least 1 hour.
Iron City Beer Braised Onions
Melt butter in saucepan over medium-high heat.
Add onions and saute, stirring frequently, until tender, about 5-6 minutes.
Add 3/4 cup Iron City Beer, sugar, and salt.
Cook until all the beer has been absorbed by the onions and they begin to brown slightly, about 15 minutes.
Add the remaining 1/4 cup beer and bring to a simmer.
Keep onions warm.
Burger
In a large bowl, thoroughly combine the Ground Certified Angus Beef®, Iron City Beer, Worcestershire sauce, and salt and pepper.
Form into 4 patties, handling as little as possible so as not to make the burgers tough.
Grill to desired likeness.
Place the burger on the bottom part of the Kaiser bun.
Top with the cheese.
Add a layer of the garlic and black pepper Ore-Ida fries.
Add a layer of the Pittsburgh coleslaw.
Top everything off with the Iron City Beer Braised Onions
Finally place the top part the bun on the burger and ENJOY!
Recommended Products
As an Amazon Associate and member of other affiliate programs, I earn from qualifying purchases.
Nutrition Information:
Yield:
4
Serving Size:
1
Amount Per Serving:
Calories:

1123
Total Fat:

68g
Saturated Fat:

25g
Trans Fat:

0g
Unsaturated Fat:

36g
Cholesterol:

197mg
Sodium:

1971mg
Carbohydrates:

58g
Fiber:

4g
Sugar:

16g
Protein:

61g
Check out my the latest on my other blog: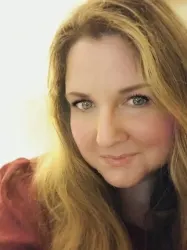 Latest posts by Deanna Samaan
(see all)