Canadian Poutine Burger is a burger with Canada influence! A mushroom and onion stuffed Angus burger with gravy, fries, and cheddar cheese.
First, I do want thank all of the readers who emailed me with your kind words after my last recipe post, Bacon Ranch Pasta Salad. It means a lot to see the kind words and encouragement from you guys. I am very happy that you enjoy my recipes and how I do write this food blog. You are right, I am entitled to take a break from time to time.
Speaking of the Bacon Ranch Pasta Salad, it was featured on MSN Food! The bad news is 2 things, one because of the newest WordPress update, it affected Seduction and it caused my site to not load for 72 hours roughly, when it was loading, it was painfully slow. Which could be a good thing because of the MSN Food post, linked my photo and recipe to another blog. Hopefully, they will fix it, I sent several emails as well as messaging via Facebook to have it fixed.
I did want to make this a more positive post today, but unfortunately, this is going to be a tribute post instead. Many of you who follow me on Instagram know I post photos of my pets, especially my one dog, Waldo. Well, On Saturday, July 25, my mom and dad had to make a painful decision and put Waldo down.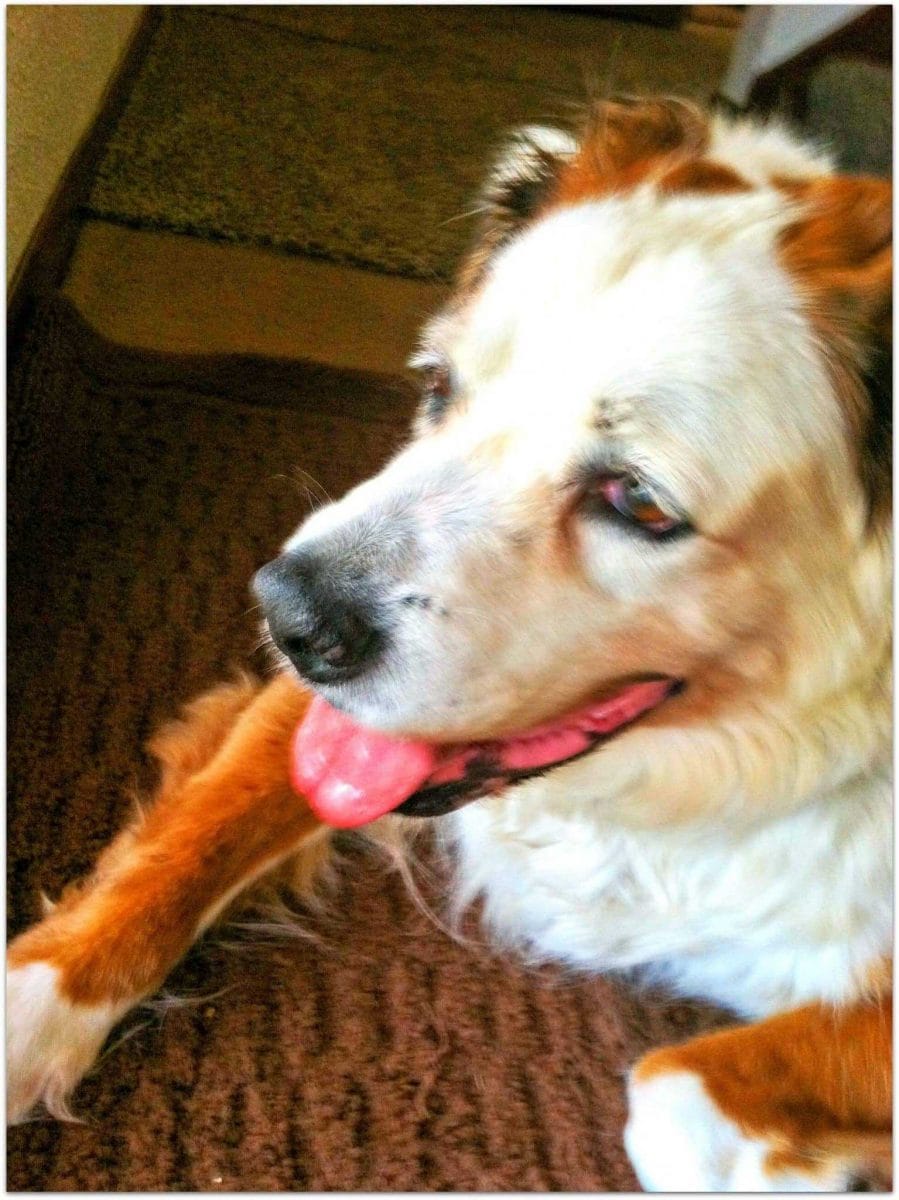 Waldo had Cushing's and we think something else may have been going on. He loves car rides, and my mom would take him daily over to my sister, Chrissy's home, so he can be around his fur nieces, Millie and Marble. They all like the daily visits. On July 4th weekend, when I was visiting, my dad took Waldo over to Chrissy's place, like usual, but then something happened.
Chrissy called my mom and said, Waldo, just suddenly could not get up and his paw was curling. We went over and ended up staying over at Chrissy's place the whole weekend. By Sunday he seemed to be better and they got him back home.
However, when he got home, again he started having issues, he could not get up. So no more car rides it was decided. Over this past month, he was getting worse, something neurological was going on.
As one the assistants at the vet said his brain says "get up" but the signal isn't being relayed to his body. That is why the curling of the paw. He had good days and he had bad days, until last week.
He could not get up at all, and he suddenly stopped eating. His one eye was very blood-shot. The vet told my mom it was time to make a decision. This went on for about 3 days, when they did manage to get some food in him, he got sick.
Dr. Jay offered to come over to the house, to do what was needed, since they were now having problems just getting him up. Saturday morning, he sat up, but could actually get up. So my dad tried to help him like they were doing, only this time he snapped at my dad.
He has never snapped at anyone, ever. It was a sign he was now experiencing pain. My mom noticed his legs were bleeding, the Cushings has made his skin so thin, he was getting tears very easily.
So the call was made to Dr. Jay to come over. Dr. Jay looked him over and told my mom it the right thing to do. It is a very painful decision but was the right one. At 1:15 pm I got the call, Waldo was gone.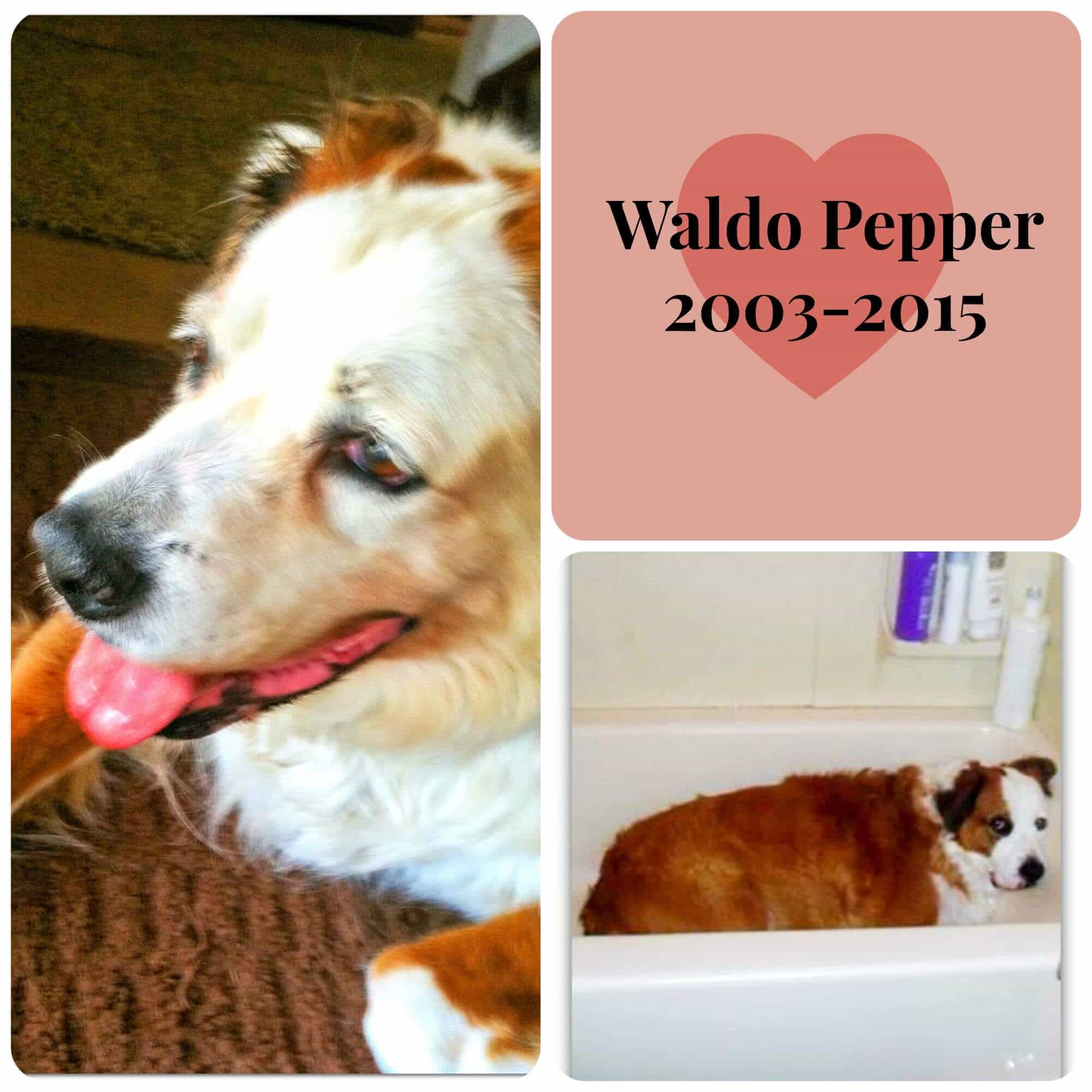 My dad has taken Waldo's passing this the hardest. Waldo was his buddy. He the first dog that really buddied up to him. They sit together and eat ice cream.
When I got Waldo, I rescued him from the Washington County Humane Society in 84 PA. He was abused, and I was there to make a donation in the name of a dog we got there named Max, who had passed away. I heard waldo's story, and I took one look at that St Bernard sad face he has, and said, you're coming home with me, you deserve a loving family.
That day it was chilly Fall day. It was going to rain and he was in the backyard. My dad and I were trying to get to come into the house.
My dad just started calling out names. They called him Sarge at the shelter, but he was not really responding to it. My dad then called out "Waldo" and he finally came to him, but still would not go into the house.
At this point, it was starting to rain, and we needed him inside. So Chrissy went outside and picked him up and brought him in. He then realized he was in a good home, and quickly adapted. He played with the other dogs we had at that time. He loved being in a good home.
It is weird for my mom and dad right now. They have no dogs now in the house. Waldo was just special to them, so it is hard.
I decided to make this recipe my tribute to Waldo for several reasons. One, I did not know what Poutine was. Growing up in Pittsburgh, we go to KennyWood Park, and get KennyWood fries with gravy and cheese on it.
It a Pittsburgh staple. Well when I said to a friend I want to do a burger with fries, gravy, and cheese like we get at KennyWood, he told me that is Poutine. I had no idea, I just knew that is how we eat fries in Pittsburgh.
So the Pittsburgh connection made this the perfect recipe for Waldo. When I moved to Cleveland, I could not take him with me. One it wasn't fair to my mom and dad, who were fond of him, and two, my ex-husband hated dogs, that should have told me there he was not a good man.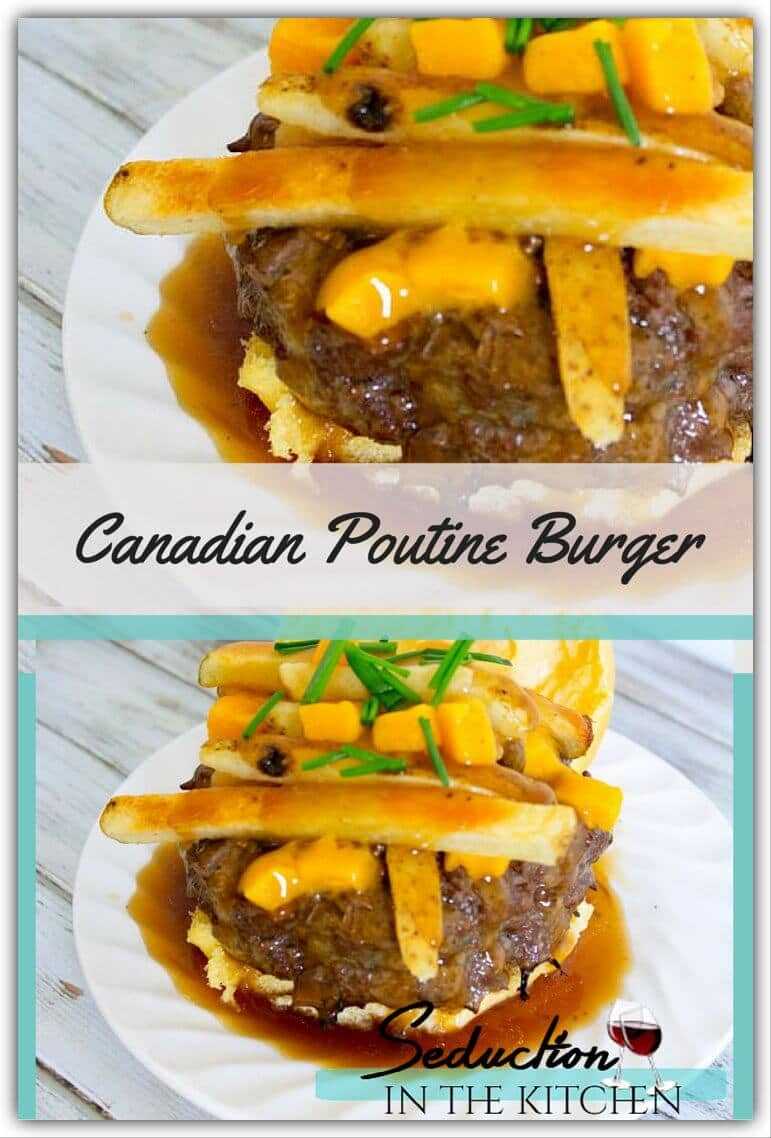 The golden chunks of cheddar cheese with the fries and savory gravy on top of this Angus burger that is stuffed with sautéed mushrooms and onions, really just pop with flavor. This what I would call a knife and fork sandwich and it so filling. I am doing a burger series, for my Parade posts.
This one will be the second in my series, the first was the Goat Cheese Stuffed Burger. I got get the rest posted this week, so be on the lookout for the Wine Burger, The Californian Burger, The Philly Burger, The Pittsburgh Pierogi Burger, and The Beer Braised NY Burger. Another good reason to follow me on Instagram, I show previews of these on it!
Yield:

2 servings
Canadian Poutine Burger
A burger with Canada influence! A mushroom and onion stuffed Angus burger with gravy, fries, and cheddar cheese. A recipe from Seduction in the Kitchen.
Ingredients
1 Lb Angus ground beef patties
1 small onion sliced
4 oz sliced mushrooms
1 clove garlic (minced)
2 Tablespoons butter
1/4 teaspoon garlic salt
1/4 teaspoon fresh ground pepper
1/2 bag of Oreda Olive Oil and Sea Salt Fries
1 Jar of Heinz Bistro Au Jus Gravy
2 oz Crumbled Cheddar Cheese
Chives for garnish
Kaiser rolls
Instructions
In a fry pan, melt the butter. Then add the mushrooms and onions. Saute for about 2 minutes.
Add the minced garlic, garlic salt and pepper. Continue to saute till the onions become clear. Take them off the heat and set aside.
In the middle of one the angus patties, add some the mushroom and onion mixture. Add another patty on top and seal around the edges.
Grill the burgers to your desired liking.
Meanwhile bake the fries to what the package says, and heat up the gravy.
When the burgers are done, place them on the bottom half of the Kaiser roll, add some fries, and sprinkle on some the cheddar cheese. Spoon some the gravy over everything and garish with the chives.
Place the top part the bun and ENJOY!
Nutrition Information:
Amount Per Serving:
Calories:

520
I want to hear what you have to say about this recipe that is on
SEDUCTION IN THE KITCHEN!
Let's get this conversation started! What do you think of this recipe?