The Red Wine Burger is a gourmet Angus beef burger with a tunnel of swiss cheese inside, mushrooms and onions on top. Then it is finished with a red wine sauce.
Change is good,  I know I am always saying this. As I have gotten older, I have really embraced this saying. Why? Because I had to accept change in my life.
So many things are different than what I thought or even what I was taught. I mean I am from Pittsburgh, I didn't even know I was speaking another language until I moved to Cleveland.  I had to change how I say certain words.
Even though it may sound foreign to me to say a word a certain way. I had to adapt my speech. I had no choice if I wanted people to understand me.
Every day I feel change around me lately. Maybe because I am very close to having a dream and a life-changing event. I have hinted about on here. No, I still am not saying what it is, there were many things that have delayed it already, and I do not want to curse it anymore then it already has been.
Why all this dealing with change talk? In June, was my 10 year anniversary of moving to Cleveland. I can't believe I been here this long. I know I have said this before, but I really do not belong here. I do not fit in. I stayed because my job and the friends I have met, If things do go as planned with my life event, then come this time next year, I will be moving back home to Pittsburgh, where I belong.
I know I have said this before, but I really do not belong here. I do not fit in. I stayed because my job and the friends I have met. If things do go as planned with my life event, then come this time next year, I will be moving back home to Pittsburgh, where I belong.
Change is never easy, and moving back home means starting over again. I have been with my job 10 years, so I am able to take my pension with me, which is good. I got to do this one step at a time, first let's do the life-changing event, which with luck will happen in September. From there I can plan my move back home. I have a year to get all figured out.
Part the planning is, I know I will most likely find only part-time work in phlebotomy, it harder to find full-time off the bat. I have been a phlebotomist for 17 years, I just know this, I saw it both in Pittsburgh and here in Cleveland. I need full-time, so part the plan is to really revitalize and make Seduction all that can be. So can help supplement me when I am not making as much as I was when I was full-time. Or at least help until I can get full-time.
Yes, change is coming to Seduction. I, in all honesty, do not make much money on here in a month. I make enough for gas for my car let's say. So first up is the template is getting design change which is in progress, there are flaws in this one that actually prevent me from earning and also it a bit heavy and just needs some new life breathed into it.
Plus, as you may have noticed in the last few posts I added a collage image. This is for Pinterest actually. I have been reading up on Pinterest for food bloggers and these collage photos do better on it as well as bigger photos. So I am doing this. Yes, change is good, and change is necessary so can go on and get what you truly desire.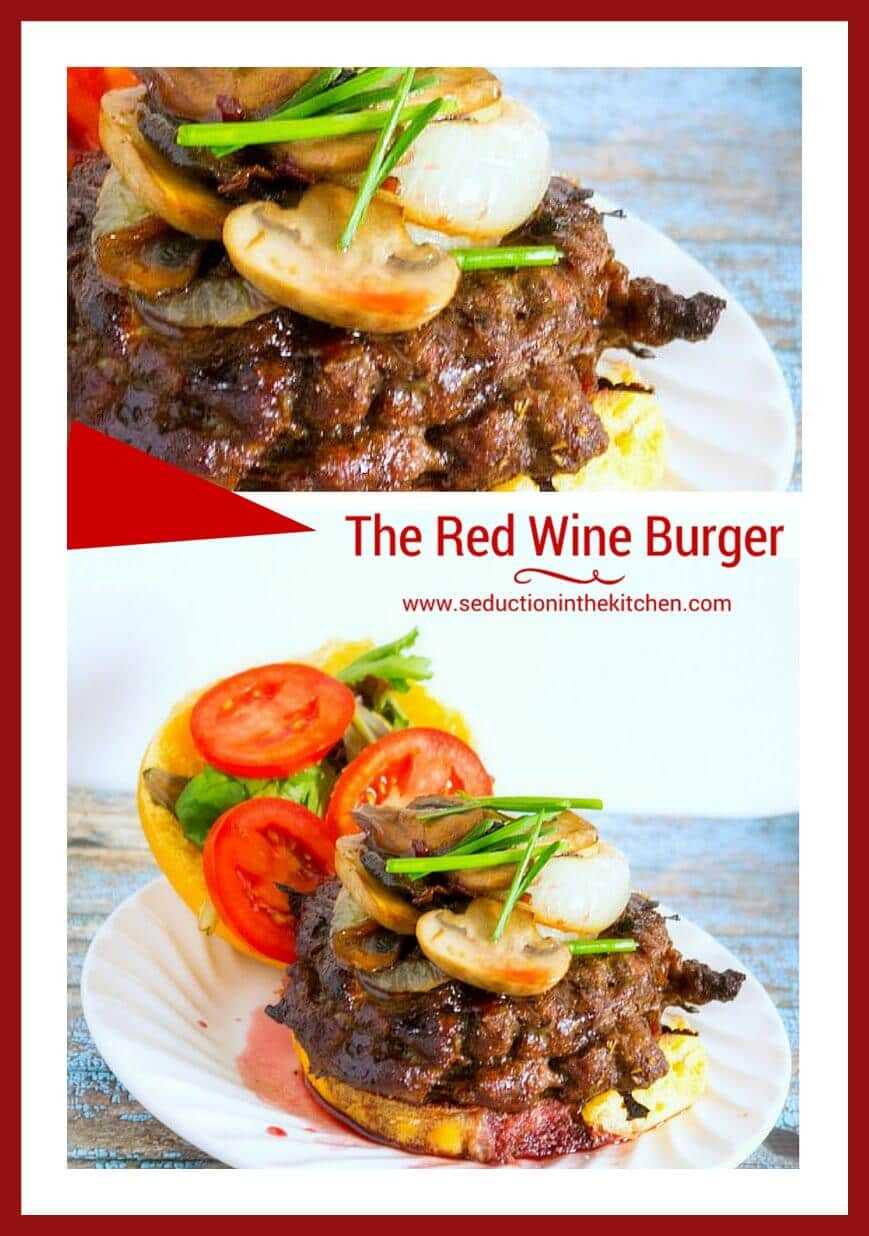 As you also know, I am a contributor to Parade Magazine's Community Table.  I have had slide shows on it, exclusive recipes, as well as some my older recipes, have been republished on it. You can see all that I have done on my profile page over on Community Table. I have 2 posts I want to do for them, which means I need to have a series going here on Seduction, in order to do the posts.
The First post is Gourmet Burgers. I have come up with 7 burgers, this one is #3 in the series. The first two:
Goat Cheese Stuff Burgers With Roasted Garlic Truffle Oil Mayonnaise
Still to come is The Pittsburgh Pierogi Burger, The Philly Burger, The Californian Burger, and The NY Beer Braised Onion Burger. I have been putting previews of these burgers on Instagram, so some of you may have seen them.  They will be posted on here throughout this week.
Red wine goes so well with beef. I admit I have a wine obsession. After I made the red wine mushrooms for the Goat Cheese Stuff Burgers With Roasted Garlic Truffle Oil Mayonnaise, the idea came to me to make a red wine sauce for a burger. The Red Wine glaze was wonderful on the Red Wine Chocolate Cheesecake Cupcakes, so why not. And why not indeed, this burger came out so good, all because of that red wine sauce.
The Red Wine Burger is a gourmet Angus burger with a red wine sauce. A recipe from Seduction in the Kitchen.
Ingredients
1

lb Angus Burger patties

2

slices Swiss cheese

4

ounces sliced mushrooms

1

small onion sliced

3

tb butter

1/4

cup red wine

2

tb sugar

1

clove garlic minced

1/2

teaspoon dried tyme

1/4

teaspoon dried rosemary

1

small roma tomato sliced

lettuce

2

kaiser buns
Instructions
In a saute pan, melt the 2 tablespoons of the butter and add the mushrooms and onions. Saute them for about 2 minutes then add the garlic, thyme, and rosemary. Continue saute until the onions turn clear. Take off the heat and put them in a bowl, to set aside.
Next, take one the Angus patties and, divide the swiss cheese up into cubes, place a few of the cubes on top of the patty.
Take the remaining 1 tablespoon of butter and cut it in half. Place the half of the butter you just cut, next to the swiss cheese.
Take another Angus patty and place it on top the patty with the cheese and butter. Seal up the edges. Do the same thing to the other patties that left in the package.
Grill up the burgers to your desire likeness.
Meanwhile, in the same pan that you sauteed the mushrooms and onions in, turn the heat on and add the red wine and dissolve the sugar into it. Bring the wine to a simmer.
Continue to simmer until the wine starts to coat the back of a metal spoon. Take it off the heat and allow to cool.
Place the bottom of the bun on a plate.
Next add the Angus burger.
Top it off with the saute mushrooms and onions.
Drizzle on the red wine sauce over the whole thing.
Add some tomato slices and the field greens.
Finally the top part the bun and ENJOY!
Nutrition Facts
Serving Size
Amount Per Serving
As Served
Calories

530kcal

Calories from fat 249
% Daily Value
Total Fat

28g

43%
Saturated Fat

16g

80%
Transfat

1g

Cholesterol

72mg

24%
Sodium

563mg

23%
Carbohydrate

53g

18%
Dietary Fiber

2g

8%
Sugars

18g

Protein

14g
Percent Daily Values are based on a 2,000 calorie diet. Your daily values may be higher or lower depending on your calorie needs:
Calories
2000
Total Fat
Less than
65g
Sat Fat
Less than
25g
Cholesterol
Less than
300mg
Sodium
Less than
2,400mg
Total Carbohydrate
300g
Dietary Fiber
25g
What do you think of this recipe? I'd love to hear about it! Leave me a note in the comment section below. For more exclusive recipes, join my email list. Plus get to know me more, follow me on Instagram - & don't forget to tag your recipe recreations with #SeducedByRecipes, so I can see them!