Hawaiian Ham Salad is a great one of the uses for leftover ham. Adding sweet pineapple to ham salad gives this salad a whole new taste. It is the best ham salad recipe.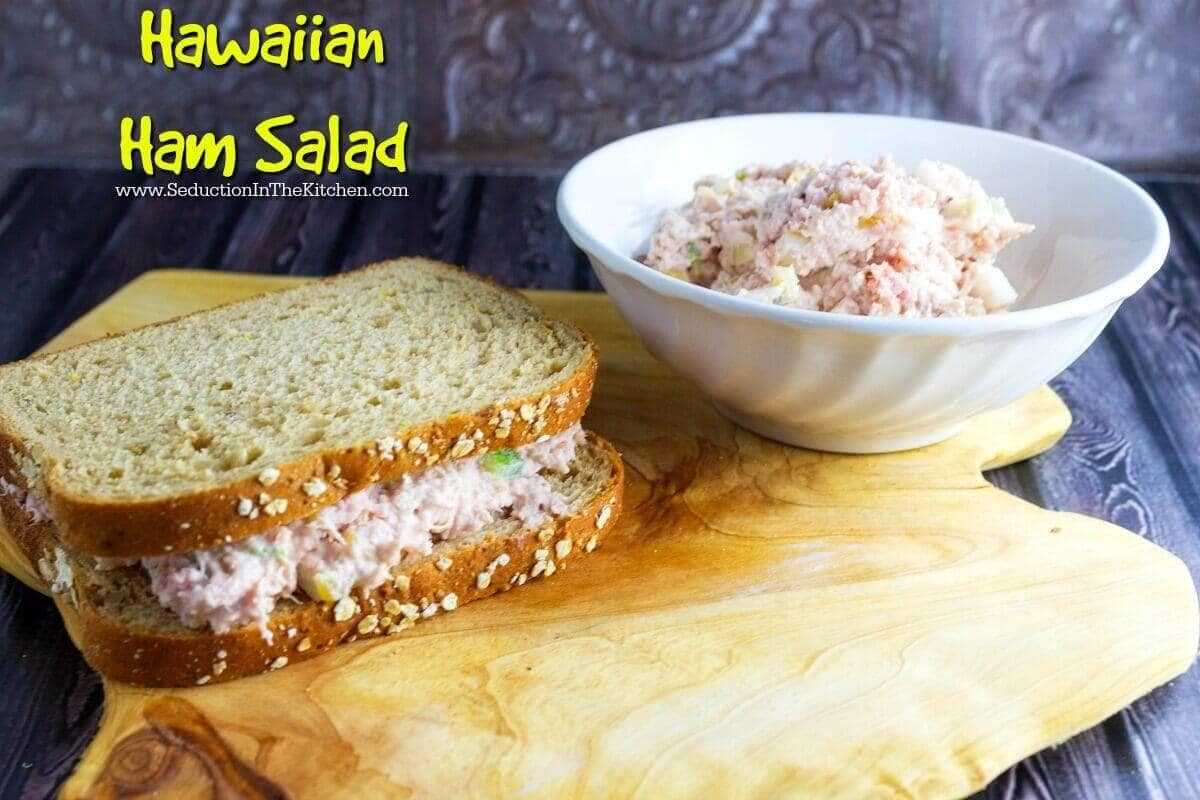 Facebook
Facebook is a necessary evil in blogging. I admit right now I am ticked off at that social media outlet right now. Facebook hates food in my opinion.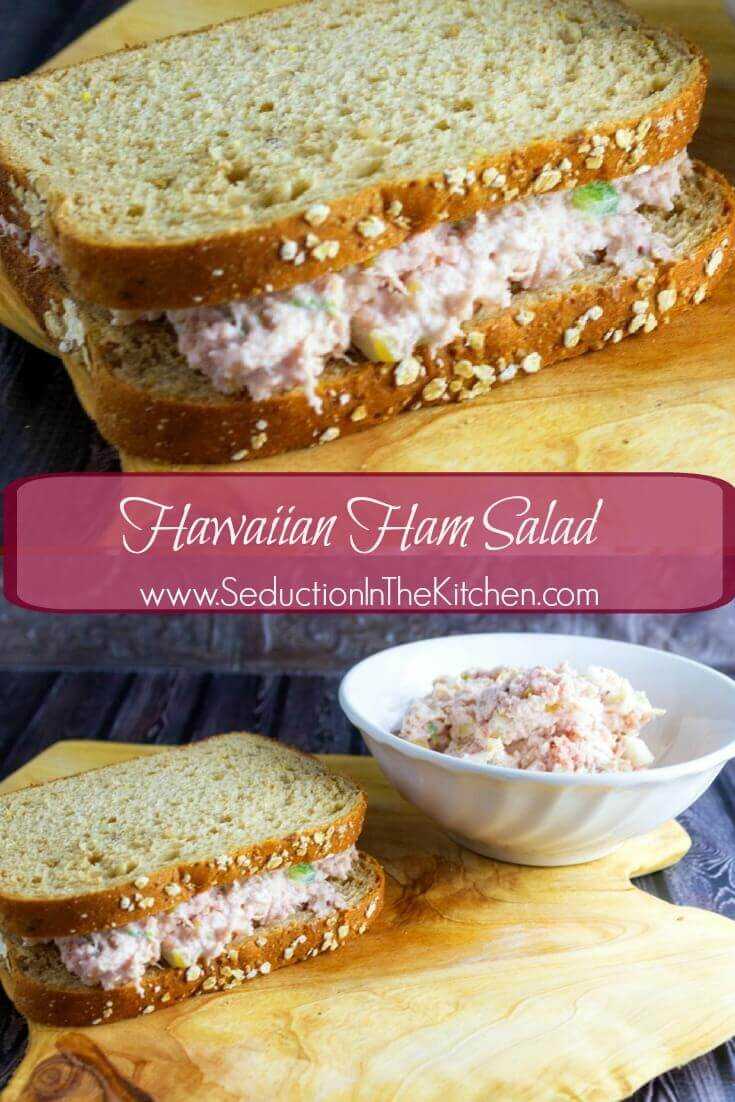 Hawaiian Ham Salad
Facebook rant is over. I get cravings sometimes for no reason. I wanted ham salad. Part the reason I wanted ham salad was that I am starting to pack my lunch for work instead of buying it.
What is funny about me is I do not eat a plain ham sandwich. I am so picky when comes to meats. Like I can't eat chicken on the bone.
Yet, if it is boneless I will eat it. You will notice I have no wings recipes. It is because of that reason.
Uses For Leftover Ham
Anyway, back to ham salad. I was at the store and there were these little boneless tavern hams on sale for $1.99 a lb. The average cost of these little hams was about $3.
Perfect for grinding up for ham salad and a ham loaf, which I will post that recipe at a later time. Plus it gives me the opportunity to write uses for leftover ham.
Best Ham Salad Recipe
Dee being Dee, I wanted to do something a little different to ham salad. That was where the pineapple comes in. Leftover ham and pineapple recipes, hello, it is the perfect combo.
It turned out amazing. I loved having best ham salad recipe for my lunches. Trust me you will love this ham salad recipe.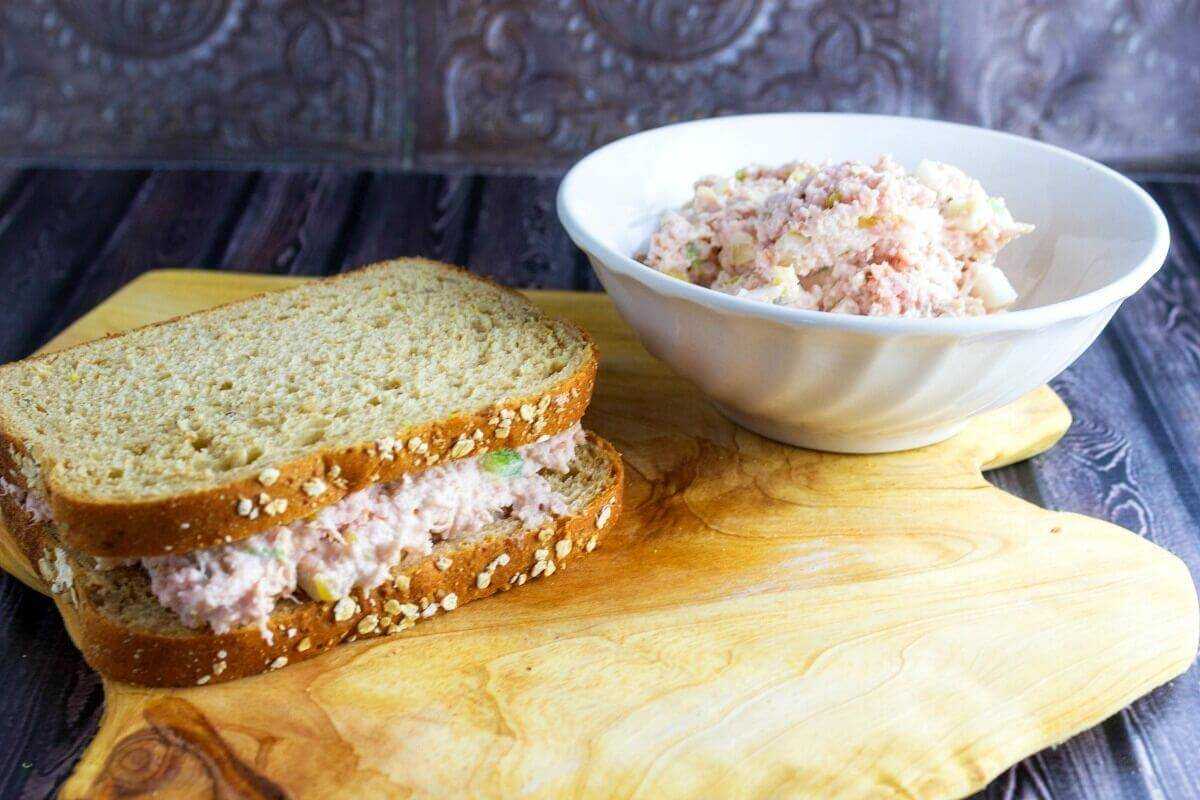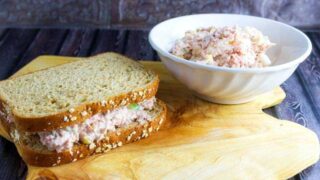 Yield:

8
Hawaiian Ham Salad
Hawaiian Ham Salad is a great way to use up leftover ham. Adding sweet pineapple to ham salad gives this salad a whole new taste. A recipe from Seduction in the Kitchen.
Ingredients
2 lbs smoked ham cut into chunks
1/2 cup mayonnaise
2 tablespoons mustard
2 tablespoons sweet pickle relish
1 onion (chopped)
1 can crushed pineapple (8oz)
Instructions
Grind the ham with a meat grinder. You can use a blender for this also, just make sure you don't put in too much at a time.
Put ground meat in a bowl and add mayonnaise, mustard, pineapple, and relish. Mix well.
Chill in the fridge for about an hour.
Take it out, put between some bread and ENJOY!
Nutrition Information:
Amount Per Serving:
Calories:

0
This post was most recently updated
I want to hear what you have to say about this recipe that is on
SEDUCTION IN THE KITCHEN!
Let's get this conversation started! What do you think of this recipe?