This post was most recently updated
Smoked Gouda and Bacon Potato Pancakes is an easy potato pancakes recipe. These grated potato pancakes combine smoked gouda and bacon to form a new version of German potato pancakes! 6 Servings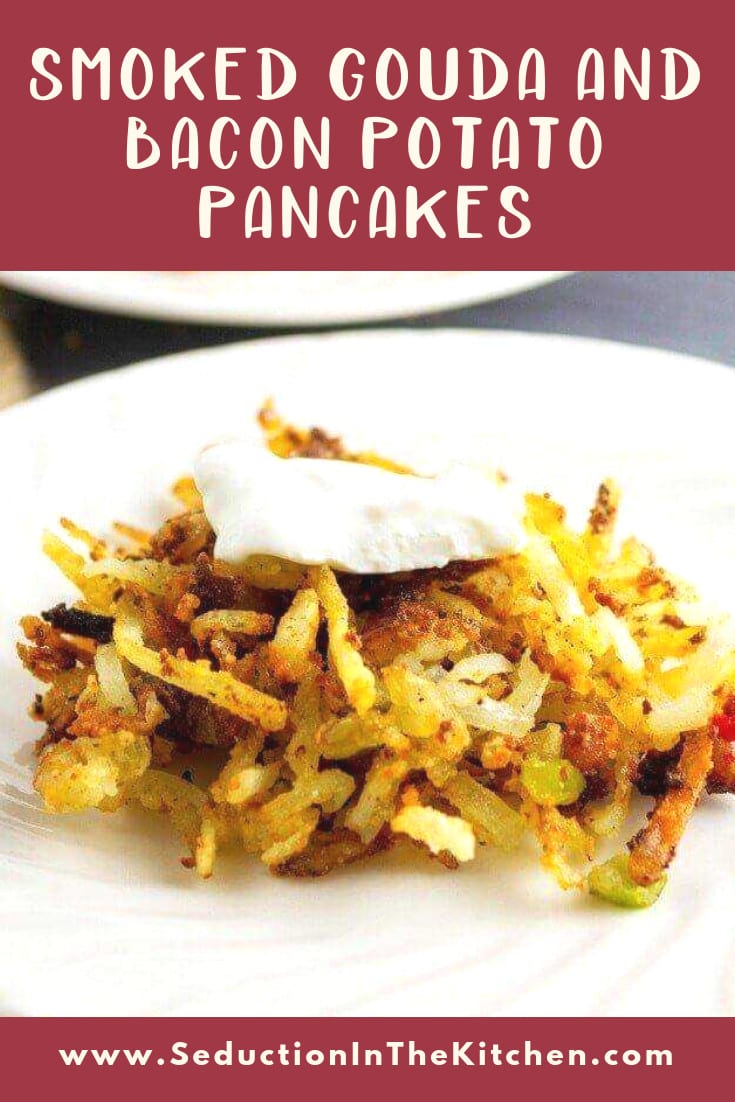 Potato Cakes
Are potato pancakes also potato cakes? Yes and no. Potato cakes are actually mashed potato pancakes. So this recipe for easy potato pancakes is actually grated potato pancakes.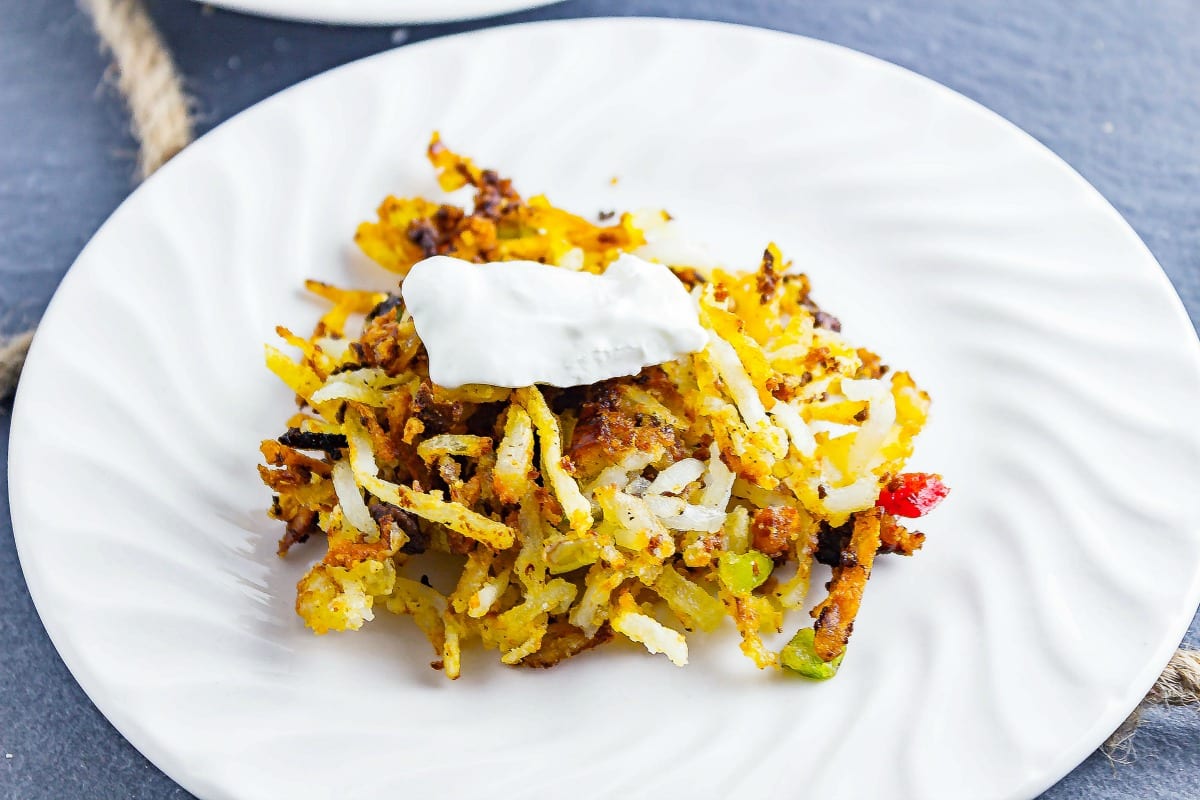 Potato Pancakes
So why am I giving the lesson in potato cakes and potato pancakes? Because I decided to do a twist on German potato pancakes. I decided to make this potato recipe and turn it into a smoked gouda recipe.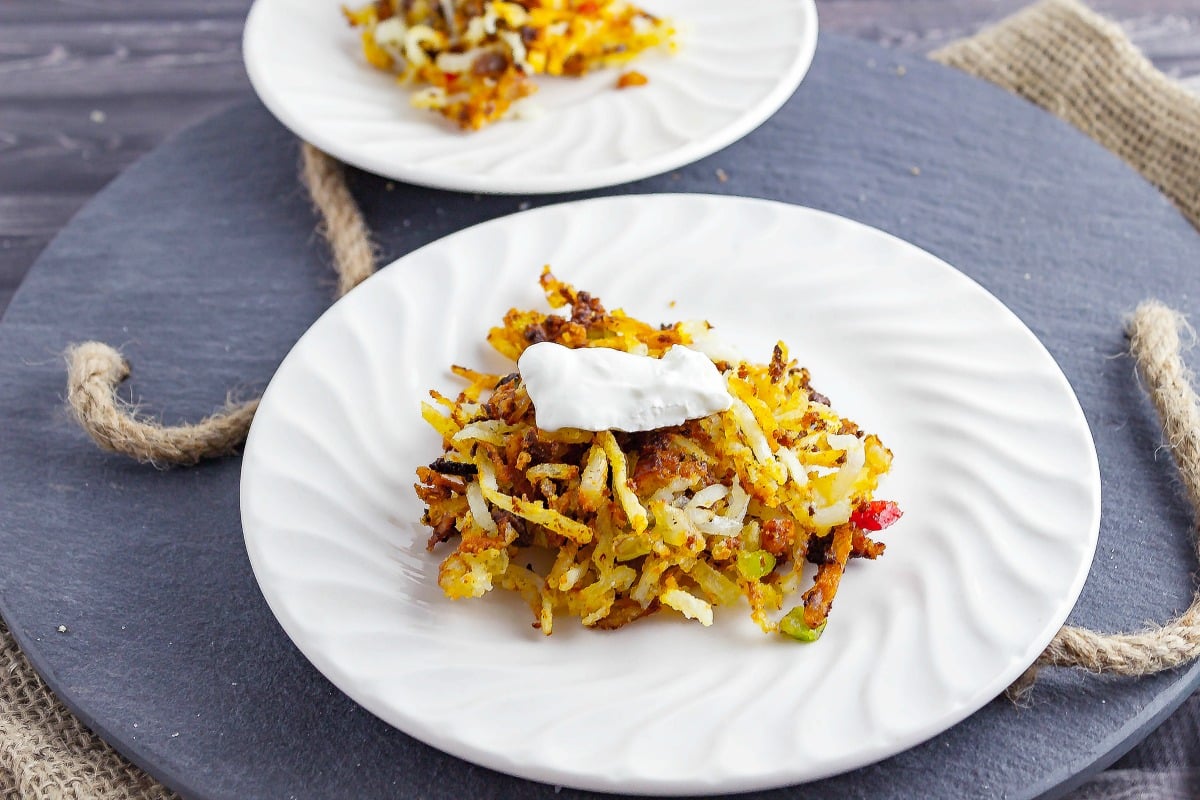 Grated Potato Pancakes
If the truth be known I always thought potato cakes was hashbrowns. Growing up we always ate grated potato pancakes with apple sauce. Yes, you read that correct, we get these thin potato pancakes and there was always applesauce you dip them into.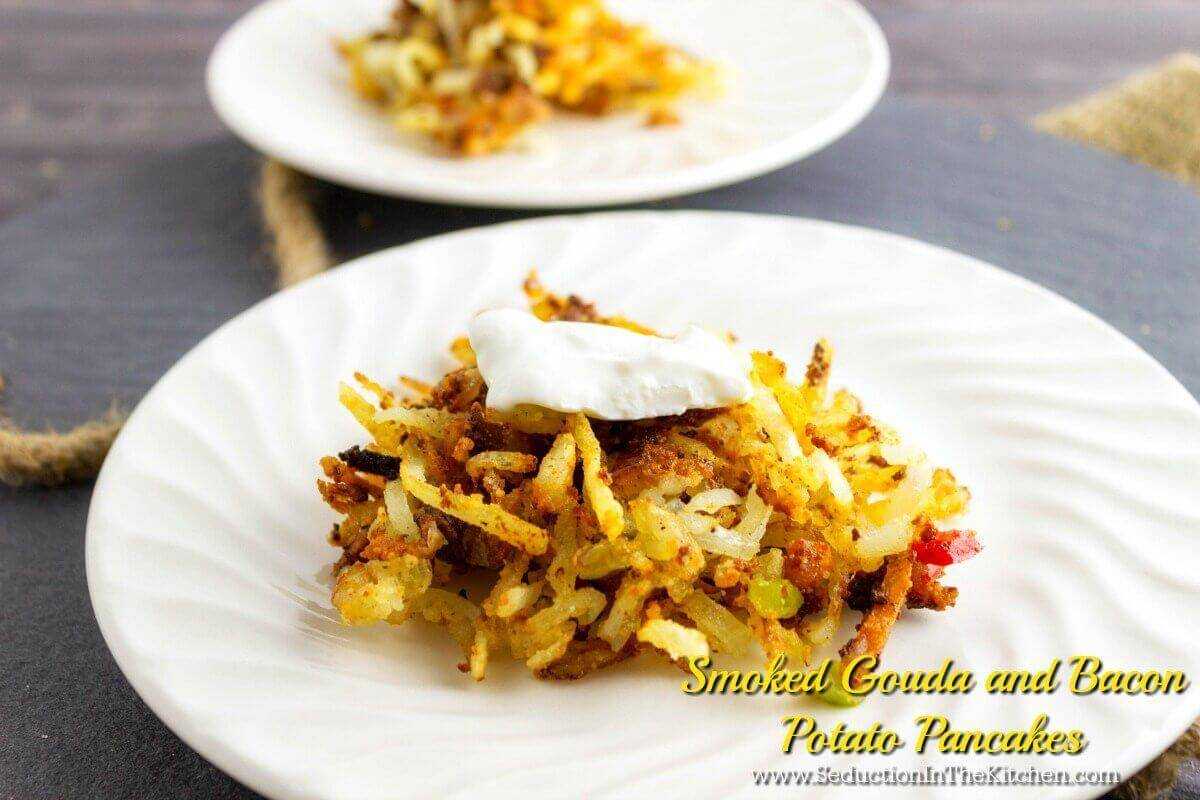 German Potato Pancakes
Doing a little research the grated potato pancakes served with applesauce is German potato pancakes. Which makes sense to me. In Pa, there is a large German population there. So makes sense what I grew up eating is a German potato pancakes.
Mashed Potato Pancakes
Now according to a friend, mashed potato pancakes are Polish. They are larger and fluffier than the grated potato pancakes. When I went to a Polish food fest, they did serve up the mashed potato pancakes.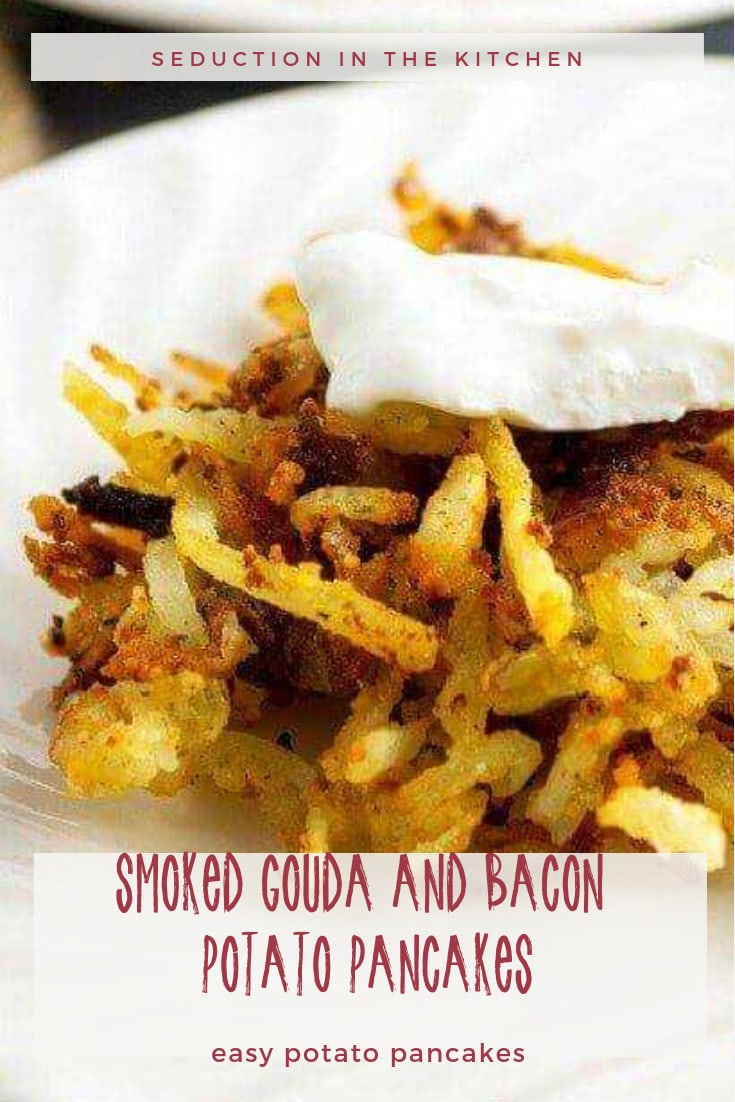 Easy Potato Pancakes
So now that we know the various types of potato pancakes, lets get to this smoked gouda recipe! I wanted to make very easy potato pancakes. By easy, I mean using shredded hashbrowns.
I admit I was lazy and did not want to grate potatoes. I also wanted to give a smoked gouda and bacon to these easy potato pancakes. The flavors in smoked gouda and bacon would really make these German potato pancakes burst in your mouth with yumminess.
Yes, this potato pancake recipe may be a grated potato pancakes cheat by using frozen shredded hash browns, but they do make for easy potato pancakes that are yummy!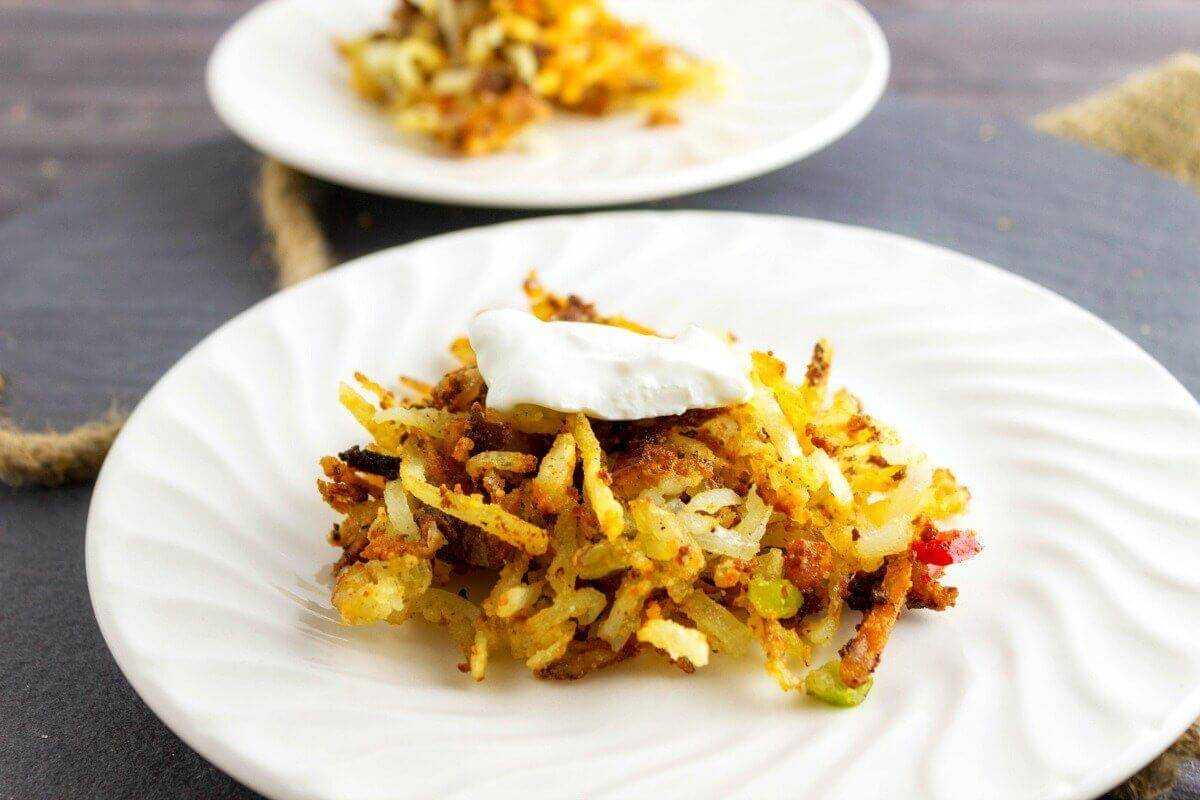 Check out these recipes: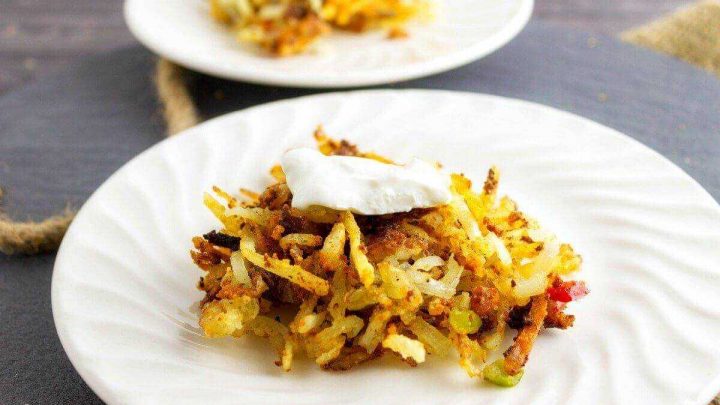 Yield:

6 Servings
Smoked Gouda and Bacon Potato Pancakes Recipe
Smoked Gouda and Bacon Potato Pancakes adds a level of flavor to potato pancakes that will make your mouth water with each bite.
Ingredients
2 lbs potatoes peeled and shredded (about 3 large potatoes)
1 small onion grated
3 tablespoons all-purpose flour
1 1/4 cups shredded smoked gouda cheese
3 strips bacon cooked and crumbled
2 tablespoons mixed diced peppers (red, green, yellow)
vegetable oil for frying
Instructions
Heat a nonstick skillet over medium-high heat.
Add a thin layer of vegetable oil to a frying pan, just enough to coat the bottom.
Combine potatoes with onions, peppers, and flour.
Mix in shredded cheese and bacon.
Spoon piles of potato and cheese mixture into the pan, making 3-inch rounds, about 1-inch apart.
Cook cakes until golden and crispy, about 4 minutes on each side.
Let them cool on paper towel lined plate as you cook up the rest the potato pancakes.
Serve them up with sour cream, applesauce or both! ENJOY!
Recommended Products
As an Amazon Associate and member of other affiliate programs, I earn from qualifying purchases.
Nutrition Information:
Yield:
6
Serving Size:
1
Amount Per Serving:
Calories:

287
Total Fat:

11g
Saturated Fat:

5g
Trans Fat:

0g
Unsaturated Fat:

5g
Cholesterol:

31mg
Sodium:

297mg
Carbohydrates:

37g
Fiber:

4g
Sugar:

3g
Protein:

12g
Check out my the latest on my other blog: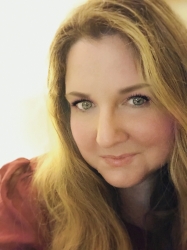 Latest posts by Deanna Samaan
(see all)