I am a participant in the Amazon Services LLC Associate Program, an affiliate advertising program designed to provide a means for me to earn fees to Amazon.com and affiliate sites.
German Potato Soup with Horseradish is a thick and creamy soup that has a bit of a kick with horseradish.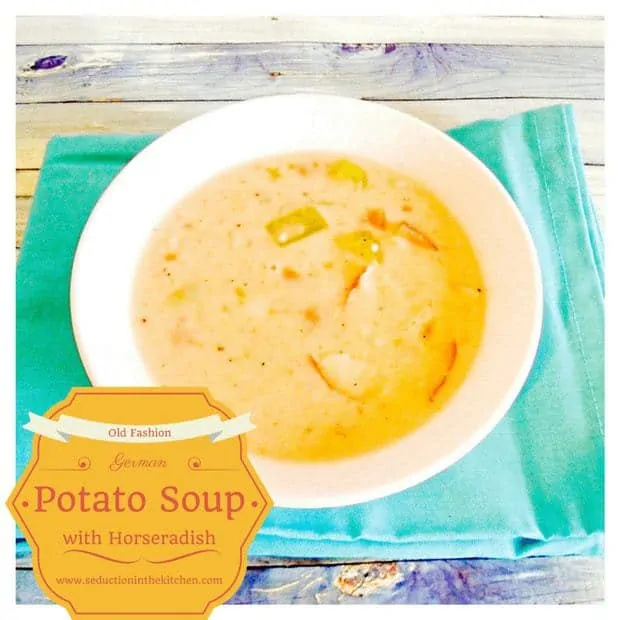 I'm back from my vacation. This year the vacation I take the week of my birthday was different. I was sick with this cold most of it, but I for a change just did not stress or do anything. If anything I felt like I was looking at everything different.
Turning 40 has changed me in a way. I started doing things different in my own life. Like take today, I got up earlier than I would, I took the time to do some me time before I left for work. As many, if you know I am constantly battling my weight. Of all things to give me some inspiration, an infomercial for some 15 minute workout, inspired me to get off my ass and do workouts.
I am the first to admit when comes to exercise, I lose motivation. Part of it is because I hate working out by myself. My friends are so busy with their own lives, they are never available to go to a gym with me. I am at the moment, the only one was not married nor do I have kids, so yes my friends free time isn't readily available to me. Sometimes I think I need to live in a city that's more single friendly, what I mean by those finding friends that are like me single and kidless.
Anyway, I realized a 15-minute workout is simply 5 songs. So I challenged myself, I am commuting myself to this entire month of October to 15 minutes every single day a workout. I got that glider that collecting dust, it time to put to use. I did that tonight, I did a 15-minute workout on it, I burned 140 calories it said. I feel good and I am happy. I got keep these changes. My 30's was trying to find Dee again after losing her, Well I figure my 40's it time to let Dee shine again and celebrate it.
Speaking of change, I'm working on a few details, well should say I'm studying video editing. Yep, I'm going to start doing recipe videos. I told you will be seeing more of my personality, well video will show it. I admit, if I had like an MGM budget I do something like a 1950's pin-up look, in a sexy retro dress cooking up in the kitchen. Seeing as I have no budget and doing all the filming and editing myself. I'm thinking a 3-5 minute video highlight how the recipe is done. We have to see how this evolves. I know it is like my photos, they improve over time.
Speaking of improving! I really have to share this. I don't know if you saw the difference in the last recipe photo I posted. It was the Fall Apple Salad With Chocolate Vinaigrette, I read a new technique in food photo lighting.
Lighting is my biggest challenge. I mean I live in Cleveland, we don't get the sun! I was trying to shoot in natural light, well the lights that came with my portable light box I got for my birthday a few years ago, someone showed me how to use them in this technique. I have blown away, it is beautiful! I got another recipe I took a photo of the same way and looks so good as well. I have been trying to use up my stockpile of photos I have taken for recipes, so not been taking photos of food for last few weeks. That salad and the cookie recipe, it isn't posted yet, was the first time I did photography in a while, I used that technique on them. I am so proud of myself for constantly wanting to learn, I can finally see my progress!
That was a big update! I slacked off a little this week, honestly, this cold lasted 2 weeks, and have not felt like writing. Speaking of a cold, when I'm not feeling well, I like to have a nice bowl of soup, like many people do. Now that the weather is changing to a colder temperature, it is soup weather.
One of my favorites is a nice potato soup. One thing about potato soup is there are so many ways to make it. This version of potato soup has German influence to it.
At work, the sandwich shop we have next to lab had potato soup, but it had this distinct taste. It had horseradish in it. The flavor was amazing. I would have never thought to add this ingredient to potato soup. So I did a bit of research. In the research, I found out that a German potato soup is a thicker, almost like a chowder. That sounded like it would go well with the surprise ingredient, horseradish.
Yield: 6
German Potato Soup with Horseradish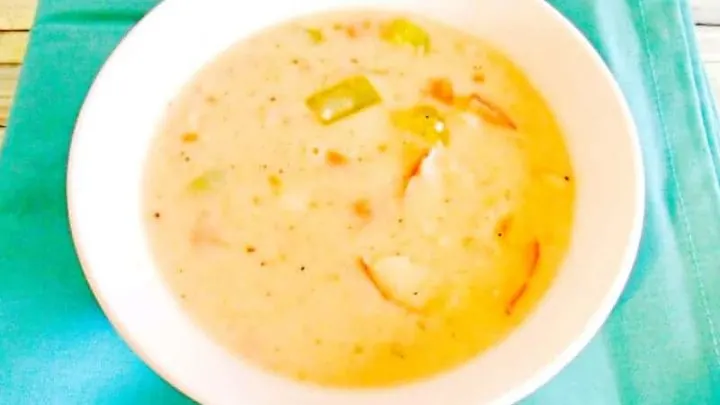 A thick and creamy soup that has a bit of a kick with horseradish. A recipe from Seduction in the Kitchen.
Ingredients
4 -5 medium potatoes
1 lb ⁄2 bacon
1 cup chopped onion
2 celery stalks (chopped)
2 cups milk
1 cup cream
1 tablespoon prepared horseradish
salt
pepper
Instructions
Peel and cut potatoes. The barely cover potatoes with water and boil until just semi soft.
As the potatoes are boiling, dice the bacon and fry it up.
When bacon is nearly done add onions, and celery, continue to fry the bacon until the onions are translucent.
When potatoes are ready remove from the water, but save about 1/2 cup of the cooking water.
Add the milk, cream, water, and bacon mixture to the potatoes .
Bring back to boil, and stir in the horseradish.
Simmer until potatoes are tender.
Season with salt and pepper, ladle into a bowl and ENJOY!
Nutrition Information:
Amount Per Serving:
Calories:

575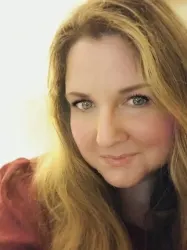 Latest posts by Deanna Samaan
(see all)