Fancy Chocolate Covered Strawberries are simple to make these chocolate strawberries.They make for an impressive valentine's day strawberries. Treat yourself or someone else to some of these wonderful chocolate covered strawberries.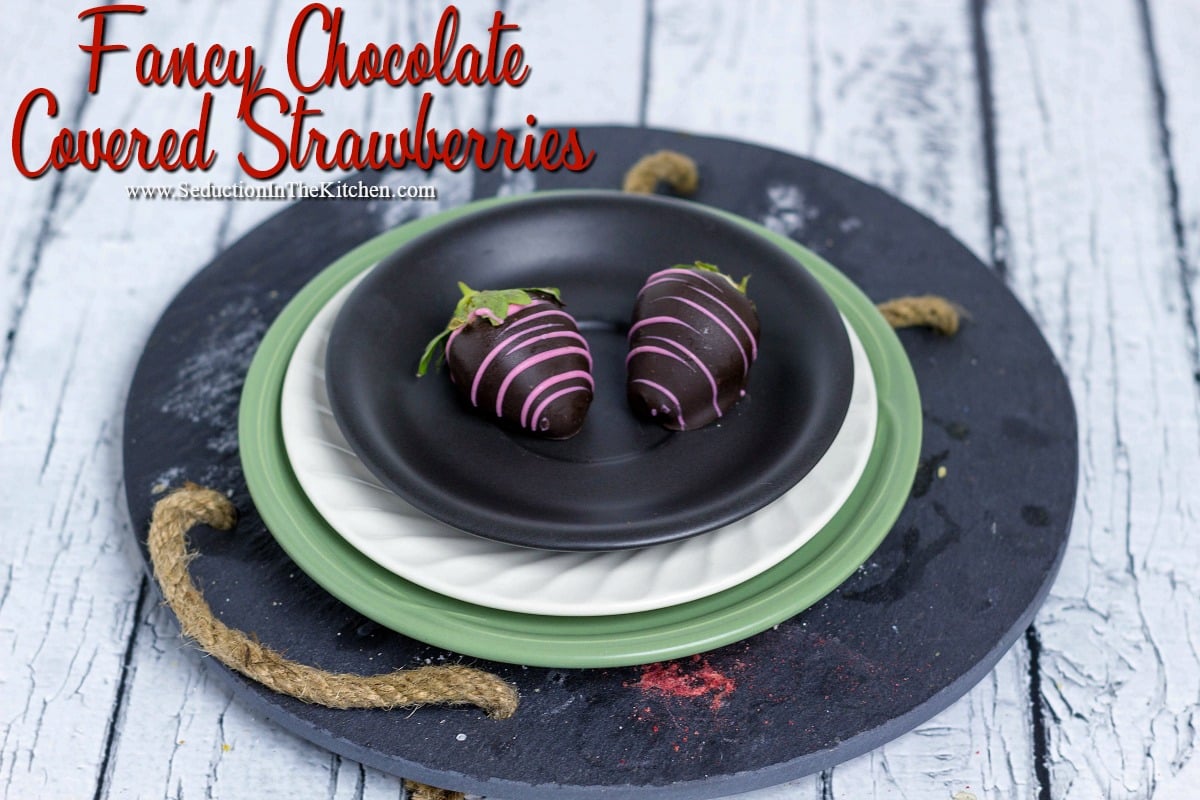 Updates!
S

o I have some updates for you guys! Fiest one is, I decided to stop that plugin that was reposting old content. Why? Well, wasn't working out the way I thought.

I thought it would help me with SEO and force me to update those old posts. It didn't. I got actually overwhelmed and could not update those posts like I wanted. So back to the old I will update and post when I can.

Another update is Wine and Lipstick! The second post is The Sex of It All With A Salted Caramel Kahlua Layer Shot. It is getting a nice reception like the first post on it did. So because people like the vice and due to requests, that blog will have a cocktail every post.

I thought I do an occasional cocktail recipe on it. I also know that what you think at first for blogging can turn directions. You have to let the blog speak and that is what direction it went in. So please check out Wine and Lipstick, you might find it entertaining if you like the Sex in the City show.
Chocolate Covered Strawberries As A gift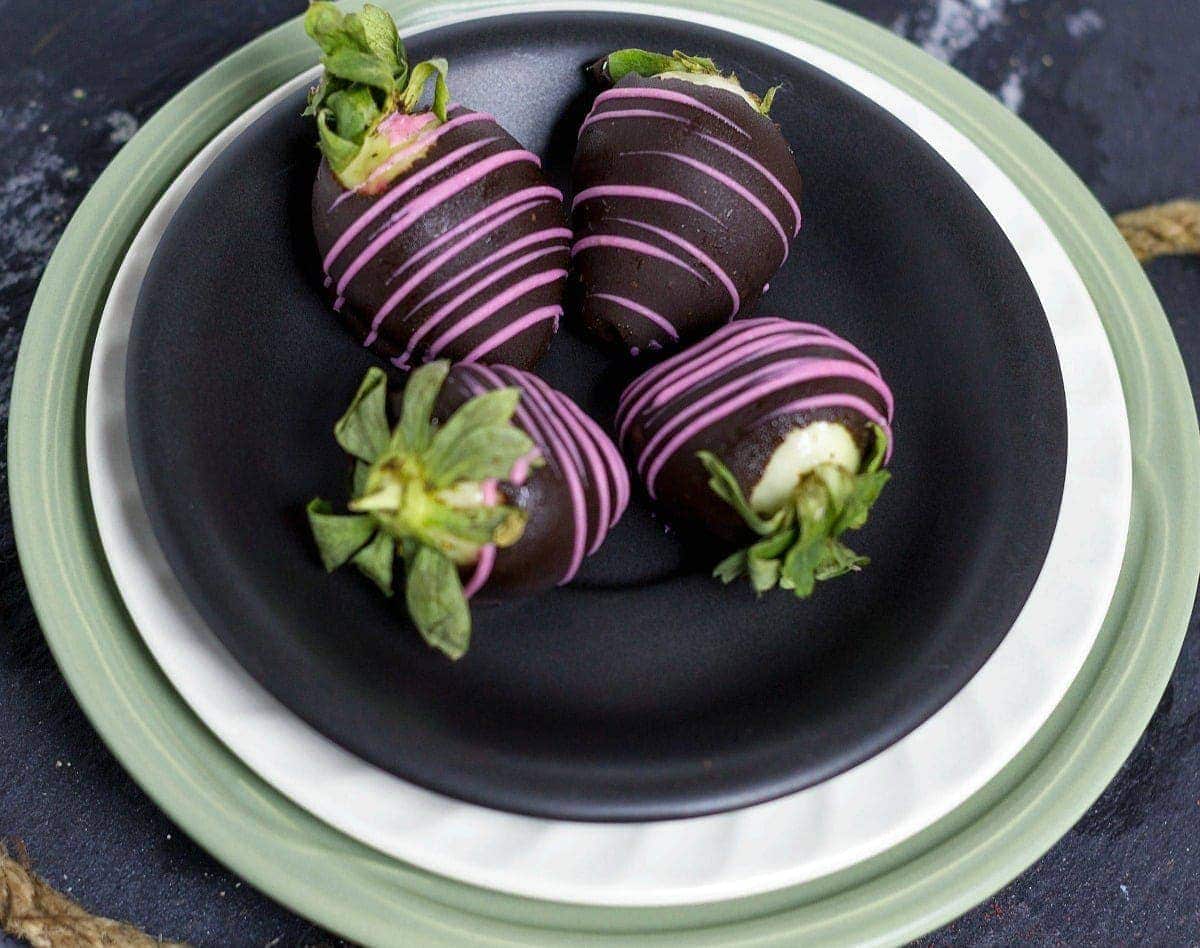 We all know that Valentine's day is coming up. The rush to get chocolates and flowers is on. For me I will be honest, I never have a valentine. Last year, I did get a surprise, I got flowers sent by someone anonymous person and it made my day!
Now I don't expect that again this year. In case I do happen to get a Valentine, I know the perfect gift I can give him, Chocolate Covered Strawberries. It is the perfect treat I can make.
Fancy Chocolate Covered Strawberries: Easiest Valentine's Day Gift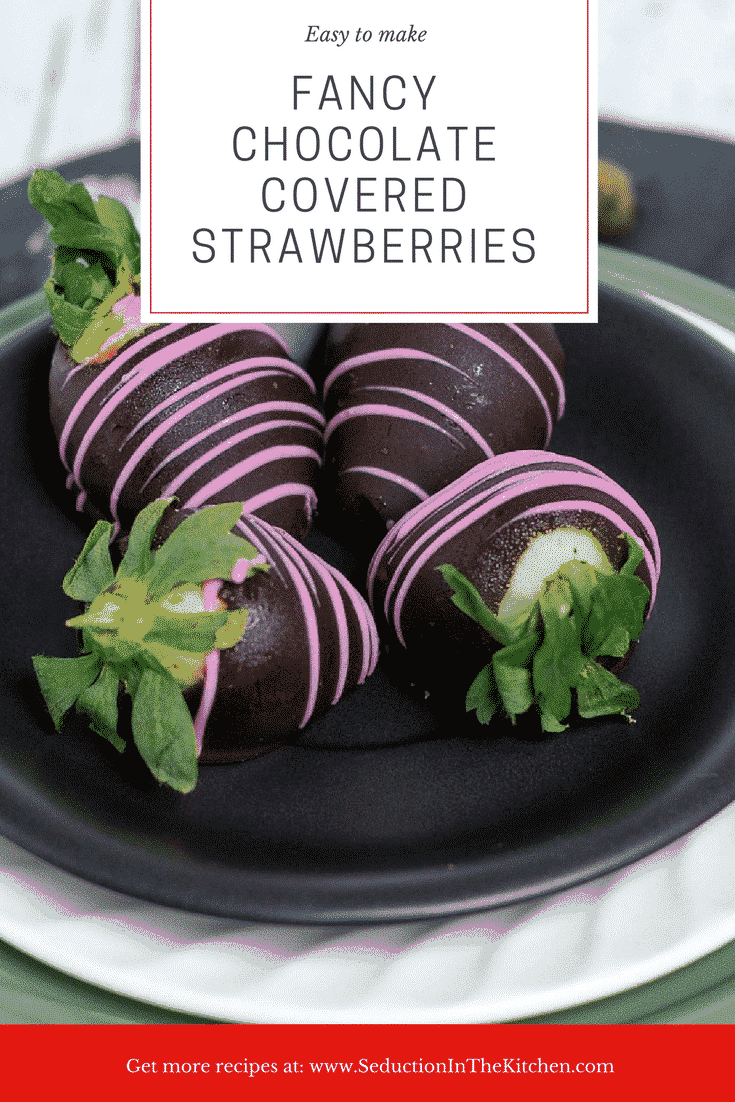 Why Chocolate Covered Strawberries? One a gourmet chocolate covered strawberries recipe is a homemade gift to give. There is nothing better than giving someone a homemade gift.
These Fancy Fancy Chocolate Covered Strawberries are so easy. Plus it is a Valentine's Day chocolate covered gift that you can make as well.
How To Make Fancy Chocolate Covered Strawberries
Plus, if you are on a budget, this gourmet chocolate covered strawberries recipe is only 2-3 ingredients. So your Valentine's Day gift also fits into budgets as well. If you are single, then give yourself Valentine's Day treat with chocolate covered strawberries.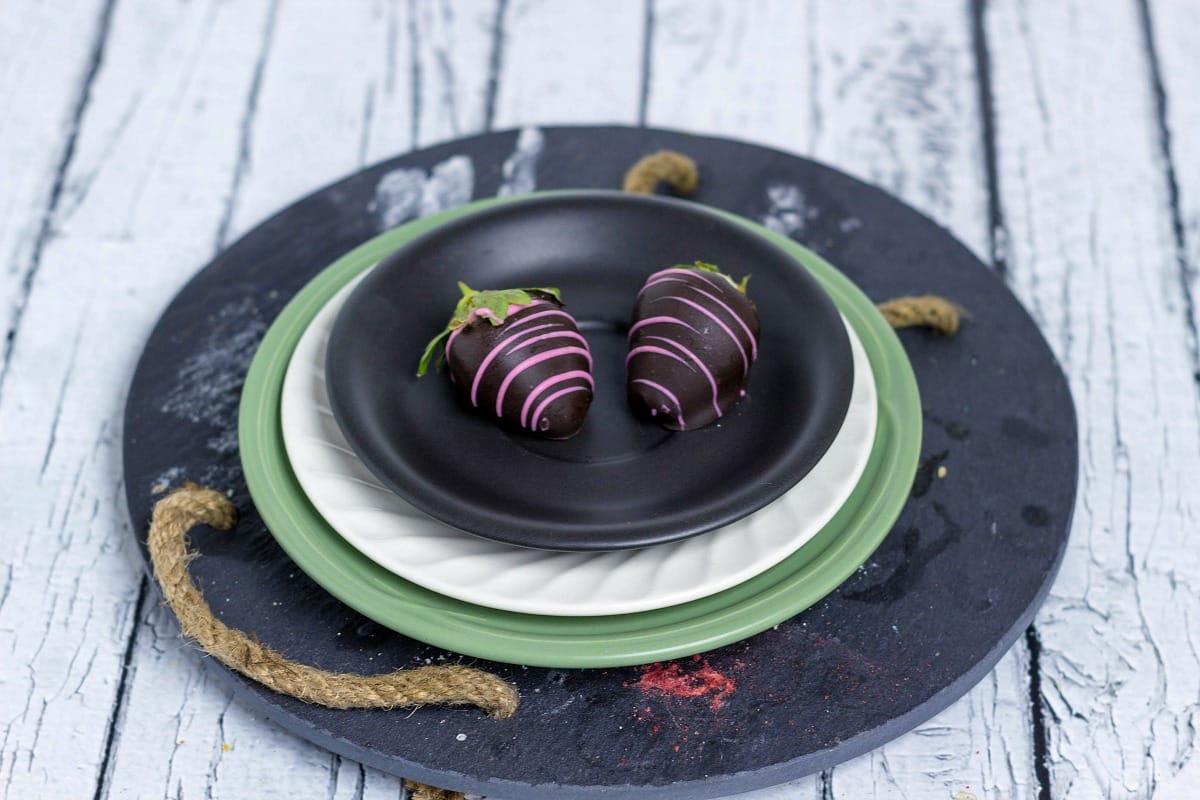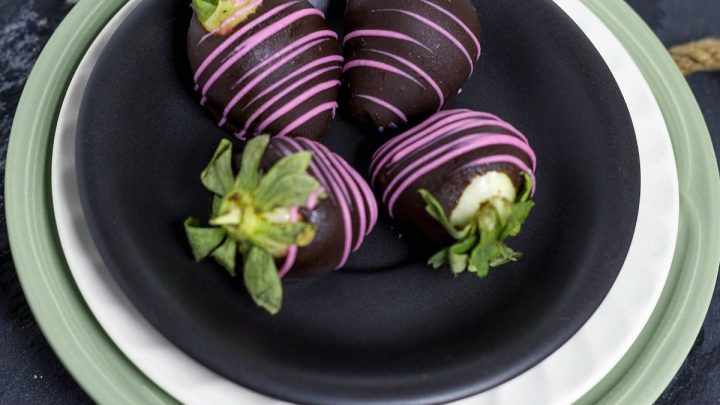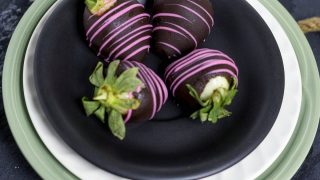 Yield:

12 strawberries
Fancy Chocolate Covered Strawberries Recipe
Fancy Chocolate Covered Strawberries are simple to make and make for an impressive and yummy gift! Treat yourself or someone else to some of these wonderful chocolate covered strawberries
Ingredients
1 lb milk chocolate candy melts
1 cup pink chocolate candy melts
12 large strawberries
Instructions
In a sauce pan, fill it with water and bring to a boil.
As your waiting for water to boil, that a cookie sheet and line it with wax paper.
In a metal bowl, add the milk chocolate candy melts
Once the water is boiling turn off the heat and place the bowl on top the sauce pan.
Keep stirring the candy melts till they are melted and smooth.
Using the green leafy part the strawberry, hold that in between your fingers and dip the strawberry into the melted chocolate.
Swirl the strawberry in the chocolate till you cover the strawberry.
Pull the strawberry out and give a little shake to remove the excess chocolate.
Put the strawberry onto the wax paper lined cookie sheet.
Put the strawberries in the fridge for about 30 minutes after you get them dipped.
Next, using about a cup of the pink candy melts, put them into a metal bowl, like you did with the milk chocolate ones.
Bring the water to a boil again and place the bowl on the hot water, like you did up above with the milk chocolate.
Once the pink is all smooth and melted. take the strawberries out the fridge.
Take a fork and dip into the melted chocolate.
Shake the chocolate on the fork back and forth over the strawberries. so you can "stripe" them.
Once they look good. Place them back in the fridge for other 30 minutes.
Once the chocolate is set up on the strawberries, Serve them up and ENJOY!
Notes
The secret to chocolate covered strawberries is make sure the strawberries are dry when you dip them. You can rinse them off, but just be sre they are dry. If wet the chocolate doesnt like to stick as well.
I recommend just before you dip the strawberries, just take a paper towl and do quick patdown on them to make sure they are 100% dry.
Recommended Products
As an Amazon Associate and member of other affiliate programs, I earn from qualifying purchases.
Nutrition Information:
Yield:
12
Serving Size:
1
Amount Per Serving:
Calories:

283
Total Fat:

15g
Saturated Fat:

10g
Trans Fat:

0g
Unsaturated Fat:

4g
Cholesterol:

12mg
Sodium:

41mg
Carbohydrates:

32g
Fiber:

2g
Sugar:

28g
Protein:

4g
Check out my the latest on my other blog:
[convertkit form=785110]
This post was most recently updated
I want to hear what you have to say about this recipe that is on
SEDUCTION IN THE KITCHEN!
Let's get this conversation started! What do you think of this recipe?