Sailor's Delight is an easy tequila sunrise cocktail. Red skies at night sailors delight is what this drink to relax with is all about. This easy drink with tequila is so refreshing and the perfect strawberry cocktail recipe to relaxing cocktail.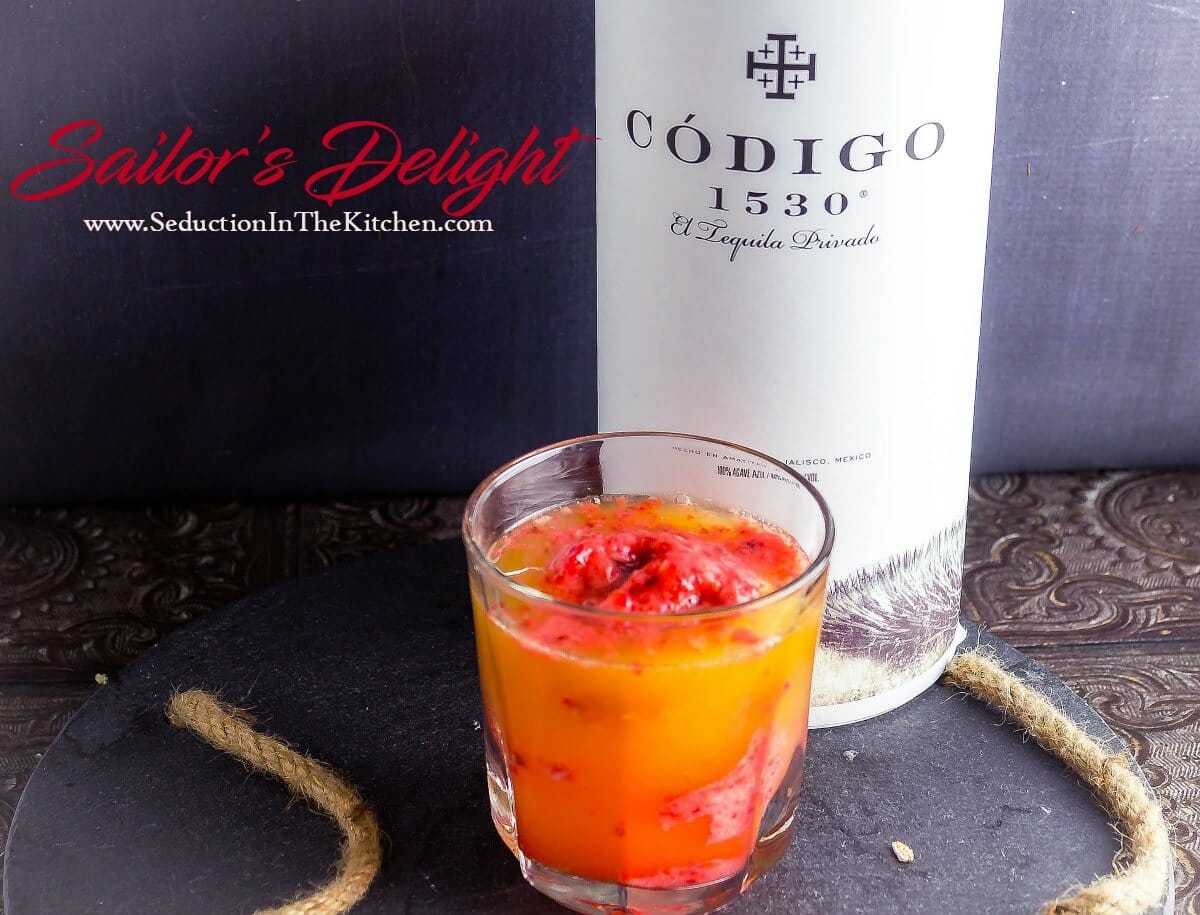 Cheers
I am officially on my new host. Seduction is now on its own private server instead of shared hosting. This was the first week of the new hosting and I can see a huge difference. The speed alone is incredible.
Being on a new host isn't the only thing I am saying cheers to. I had a recipe go little viral on RecipeLion! It was my Creamy Macaroni Salad!
That was a nice surprise! It was nice waking up to see this sudden surge. Then I saw it was because they featured this macaroni salad recipe.
Drinks To Relax
I work hard. Sometimes I need drinks to relax with. I admit cocktail recipes make the perfect drinks to relax with.

Sailor's Delight
So how did this sunrise cocktail come about? Well, I was sent some samples of a tequila, Codigo 1530 for recipe development. You know me I love creating cocktail recipes.
Plus I love just making recipes with alcohol. So I love it when a PR company sends me samples so I can play around with for a recipe. Like I said, I like drinks to relax with.
Easy Drinks With Tequila
Anyway, one of the samples was this wonderful Rosa tequila. To quote the Codigo 1530 website about this Rosa:
Código 1530 Rosa begins with the purity of our Blanco, then rested for 1 month in an uncharred Napa Cabernet French White Oak barrels. The result is a refined spirit with a natural color as beautiful as its taste. Our Rosa has rested just long enough in our fine cabernet barrels to enrich the natural agave juice, yet not too long to prevent overpowering its delicate floral notes.
This sounds like it would be perfect to make easy drinks with tequila! The flavor of this tequila is amzing.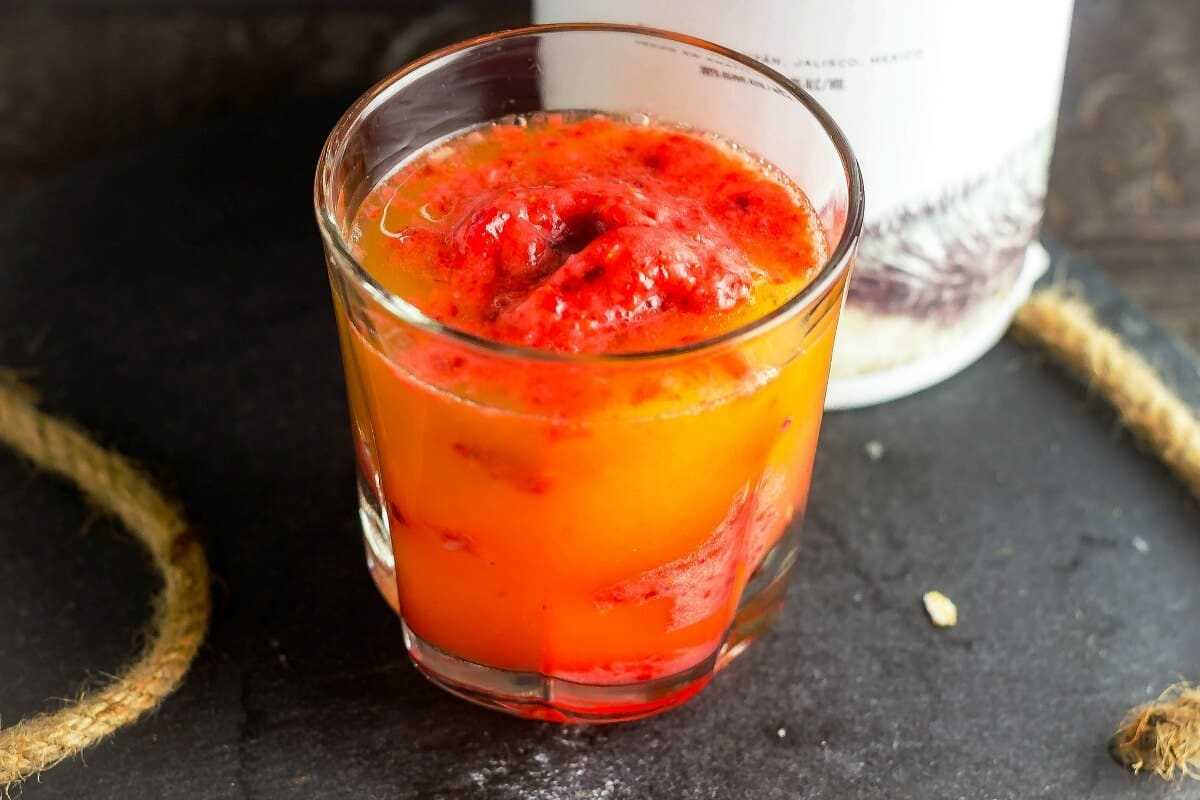 Tequila Sunrise Cocktail
Some type of tropical tequila sunrise cocktail recipe came to mind. I had made some fresh strawberry sorbet in the freezer. Pineapple juice was in the fridge, strawberry tequila drink was born.
Red Skies At Night Sailors Delight
The sunset that night was beautiful here in Cleveland. So I mixed up this sunrise cocktail, I thought it looked like that beautiful sunset in a glass. That was when the sailors delight quote: "Red Sky In The Morning, Sailors, Take Warning. Red Skies At Night, Sailor's Delight." Came into my mind.
There was no other title that could fit this strawberry cocktail recipe other than that, Sailor's Delight. This strawberry tequila sunrise not only great to relax with, but tastes so wonderful. So cheers to this sunrise cocktail.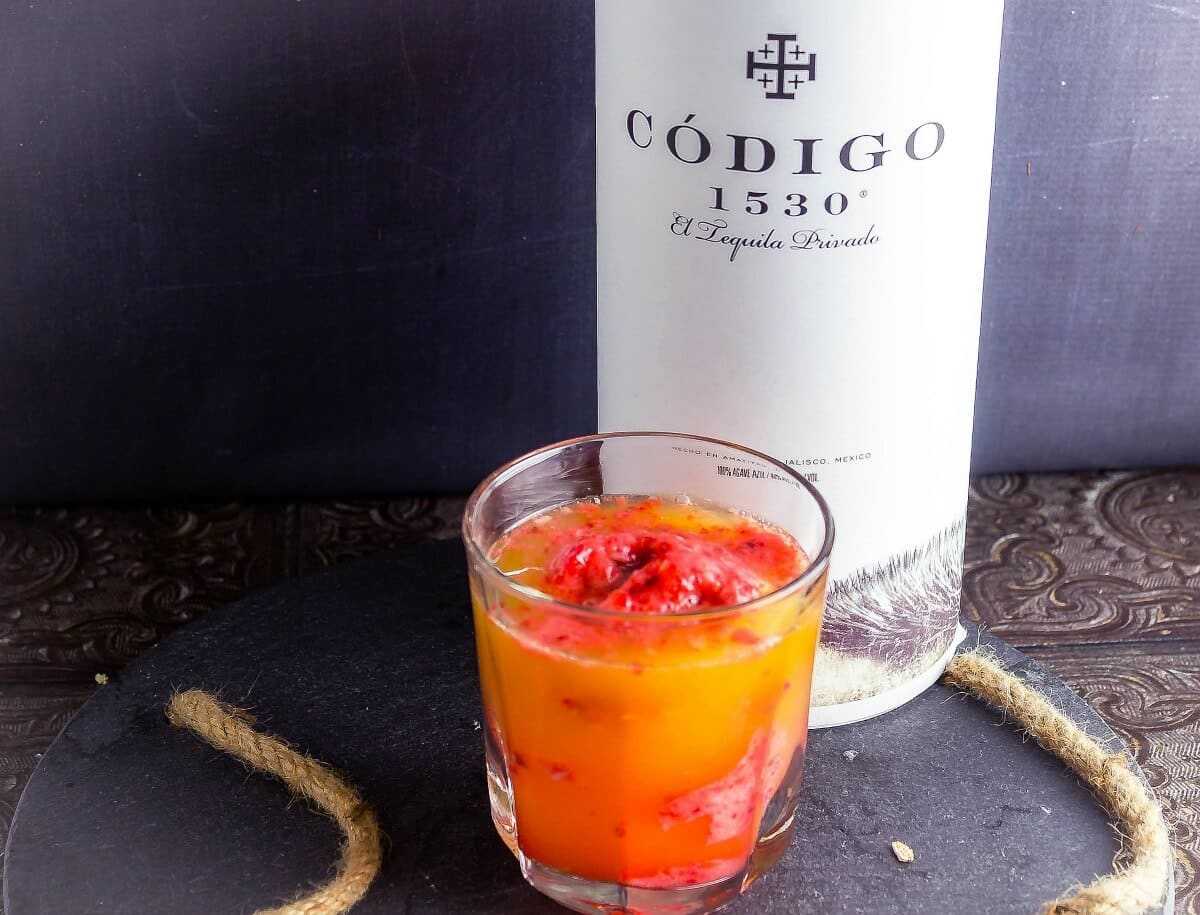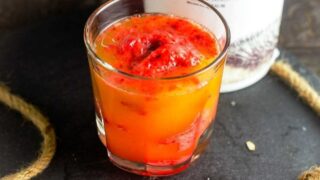 Yield:

1
Sailor's Delight Cocktail Recipe
Sailor's Delight is an easy cocktail that is based on the old saying: "Red Sky In The Morning, Sailors, Take Warning. Red Skies At Night, Sailor's Delight.
Ingredients
1/4 cup strawberry sorbet whole fruit
1/2 cup pineapple juice
1 oz Rosa Codigo 1530 Tequila
grenadine
Instructions
Add the sorbet to chilled rocks glass
In a shaker add the pineapple juice and the Rosa Codigo 1530 Tequila
Shake for 10-15 seconds so that it is mixed
Pour the drink over the sorbet in the glass
Add a splash of grenadine
The sorbet will float to the top, making look like a sunset. So sit back and relax and ENJOY!
Nutrition Information:
Amount Per Serving:
Calories:

150
Sodium:

5mg
Carbohydrates:

21g
Fiber:

1g
Sugar:

12g
Protein:

1g
Check out my the latest on my other blog:
40K Followers
This post was most recently updated
I want to hear what you have to say about this recipe that is on
SEDUCTION IN THE KITCHEN!
Let's get this conversation started! What do you think of this recipe?