Unicorn Kisses Cocktail is fun drink. This purple cocktail is tart meets sweet with then it is sprinkled with shimmer. This sweet mixed drink is simply perfect! This UV Blue drink recipe will be the hit of your party. Serves 1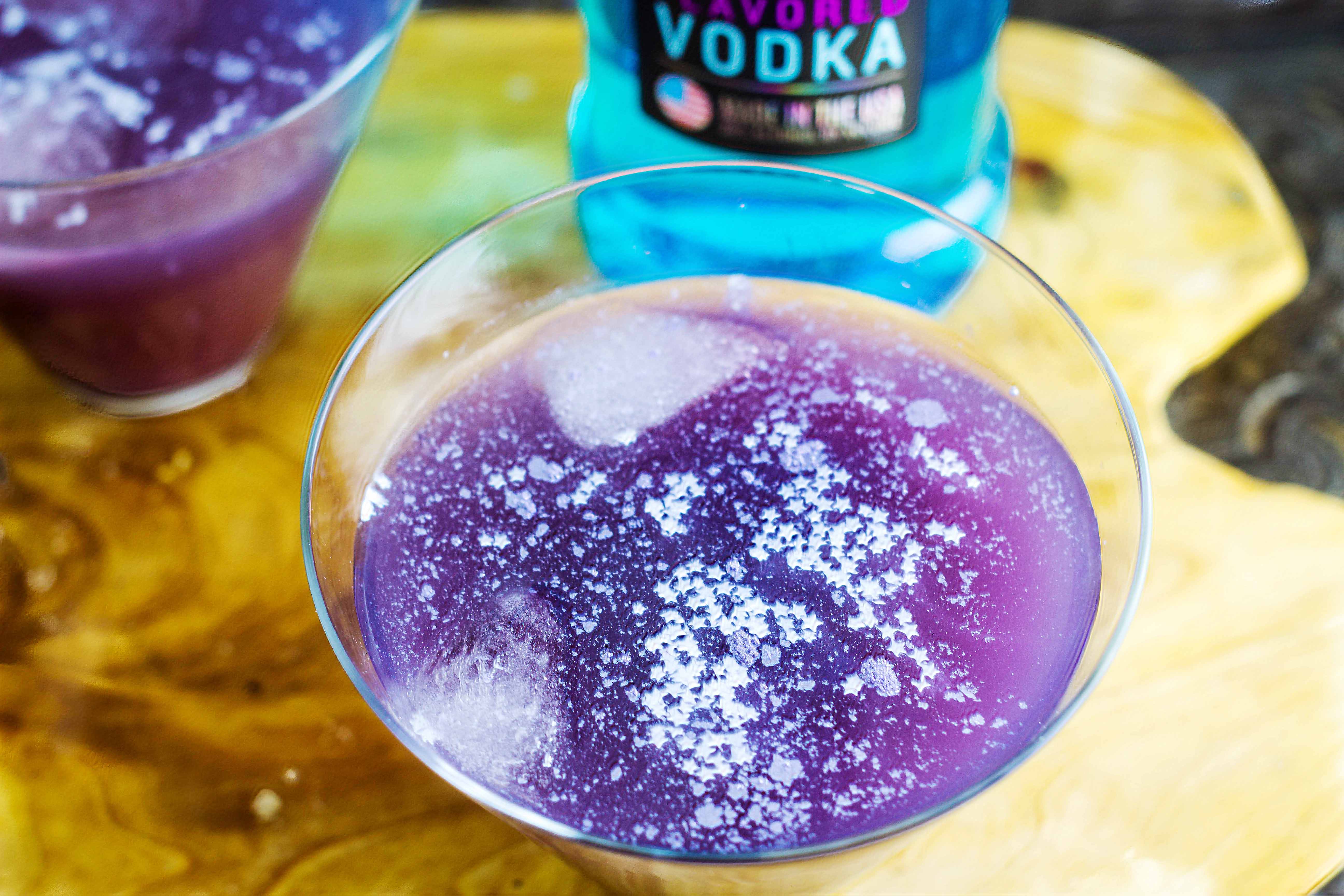 Whimsical Purple Cocktail
I want to do something different. Whimsy is what I wanted to add to a recipe. Enter the latest craze right now, EVERYTHING UNICORN!
Yes, I have gone there. I went unicorn. However, I am going unicorn with a cocktail. Why purple cocktails for a unicorn? Well, purple cocktails are whimsical!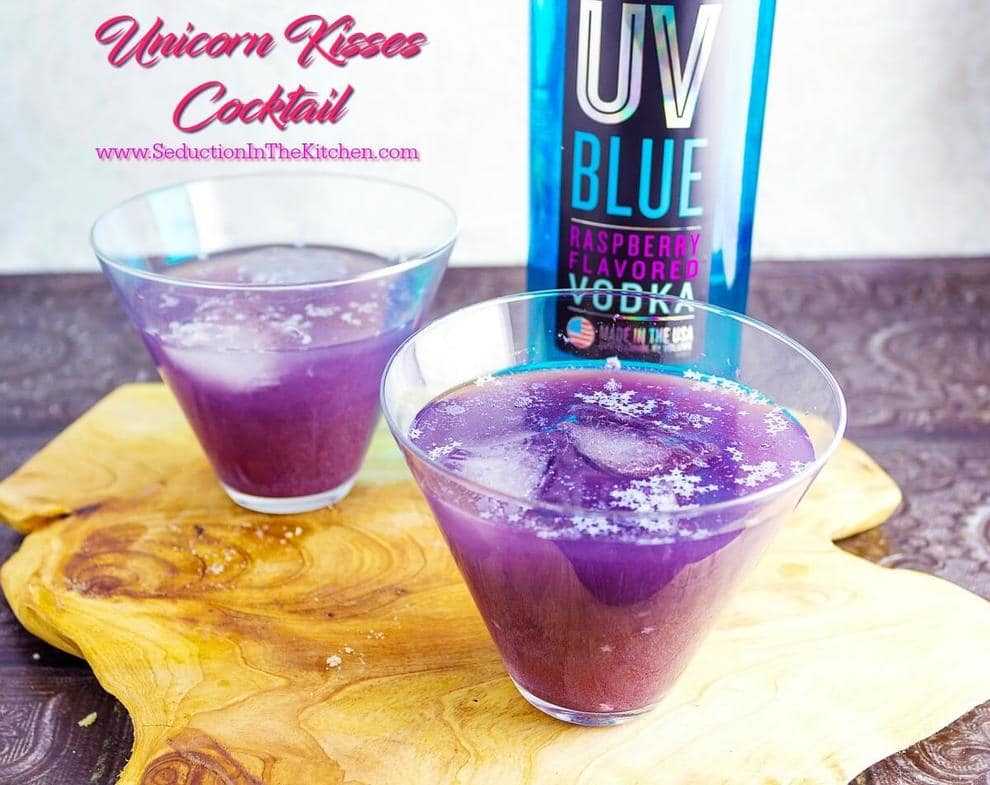 Colorful Cocktails
I have been in the mood to create a girly drink. Fun cocktails are also colorful cocktails. Add a little shimmer to it and you got a girly unicorn sweet mixed drinks. Who would not want colorful fun drinks? Fun drinks are also sweet alcoholic drinks!
Unicorn Drinks
What is it about unicorn drinks that everyone wants to get on board? I think it is because unicorn drinks are just fun drinks. They are colorful drinks, but also a sweet tart drink. Besides unicorn drinks are great summer alcoholic drinks!
Party Drinks
When you want party drinks, you want colourful cocktails, right? That is also another great reason to make the sweet tart drink of unicorn drinks! After all summer alcoholic drinks are party drinks!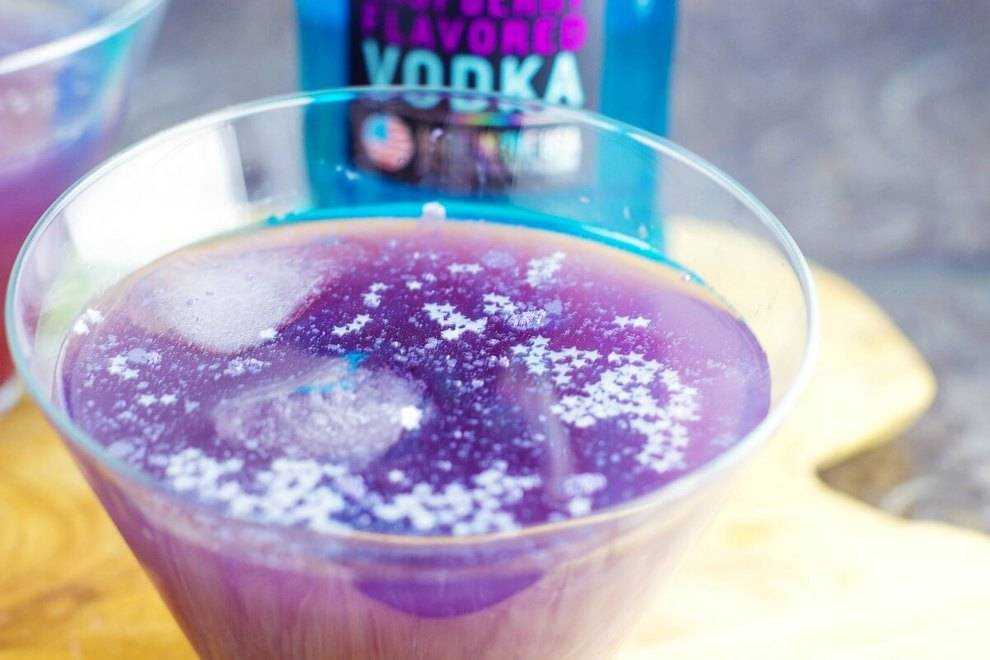 Special Cocktail Ingredients
To give this drink the shimmer and the "Unicorn" portion of it. I had to actually think outside the box. In all honesty, the alcohol I was looking for I found out isn't available in Cleveland anymore.
I was looking for that wow factor. The liquor was this purple shimmery stuff, but it was not to be found. So, Ms. Dee needed to get creative to give this cocktail its whimsical look.
Fun Drinks
Enter in my old hobby of cake decorating. Wait what, cake decorating? Yes, you read that right, cake decorating can help with the creation of fun drinks.
I know there is something called luster dust or pearl dust. It gives the shimmer effect on cakes. So why could I not use that in sweet mixed drinks?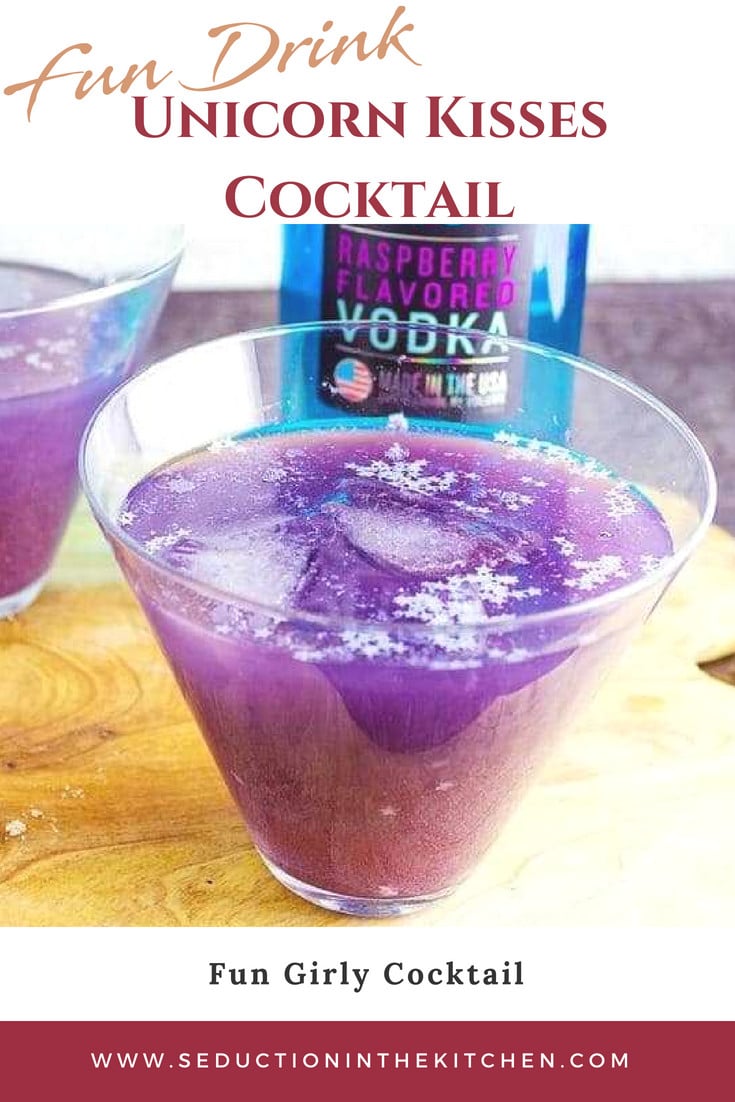 Sweet Alcoholic Drinks
My first thought was maybe I would rim the glass in it. Truthfully, I always rim a glass in sugar for the sweet alcoholic drinks I have created for Seduction in the Kitchen. That thought of sugaring the rim of the glass went out the window.
That is not Not the unicorn fun factor I was going for for these unicorn drinks. I wanted these purple cocktails to be fun drinks not messy.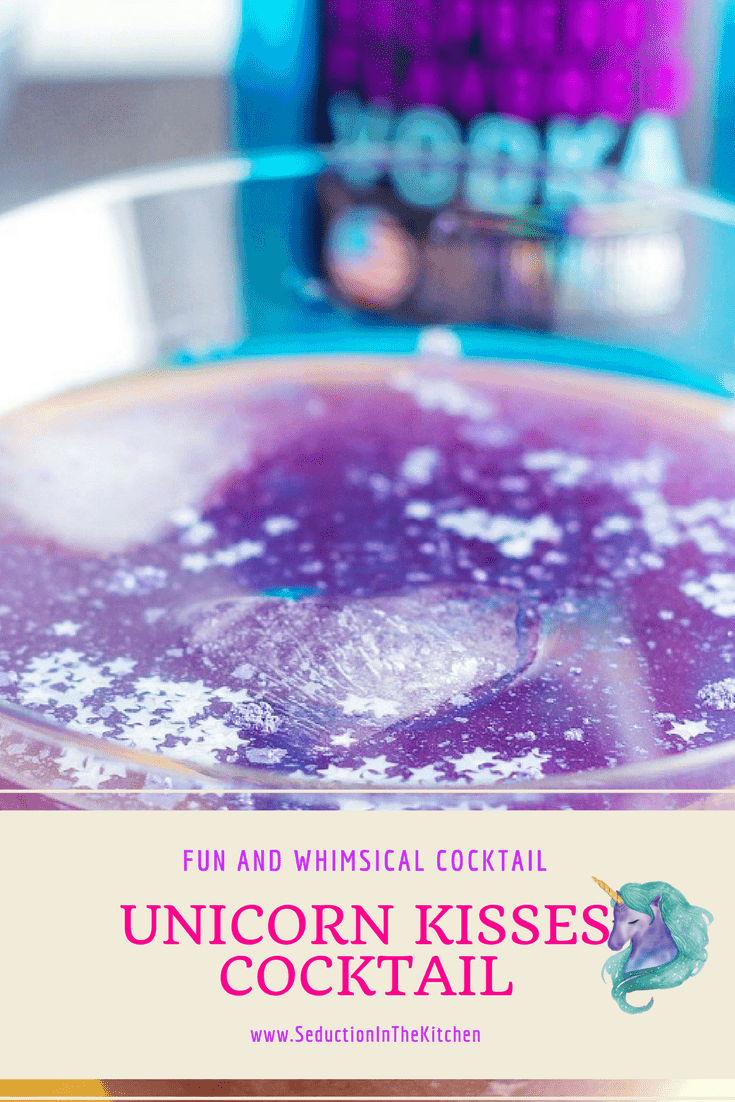 Unicorn Kisses Cocktail Recipe
Would the pearl dust work if I mixed in the drink instead? It did! I was so happy when I saw the colorful cocktails.
It really gave that shimmer I wanted to these purple cocktails. I had the start of unicorn drinks. Still, it needed something else to make it say I am a girly drink!
The answer to that was edible glitter stars! I saw these edible glitter stars at the cake supply store and was like yes! Those stars are perfect for a Unicorn cocktail.
Wow Factor
I needed that fun cocktails wow factor. That is the alcoholthat makes sweet mixed drinks. While I was at the liquor store I spotted a blue vodka that would be perfect for fun cocktails.
UV Vodka
That alcohol spirit was UV Blue Raspberry Vodka. The blue liquid of UV Vodka just caught my eye when I spotted on the shelf. It looked like it would be perfect for unicorn drinks.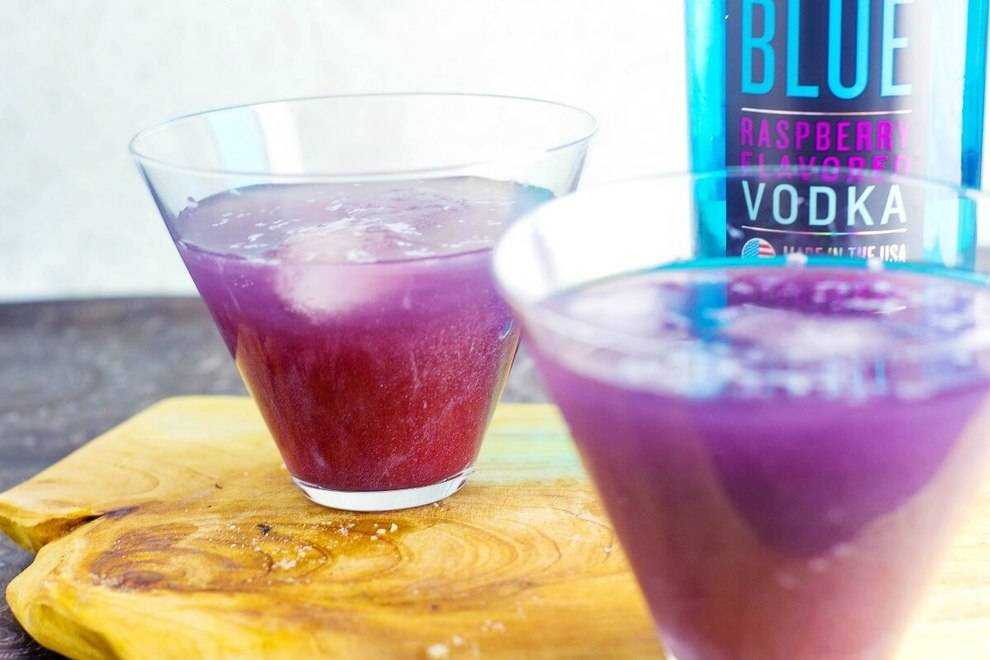 Creating Unicorn Cocktail
The store also had strawberry lemonade on sale. Lemonade and raspberry go well together. I think that is a great combination to make this fun girly cocktail.
So let the unicorn cocktail development begin. After all, we do need fun adult drinks, do we not? That is the purpose of making a unicorn cocktail.
Purple Cocktails
I was blown away by how good this girly cocktail turned out. These purple cocktails was exactly what I was going for. It is a sweet girly, fun cocktail. It is unicorn drinks!
Unicorn Drinks
Truthfully these unicorn drinks are perfect after a stressful week. I needed the unicorn whimsy to relax with. This cocktail recipe hit the spot.
So why not get your unicorn drink on. Grab some UV vodka and make this whimsical unicorn kisses cocktail tonight! You will be glad that you did!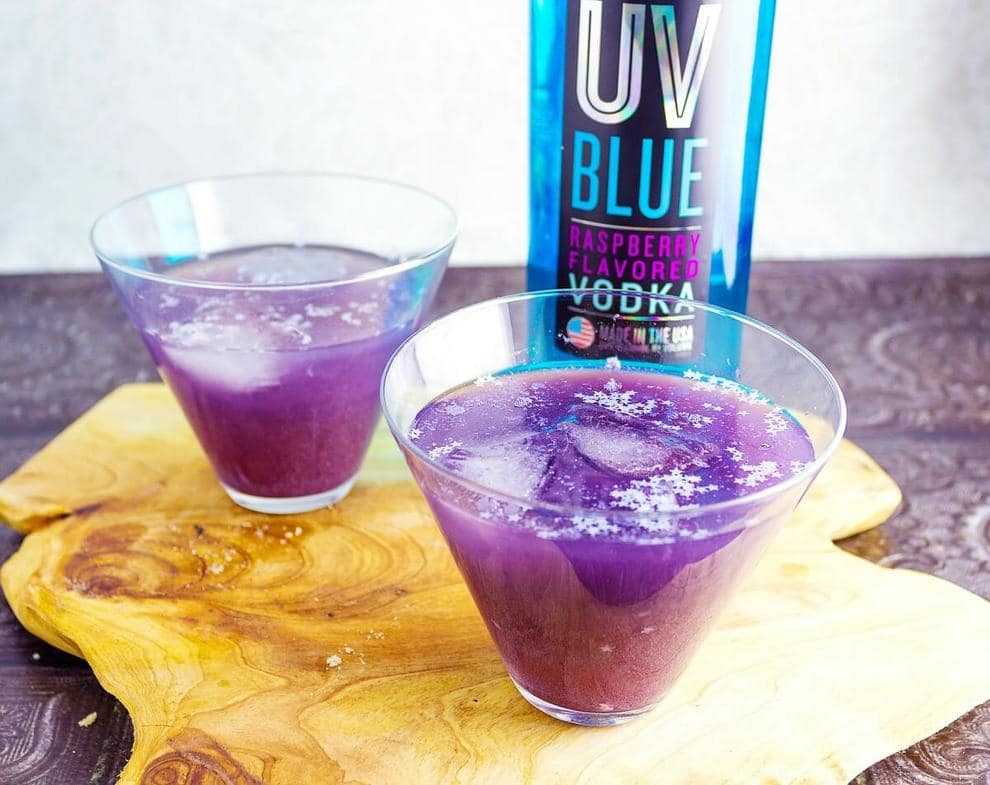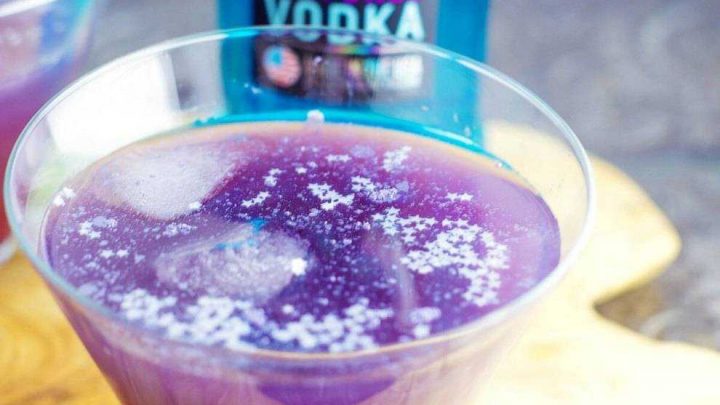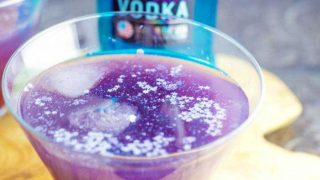 Yield:

1 cocktail
Unicorn Kisses Cocktail Recipe
Unicorn Kisses Cocktail is a whimsical, fun adult drink. The tart meets sweet with then it is sprinkled with shimmer, this drink will be the hit of your party.
Ingredients
5 oz Strawberry Lemonade
1 oz UV Blue Raspberry Vodka
½ oz Grenadine
¼ tsp Lilac Pearl Dust
Edible Silver Star Glitter, garnish
Ice
Instructions
In a highball glass, add the lemonade.
Next, add the lilac pearl dust to the lemonade. Give a good stir so that the drink will start to shimmer.
Add the UV Blue Raspberry Vodka.
Add in the Grenadine.
Place the ice in the glass.
Finally, add the silver stars for the garnish.
Cheers and ENJOY!
Recommended Products
As an Amazon Associate and member of other affiliate programs, I earn from qualifying purchases.
Nutrition Information:
Amount Per Serving:
Calories:

120
Check out my the latest on my other blog:
39.3K Followers
I want to hear what you have to say about this recipe that is on
SEDUCTION IN THE KITCHEN!
Let's get this conversation started! What do you think of this recipe?