Roast Beef Stuffed Baked Potatoes is a meal in itself. Tender roast beef with caramelized onions. Then add au jus gravy all stuffed into a potato than covered with melted cheese. This recipe is a good way to use up leftover roast beef.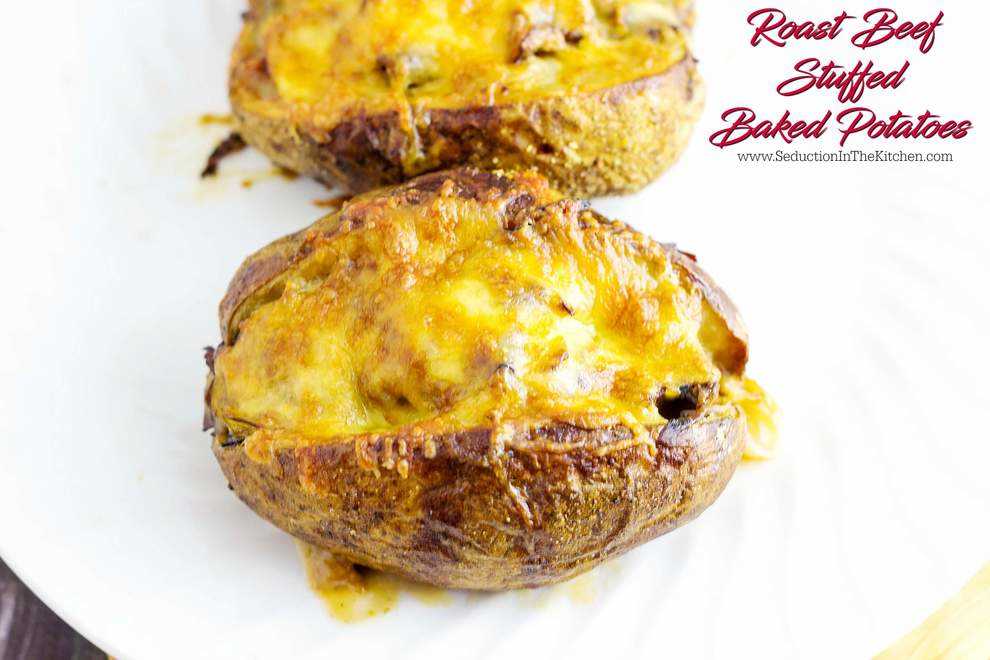 New Beginnings
I have been busy over the last month or so. I have been going every weekend to Pittsburgh to be with my family. They needed help with the new puppies, and since I do not have to work weekends anymore I can actually go.
I have always said I do my best thinking when I do a long drive. In the 2.5 hours, it takes me to get to Pittsburgh, I have had some time to think. I want changes in my life but wasn't sure how to do changes I want.
That was where going to Pittsburgh came in. I realized I need little steps. My head is so full of ideas, but I lose interest quick. Why? I do way too much. Baby steps, that is what I need.

Recipes For Leftover Roast Beef
My mom does a roast every Sunday. So there is always leftovers. recipes for leftover roast beef when you search it usually comes up with hash. I wanted different.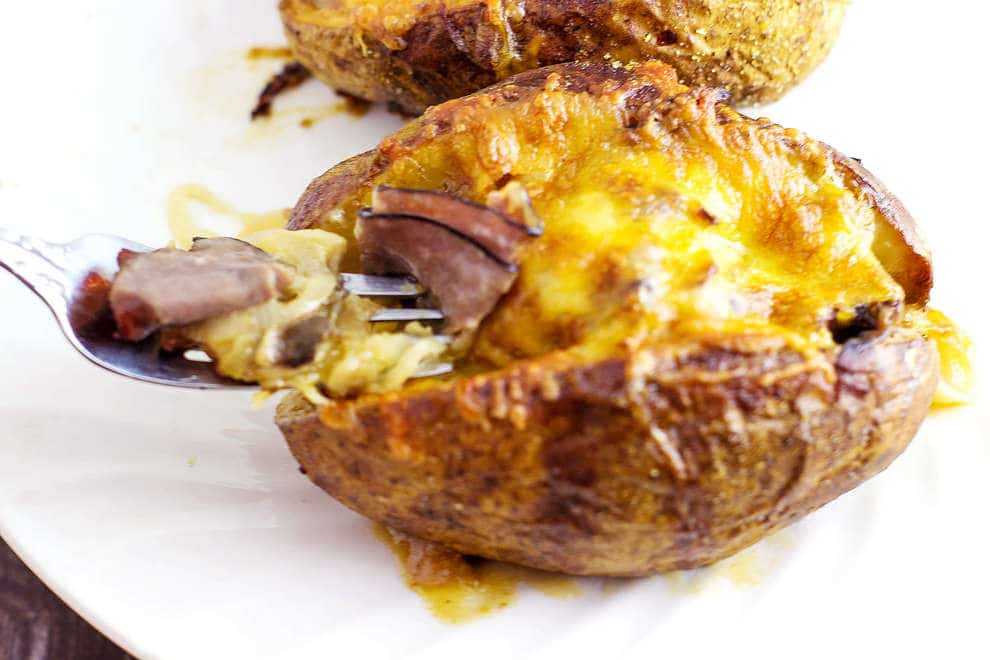 Roast Beef Stuffed Baked Potatoes
So where did the Roast Beef Stuffed Baked Potatoes idea come from? It was from a deli that opened up near my work. This deli called, McAllister's, which is a chain. They are known for these mammoth stuffed baked potatoes.
I fell in love with their roast beef baked potato. It was so yummy. It had the tender roast beef with caramelized onions and gravy inside the potato with au jus gravy.
I am salivating thinking about it. Yes, it is that good. It is perfect for leftover roast beef.
Stuffed Baked Potato
Those potatoes with leftover roast beef were on my mind. Plus my mom said it would be nice having recipes for leftover roast beef that isn't hash.
They are a meal in one after all. The store had a sale on baking potatoes. I knew I had roast beef left over from Sunday dinner. Viola! Roast Beef Stuffed Baked Potatoes.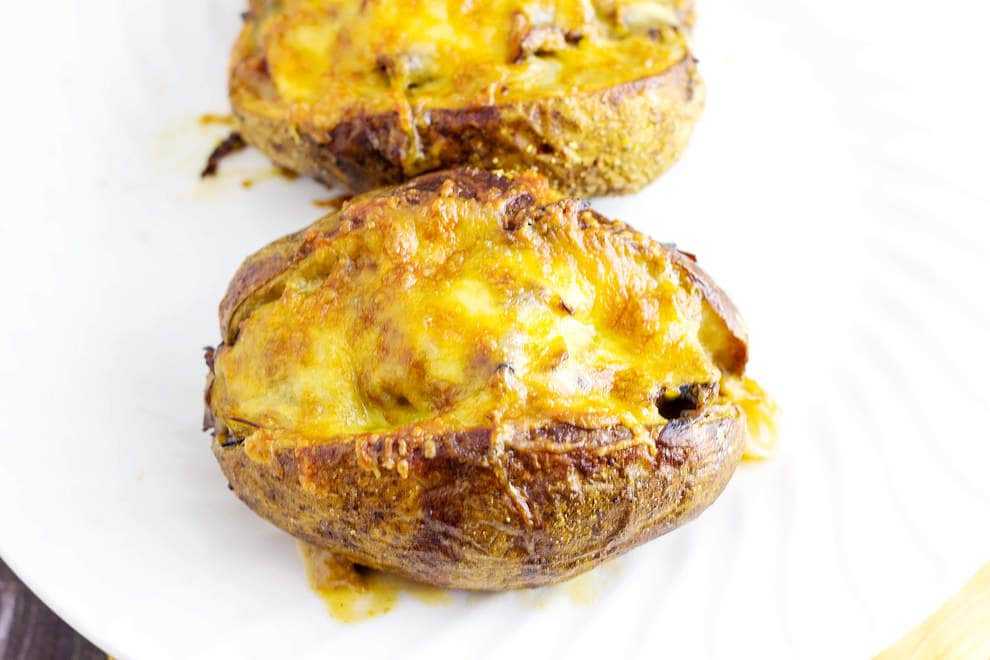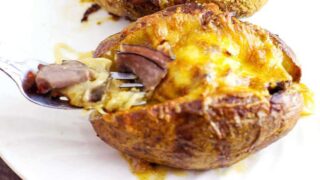 Yield:

4
Roast Beef Stuffed Baked Potatoes
Cook Time:
1 hour
15 minutes
Total Time:
1 hour
25 minutes
Roast Beef Stuffed Baked Potatoes is a meal in itself. Tender roast beef with caramelized onions and au jus gravy stuffed into a potato with melted cheese.
Ingredients
4 large baking potatoes
1 cup cooked roast beef (chopped)
1 tablespoon butter
1 small onion (thinly sliced)
1/4 cup au jus gravy
1/2 cup monteray jack cheese (shredded)
1 clove garlic
olive oil
sea salt
butter
sour cream
Instructions
Preheat the oven to 350F degrees
Prepare your potatoes for baking. Wash and scrub them well, then put a slice in the tops lengthwise not all the way through but about at least an inch deep.
 Rub the skin with olive oil
Take the garlic clove, and cut the top off. Rub the cut part the clove over the skin of the potatoes.
Season with a little sea salt
Bake the potatoes for about 60 minutes or until slightly soft and golden brown
Meanwhile, as the potatoes bake, melt the butter and saute the onions until they are nice and soft.
Add the leftover roast beef and gravy to the onions and cook it till the gravy and beef are heated through. About 2-3 minutes. Stir constantly.
Take the potatoes out the oven, slit the potatoes open so that you can stuff the beef filling inside each one.
Add the beef filling and place back in the oven and let them back for about 10 minutes with the filling.
Next, take out the oven and place the cheese on top of each one.
Bake until the cheese melts on the top of each potato, about 5 minutes.
Take out the oven, serve them up with some butter and sour cream and ENJOY!
Nutrition Information:
Amount Per Serving:
Calories:

480
Like this Recipe? Pin it!
This post was most recently updated
I want to hear what you have to say about this recipe that is on
SEDUCTION IN THE KITCHEN!
Let's get this conversation started! What do you think of this recipe?