Roast Beef with Mushroom Gravy is a savory, homestyle roast beef. with a tangy mushroom gravy. A recipe from Seduction In The Kitchen.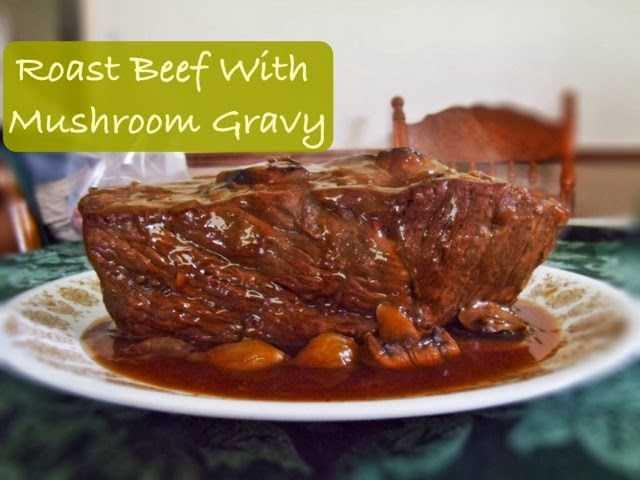 I am still without a computer, but I went to my mom's in Pittsburgh and I used her computer to download photos from my camera. I thought I could use an online editor to edit them, nope! My mom panics if we try to download anything on her computer because she is scared she will get a virus on her computer.
She has her levels set very high on her computer and never accepts updates. So the online editor wanted to use kept saying that the computer needed the latest version of Adobe flash to work. You guessed it I could not edit them. So I did the next best thing, I emailed myself all the photos and then downloaded them onto my iPad to edit on that.
I never realized how much I depend on a computer till now. Even small things, like editing a photo. Wow! I'm addicted to computers I think.
It is kind of funny, growing up, we did not have a computer. In fact, I did not get a computer till I was 20. Now it like the computer is my life.
Think about, we got smartphones that have everything from banking information to a grocery list on it. We interact by texting or going on Facebook to see what's going on. Computers are in every aspect of our life.
Aside from that, I got a rare treat. I was allowed to make dinner for my family. As mentioned in a few posts, my family is hard to cook for.
They like things very bland. I can still hear my mom saying to me when I was younger, "no exotic spices Dee Dee." Salt and pepper, that was all the spices we had growing up.
It wasn't until I was on my own that I discover spices like garlic, vinegar, oregano, thyme. They still to this day do not have spices. I was making peas to go with the roast and asked my sister, we were at her house if she had thyme.
She looked at me with a look that said "are you crazy?" and said, no. So this was a big deal for me. I needed to make something with flavor, but not something that would scare them. A roast was perfect.
The original recipe for the gravy, I think came off the back of a Wishbone salad dressing bottle. I have of course tweaked it to cook the roast in a different way. The final product got rave reviews from my family, they loved it.
I told my mom the secret ingredient was Italian dressing. I think it shocked her, but she asked me to write the recipe out, it was so tasty. Success! My family got the flavor and it was something I made and they loved it. That alone tells me this is a winner.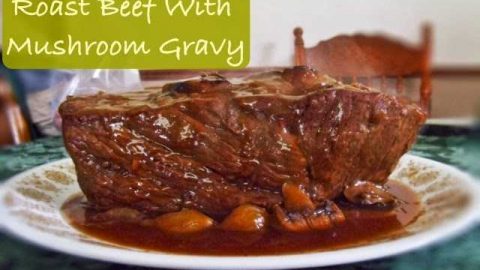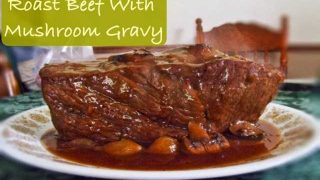 Yield:

6 servings
Roast Beef with Mushroom Gravy
Total Time:
2 hours
10 minutes
A savory, home style roast beef. A recipe from Seduction In The Kitchen.
Ingredients
3 lb beef roast
Salt and pepper to taste
2 tb of butter
2 ounce jars beef gravy (12 each)
1 envelope onion soup mix
1/2 cup Italian dressing
8 whole mushrooms sliced
1/2 cup pearl onions
Instructions
First thing you want to do is season the beef with a little salt and pepper. Then melt 2 tablespoons of butter in a fry pan. Then sear the roast on all sides. You just want cook it for about 2 minutes on each side. Searing helps burn off a little the fat, but also helps with sealing in some the juices too.
Remove the roast and put it into a roasting pan. Then without cleaning out the fry pan, add your mushrooms and onions. Sauté them in the beef/ butter drippings. Sauté them for about 2-3 minutes. Then pour them over the toast in the roasting pan.
Time to mix the gravy, empty both jars into a bowl, add the onion soup mix and the Italian dressing. Mix them well together. Once it mixed well, pour the gravy over the roast, onions, and mushrooms.
Cover the roasting pan with foil, and put the roast into a preheated oven of 300F. Let the roast cook in the oven for about 3- 31/2 hours.
Take it out the oven let it rest for about 20 minutes, then put on a plate, you can put a little the gravy over it or strain out and put the gravy in a gravy boat. Then ENJOY!
Nutrition Information:
Yield:
6
Serving Size:
1
Amount Per Serving:
Calories:

786
Total Fat:

52g
Saturated Fat:

20g
Trans Fat:

0g
Unsaturated Fat:

25g
Cholesterol:

283mg
Sodium:

543mg
Carbohydrates:

6g
Net Carbohydrates:

0g
Fiber:

1g
Sugar:

3g
Sugar Alcohols:

0g
Protein:

69g
This post was most recently updated
I want to hear what you have to say about this recipe that is on
SEDUCTION IN THE KITCHEN!
Let's get this conversation started! What do you think of this recipe?