Cranberry Walnut Stuffing is a flavorful walnut dressing. Stuffing is an essential holiday side dishes. This fresh cranberry stuffing will sure to please everyone. Serves 10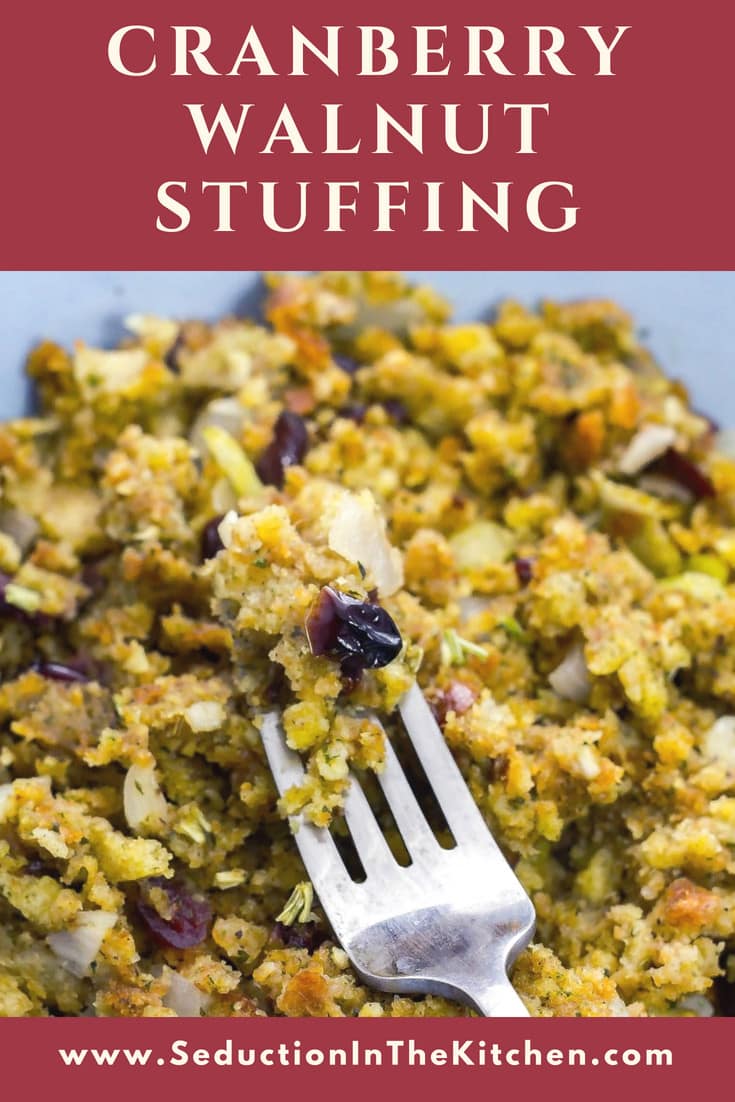 Thanksgiving Recipes
With the leaves turning colors, that means the hunt for Thanksgiving recipes is on! One of the most looked at holiday food dishes is holiday side dishes.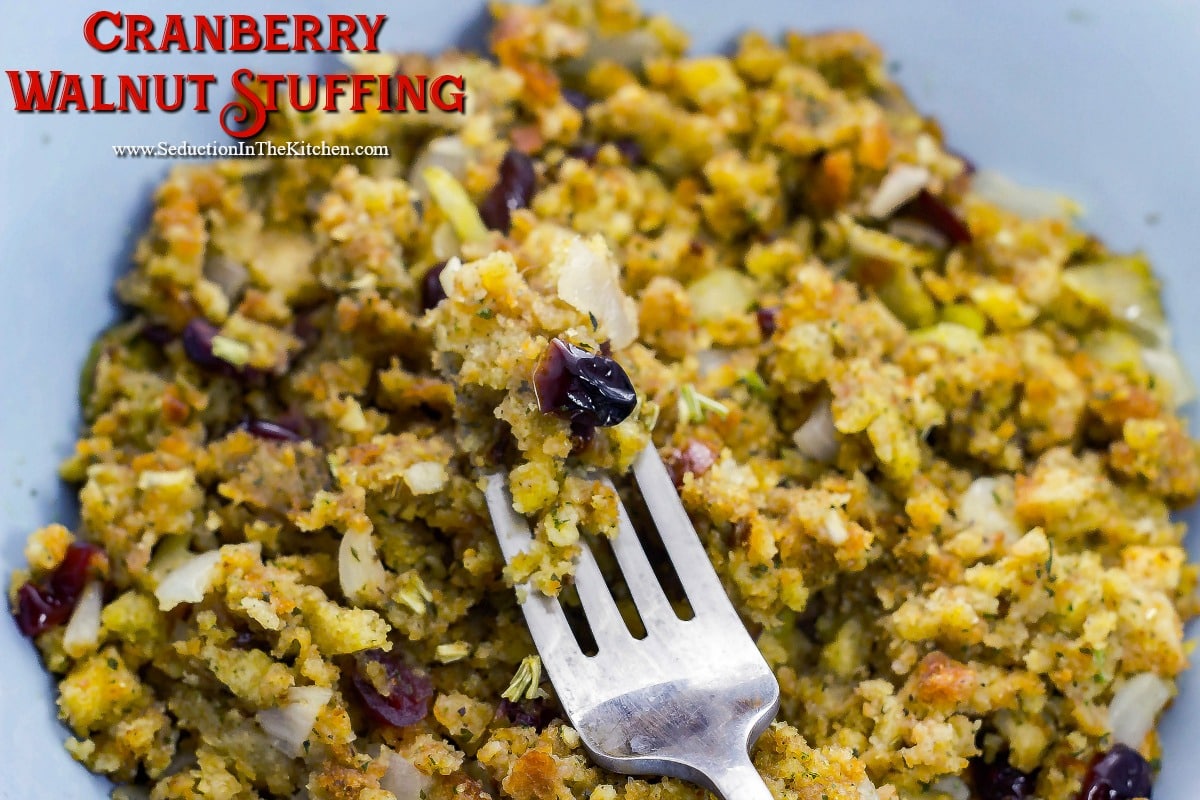 Cranberry Walnut Stuffing
I love mixing flavors. I decided I wanted to mix a walnut dressing with a fresh cranberry stuffing for one of my holiday food dishes. This created the cranberry walnut stuffing!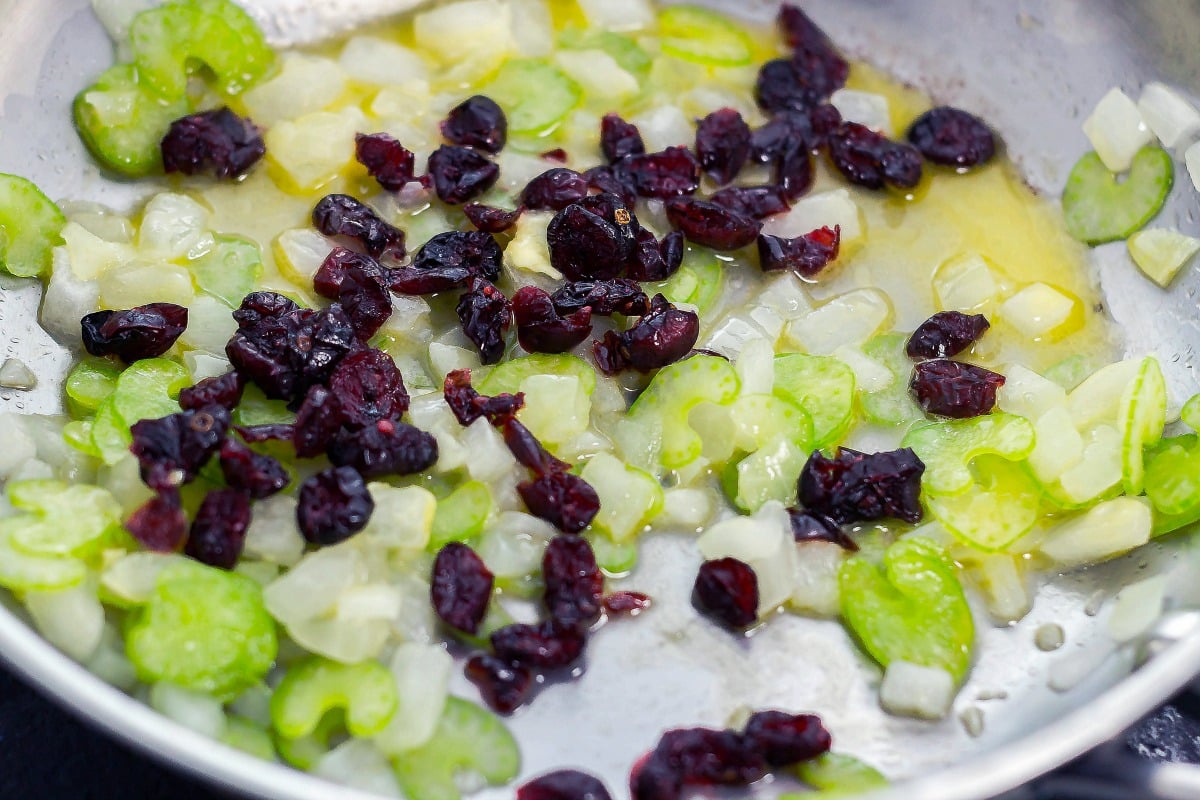 Holiday Food Dishes
When I was married,  Thanksgiving was the only holiday My ex-husband would allow me to cook. I love cooking up holiday food dishes. So creating the perfect holiday side dishes is important to me. stuffing with cranberries and walnuts was created with perfection in mind.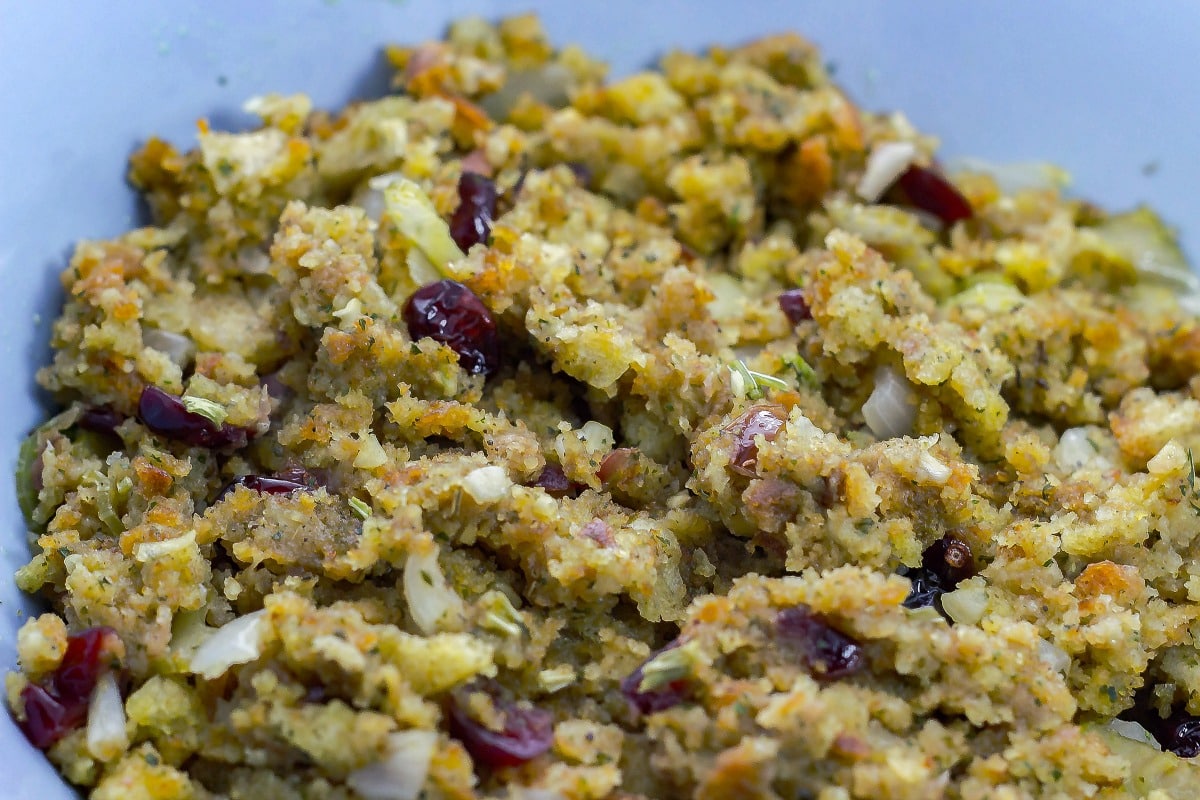 Is It Stuffing Or Dressing?
In the Cajun Crawfish Dressing: A Southern Holiday Side Dish I asked is it Stuffing or Dressing? The results were interesting. Northerners call it stuffing. Southerners call it dressing.
I did some research is it stuffing or is it dressing? Here is what I found out:
Stuffing is the name when you put seasoned bread into a bird.
A dressing is when the seasoned bread is served alongside a bird.
Northern states tend to stuff birds.
Southern states tend to serve alongside the bird.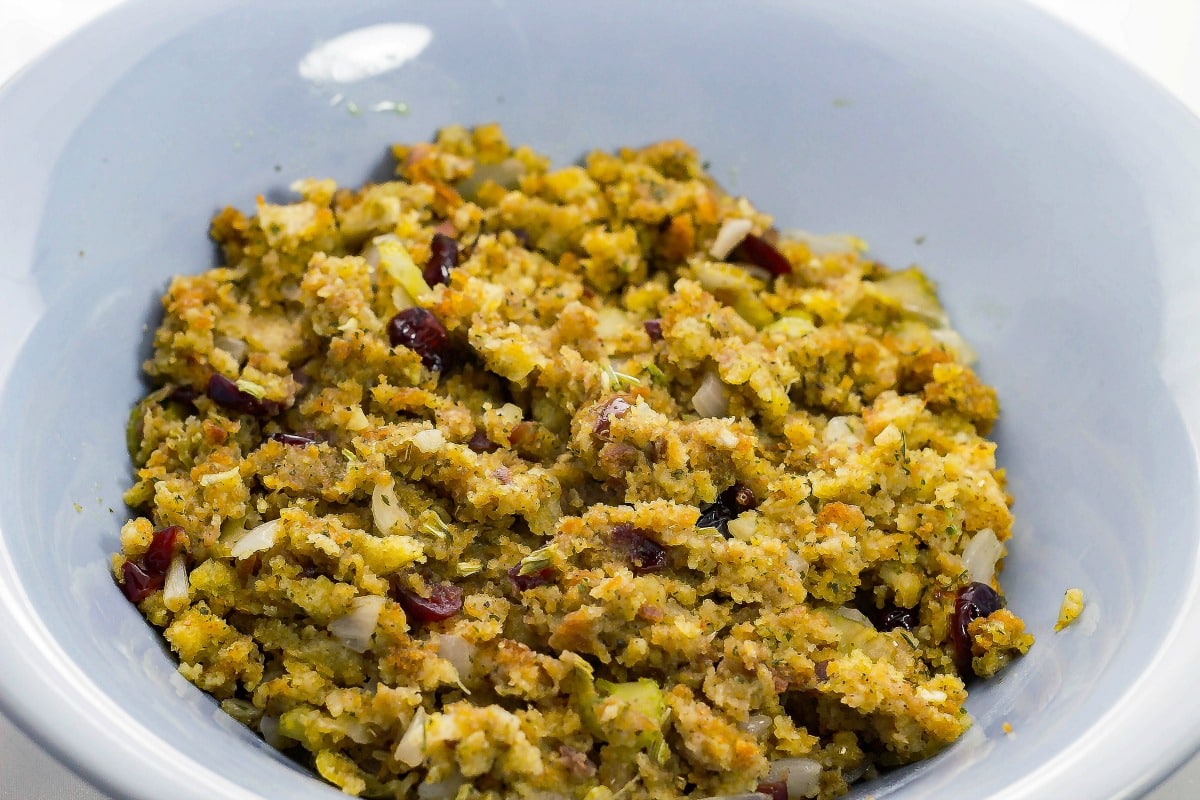 Fresh Cranberry Stuffing
I always mix my cranberry sauce with my mom's homemade stuffing. That was the inspiration of just making a fresh cranberry stuffing came from. I knew that cranberries would go well in a dressing recipe.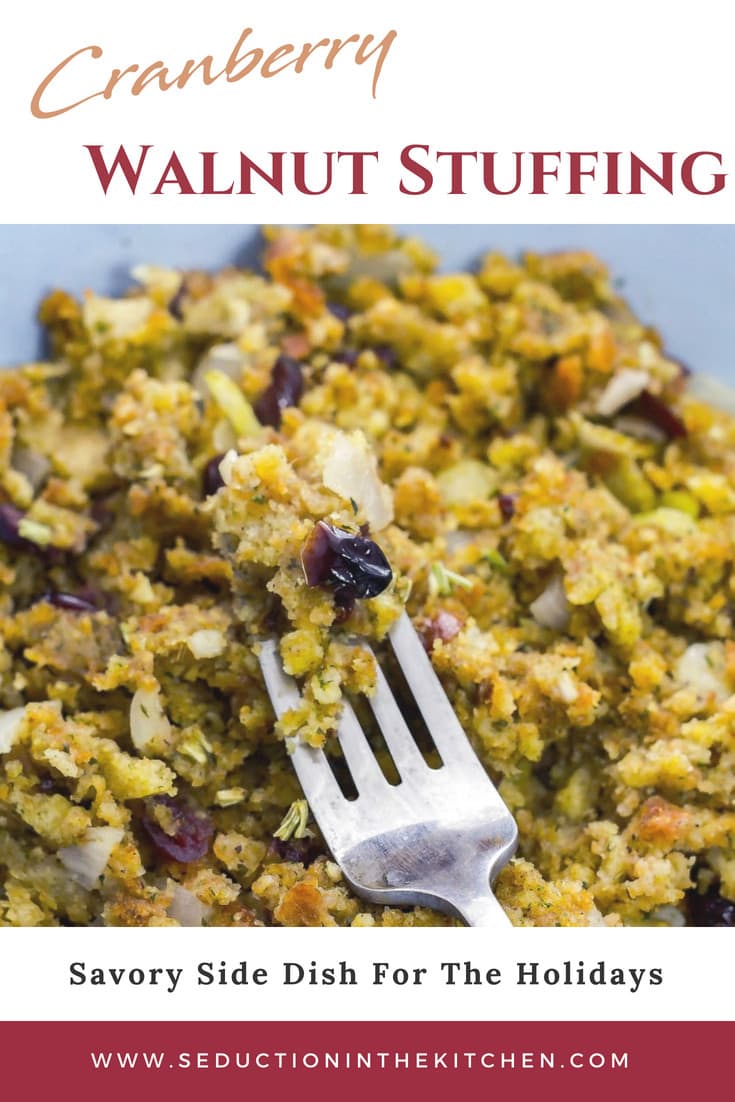 Stuffing With Cranberries and Walnuts
The walnut idea for a stuffing with cranberries and walnuts came because of a  Persian dish that had walnut and Pomegranate in it.   That Persian walnut dressing is a sweet and savory recipe, like this cranberry stuffing.
For This Recipe You Will Need
This Cranberry Walnut Stuffing turned out so yummy. Ok, I ate the entire bowl of walnut and cranberry stuffing for dinner. I am not ashamed to admit it. Cranberry walnut stuffing was really good!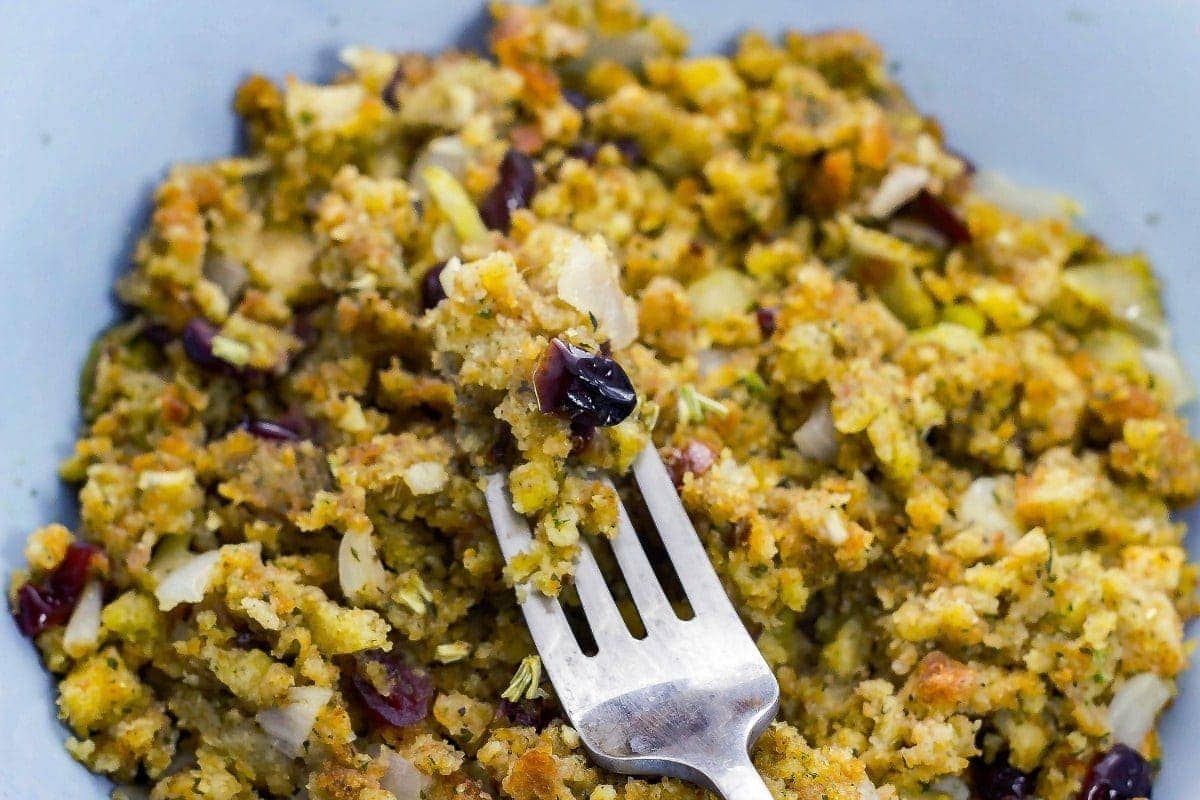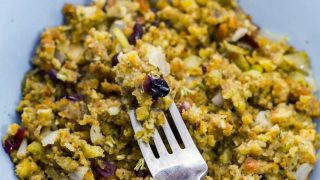 Yield:

10 Servings
Cranberry Walnut Stuffing Recipe
Cranberry Walnut Stuffing is a flavorful stuffing that you can make for the holidays. This savory side dish will sure to please everyone.
Ingredients
1 cup butter
3 medium celery stalks, chopped
3/4 cup finely chopped onion
9 cups soft bread cubes
1/2 cup dried cranberries
1/4 cup ground walnuts
2 tablespoon dried poultry seasoning
1 cup of chicken broth
3 eggs
Instructions
In 10-inch skillet, melt butter over medium heat.
Cook celery, cranberries, and onion in butter, stirring frequently until onion is tender.
Take off the heat and set aside.
In a large bowl, add the bread cubes, chicken stock, and eggs.
Add the onion mixture along with the walnuts and poultry seasoning.
Mix everything up well.
Stuff inside your turkey and cook your turkey.
If you prefer to cook separate, place into a well-greased baking dish, preheat the oven to 350F.
Cover with foil and bake for about 25 minutes.
Either way, serve it up and ENJOY!
Notes
You can make this as a dressing or stuff it into a bird and cook it that way!
Nutrition Information:
Amount Per Serving:
Calories:

370
Total Fat:

23g
Saturated Fat:

13g
Trans Fat:

1g
Cholesterol:

98mg
Sodium:

331mg
Carbohydrates:

34g
Fiber:

3g
Sugar:

8g
Protein:

9g
This post was most recently updated
I want to hear what you have to say about this recipe that is on
SEDUCTION IN THE KITCHEN!
Let's get this conversation started! What do you think of this recipe?