I am a participant in the Amazon Services LLC Associate Program, an affiliate advertising program designed to provide a means for me to earn fees to Amazon.com and affiliate sites.
[intro]Strawberry Moscato Sorbet is an easy sorbet recipe for whole fruit sorbet. The best part of this fruit sorbet recipe is that can be made without an ice cream maker. This strawberry Moscato sorbet is part of my Moscato recipes. Serves 6[/intro]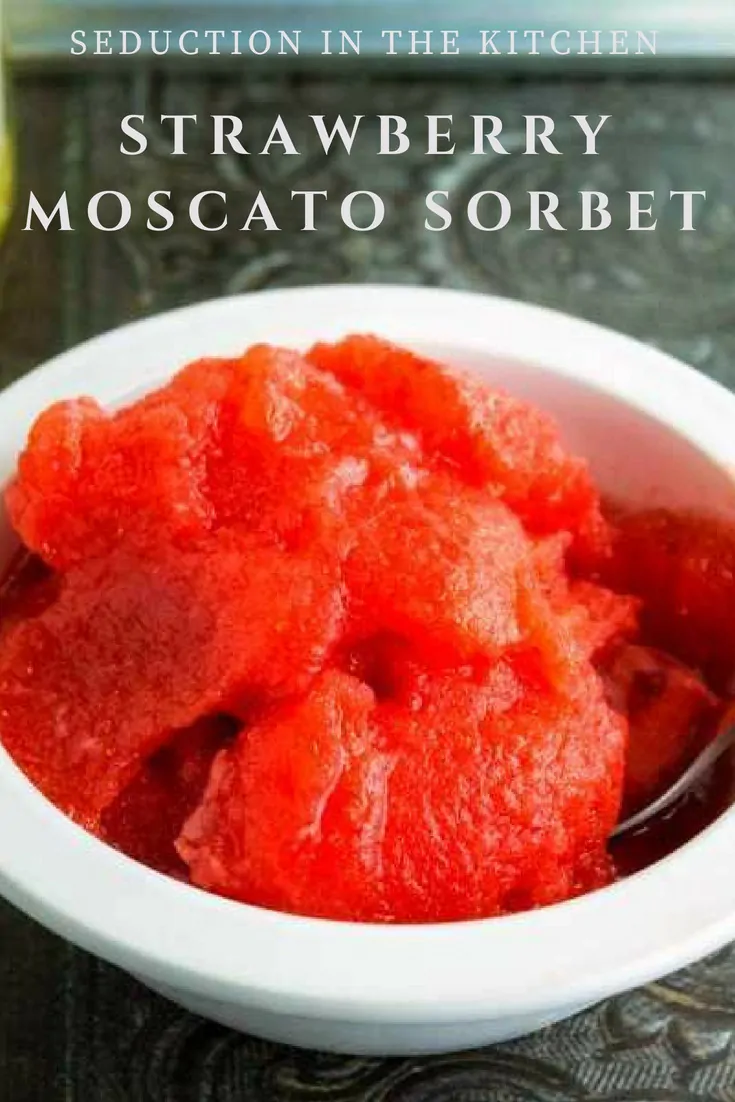 Sunday Supper
Spring is here! Are you ready happy about that? I know I am and so is Sunday Supper because this week's theme is: WELCOME SPRING! This event is being hosted by Renee from Renee's Kitchen Adventures.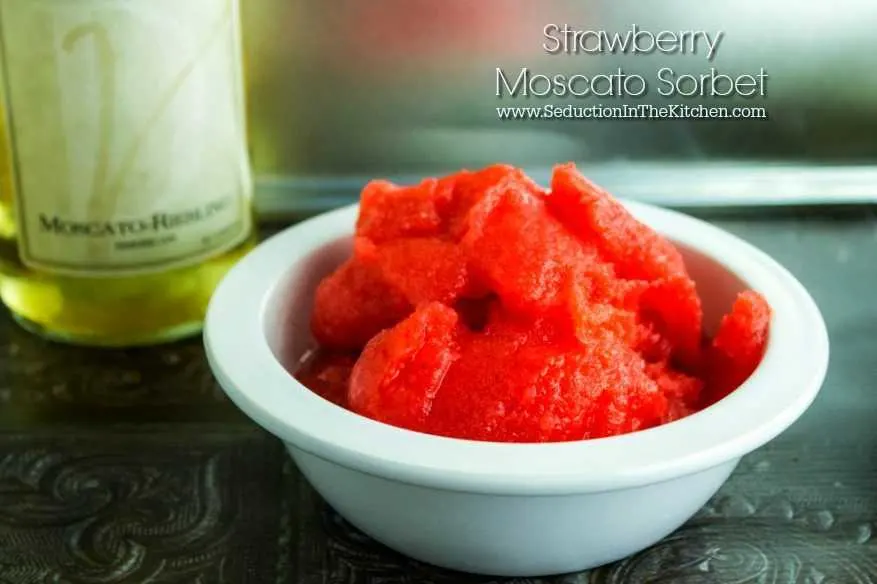 Moscato Recipes
I have an obsession with Moscato wine, I love making moscato recipes in desserts. The sweetness of Moscato wine really is amazing in dessert recipes. So maybe that is why I have a collection of moscato recipes here on Seduction In The Kitchen.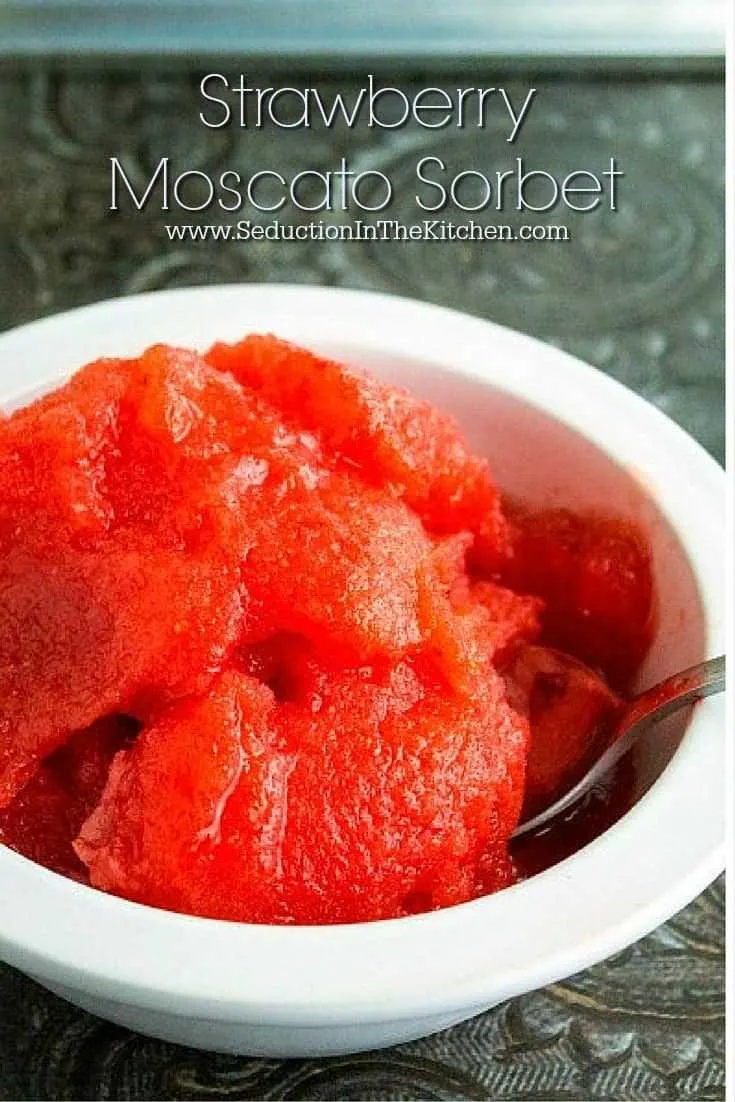 Strawberry Moscato Recipe
Why use Moscato in a sorbet? Well, I love how the moscato flavor enhances the strawberry. Think of it as a strawberry moscato. Plus Moscato gives it that little bit of sweetness to a whole fruit sorbet.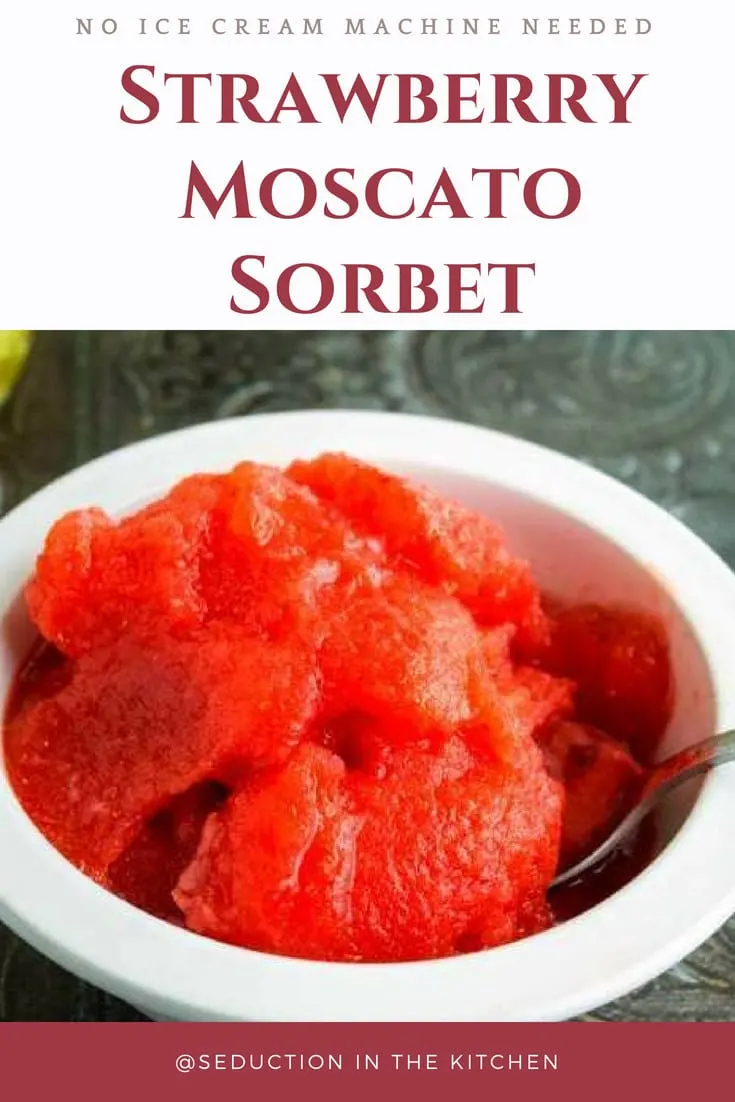 Strawberry Sorbet Without Ice Cream Maker
A nice bonus with using a Moscato wine in a fruit sorbet recipe is that you can actually make this strawberry sorbet without an ice cream maker. You can make this strawberry sorbet without ice cream maker in a Ziploc freezer bag instead!
Fruit Sorbet Recipe
The wine gives this fruit sorbet recipe the right consistency. So when this whole fruit sorbet it freezes it becomes the perfect sorbet recipe. No one would know will never know that this is a strawberry sorbet without ice cream maker.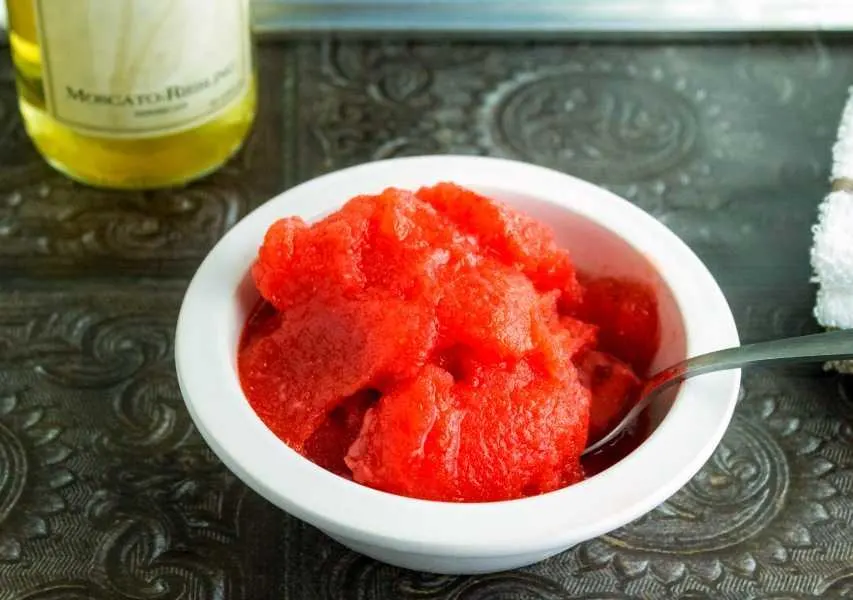 Yield: 6 servings
Strawberry Moscato Sorbet Recipe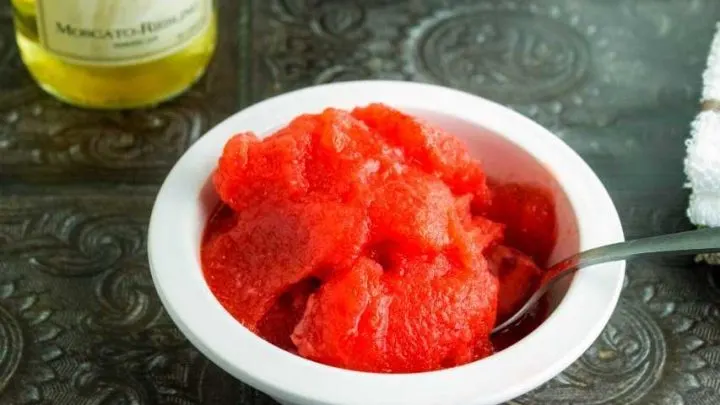 Strawberry Moscato Sorbet is an easy way to make whole fruit sorbet without an ice cream maker. Moscato wine gives that extra sweet taste that you will love.
Total Time
4 hours
10 minutes
Ingredients
2 cups sugar
1 cup water
1 cup Moscato wine
2 quarts strawberries hulled and sliced
1/4 cup fresh orange juice
1/2 cup white corn syrup
Instructions
Bring the sugar, water, and Moscato wine to a boil in a medium saucepan over medium-high heat.
Reduce the heat and allow the mixture to simmer, without stirring, until the sugar dissolves, about 3 minutes.
Set aside to cool completely.
Place the strawberries and orange juice in a food processor and puree.
When the sugar syrup has cooled completely, combine with the strawberry puree.
Add the corn syrup and stir well.
Pour the strawberry mixture into a freezer Ziploc bag.
Put the bag in the freezer, after 1 hour take the bag and give it a good squeeze or "kneading" and put back in the freezer for another hour.
Take the bag out the freezer, scoop some the sorbet oyt into a bowl and ENJOY!
Notes
You can use an ice cream maker if you want, just follow your manufacture's directions for sorbets
Nutrition Information:
Amount Per Serving:
Calories:

0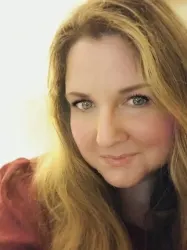 Latest posts by Deanna Samaan
(see all)