Disclosure: This post may contain affiliate links.
You are here:
Home » Dessert » Layered Ice Cream Jello
Layered Ice Cream Jello is a simple 3 ingredient way to make a colorful gelatin dessert. The flavor and color combinations are endless with this recipe. Making it the perfect dessert for any occasion.
*RECIPE POST UPDATED 5/27/17*
It is time to celebrate and to remember those who fought and lost their life defending our country, the United States. Today there will be parades and picnics to honor those who have served.  Memorial Day is also the start of summer too.
Although the official start of summer isn't until June, Memorial Day weekend I think for some is the sign that warm summer weather is here. Meaning the chances of that dreaded "S" word, snow. Time to bring the shorts out, and put the winter coats away.
In Pa, at the hospital I used to work at there, I worked many holidays, including Memorial Day. One year we decided to have a little picnic of our own since we were working. Everyone brought in something, including a Foreman Grill.
We would "grilled" hot dogs in our break room. One of my coworkers was known for this layered Jello salad. She made it for everything, just kept changing up the flavors. She brought it to our "picnic."
Sometimes when I am inspired by recipes. I think of things like this. That little picnic for Memorial Day at work. There is always something that sticks out in my mind, yes I do have a very good memory.
When I got married and was moving to Cleveland, people gave me index cards with recipes.  It is a tradition we do at showers, everyone brings an index card, that was in the shower invite. They write out a recipe on it and bring it to shower. They are then put into a special binder for the bride to be.
It is a nice tradition. The recipes are from co-workers, family, and friends. When I thought I was moving out my apartment, I started going through boxes and discovered my recipe index cards from my shower. In it these cards was my co-worker's ice cream layered Jello recipe.
Now it is a simple recipe, but I will admit it also kinda a pain in the butt recipe too. Why? Because it Depends on how many layers you do.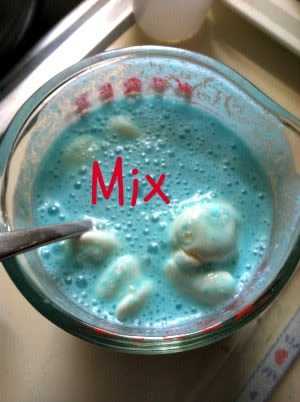 It only 3 ingredients, but you got to make it one layer at a time, and wait some time in between each layer. So If you do say 6 layers, to do a rainbow, it can take 3 hours just to create this dessert. That is why I said it can be a bit of a pain in the butt, but actually very easy, just long to make.
When I did this, I waited 20 minutes for the first layer to set. Well, I poured the white layer on top the red layer and it sunk to the bottom and had a little on top. Oh that not supposed to happen.
I decided to do that blue layer and see what happens. So I waited 30 minutes, poured the blue layer. I could see through the glass that the white and red layer actually looked "sandwiched marble effect." I liked the effect. When we cut it, no it wasn't in the perfect layers, but kind of looked cool, almost like it was tie-dyed. So I went with it.
Check out these other picnic desserts:
French Herbed Potato Salad #CookoutWeek
Layered Ice Cream Jello is a 3 ingredient recipe that makes a yummy Jello dessert. From Seduction in the Kitchen.
Ingredients
1 (3oz) package cherry Jell-O
1 (3 oz) package Island Pineapple Jell-O
1 (3 oz) package Blue Raspberry Jell-O gelatin
3 cups vanilla ice cream
3 3/4 cups of water.
Directions
You can use any flavors of any Jello you like, it same process, I did Red, White, & Blue for the holiday. First Bring 1 1/4 cup of water to a boil. Once it boiling time to mix the first layer. I choose to use a 2 cup measuring cup so easier to pour in the layers and not make a mess. Empty the Jello into the cup, add the hot water. then add 1 cup of vanilla ice cream. Mix it up till the ice cream is all melted. Then pour the first layer into a 9×13 glass pan. Let it set up in the fridge, 30 minutes if you want layers, 20 if you like tie dyed.
Next layer, do the same thing, bring 1 1/4 cup of water to a boil. Add the island pineapple, I choose this flavor because almost clear in coloring. To be honest did not feel like playing with unflavored gelatin. Anyway, add the Jello to the cup, add the boiling water, and 1 cup of the vanilla ice cream, mix until the ice cream is melted.
Take the Jello layer out the fridge. You can see what I was talking about see how after 20 minutes the white layer was going to bottom and top. The middle started to bubble up. Put the Jello back in the fridge, 20 minutes if you want to do the tied dye effect or 30 if you want solid layers.
Last layer of this red white and blue. If you want more layers you just do 1 1/4 cup boil water, Jello, and 1 cup of vanilla ice cream, mix till the ice cream melts.
Pour that final layer, Let set up about 30 minutes in the fridge.
Cut it up and ENJOY!
Recipe Notes

Is this something you would love to whip up in your kitchen? Share it and inspire others with this recipe! 
Layered Ice Cream #Jello a simple 3 ingredient colorful gelatin #dessert. https://goo.gl/qxHr95 #recipe #yum @JELLO
Click To Tweet
XOXO