No Churn Bing Cherry Gelato is a creamy ice cream recipe. No machine is needed for this sweet cherry dessert! This cherry ice cream is an ice cream lovers dream come true! Serves 8
No-Churn Ice Cream Recipes
I actually like no-churn ice cream recipes. Why? I do not have an ice cream maker that is why.
I had in the past 2 different ice cream makers. One was a cheap $20 model, the other was once I got at a rummage sale. Rummage sale one lasted about a day when I realized it was missing a part. The $20 model, well just did not work.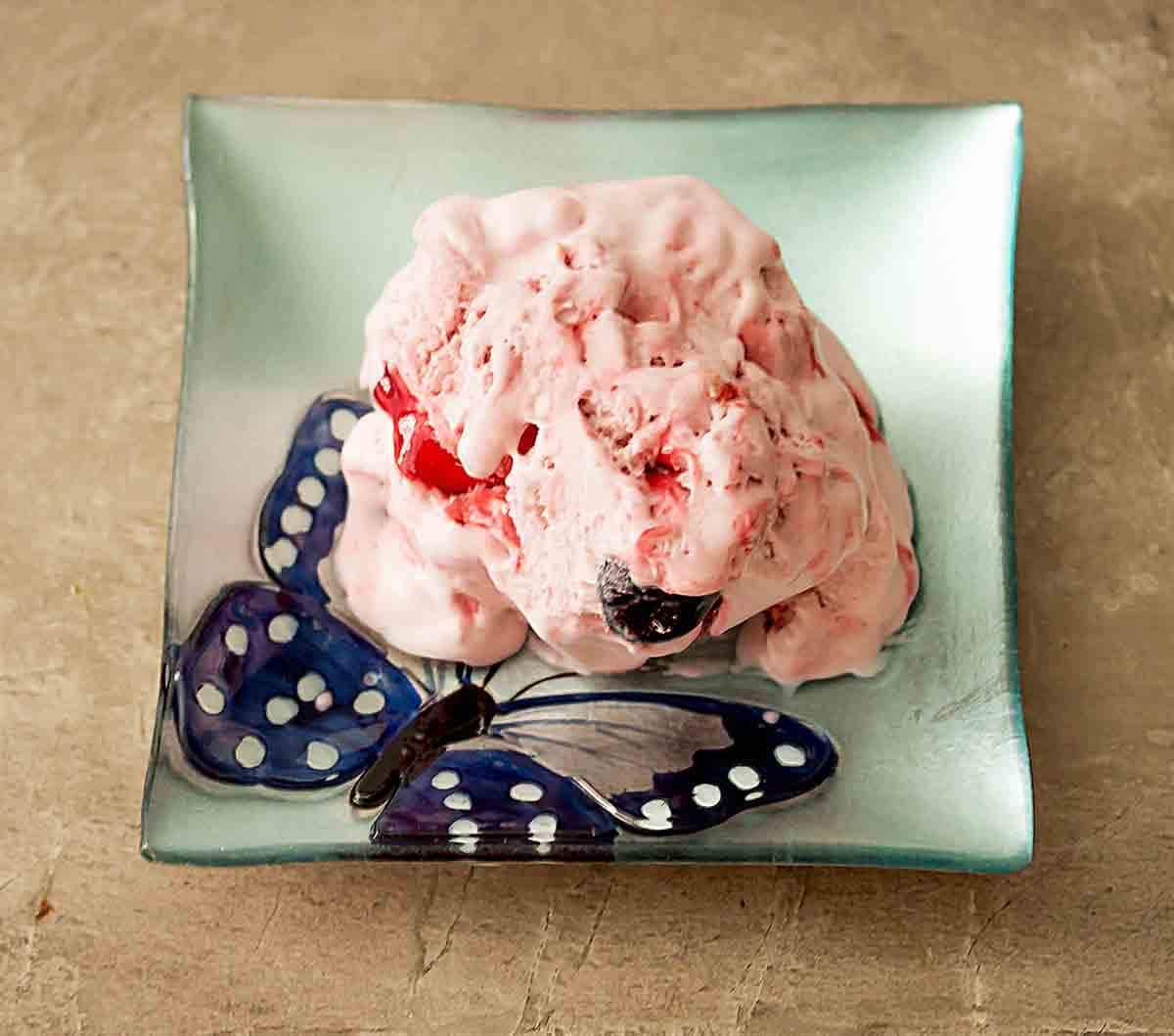 What Is Gelato?
What is gelato? Also is it the same as ice cream? Well, no gelato is not the same as ice cream.
Gelato is creamier, smoother and denser than ice cream. Also, Gelato uses more milk and less cream than ice cream. Also, Ice cream uses eggs where gelato does not.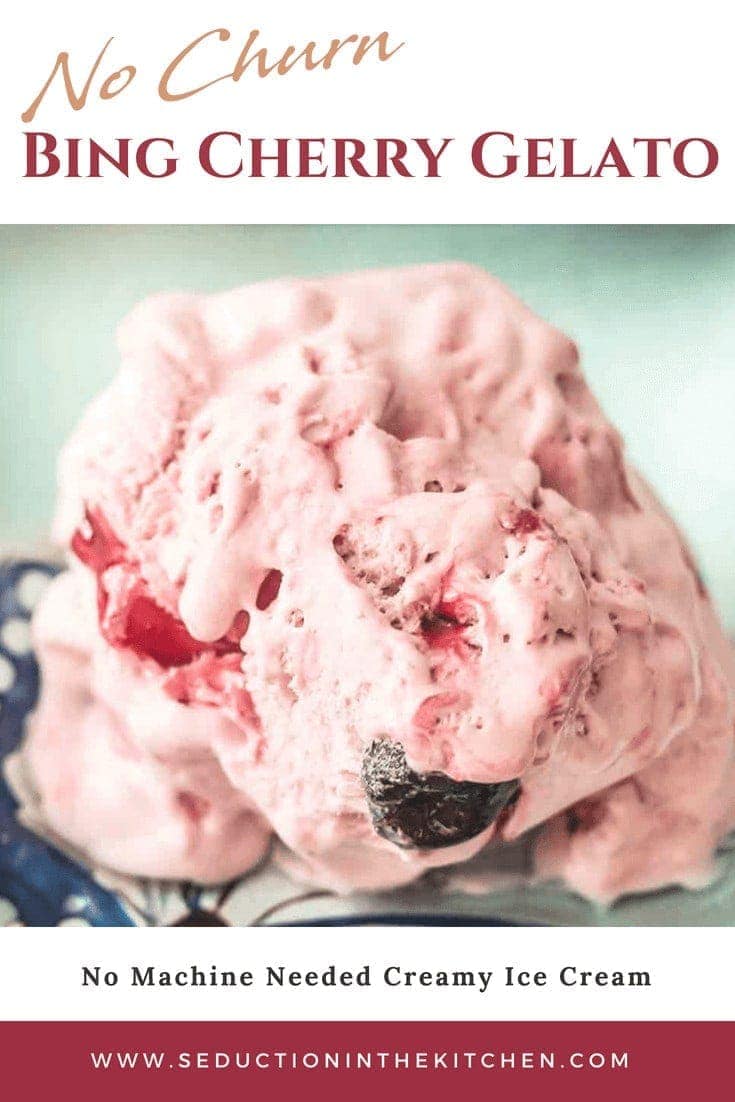 Sweet Bing Cherries
I love cherries. When sweet bing cherries go on sale, I buy them in bulk. I can not get enough of that sweet cherry taste!
For This Recipe You Will Need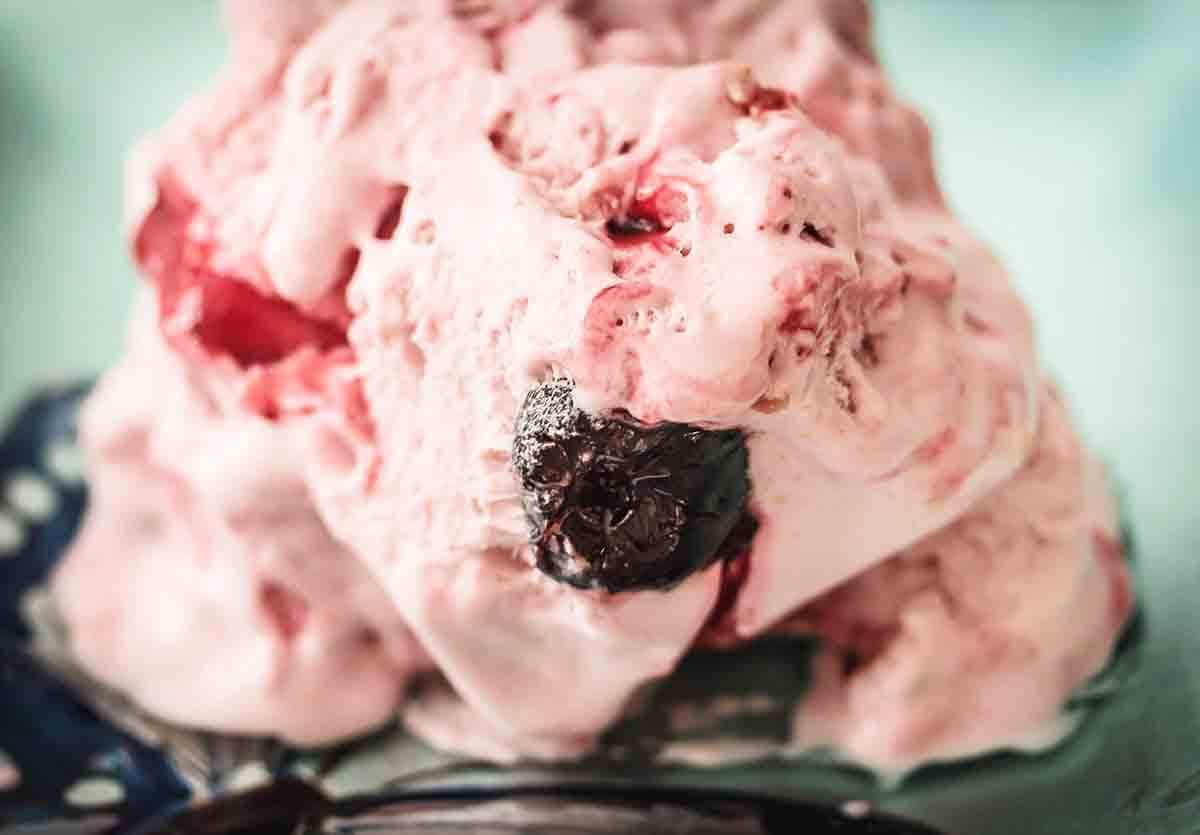 Cherry Gelato
I decided to make a cherry gelato. I wanted a creamy full flavor cherry gelato. I used to be able to just go buy a scoop at a local place in Ohio, but since I moved back to PA, I can not get that scoop of cherry gelato anymore.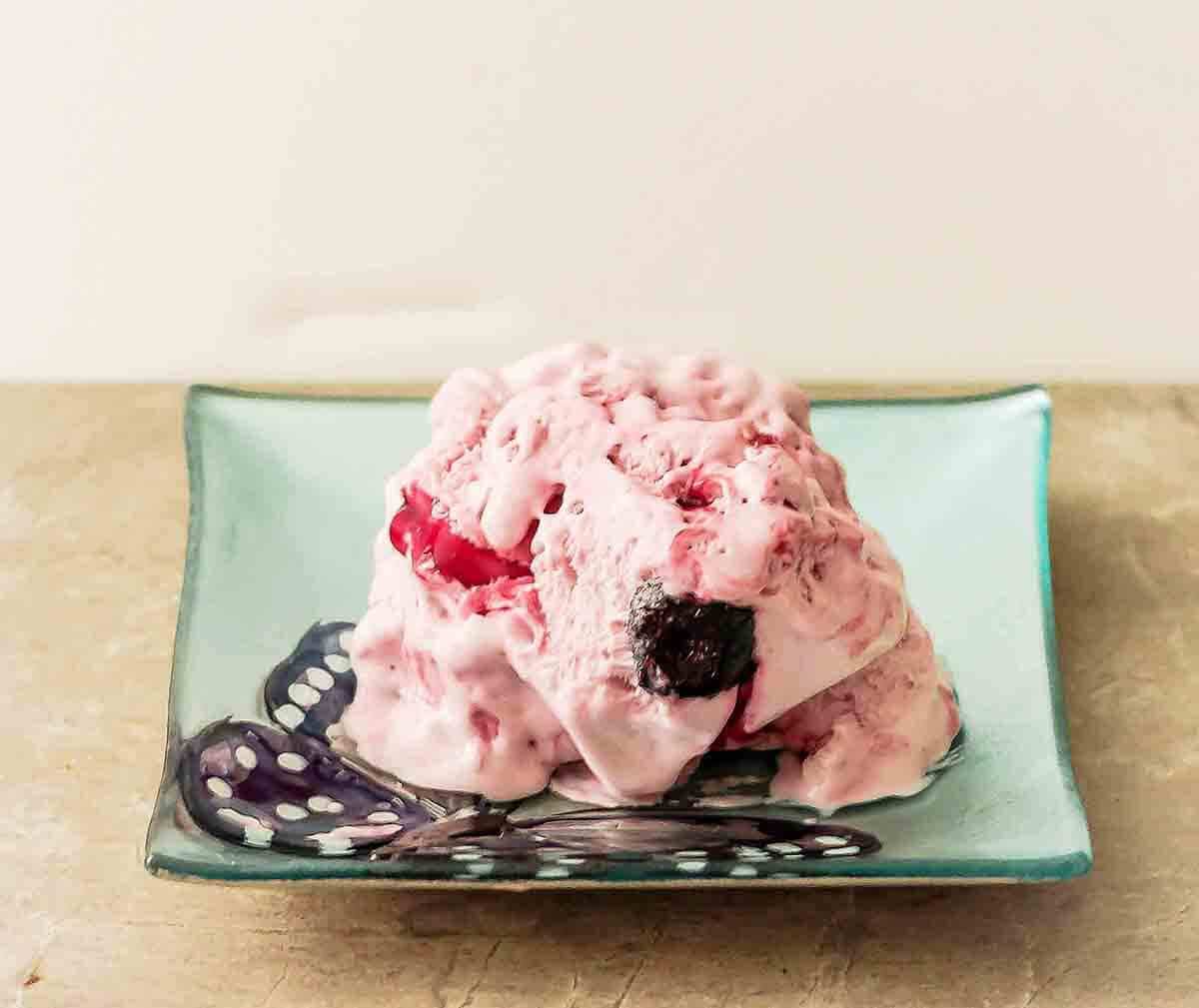 Homemade Gelato
I decided since I can not get the gelato I loved, let's great. I loved the sweet cherry gelato. I decided to make homemade gelato instead. Since I do not have an ice cream maker, No churn it is!
The results of making my first homemade gelato were great. This sweet cherry gelato has perfect and reminded me of the gelato place I used to get a scoop from. Best of all this bing cherry gelato was so easy to make!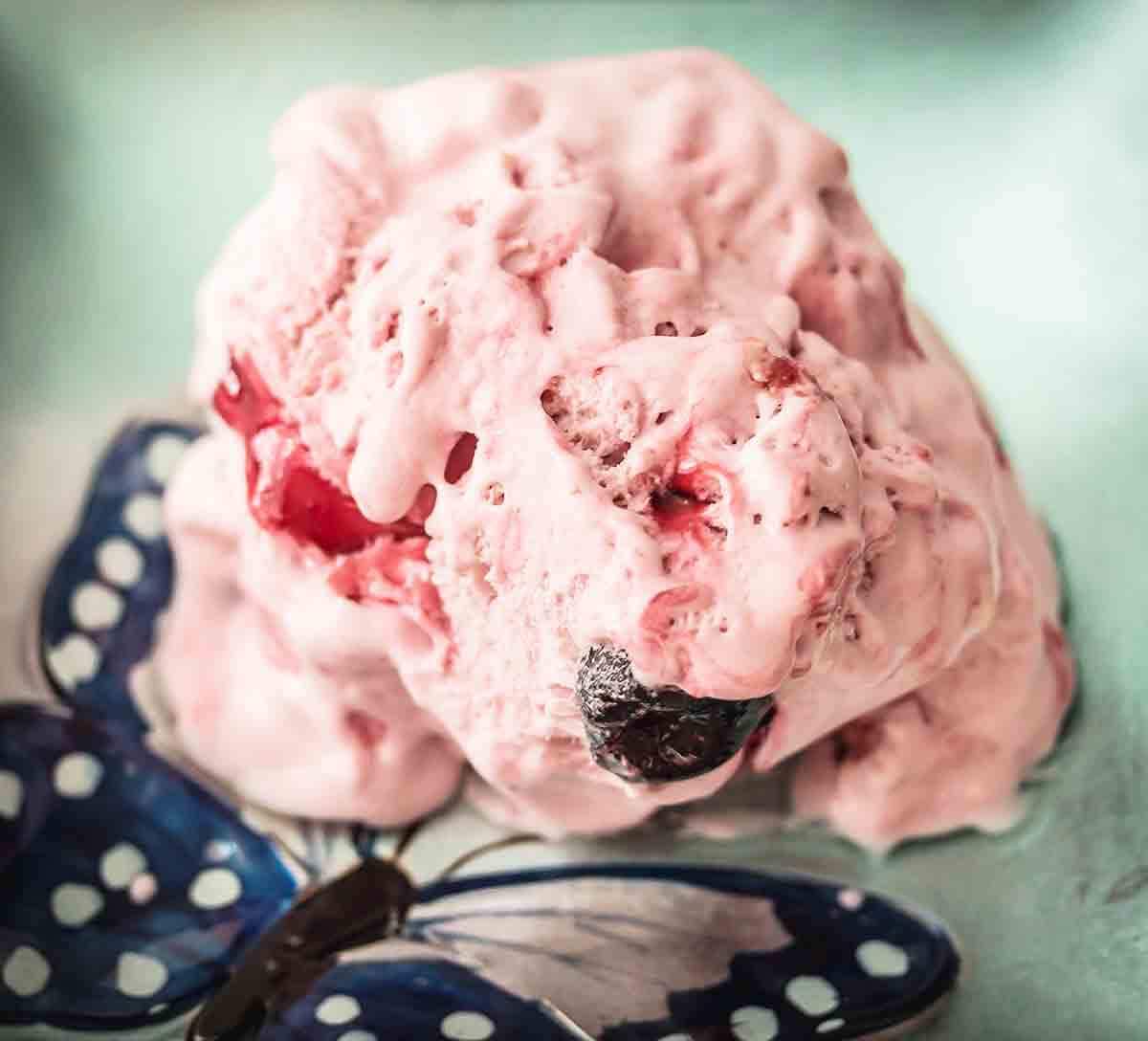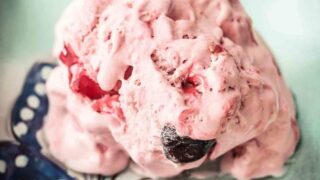 Yield:

8 servings
No Churn Bing Cherry Gelato Recipe
Total Time:
6 hours
20 minutes
No Churn Bing Cherry Gelato is a creamy ice cream recipe. No machine is needed for this sweet cherry dessert! This cherry ice cream is an ice cream lovers dream come true!
Ingredients
2 cups 2% milk
1 cup heavy whipping cream
½ cup sugar
3 1/2 cups frozen sweet bing cherries
5 tablespoons cherry juice from the frozen cherries
Instructions
First, puree 3 cups of the frozen cherries in a blender and set aside.
Next, Heat the milk and heavy whipping cream in a saucepan over medium-high heat until it begins to simmer and foam.
Once the milk begins to simmer, remove it from the heat.
Start mixing in the sugar, cherry juice, and cherry puree.
Mix until everything is incorporated.
Pour mixture into loaf pan and add remaining whole cherries.
Place in freezer for 30 minutes.
Take the gelato out the fridge and whisk it.
Place back in the freezer and whisk it again in 45 minutes.
Do this whisking again in 45 minutes then leave it in the freezer for the next 4 hours.
Take it out give a good stir
Scoop it up and ENJOY!
Notes
With gelato, you have to churn the gelato by hand as it freezes in order to break up the ice crystals and create a smooth texture of gelato.
Nutrition Information:
Amount Per Serving:
Calories:

400
I want to hear what you have to say about this recipe that is on
SEDUCTION IN THE KITCHEN!
Let's get this conversation started! What do you think of this recipe?