This post was most recently updated
Cajun Shrimp Burgers with Avocado Mayo is spicy cajun seasoned shrimp made into a burger then cooled off with a creamy avocado mayo.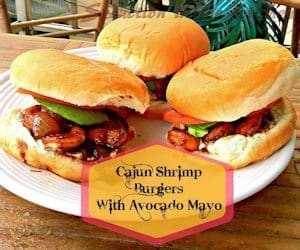 Everything Happens For Reason
I
believe that everything happens for a reason. When the time is right you will just know when comes to making a dream a reality. I also believe in the laws of attraction to a point.
It is the love part in laws of attraction I don't understand and I am not 100% convinced that part is true with laws of attraction, but everything else I do. I only believe that because I have seen it happen. Yes even with curing yourself of a disease I believe.
I have seen cancer patients pull this off with positive thinking. It's something I can not explain. However, I have seen it because they have kept positive and focused on beating cancer, rather than cancer itself.
I bring this up because I have a dream. I have seen how staying positive can help you achieve the dream. There were times I wanted to give up, but I kept at it, staying positive as I went. Now I am seeing that staying positive is paying off for my dream.
Cajun Shrimp Burgers with Avocado Mayo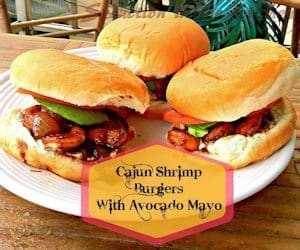 I was in the running to go to Baton Rouge for a press thing for a food blogger but ended up not getting picked for it. Which is good because I found out I could not get off work from the phlebotomy job anyway.
Well, I was in the mood for some Cajun. The thought of going to Baton Rouge ignited this craving for a Cajun Shrimp Burgers. Since I could not get the real one in the heart of Cajun country, I decided to come up with my own version of a Cajun Shrimp Burgers.
I am trying to eat healthier because I really want to lose weight. I am hooked on avocados. I saw a recipe for an avocado mayo, it sounded so good to me. I thought it would be perfect coolness to the cajun shrimp burgers.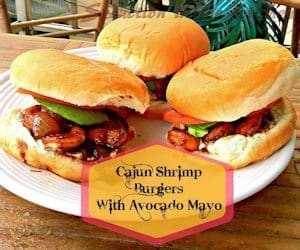 Check out these recipes: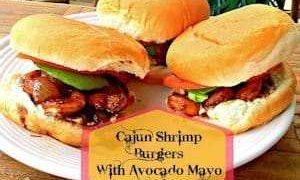 Yield:

4
Cajun Shrimp Burgers with Avocado Mayo
Cajun shrimp meets cool avocado in this recipe from Seduction in the Kitchen.
Ingredients
1 lb raw shrimp shelled, deveined and patted dry
2 tablespoons olive oil
1 onion chopped
2 cloves garlic minced
2 teaspoons chili powder
1 tablespoon paprika
1/4 teaspoon dry mustard
1 teaspoon sugar
1/2 lemon juiced
1 tablespoon Worcestershire sauce
salt and pepper
1 small avocado
1 lemon juiced
2 tablespoons sour cream
1 tablespoon mayonnaise
Instructions
First in about 1 tablespoon of the olive oil, saute the shrimp until it starts turning pink. Carefully removed the shrimp from the pan with a slotted spoon and set them aside.
In the same pan, add the rest the oil and add the onions, cook them for about a minute and then add the spices to the pan, and let the onion cook for another 2 minutes, stirring constantly.
Add the lemon juice and Worcestershire sauce to the onion. Then add the shrimp. Let the shrimp cook in the mixture for about 2 minutes. Than take it off the heat and set aside.
To make the mayo, slice the avocado in half and take the peel off the one half, dice it up and put into a bowl with the sour cream, lemon juice and mayonnaise.
Using a potato masher just mash it all together. Mix and mash it to blend together, or you could use a stick blender.
Spread the avocado mayo on part on the bun, I choose the bottom half of the bun, but you can spread it on the top half.
Place some of the shrimp mixture on the bun
The other half the avocado, remove the pit and slice it up. Then place the avocado slice on top the shrimp.
Then place sliced tomato on to the avocado
Top it off with the top bun, and Enjoy!
Nutrition Information:
Amount Per Serving:
Calories:

293
Total Fat:

17g
Saturated Fat:

3g
Trans Fat:

0g
Cholesterol:

187mg
Sodium:

538mg
Carbohydrates:

13g
Fiber:

5g
Sugar:

4g
Protein:

25g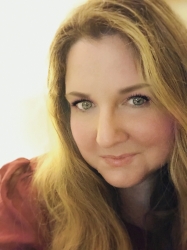 Latest posts by Deanna Samaan (see all)