I am a participant in the Amazon Services LLC Associate Program, an affiliate advertising program designed to provide a means for me to earn fees to Amazon.com and affiliate sites.
Cajun Shrimp Burgers with Avocado Mayo is an easy shrimp recipe. This cajun shrimp is cooled off with creamy avocado mayo. If you want something different, then try this shrimp burger!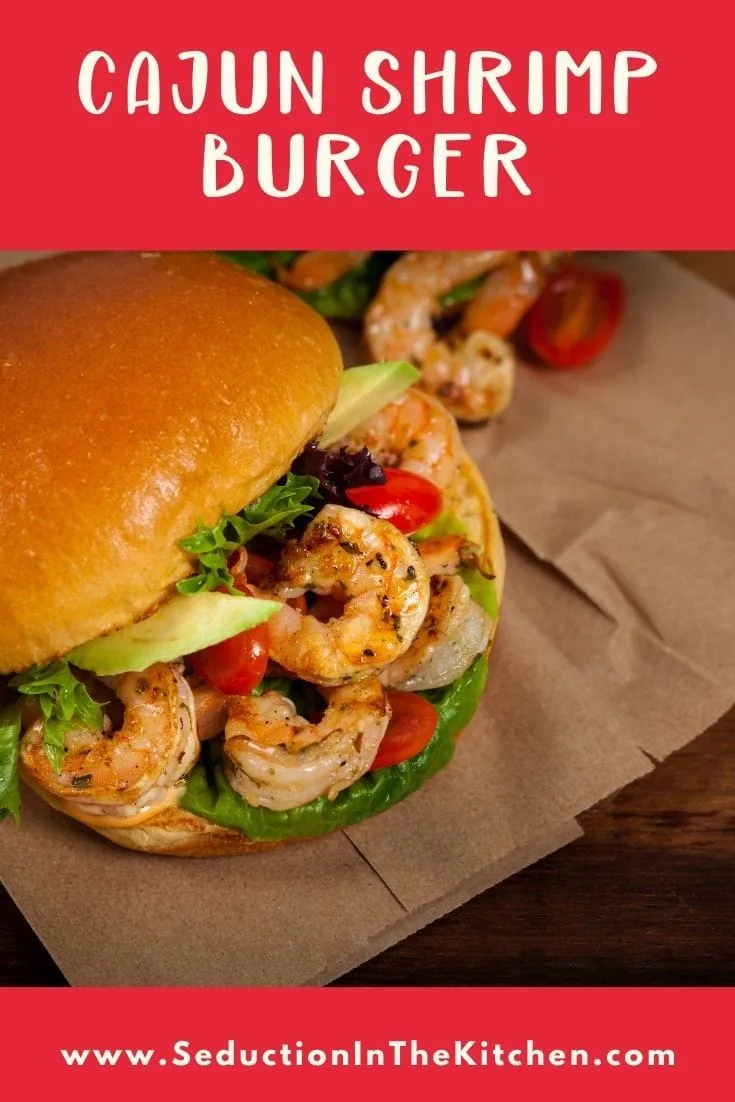 Easy shrimp recipes
When Lent comes up, I am in need of Lent recipes. That is when I want some easy shrimp recipes. Shrimp is easy to cook, and what is nice about shrimp recipes is that they can be ready in minutes.
Simple burger recipe
How can an easy shrimp recipes become a simple burger recipe? I was at a local burger place that had a shrimp burger. Talk about a simple burger recipe, shrimp on a burger bun! It is perfect!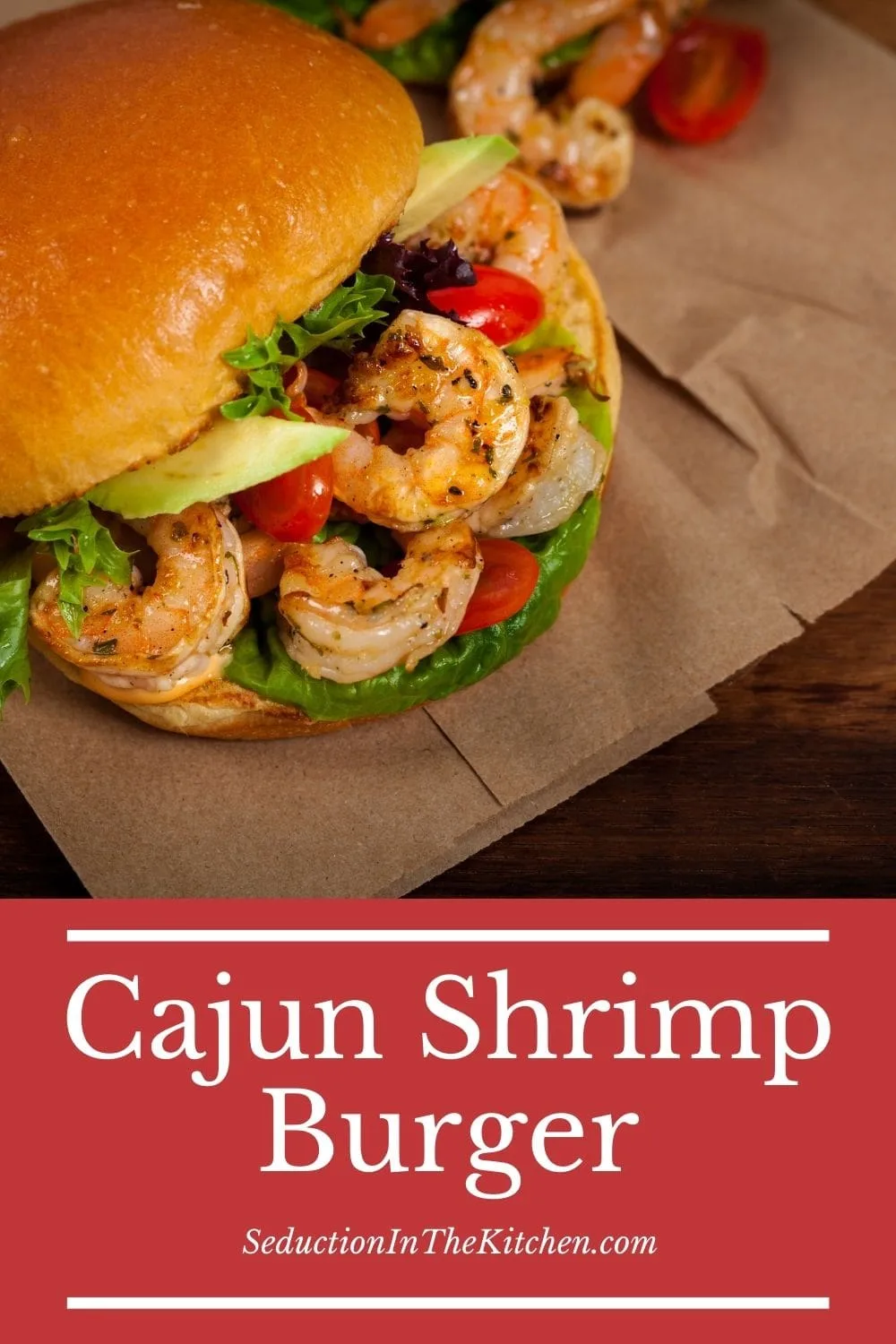 Shrimp burger
Why make a shrimp burger? Honestly, it doesn't take long to make a shrimp burger, in fact, you can cook up a shrimp burger within 5-10 minutes. Shrimp burgers are a nice change from the normal beefy burgers you are used to.
I admit I love playing with the flavor of shrimp burgers, like Honey Mustard Shrimp Burgers. Still not convinced to try a burger made of shrimp? You have had Soft Shell Shrimp Tacos, truthfully, a burger made of shrimp isn't much different!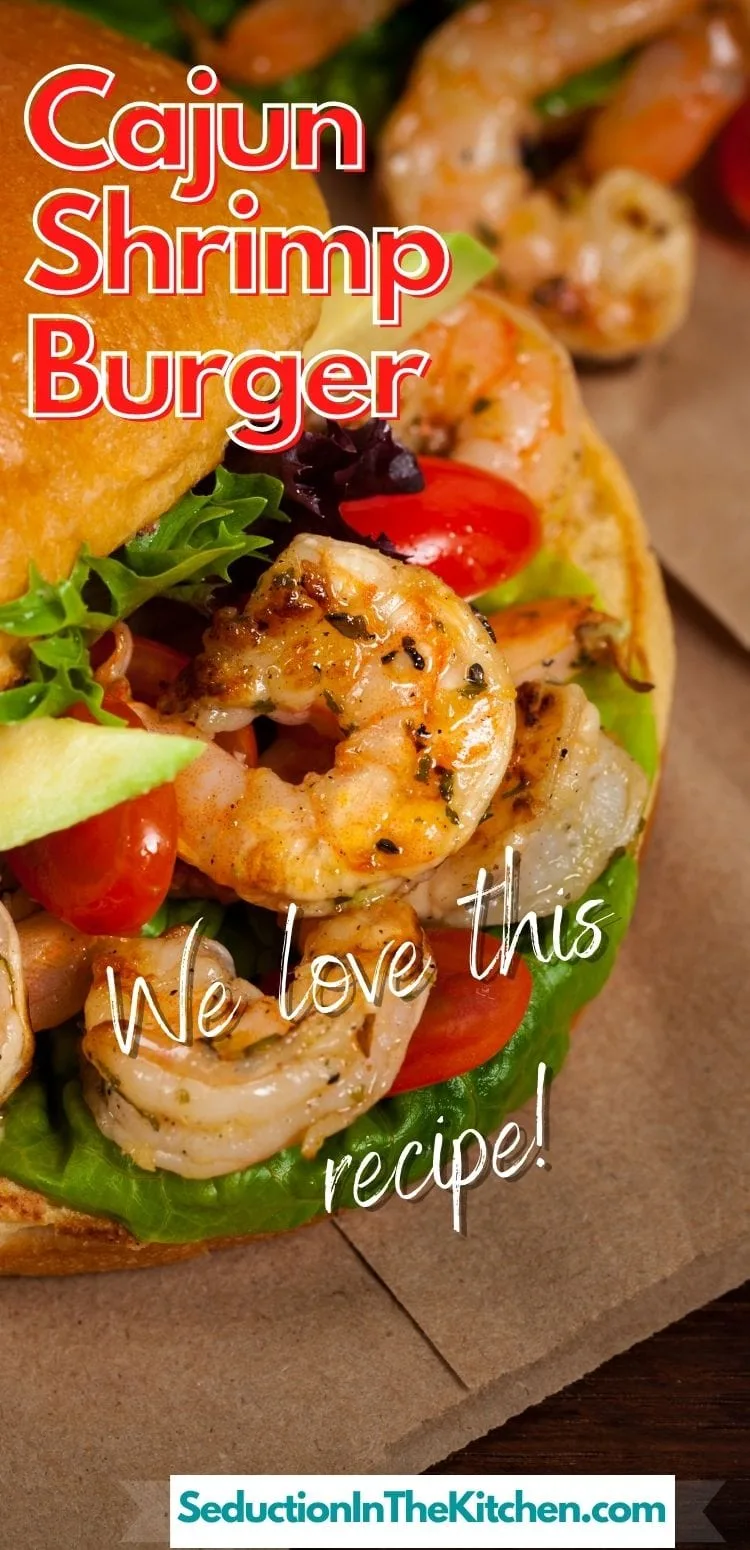 Cajun shrimp
When you think of shrimp, a flavor that might come to mind is cajun shrimp! Spicy Cajun shrimp is a very popular dish to enjoy, so why not make a Cajun burger!
Cajun shrimp has this slightly spicey taste that needs a goo pairing to make it a shrimp burger. What topping would be good on a spicy Cajun burger with shrimp?
Avocado was the answer. The coolness of the avocado would be perfect with the spiciness of cajun shrimp.
Avocado mayo
This cajun burger is on the healthier side, so by adding a homemade avocado mayo to this easy shrimp recipe! Plus with the avocado mayo, you are adding good fat to this simple burger recipe as well!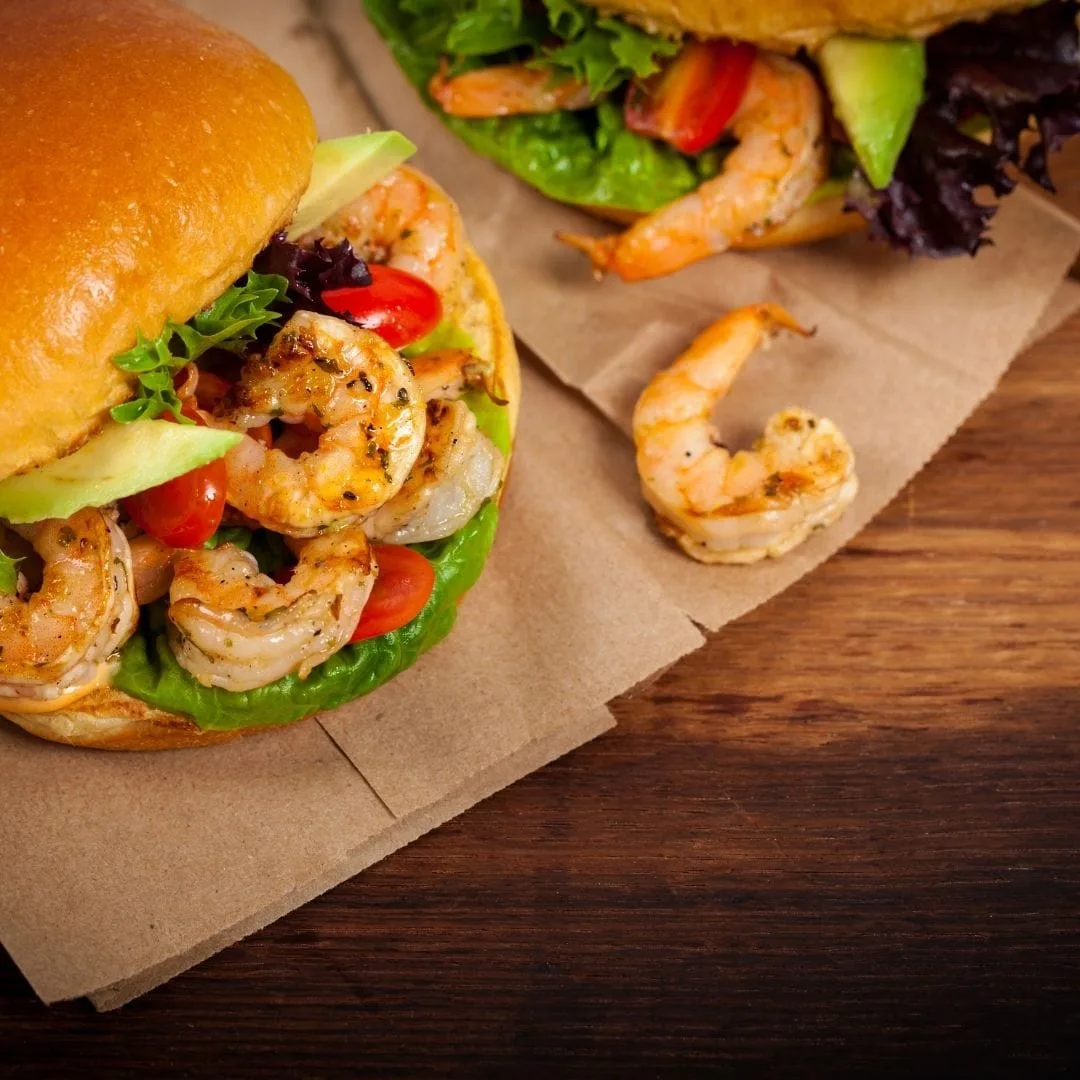 Yield: 4 Burgers
Cajun Shrimp Burgers with Avocado Mayo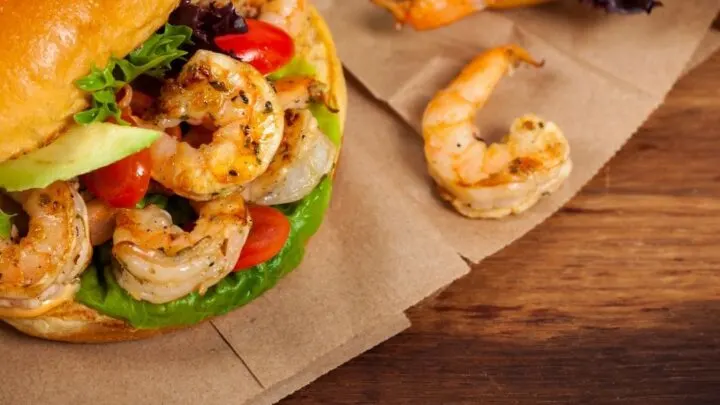 Cajun Shrimp Burgers with Avocado Mayo is a spicy cajun burger. This simple burger recipe is cooled off with creamy avocado mayo. If you want something different, then try this shrimp burger!
Ingredients
Cajun Shrimp Burgers
1 lb raw shrimp shelled, deveined and patted dry
2 tablespoons olive oil
1 onion chopped
2 cloves garlic minced
2 teaspoons chili powder
1 tablespoon paprika
1/4 teaspoon dry mustard
1 teaspoon sugar
1/2 lemon juiced
1 tablespoon Worcestershire sauce
salt and pepper
Avocado Mayo
1 small avocado
1 lemon juiced
2 tablespoons sour cream
1 tablespoon mayonnaise
Instructions
Cajun Shrimp Burgers
First, in about 1 tablespoon of the olive oil, saute the shrimp until it starts turning pink. Carefully removed the shrimp from the pan with a slotted spoon and set them aside.
In the same pan, add the rest of the oil and add the onions, cook them for about a minute and then add the spices to the pan, and let the onion cook for another 2 minutes, stirring constantly.
Add the lemon juice and Worcestershire sauce to the onion. Then add the shrimp. Let the shrimp cook in the mixture for about 2 minutes. Then take it off the heat and set aside.

Avocado Mayo
To make the mayo, slice the avocado in half and take the peel off the one half, dice it up and put into a bowl with the sour cream, lemon juice, and mayonnaise.
Using a potato masher just mash it all together. Mix and mash it to blend together, or you could use a stick blender.

Assembly
Spread the avocado mayo on part on the bun, I choose the bottom half of the bun, but you can spread it on the top half.
Place some of the shrimp mixture on the bun
The other half of the avocado, remove the pit and slice it up. Then place the avocado slice on top of the shrimp.
Then place a sliced tomato on to the avocado
Top it off with the top bun, and Enjoy!
Recommended Products
As an Amazon Associate and member of other affiliate programs, I earn from qualifying purchases.
Nutrition Information:
Yield:
4
Serving Size:
1
Amount Per Serving:
Calories:

290
Total Fat:

20g
Saturated Fat:

3g
Trans Fat:

0g
Unsaturated Fat:

15g
Cholesterol:

148mg
Sodium:

826mg
Carbohydrates:

13g
Fiber:

5g
Sugar:

4g
Protein:

18g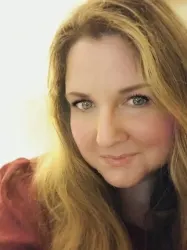 Latest posts by Deanna Samaan
(see all)