This post was most recently updated
Barbari Bread is a Persian bread that is super easy to make and is wonderful to eat with a big bowl of soup!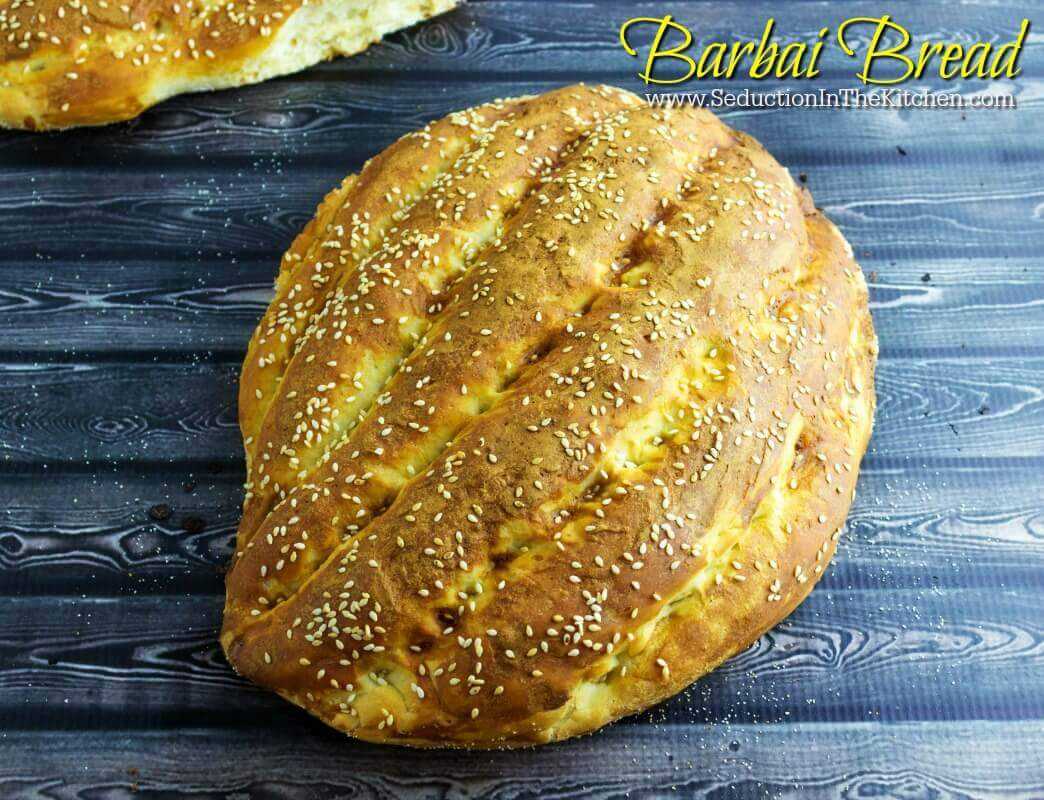 What is Seduction in the Kitchen?
Obviously, it is a food blog. For me, it is much more than just a food blog. Seduction in the Kitchen is me and my changing and improving myself.
Seduction in the Kitchen started in 2013, I was in a cast and on bed rest. I had just started talking to a guy who happened to be Iranian. To keep myself from being bored, I got back into food blogging. My thought was hey, I will entertain myself and maybe I can impress him with my cooking skills via the internet.
That relationship has gone up and down through the years. That guy and I have broken up many times. Even now I recently started talking to him again, as I mentioned in Apple Cider Cake Mix Donuts. We always seem to gravitate to each other, but in the end, I think he gets scared. Plus distance doesn't help. We are star-crossed lovers, never destined to meet.
Anyway, why bring this up? As you know I been going through the old posts, either updating them or adding and fixing SEO. As I gone through over 400 posts, I have seen how Seduction in the Kitchen has evolved.
My writing has definitely improved along with the style and photos. As Seduction in the Kitchen grew, so did I. I mean I have my moments on here where I will rant and rave about the drama, mostly due to the circus atmosphere my day job has. Trust me, Greys Anatomy should have some those drama queens on that show, but I won't start on that.
What is Seduction in the Kitchen? My motto is Everyone Has An Affair With Food. This blog is basically how life and food go hand in hand. It also has some great recipes.
My thoughts, Seduction in the Kitchen is a hidden gem. Am I traditional food blog? Kind of, but not really. I get way too personal and talk about life and improving you than the actual recipe. Yet, I try to balance the recipe with life.  The best phrase about what my blogs is: It is a recipe blog with heart. That is Seduction in the Kitchen.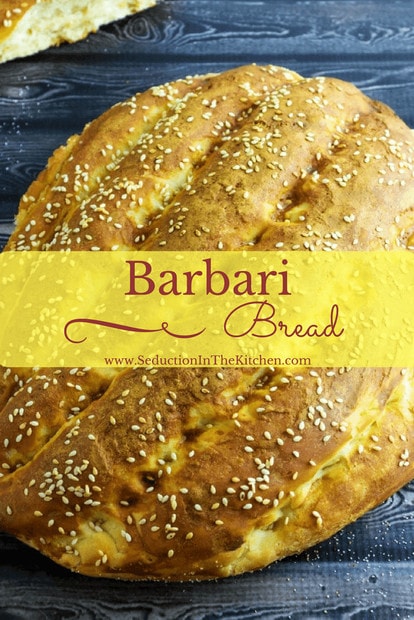 In a way, this Barbari bread is full circle for me. I have a few other Persian recipes like
 Persian Kebabs with Saffron Butter.
This one is special to me. I did what I did in the past, made a recipe in hopes of impressing the Persian man I can't seem to quit. Something else happened with this recipe. It showed me I can bake bread without using a bread maker.
I always used my bread maker dough cycle for making yeast bread. One it so much quicker and it poofs dough nicely. This time, maybe because I wanted to turn out so good because I knew I would be shipping it to the guy, everything came together for this bread.
What I discovered was this spongy bread is wonderful. I had been sick so I been eating lots of chicken soup, this bread soaked up the broth no nicely. Simply put, I love this bread. I think you will too.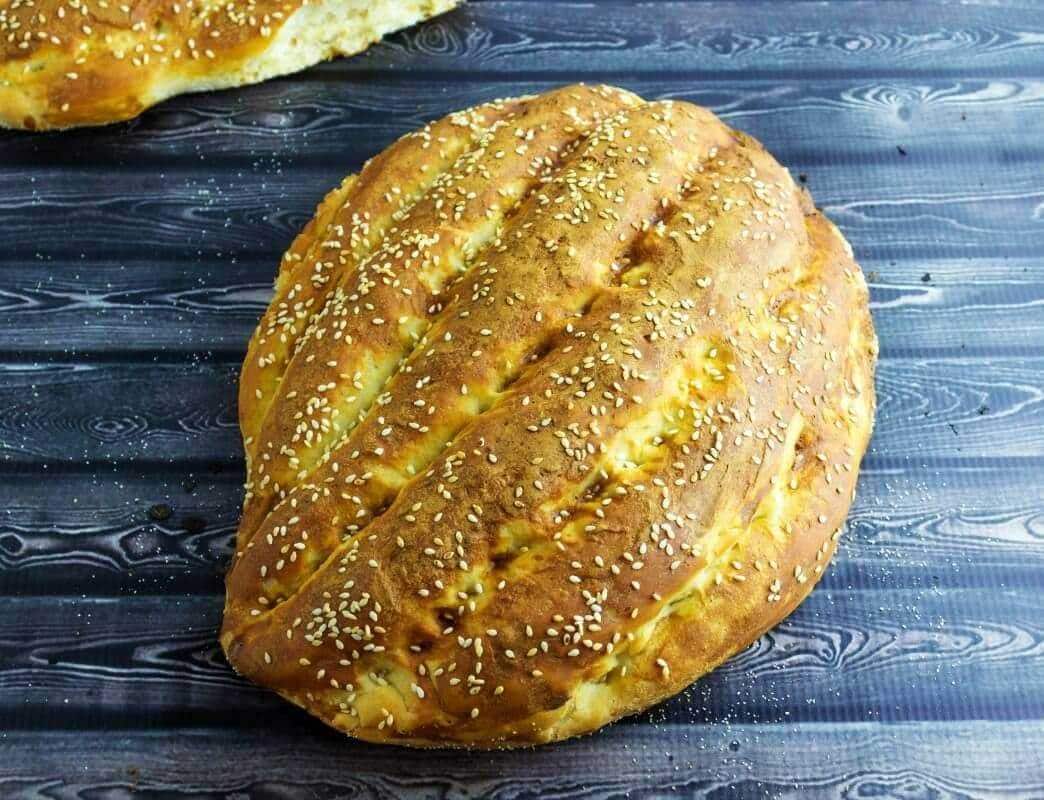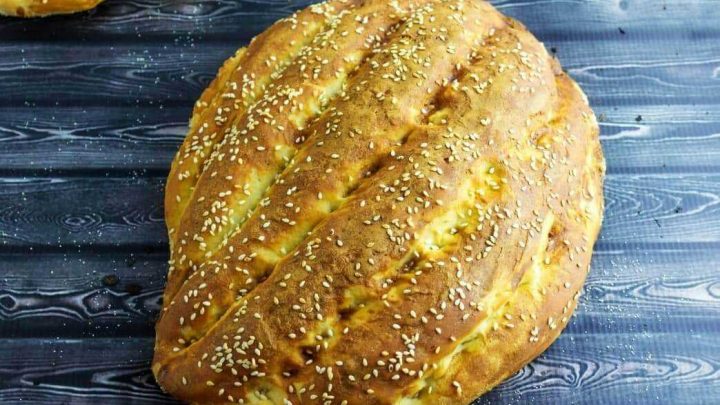 Yield:

2 Loaves
Barbari Bread
Total Time:
2 hours
30 minutes
Barbari Bread is a Persian bread that is super easy to make and is wonderful to eat with a big bowl of soup! A recipe from Seduction in the Kitchen.
Ingredients
3 1/4 cups bread flour
1 1/2 cups water
1 teaspoon baking powder
2 1/4 teaspoons active dry yeast
1 teaspoon salt
2 teaspoons sugar
cornmeal
poppy seeds or sesame seeds
1 teaspoon flour
1 teaspoon baking soda
2/3 cup water
Instructions
Dissolve the yeast with the sugar in 1/2 c water, let sit a few minutes to proof (foam).
Mix bread flour, baking powder and salt together. Make a well in the flour, and slowly incorporate the yeast mixture, and then the remaining 1 cup of water.
Knead 15 minutes on a lightly floured surface until smooth and elastic.
Divide dough into 2 round pieces.
Sprinkle a large baking sheet with cornmeal, transfer the dough to it. Lightly cover and place in a warm place until doubled in bulk (~1.5 hours).
Meanwhile, combine the flour, water, and baking soda together. Bring to a boil, let cool.  This is a glaze and brush lightly over the dough. 
Dip your fingers into the remaining glaze, and punch the dough down with the edges of your hands to form several long parallel ridges along the dough.
Brush the dough with the glaze again, sprinkle with sesame seeds or poppy seeds. Preheat oven to 375°F.
Carefully stretch the dough lengthwise until it is about 1/4-1/2" thick.
Bake 25-30 minutes, or until golden. Take out the oven, let it cool and ENJOY!
Nutrition Information:
Amount Per Serving:
Calories:

125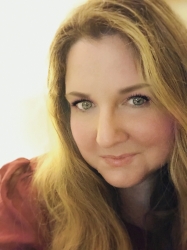 Latest posts by Deanna Samaan (see all)