I am a participant in the Amazon Services LLC Associate Program, an affiliate advertising program designed to provide a means for me to earn fees to Amazon.com and affiliate sites.
[intro]The Pierogi Hot Dog is inspired by ballpark food. This over the top hot dog has sauteed onions, sauerkraut, and of course pierogies! This stadium dog is inspired by my hometown, Pittsburgh.[/intro]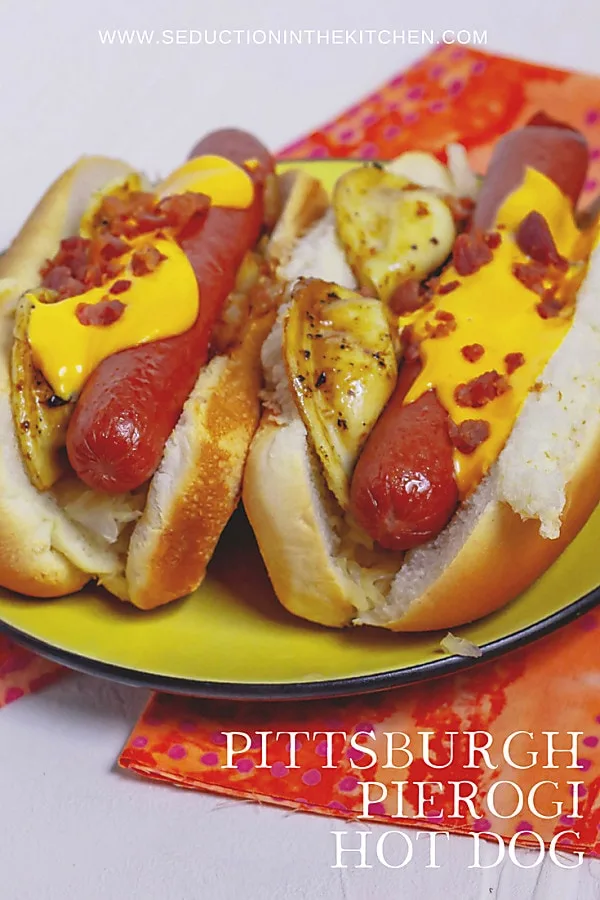 Batter Up!
[dropcap custom_class="normal"] D [/dropcap]id you know I played slow pitch softball for 11 years when I was growing up? Yep, me and my sisters played ball. Things were interesting, 3 girls and 2 parents, every once in awhile there was 3 games all at the same time.
My parents made it work. Sometimes parents of other players would take one of us to a game or bring us home from a game if it was needed. My dad actually was the coach for my one sister's team. So we really loved the ballgame.
It was fun playing softball. It started out that was how me and my sisters would bond with my dad. He was the only male in the house, so us playing softball help him and us have a summer activity.
Ballpark Food
So I have a small amazement for ballpark food. I have written 2 posts on Parade Magazine that is a roundups of ballpark food recipes. I love stadium dogs and the outrageous creations with those footlongs.
Of course, you can get plain hot dogs at a baseball game. You hear the vendors shouting as they go up and down the stands:
Red Hots, get your Red hots here!
Peanuts, soft pretzels, and of course hot dogs, now that is ballpark food. Depending on your hometown team, each ballpark has a signature dog.
MLB Hot Dogs
Here is a list of some of the famous MLB Stadium hot dogs out there according to The hot-dog.org:
Arizona Diamondbacks: DBat Corn Dog An 18-inch corn dog stuffed with cheddar cheese, jalapenos and bacon, served with a side of fries.
Atlanta Braves: Dixie Dog: Flash-fried, all-beef dog — which is a whole foot long and weighs half a pound — topped with a mustard-based barbecue sauce, pulled pork, a creamy Southern-style slaw, and pickles.
Baltimore Orioles: Crab Mac 'N Cheese Dog: Hot dog topped with macaroni and cheese and a generous lump of crab meat, seasoned with Old Bay.
Boston Red Sox: Fenway Frank: Steamed, grilled or rolled hot dogs wedged inside a classic New England-style bun.
Chicago Cubs: Wrigley Dog: Hot dog featuring Addison Relish (diced tomato, onions, pickle, relish, sport pepper), mustard and celery salt.
Chicago White Sox: Chicago Dog: Grilled Vienna Hot Dog served with yellow mustard, neon relish, diced onions, sport peppers, tomato wedges & celery salt in a poppy seed bun.
Cincinnati Reds: Skyline Chili Coney: Hot dog cloaked in the famous Skyline saucy chili with hints of cinnamon and chocolate, the Coney is then topped with chopped onions and heaps of tangy, shredded cheddar cheese.
Cleveland Indians: Sugardale hot dog topped with Bertman's mustard.
Colorado Rockies: Rockie Dog: fresh-off-the-grill foot-long dogs with grilled peppers, sautéed onions, and sauerkraut.
Detroit Tigers: Coney Island: Beef hot dogs slathered with Detroit Chili Company Coney sauce (a "wet," beanless chili spiced with cumin) and sweet, chopped onions.
Houston Astros: Super Top Dog: A foot-long hot dog with chili and cheese.
Kansas City Royals: Kansas City Dog: All-beef hot dog with Swiss cheese, grilled sauerkraut and Boulevard Pale Ale Mustard.
Los Angeles Angels: Halo Dog: An all-beef hot dog wrapped in bacon and topped with charro beans, Anaheim peppers and shredded Monterey Jack.
Los Angeles Dodgers: Dodger Dog: A foot-long, pork hot dog either grilled or steamed. The cooked dog is cushioned by a steamed bun with traditional toppings — mustard and relish.
Milwaukee Brewers: Wisconsin Dog: Klement's hot dog topped with bacon and beer jam sauerkraut on a sausage roll.
Minnesota Twins: The Big Dog: A quarter pound all beef Schweigert hot dog.
New York Mets: Nathan's all beef hot dog
New York Yankees: Nathan's Famous Natural Casing Dog topped with red onions in sauce and sauerkraut.
Oakland Athletics: Colossal Dog hot dogs wrapped in bacon.
Philadelphia Phillies: Mac and Cheese Dog: Hot dog topped with house made mac and cheese and a drizzle of pepper ketchup.
Pittsburgh Pirates: Cracker Jack and Mac Dog
St. Louis Cardinals: Bacon Wrapped Hot Dog: Jumbo hot dog wrapped in Applewood smoked bacon, served on a locally made jumbo bun and topped with baked beans, pico de gallo, spicy aioli and crispy fried onions.
Tampa Bay Rays: Ybor Dog: Featuring a signature Kayem all-beef jumbo hot dog with picadillo sauce, as well as perennial favorites chili-cheese dogs topped with bacon, or BBQ dogs with pulled barbecue pork.
Texas Rangers: 2 ft long chili and cheese topped Boomstick
Toronto Blue Jays: Garrison Creek hot dog topped with peppers and onions
Washington Nationals: Ben's Chili Half Smoke: a grilled pork hot dog on a steamed bun and topped with mustard, onions and chili from Ben's Chili Bowl.
Pierogi Hot Dog
As you know I am proud to be from Pittsburgh. At the Pirate games at PNC Park, they have the Pierogi races. Pittsburgh loves pierogies.
So I decided to use Pittsburgh as inspiration to come up with this ballpark stadium inspired hot dog recipe. Let's top a hot dog with some pierogies. Then add some other toppings like bacon, sauerkraut, and melted cheese sauce.
If I was at PNC Park and this pierogi topped hot dog was on the concession stand menu, I would so order it. The flavors of saute onions and pierogies on the hot dog go well together. This pierogi hot dog screams I am ballpark food!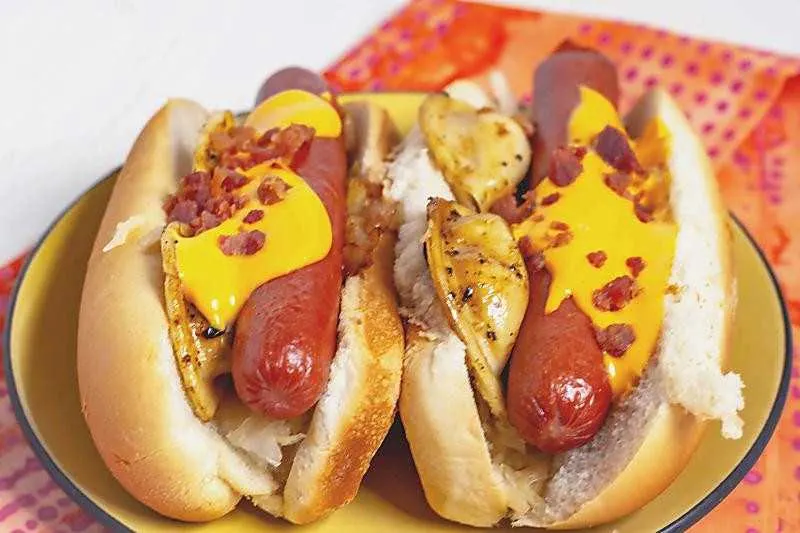 Yield: 8 servings
Pierogi Hot Dog Recipe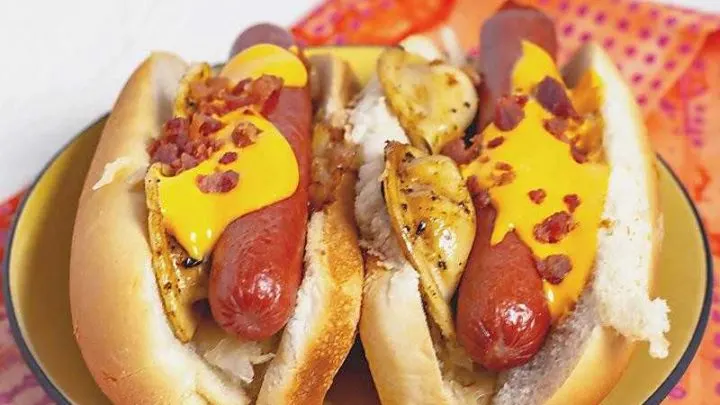 The Pierogi Hot Dog is inspired by ballpark food. This over the top hot dog has sauteed onions, sauerkraut, and of course pierogies! This stadium dog is inspired by my hometown, Pittsburgh.
Ingredients
8 all beef bun length hot dogs
1 pkg Mrs T Mini Pierogies
1 cup of sweet sauerkraut
1/4 cup cheese-wiz
1/2 onion, diced
2 tablespoons butter
1/2 teaspoon Vegeta seasoning
1 pkg Oscar Meyer Bacon Recipe Pieces
8 hot dog buns
Instructions
Make the pierogies according to the package directions
Melt the butter add the pierogies and onions to saute pan.
Season with the Vegeta seasoning.
Saute till the onions turn clear.
Take off the heat and set aside.
Grill the hot dogs to your liking.
Place a layer of cooked sauerkraut in hot dog bun
Place the hot dog in the bun.
Place the mini pierogies along the hot dog in the bun.
Top with melted Cheese-wiz
finish off with sauteed onions, and bacon
Serve them up and ENJOY!
Recommended Products
As an Amazon Associate and member of other affiliate programs, I earn from qualifying purchases.
Nutrition Information:
Yield:
8
Serving Size:
1
Amount Per Serving:
Calories:

485
Total Fat:

26g
Saturated Fat:

11g
Trans Fat:

0g
Unsaturated Fat:

12g
Cholesterol:

90mg
Sodium:

720mg
Carbohydrates:

31g
Fiber:

2g
Sugar:

5g
Protein:

31g
Check out my the latest on my other blog: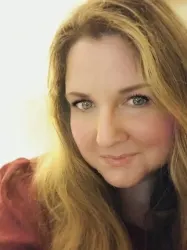 Latest posts by Deanna Samaan
(see all)