This post was most recently updated
Spiced Maple salmon is a grilled salmon that a cookout food that is both sweet and spicy. This grilled maple salmon is so easy to make on the grill. This cookout recipe of maple salmon is a healthy option for your BBQ! Serves 4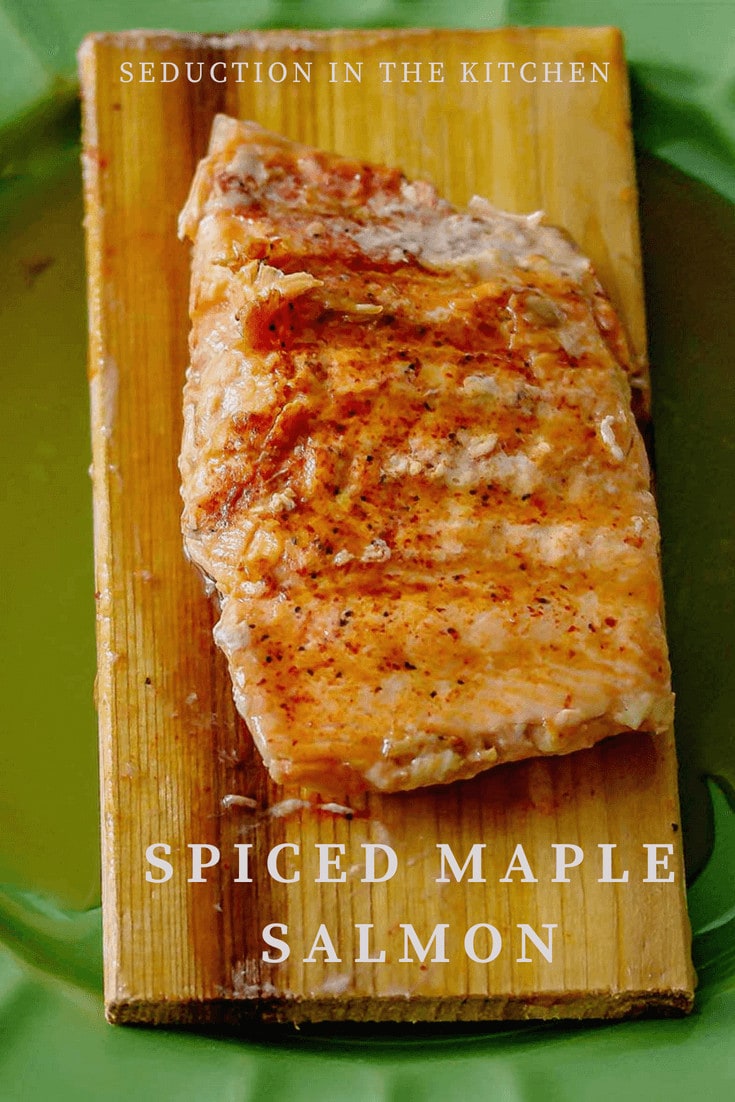 Cookout Week: On The Grill Recipes
# CookoutWeek is here! During the next week, I am joining over 50 of my blogger friends to celebrate summer by posting delicious cookout-themed recipes. If you love on the grill recipes, along with frozen treats, picnics, berries, s'mores, campfire meals, and other summer goodies… you are in the right place!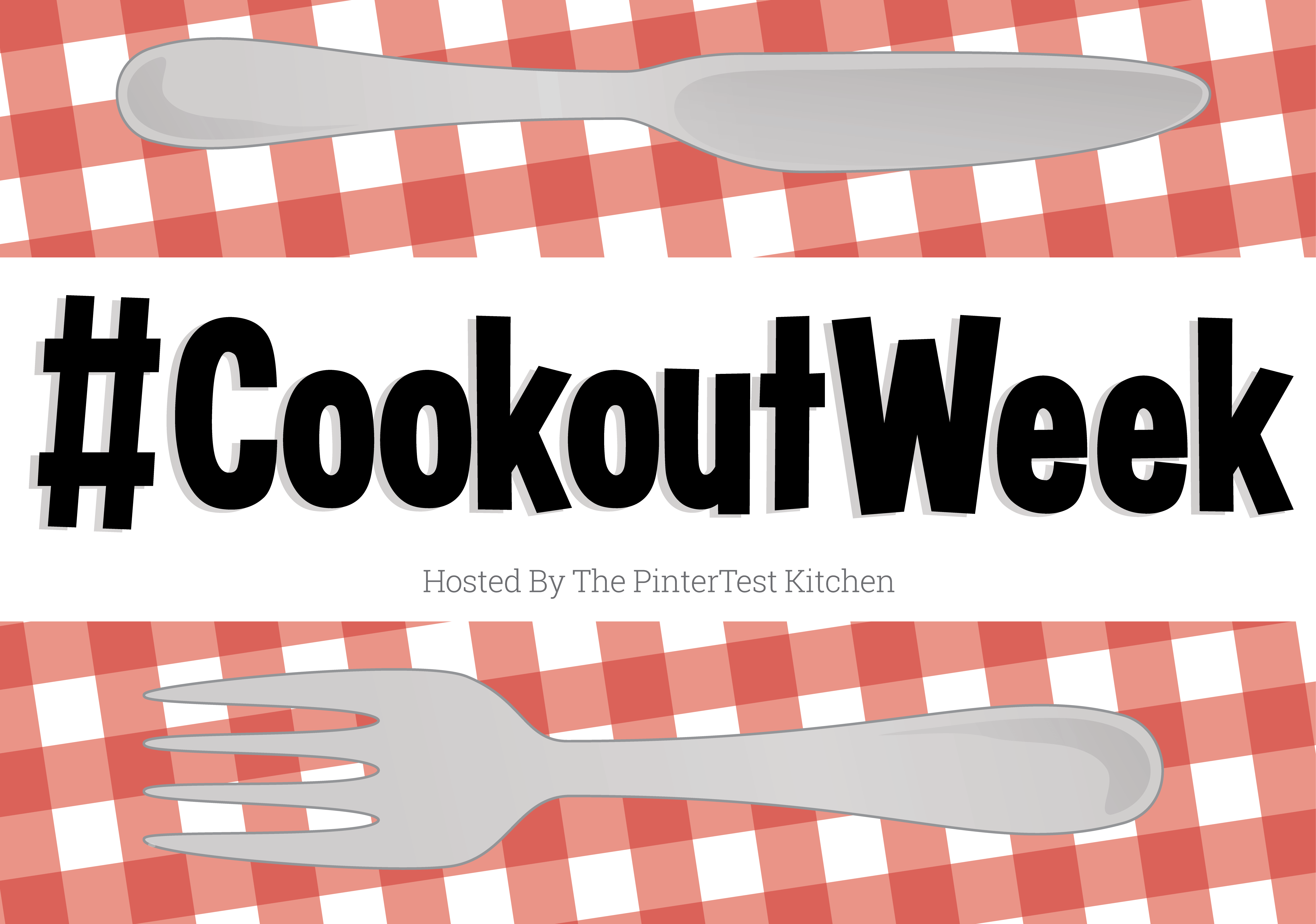 Barlean's Butter Flavored Coconut Oil
Since this is my third year in cookout week, I decided to really step outside my comfort zone with the recipes I came up with. First one up is a healthy grilled salmon recipe made with Barlean's Butter Flavored Coconut Oil.
From the Barleans' website about the coconut oil:
It tastes just like but but has all the benefits of Coconut Oil like MCTs.
This is perfect!  salmon is healthy and so is the butter flavored coconut oil. Sounds like I have the winning combination here.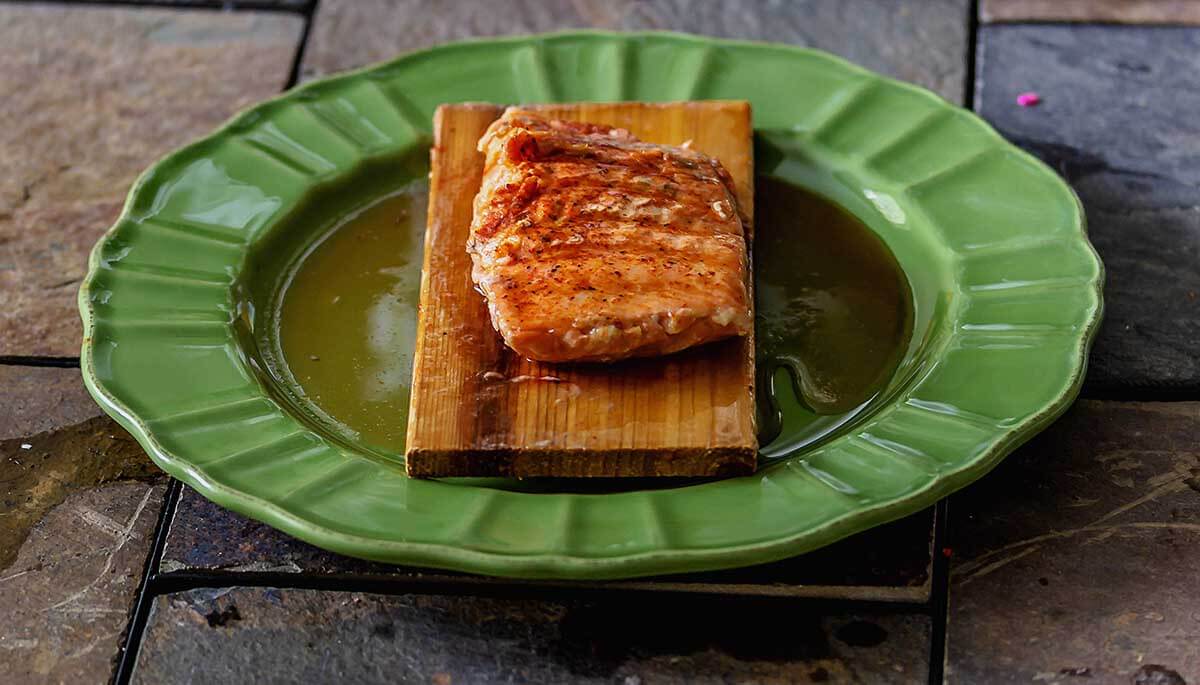 Cedar Plank Grilled Salmon
I have come to find I really like cedar plank grilled salmon. There are a few tips from the Weber Grills to follow when you want to use cedar planks for grilling up salmon dinner recipes.
 Soak the plank in water for at least an hour
Prepare the grill for direct cooking over medium heat (350° to 450°F).
Place the soaked plank over direct medium heat and close the lid (no food should be on the plank)
After 5 to 10 minutes, when the plank begins to smoke and char, turn the plank over then add the food you want to cook on it.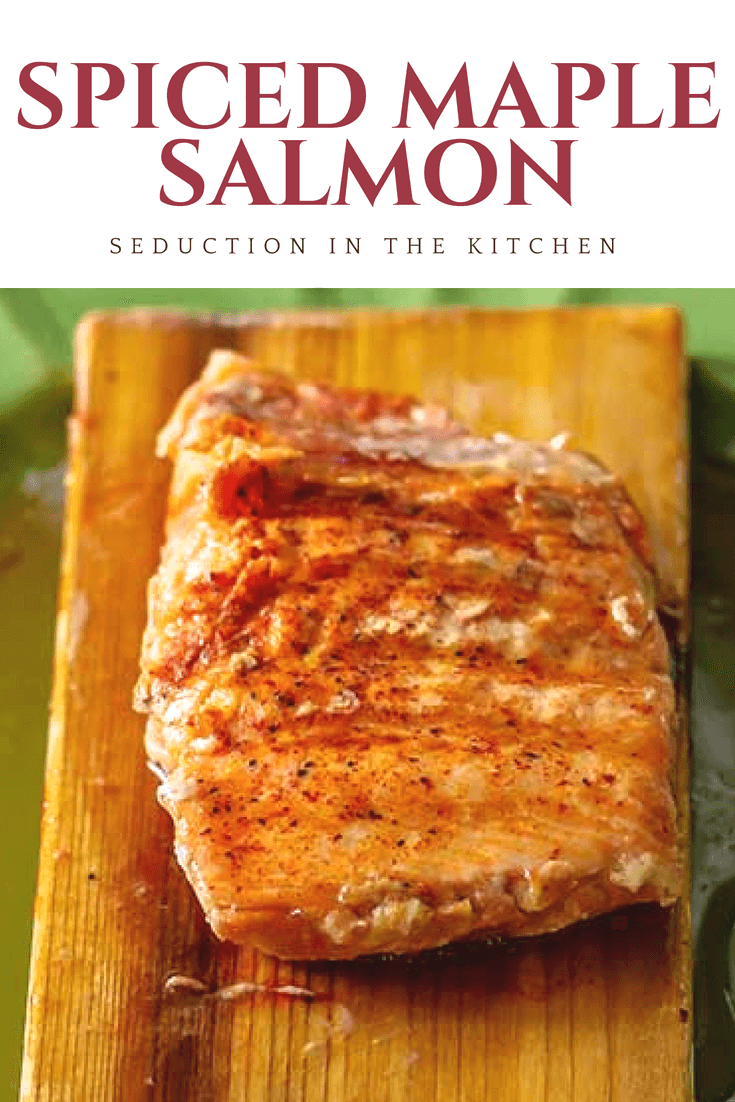 Spiced Maple Salmon
One thing that is good about salmon dinner recipes is versatile and can be quite a few flavors. I choose to do a grilled maple salmon. A spiced maple salmon on the grill recipe is perfect for cookout foods!
Maple Salmon
The reason I went with the sweet maple for this grilled salmon recipe is that I had a maple glazed salmon entree at a local seafood restaurant here in Cleveland.  That maple salmon was out this world!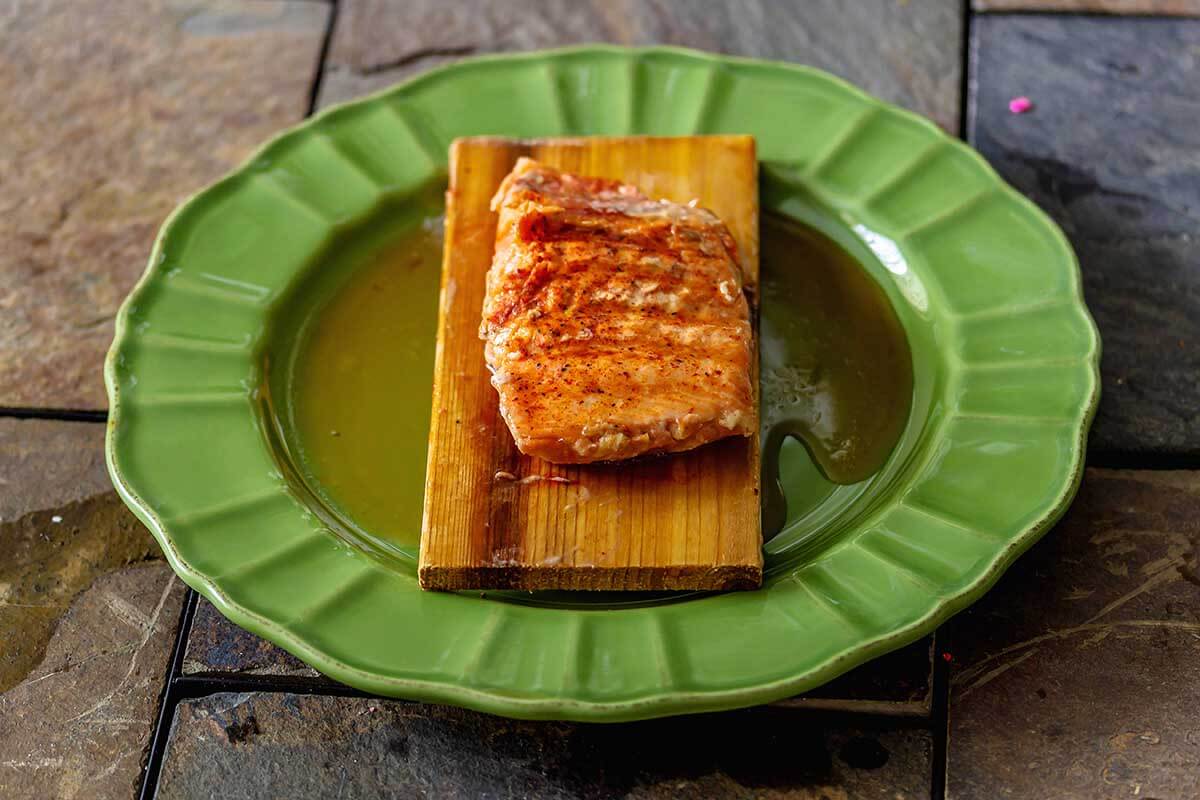 Spiced Maple Recipe
Unlike the salmon recipe I had at the restaurant, I wanted to make this spiced maple salmon different. Cooking salmon fillets,  I wanted to grill the maple salmon on a cedar plank. The other was I wanted to make it a spiced maple recipe.
Grilling Salmon
Salmon actually doesn't take long to grill up. In fact, grilling salmon takes minutes depending on how thick it is. For grilling a salmon recipe. it is best to grill over medium heat.
1″ thick fillets = 4 to 5 minutes per side
3/4″ thick fillets = 3 to 4 minutes per side
1/2″ thick fillets = 2 to 3 minutes per side
Sweet and Spicy Salmon
The combination of adding spice to the maple marinade. Then grilling the salmon upon a cedar plank just made an awesome cookout week recipe. This salmon recipe is mouthwatering good!
Grilled Maple Salmon
This salmon dinner recipe is a keeper for sure. The grilled maple salmon is even perfect for picky eaters. If you are looking for a grilled salmon, then you will have a winning dinner with this maple salmon!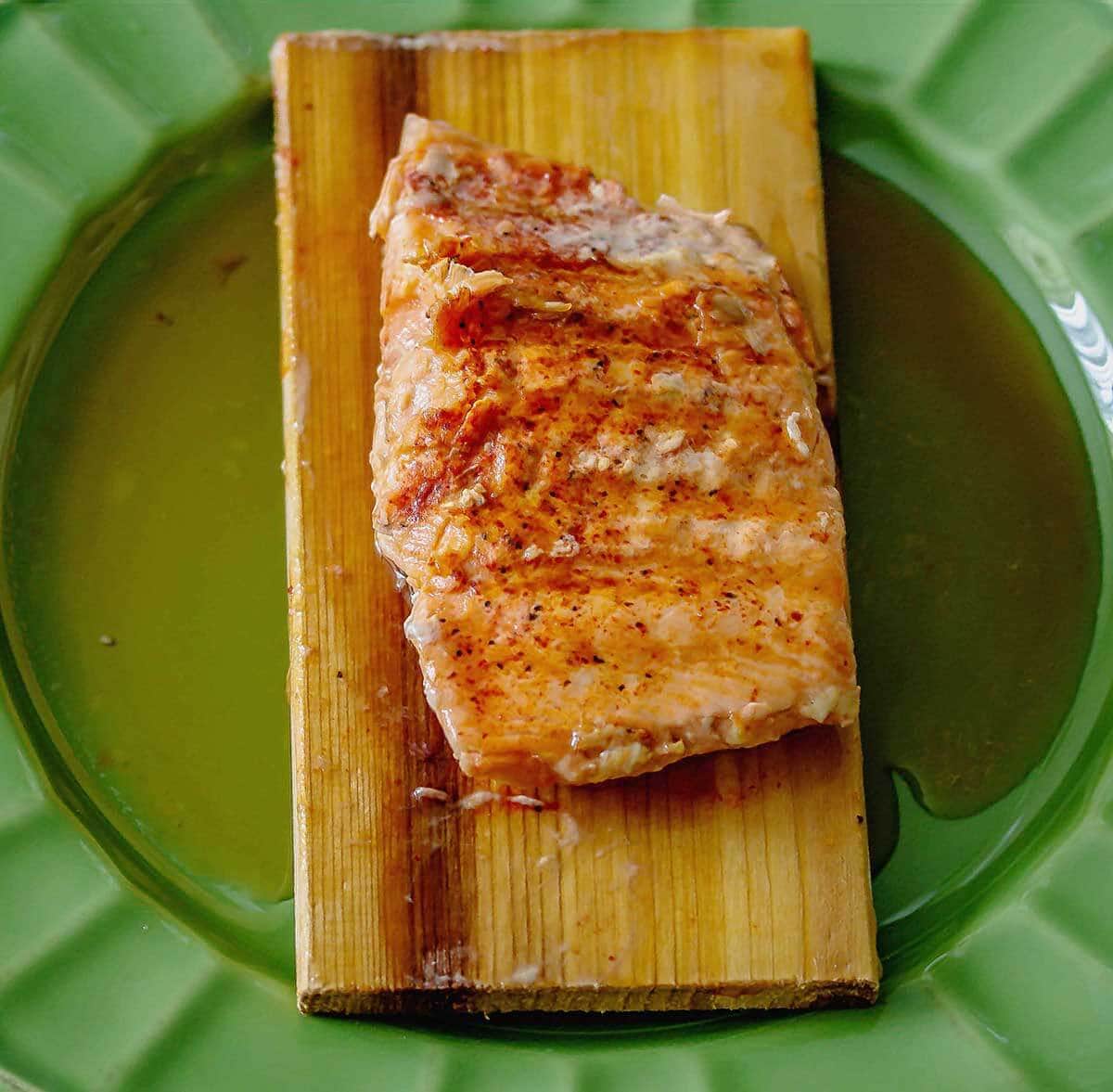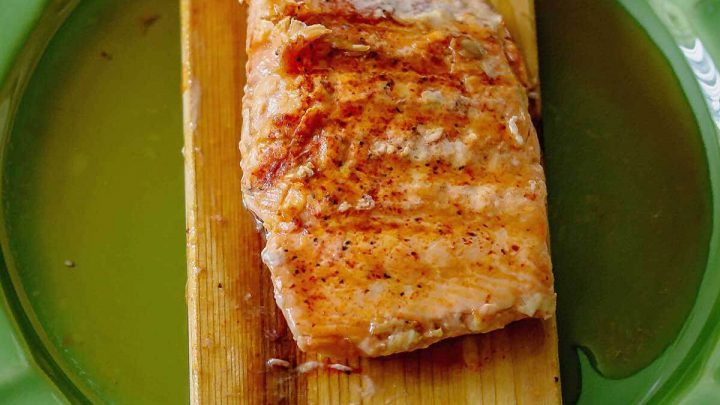 Yield:

4
Spiced Maple Salmon Recipe
Spiced Maple salmon is a grilled salmon that is both sweet and spicy. This grilled seafood entree is so easy to make on the grill. This salmon recipe is a healthy option for your next cookout!
Ingredients
2 teaspoons smoked paprika
1 teaspoon chili powder
1⁄2 teaspoon ground cumin
1⁄4 teaspoon garlic powder
1⁄2 teaspoon brown sugar
1⁄2 teaspoon sea salt
4 (6 ounce) salmon fillets
2 tablespoon maple syrup
2 tablespoon melted butter Barlean's flavored coconut butter
Instructions
Combine the paprika, chili powder, cumin, garlic powder, and brown sugar.
Place salmon on a tray and then sprinkle the fillets with the salt, then rub with the spice mixture.
Combine melted Barlean's butter flavored coconut oil and maple syrup,
Using half the maple syrup mixture, drizzle each fillet with a bit of it.
After preparing the cedar planks, place the salmon on the planks, skin down.
Close the lid of the grill, and grill the salmon for about 4 minutes.
When the salmon begins to flakes with a fork, it is ready.
Take the salmon planks off the grill pour the rest the maple mixture over them.
Serve them up and ENJOY!
Nutrition Information:
Amount Per Serving:
Calories:

375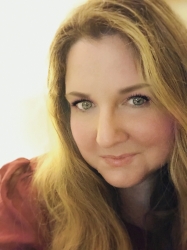 Latest posts by Deanna Samaan
(see all)