This post was most recently updated
Slow Cooker Philly Cheesesteak Soup takes cheese steak recipe and turns it into yummy recipe for steak soup. This slow cooker Philly cheese steak soup recipe is amazing. You will love this soup with steak. Serves 6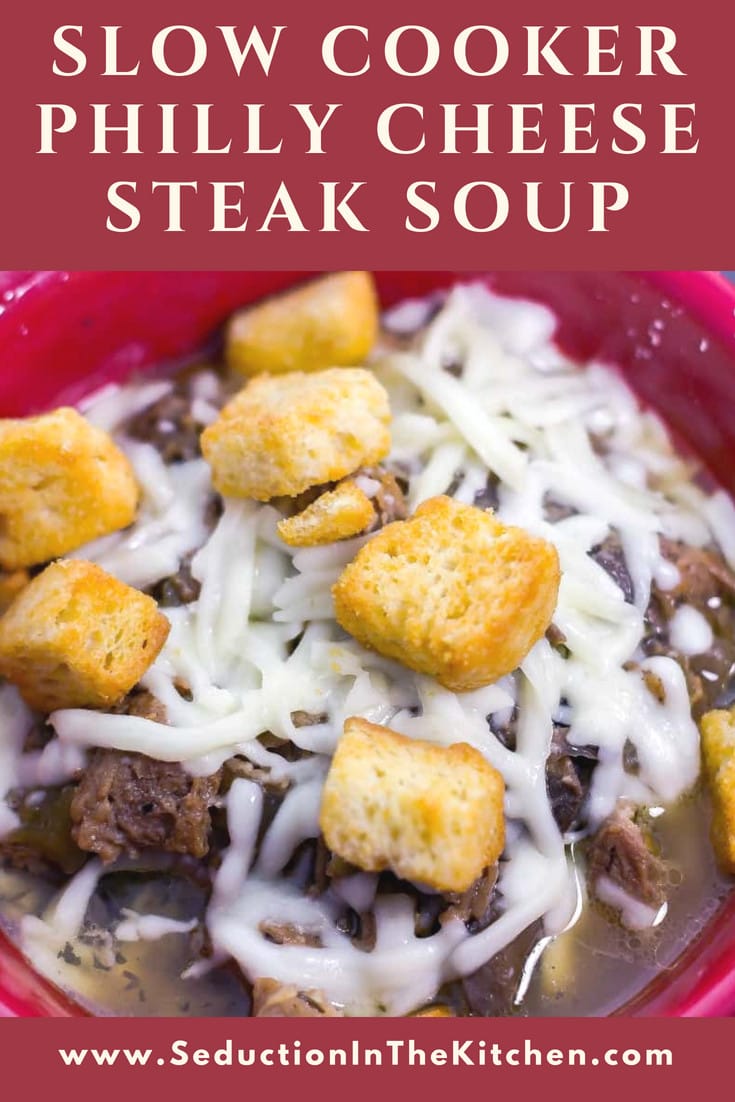 Philly Steak Sandwiches
Maybe it is a PA thing, but I love Philly steak sandwiches. Give me a good Philly steak sandwich anytime and I will be in heaven. Even though I am a Pittsburgh girl and love the Pittsburgh sandwich, I love Philly's philly steak sandwich more!
For This Recipe You Will Need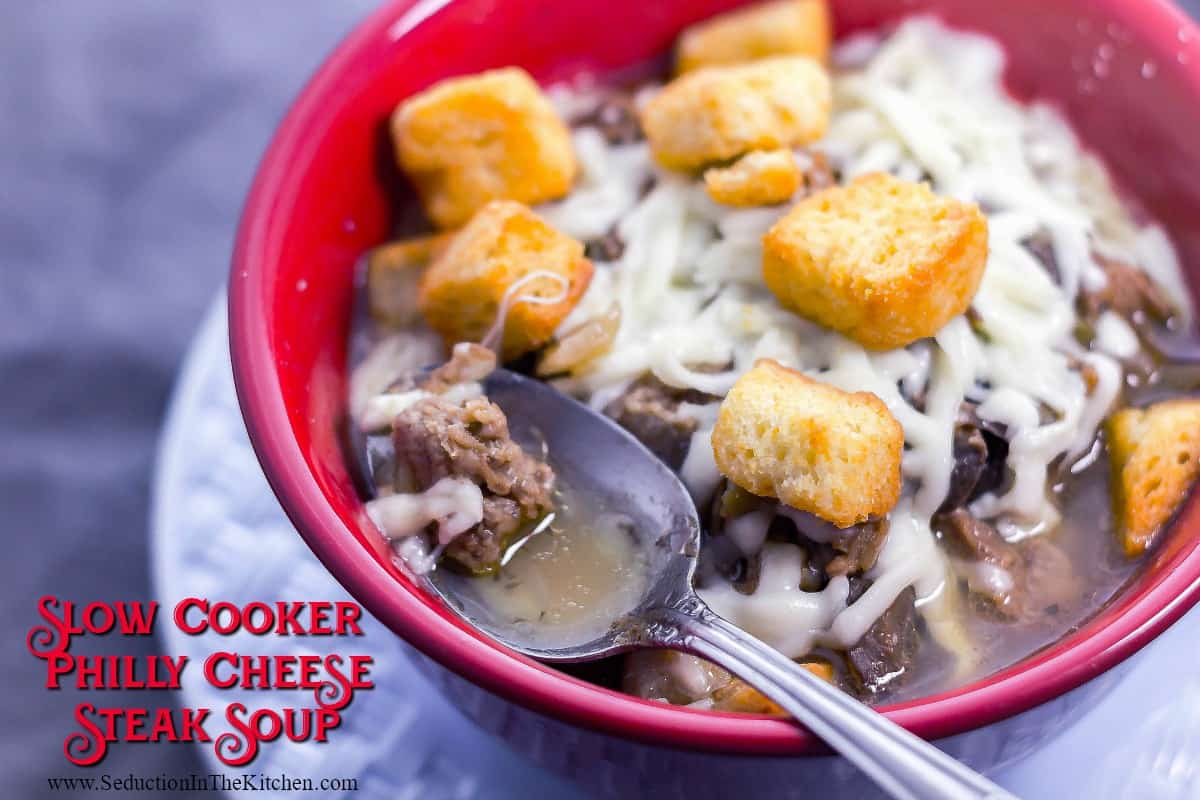 Shaved Steak Recipes
I do have a few philly shaved steak recipes up on Seduction In The Kitchen. When comes to shaved steak recipes I always make them into some type of cheese steak recipe. This slow cooker philly cheese steak soup is no exception, it uses shaved steak.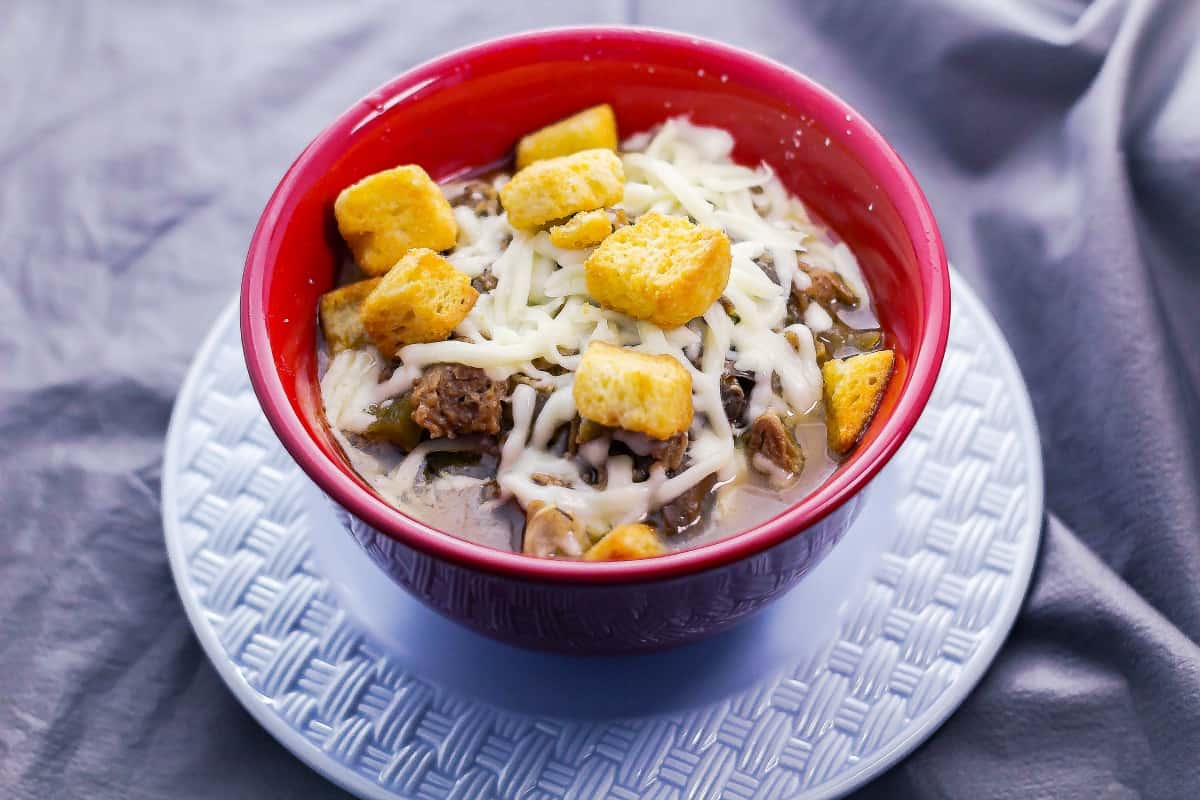 Slow Cooker Philly Cheese Steak Soup
On Facebook and someone posted a slow cooker Philly cheese steak dip and got me thinking. I have seen Philly cheese steak soups, but I never really seen steak soups cooked in a slow cooker before. So the idea of Slow Cooker Philly Cheese Steak Soup popped into my head.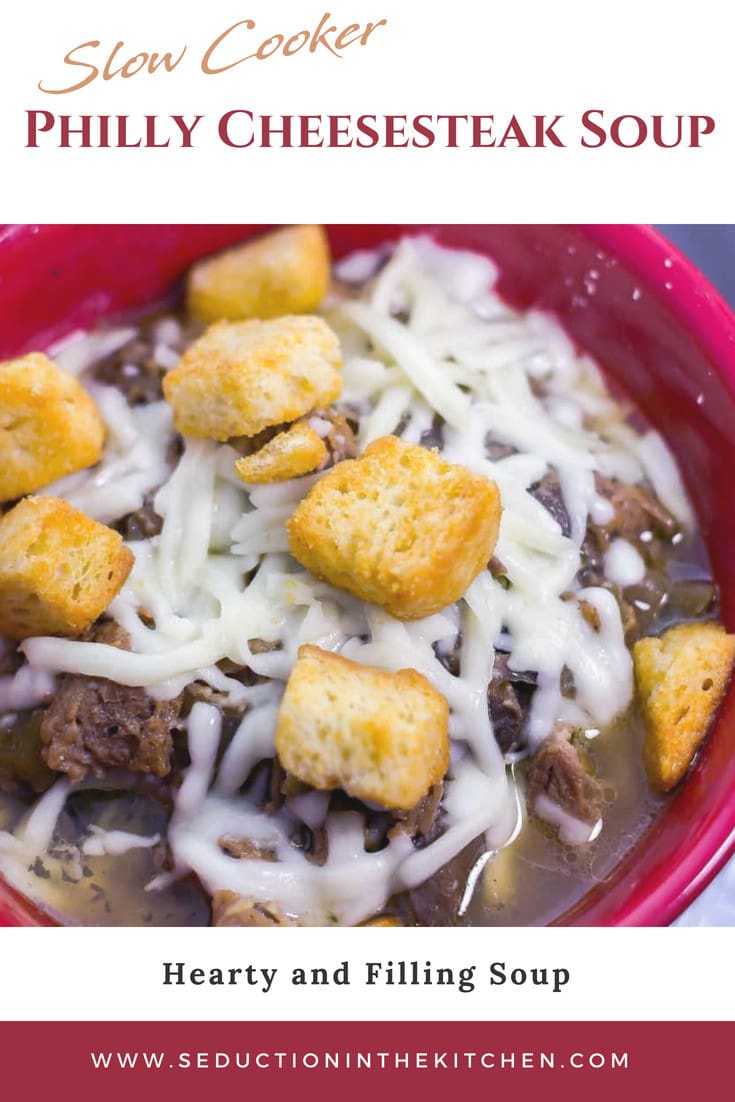 Soup With Steak
I wanted this soup with steak to really have incredible flavor. I decided to use garlic bread Texas Toast Croutons and play with a steak and cheese soup as the base.  This soup version of a cheese steak recipe came out so yummy.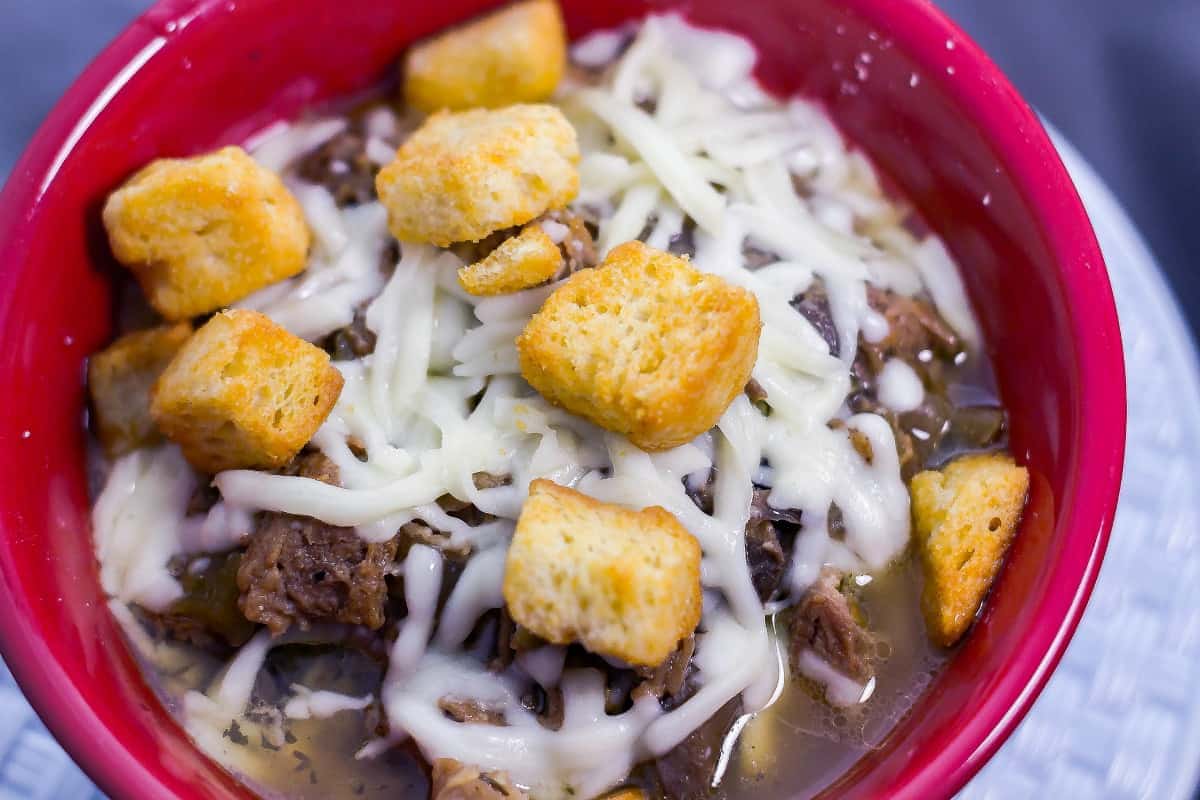 Recipe For Steak Soup
The secret to this recipe for steak soup is the savory broth. The savory broth is what makes this soup with steak burst with that philly steak sandwiches flavor. This slow cooker philly cheese steak soup is a keeper for sure!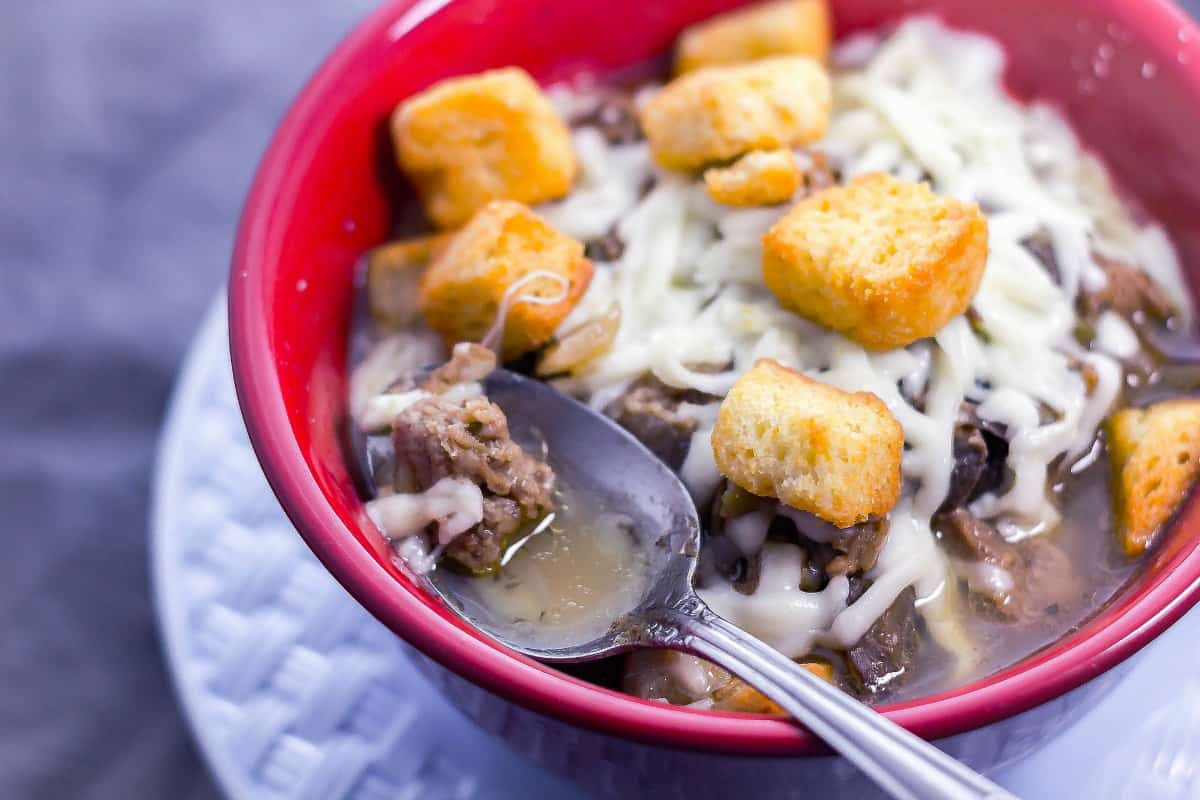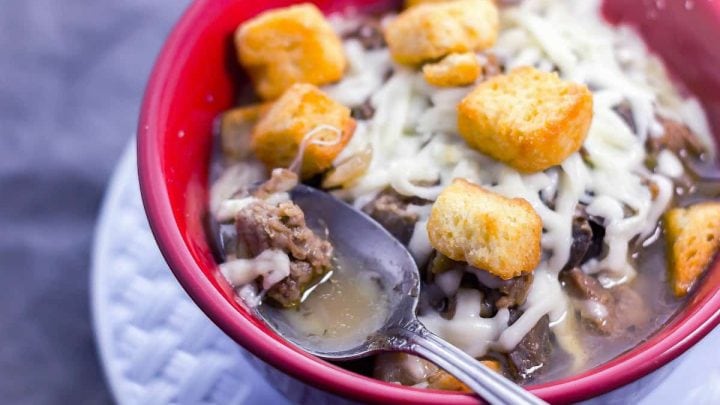 Yield:

6 Servings
Slow Cooker Philly Cheese Steak Soup Recipe
Total Time:
6 hours
10 minutes
Slow Cooker Philly Cheese Steak Soup takes the Philly cheesesteak sandwiches and makes a yummy and filling soup out of it.
Ingredients
1 large onions, diced small
1 green bell pepper, diced small
8 oz mushrooms, sliced
2 cloves garlic, minced
2 Tablespoons of butter
4 cups breef broth
1 tablespoon salt
2 teaspoons black pepper
1/2 teaspoon dried thyme
1 teaspoon Cavender's All Purpose Greek Seasoning
1 tablespoon worcheshire sauce
14 oz Sirloin Philly Steak
8 oz sliced provolone cheese
1 cup of shredded mozzarella cheese
Garlic Bread Croutons
Instructions
In a saute pan, melt the butter and saute the onions, peppers, and mushrooms Black pepper, thyme, Cavanders all-purpose, salt, and pepper. Saute till the onions turn clear. Next, add the garlic and saute 1 minute more. Take the vegetables off the heat and add to the slow cooker. Next, add the beef broth and Worcestershire sauce to the seasoned vegetables in the slow cooker. Place the Philly Steak into the soup and let it cook on low for about 4 hours. Next, add the provolone cheese, cover and let cook half hour more. Give it a nice stir, and let cook for another 1/2 hour. Finally, ladle some into a bowl, garnish with some shredded cheese and the croutons. Serve it up and ENJOY!
Notes
I found at Walmart frozen Philly Sirloin steak. It is shaved steak wrapped tight into a steak. I placed them frozen into this soup and as it cooked the steaks, lost the shape and shaved steak was perfect in this soup.
Nutrition Information:
Amount Per Serving:
Calories:

0
Total Fat:

0g
Saturated Fat:

0g
Trans Fat:

0g
Cholesterol:

0mg
Sodium:

0mg
Carbohydrates:

0g
Fiber:

0g
Sugar:

0g
Protein:

0g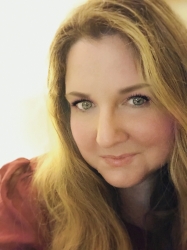 Latest posts by Deanna Samaan
(see all)