I am a participant in the Amazon Services LLC Associate Program, an affiliate advertising program designed to provide a means for me to earn fees to Amazon.com and affiliate sites.
[intro] Crock Pot Cream Of Asparagus Soup is a simple slow cooker soup recipe. This recipe for cream of asparagus soup has a rich creamed asparagus taste. You will love this spring soup recipe for asparagus soup! [/intro]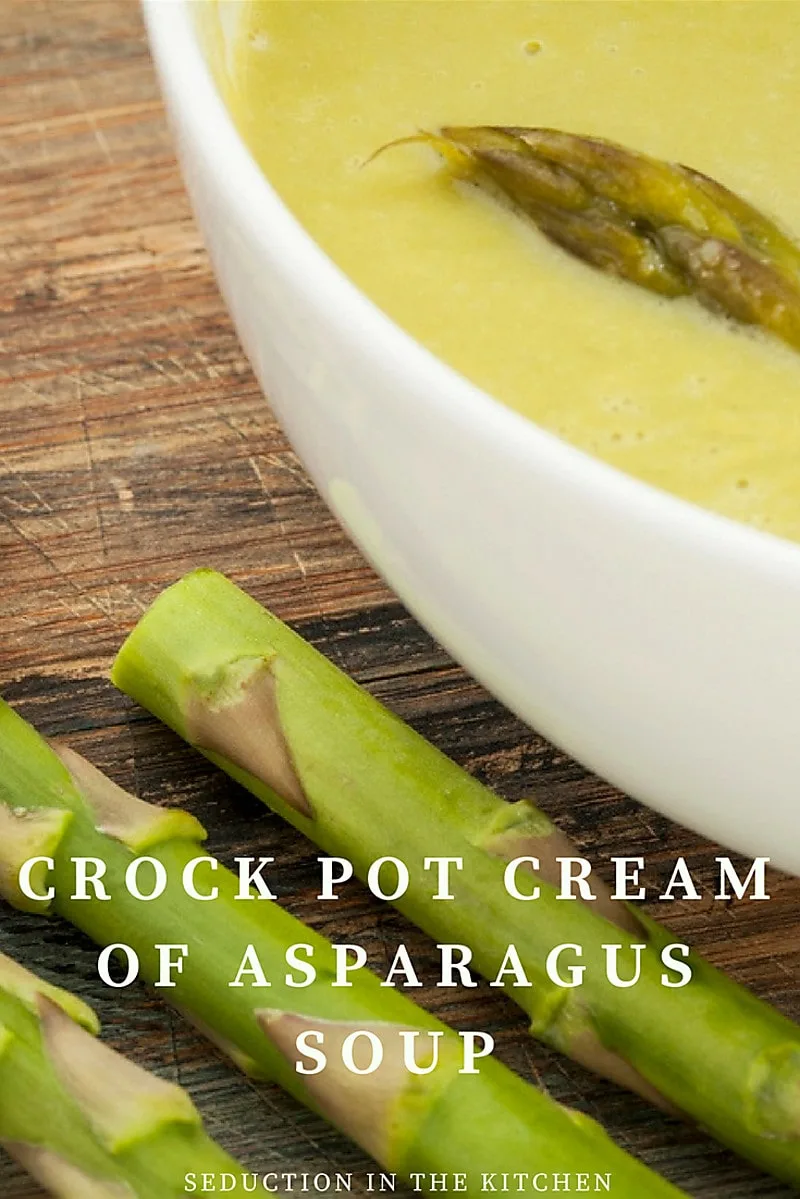 Asparagus Recipe
I got a box of asparagus sent to me. What Asparagus recipes can I make with this green vegetable? I could cream asparagus and make some type of asparagus soup.
Asparagus Soup
Creamed asparagus makes a wonderful asparagus soup. However, the only time I have had cream of asparagus soup was at the restaurant. I never actually made asparagus soup. So I had to rely on my friend Richard to help me plan a recipe for cream of asparagus soup.
Recipe For Cream Of Asparagus Soup
Outside of sauteing asparagus, a recipe for cream of asparagus soup was the best thing to do with a huge box of asparagus. So after talking with my friend, it was decided in order to have a simple asparagus soup I should make this cream of asparagus soup in a slow cooker.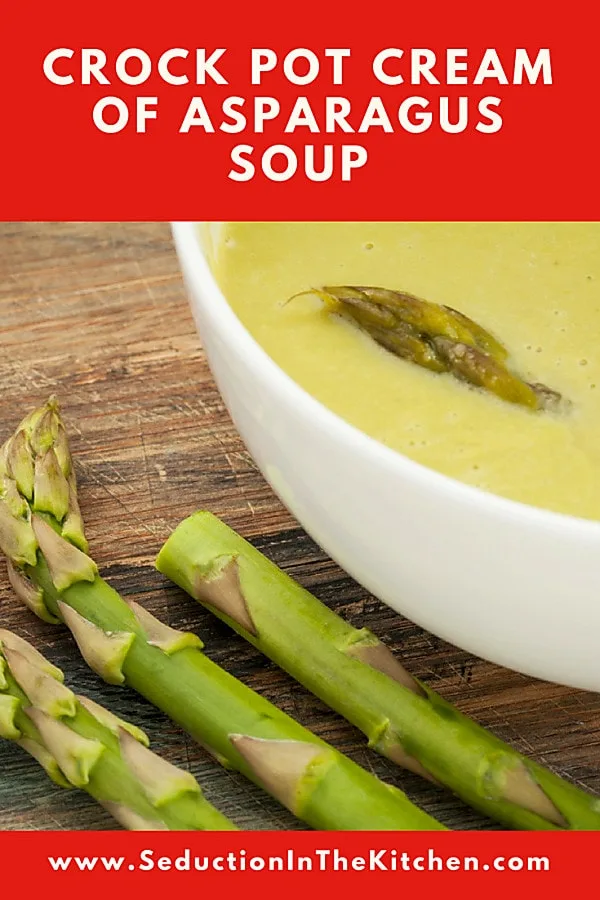 Crock Pot Cream Of Asparagus Soup
I love slow cooker soup recipes. Making this cream of asparagus soup in a slow cooker was my best choice. I love how the creamed asparagus slowly cooks up into a wonderful tasting asparagus soup.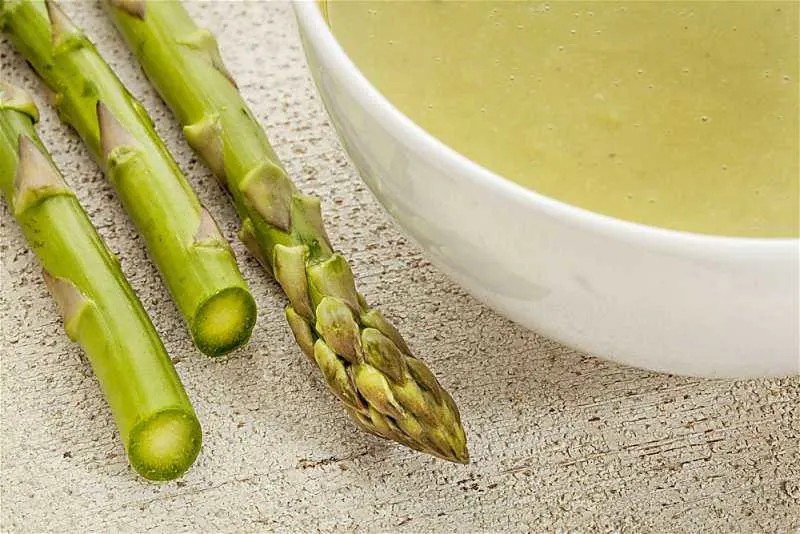 So, using what I know about easy crockpot recipes, I set about making my own version of cream of asparagus soup recipe using a crock pot. This cream of asparagus soup recipe came together so well.
This creamy asparagus soup recipe was amazing. You can make asparagus slow cooker with ease. Trust me you will love this cream of asparagus soup recipe.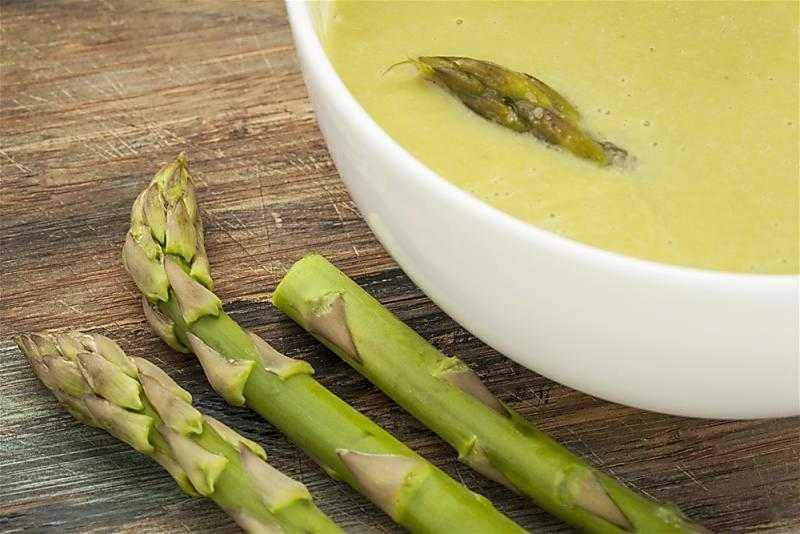 Yield: 6 Servings
Crock Pot Cream Of Asparagus Soup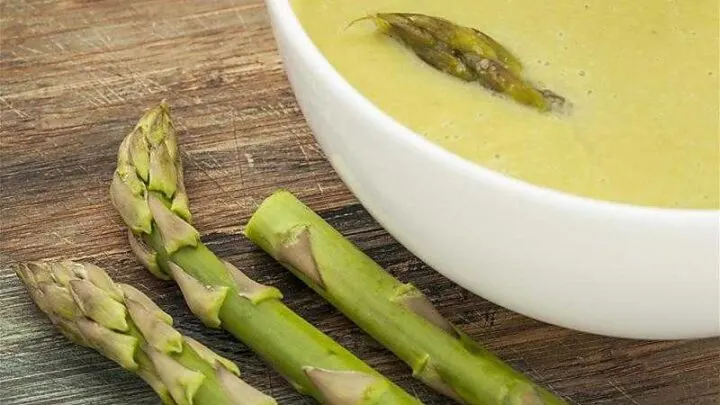 Creamy Asparagus soup made in the crock pot. A recipe from Seduction in the Kitchen.
Total Time
4 hours
10 minutes
Ingredients
1/4 cup unsalted butter
2 shallots (finely minced)
2 tablespoons garlic (minced)
1/2 teaspoon garlic salt
4 cups vegetable stock
3 lbs asparagus (trimmed and cut into 1 inch pieces-reserve tips)
2 potatoes (peeled and cut into 1/2 chunks)
2 tablespoons fresh basil (chopped well)
1 tablespoon chopped chives
2 scallion (finely chopped)
1 cup heavy cream
1 cup 2% milk
1 tablespoon flour
1 tablespoon melted butter
Pepper to taste
Instructions
Prepare the asparagus, by bending one stalk in half, it will break in two. Keep the end that has the flower tip, throw the other half away. It is inedible. Do this with all the stalks of asparagus.
In a fry pan, melt the butter and saute shallots and garlic. Saute for about a minute, add the garlic salt and a little pepper. Then add the asparagus tips. Saute them, stirring constantly for about 2-3 minutes. Then remove from the heat.
Remove about 10 tips and set them aside. In a crock pot, put in the vegetable broth and place on low. Add the potatoes and the asparagus saute mixture. Finally add the basil, let cook on low for about 4 hours.
After 4 hours check the asparagus and potatoes, if they are soft, Strain out all the vegetables and basil, and put them into a blender. add a small amount the broth, and puree the mixture. Add it back to the crock pot.
The 10 tips you reserved, finely slice them. Add them, the scallions, and the chives to the soup.
Add the milk and cream and give a nice stir, cover and let cook another hour.
After an hour, mix the butter and flour together. melt it into soup. This will help thicken the soup. If you need to use more of the melted butter mixture you can, let get to a thickness you like. Cover and let cook 1/2 hour more.
Adjust the seasoning with a little pepper, ladle out into some bowls and ENJOY!
Recommended Products
As an Amazon Associate and member of other affiliate programs, I earn from qualifying purchases.
Nutrition Information:
Yield:
6
Serving Size:
1
Amount Per Serving:
Calories:

375
Total Fat:

25g
Saturated Fat:

16g
Trans Fat:

1g
Unsaturated Fat:

8g
Cholesterol:

74mg
Sodium:

663mg
Carbohydrates:

31g
Fiber:

7g
Sugar:

9g
Protein:

11g
Slow Cooker Soups
Looking for slow cooker soup recipes you can make? Check out these recipes from Seduction In The Kitchen
Check out my the latest on my other blog: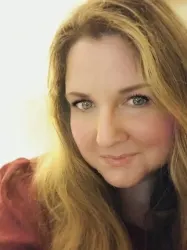 Latest posts by Deanna Samaan
(see all)