I am a participant in the Amazon Services LLC Associate Program, an affiliate advertising program designed to provide a means for me to earn fees to Amazon.com and affiliate sites.
Slow Cooker Chicken Noodle Soup is a good way to make good, old fashion chicken noodle soup. The slow cooker brings out the chicken flavor in the soup, that it is perfect for fixing it and forgetting it.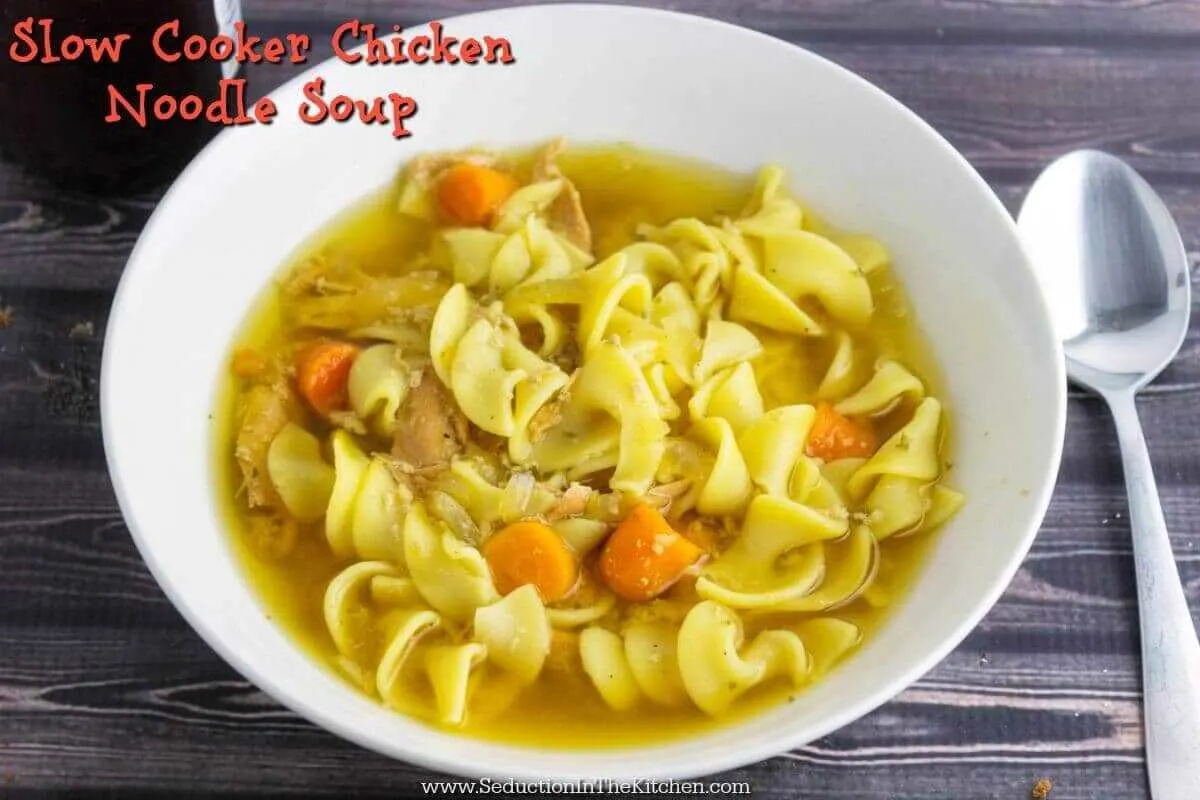 I have come to the conclusion that 2016 was the year I became awake. So 2017 will be the year that I live. I can't explain it, but I just feel more alive, like the entire time I have been in Cleveland I been in this fog.
I started my healthy eating. I am determined to just make improvements on myself. No getting upset that I go off a diet and can't lose weight. In fact, I have even started making little infographics for Instagram that I am also sharing on Facebook.
I am using myself, what I am doing to make these graphics. It is a new year, so it is a new me. I feel great with this new outlook on my life. Why am I doing this? To help inspire others. Plus, it motivates me as well.
I am in the middle of going through every post and updating the schema on the recipe cards. I noticed as I am plugging away at this, my traffic for Seduction is steadily increasing. It is amazing how making a small little change can make the biggest difference. I am always about making changes. Yes, this task of doing the changes to the recipe schema is a pain, but the results I am seeing so far is showing me this is worth the headache of combing through 400 posts.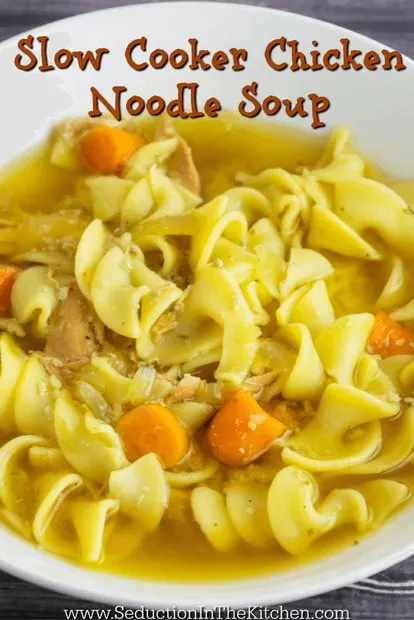 Slow Cooker Chicken Noodle Soup
Yes, I love making soup in the slow cooker. What is funny as I am going through the old posts I have realized something, what spices I tend to favor. When I started Seduction in the Kitchen it was McCormick's Garlic and Herb seasoning. Now I favor Vegeta.
A friend got me into that spice. It really brings out the flavor in everything, especially soups. I admit I been a little under the weather and chicken noodle soup is perfect for that. Making it in the slow cooker, well get out the Vegeta and make slow cooker chicken noodle soup!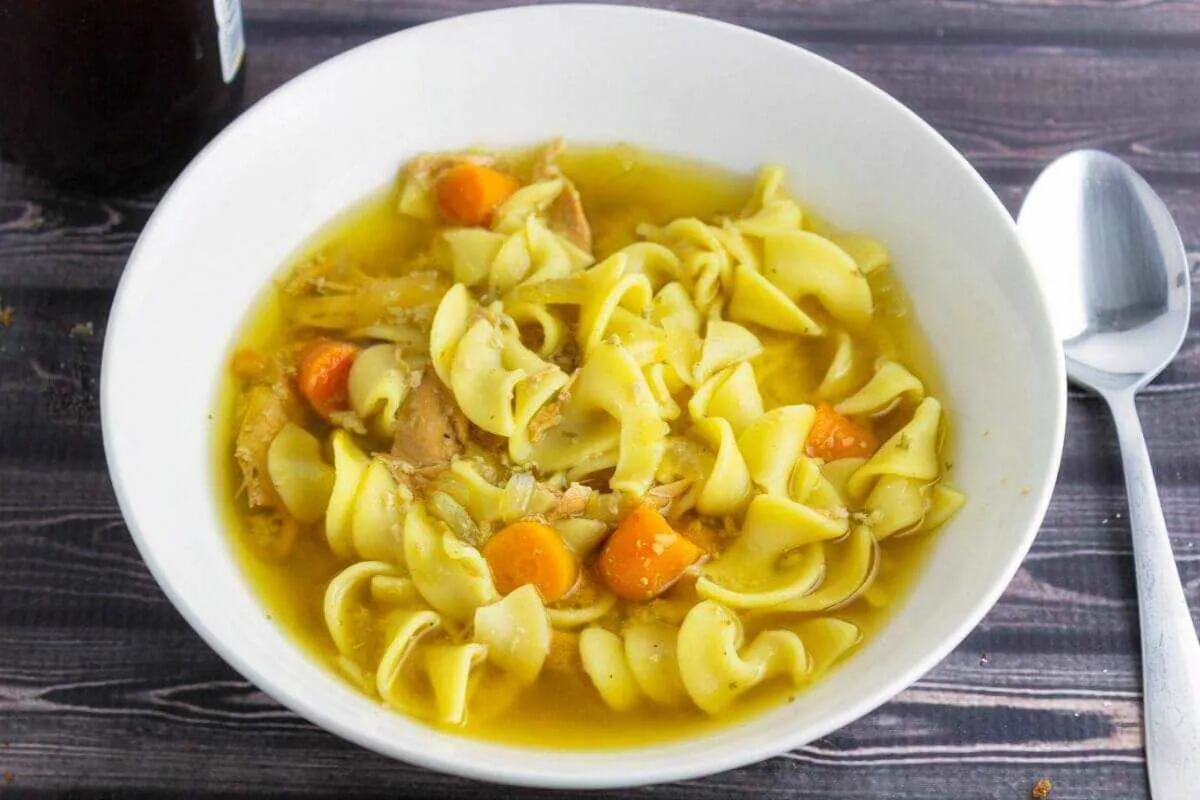 Yield: 6 Servings
Slow Cooker Chicken Noodle Soup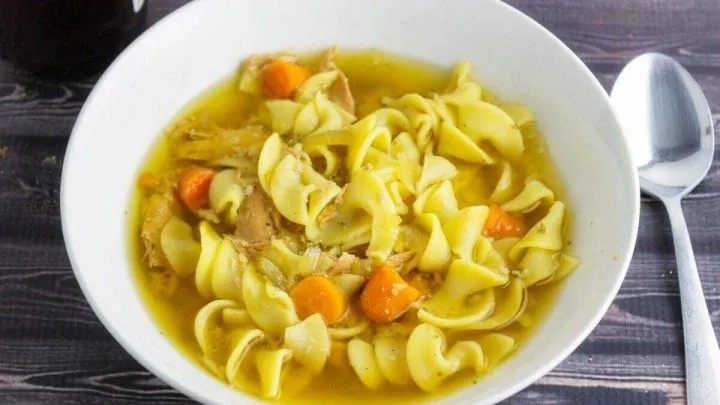 Slow Cooker Chicken Noodle Soup is a good way to make good, old fashion chicken noodle soup. The slow cooker brings out the chicken flavor in the soup,
Total Time
8 hours
10 minutes
Ingredients
8 cups canned chicken broth
1 cup carrot (chopped)
1 cup celery (chopped)
1 cup onion (chopped)
1 clove garlic (minced)
2 leaves bay
1/2 teaspoon dried thyme
4 teaspoons Vegeta
1/2 teaspoon fresh ground black pepper (to taste)
3 lbs boneless chicken breasts
3 cups wide egg noodles (uncooked)
Instructions
In 6-quart slow cooker combine broth, carrots, celery, onion, garlic, bay leaves, thyme, Vegeta, and pepper.
Place the whole chicken breasts into the broth.
Cover slow cooker with the lid and cook on low setting 6-8 hours.
Transfer chicken to cutting board and shred the meat.
Discard bay leaves.
Add noodles and shredded chicken to slow cooker; cover with lid and cook (on low or hig20 minutes.
Serve it up and ENJOY!
Nutrition Information:
Amount Per Serving:
Calories:

310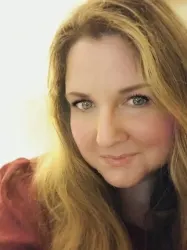 Latest posts by Deanna Samaan
(see all)