This post was most recently updated
Oktoberfest Mac 'n Cheese is beer cheese homemade mac n cheese recipe made with Great Lakes Oktoberfest Beer. This Oktoberfest food idea is a favorite Oktoberfest recipe. Serves 4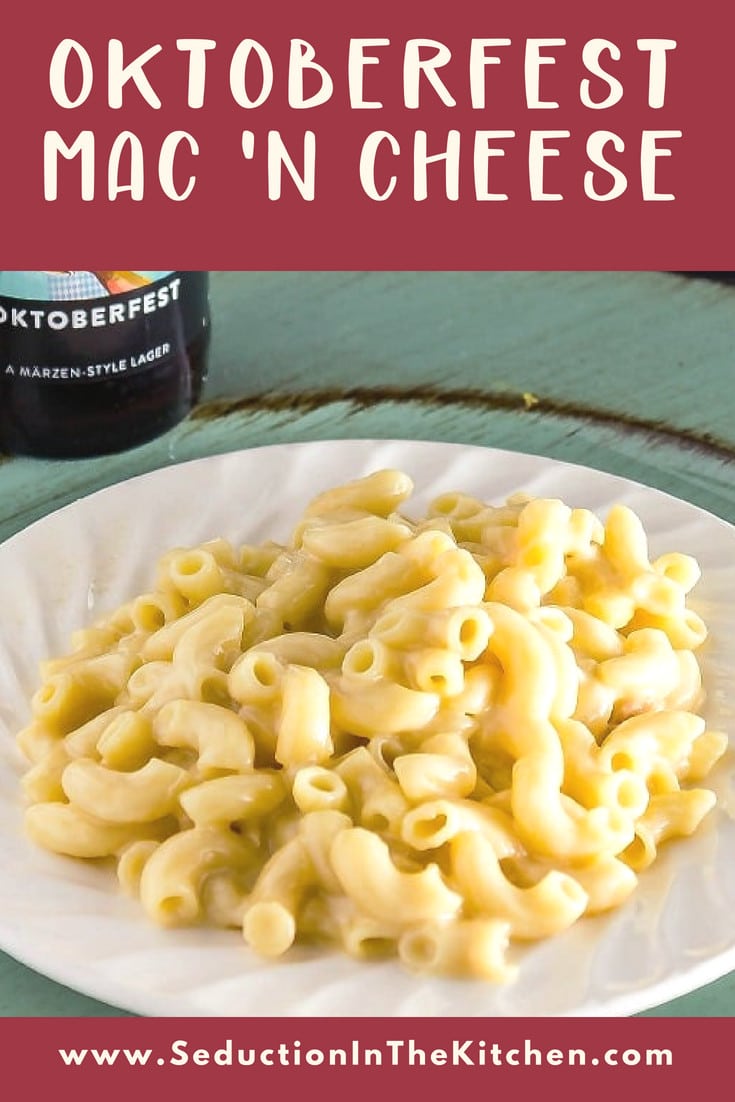 Oktoberfest Food Ideas
I love Oktoberfest. Maybe it is the German in me, but Oktoberfest food ideas are recipes I adore! I admit I do not have a lot of Oktoberfest recipes on Seduction In The Kitchen. I have done Oktoberfest food ideas for Parade Magazine.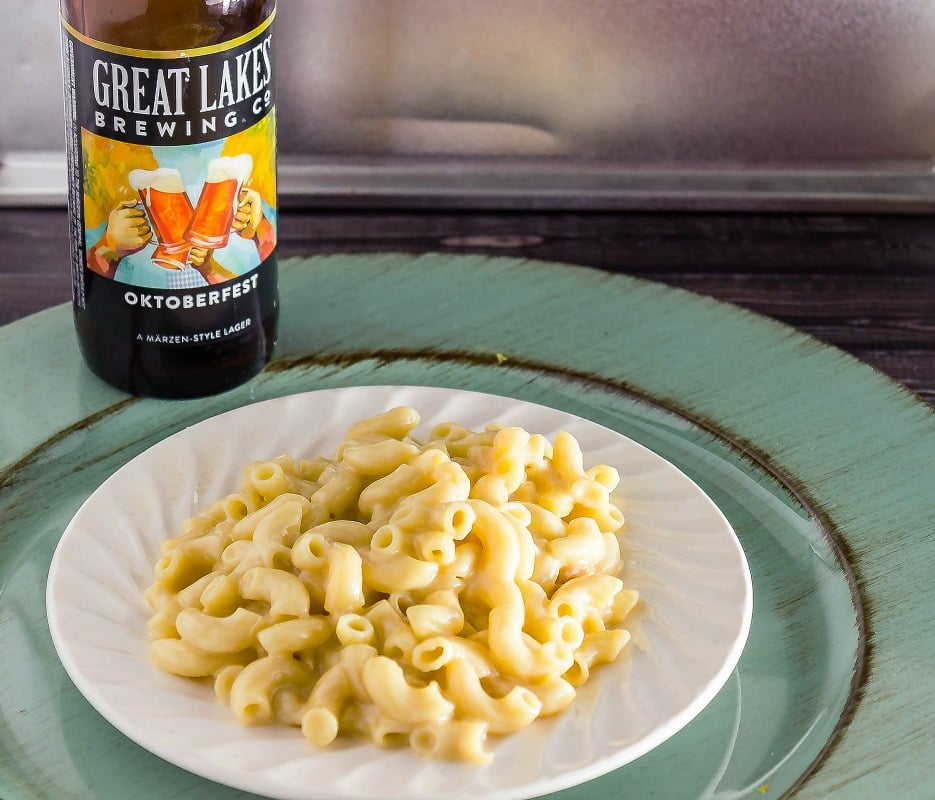 Great Lakes Oktoberfest
I am not a beer drinker. So when I need beer advice for recipes, I will ask my friends. I knew I wanted to play around with homemade mac n cheese recipes. I wanted to add beer to the cheese sauce.
I asked, what would be a good beer to use? A suggestion of Great Lakes Oktoberfest beer was given to me. The more I thought of it, a beer cheese mac n cheese using Great Lakes Oktoberfest would be awesome for Oktoberfest food ideas!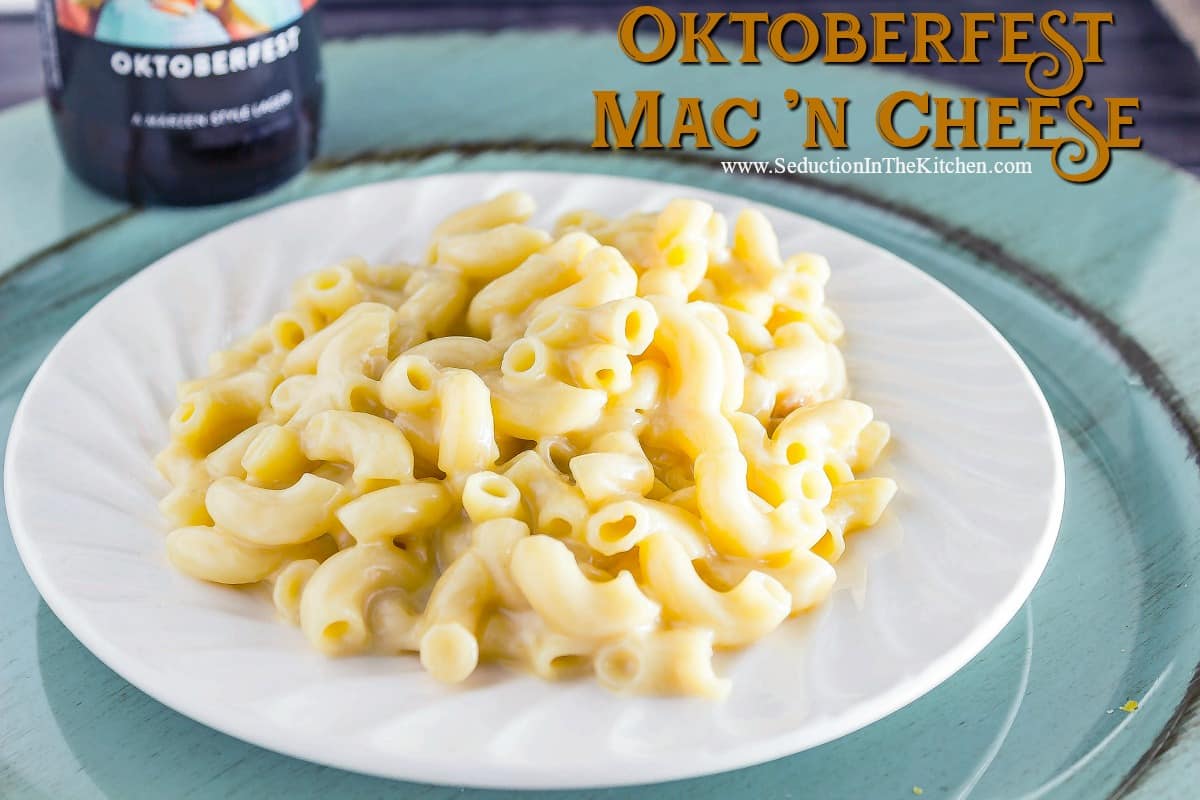 Homemade Mac n Cheese Recipe
I felt a homemade mac n cheese recipe with the Great Lakes Oktoberfest would be great for autumn mac n cheese. I Felt if I boil the elbow macaroni in Oktoberfest beer, that flavor would be infused into the pasta. It is a gamble but really feels it could work for this Oktoberfest recipe.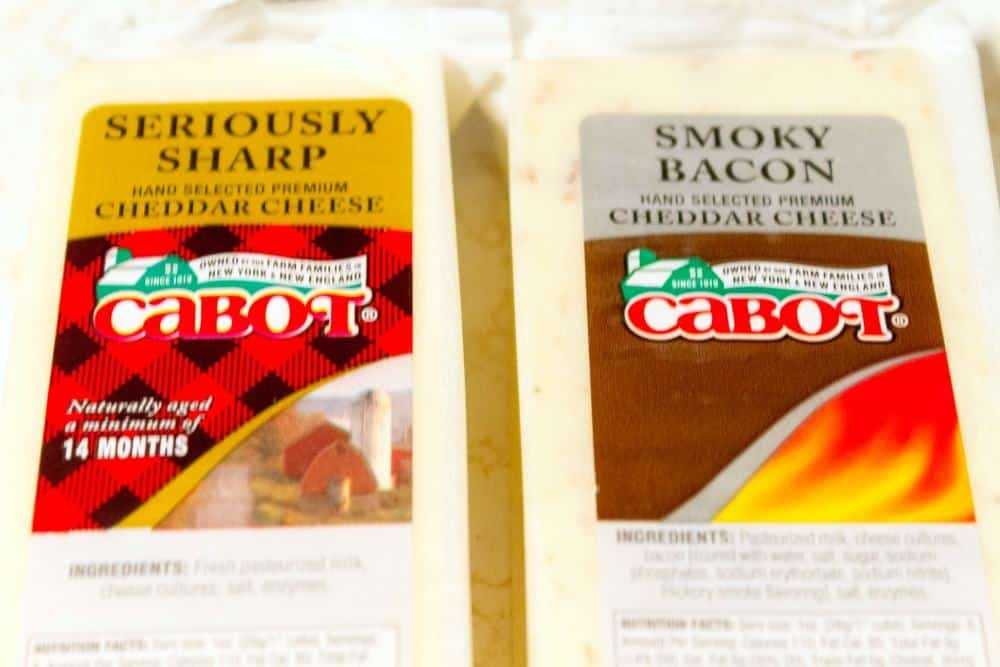 Cabot Creamery
The secret to this Oktoberfest Mac 'n Cheese would be in the cheese. I was trying to think what cheese would be good with this beer infused macaroni when I spotted at the store Cabot Creamery's new cheese. It was a Smokey Bacon.
That was when my brain started to think, why not keep this simple, use the regular cheddar cheese from Cabot Creamery and this smokey bacon cheese as well. Those cheeses would be wonderful with beer.
The Cabot Creamery cheeses shredded very nicely. Plus it melts so nicely into the roux I made for this mac n cheese. I am really loving the flavor that the Cabot cheese was created in the sauce.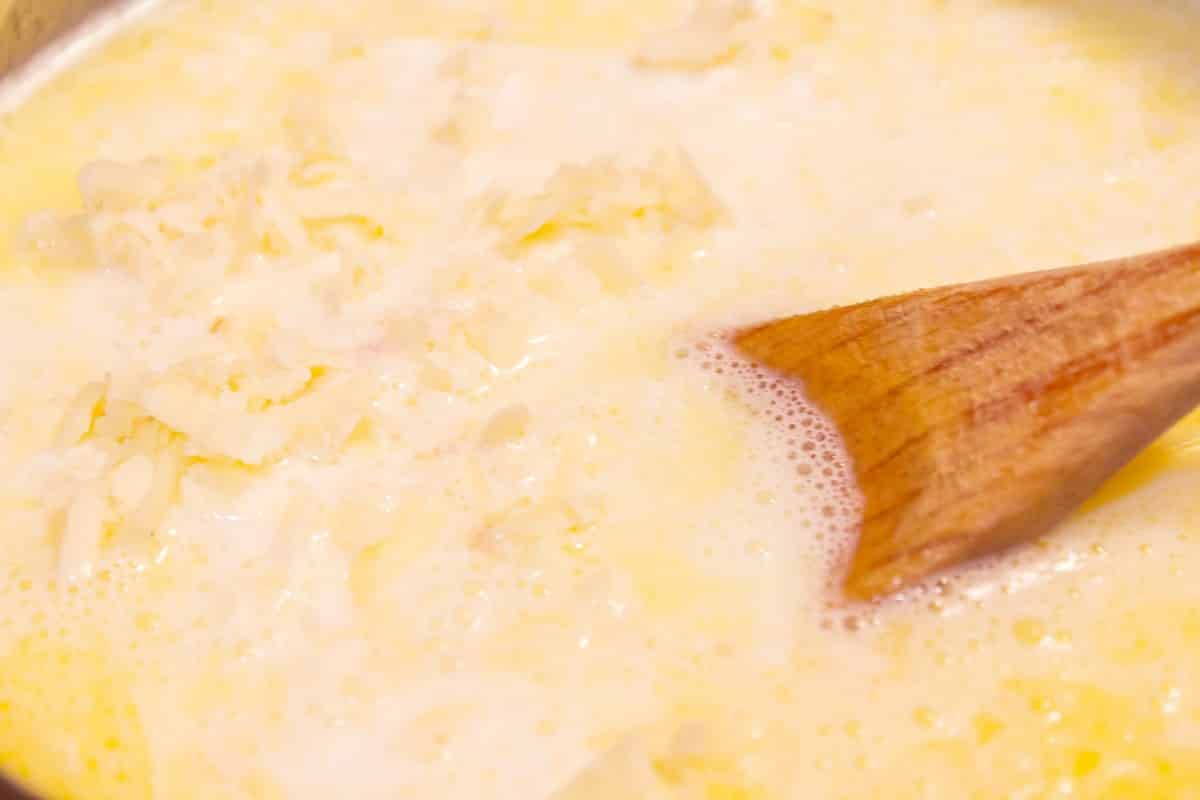 Oktoberfest Recipe
I grew up eating homemade mac n cheese that was made on the stove, not baked. When mac n cheese is made on the stove it just swims with creaminess. Baked mac n cheese is nice, but the gooey cheese of stovetop that is what I prefer, plus it that creaminess I wanted for this Oktoberfest recipe.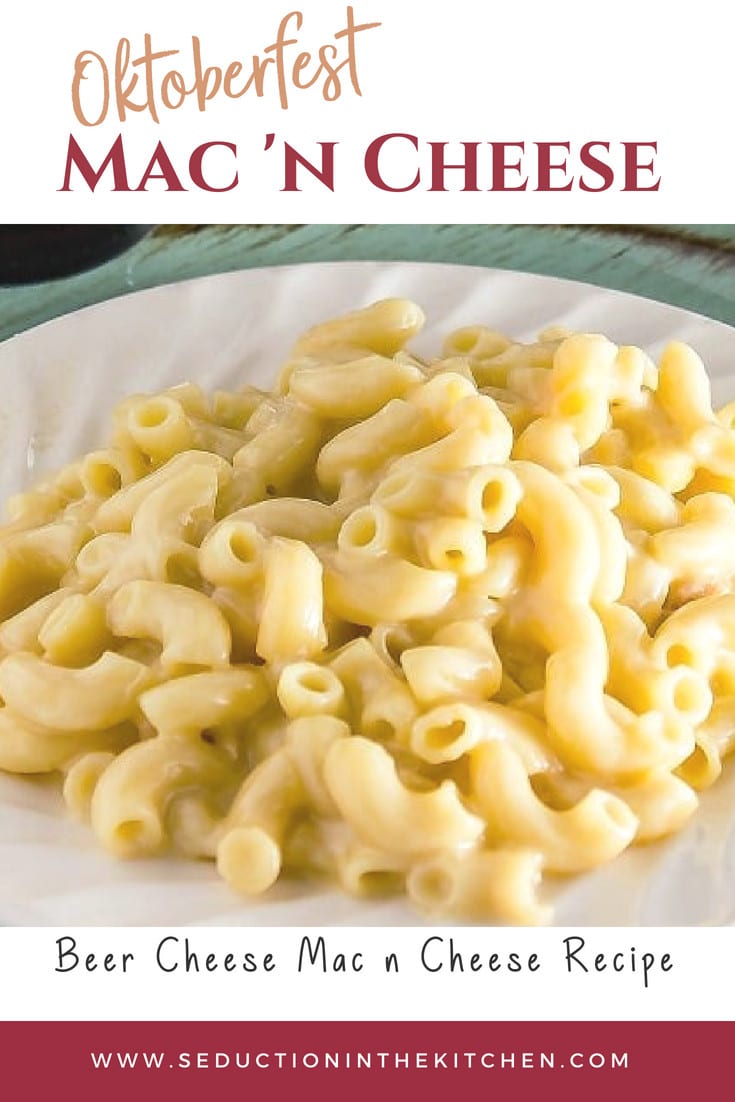 Oktoberfest Mac 'n Cheese
So of course for this Oktoberfest Mac 'n Cheese recipe, it is a stovetop recipe. If I was to do a baked homemade mac n cheese version I would make it with a topping of crispy bacon and caramelized onions!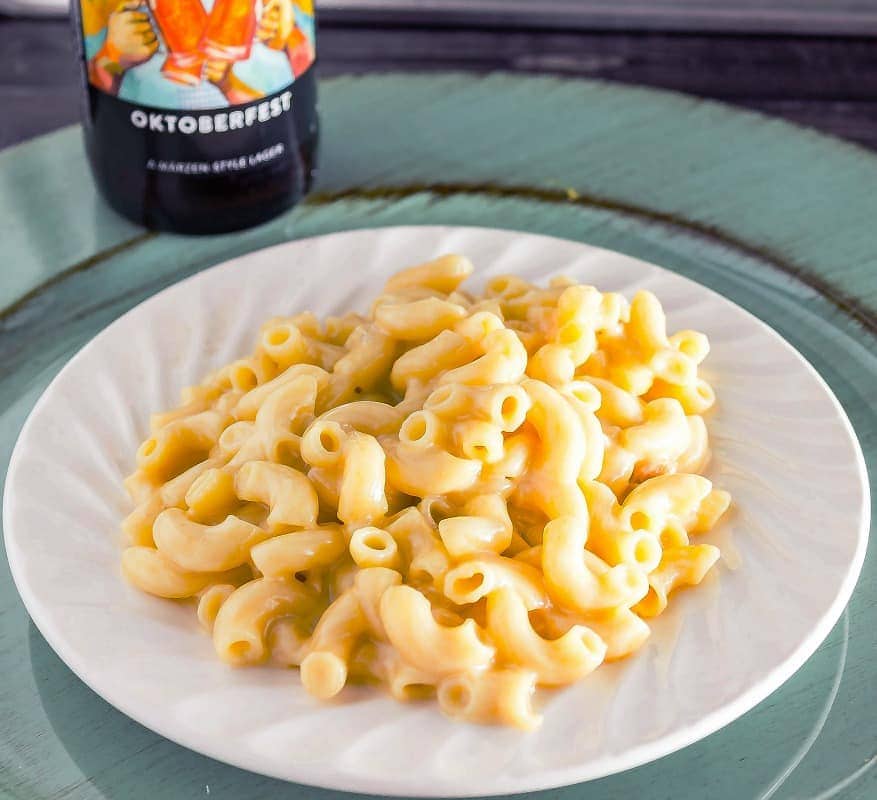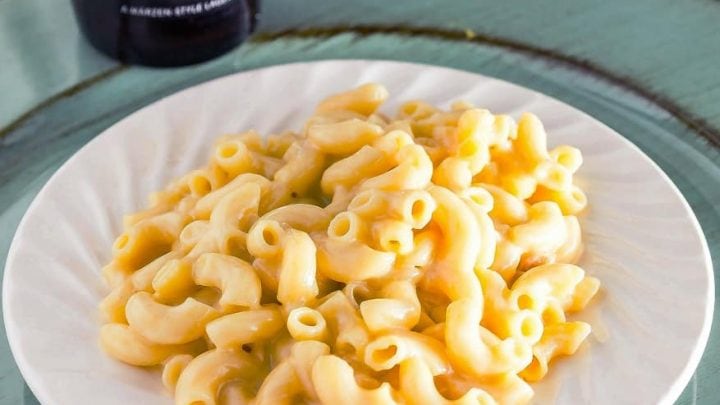 Yield:

6 servings
Oktoberfest Mac 'n Cheese Recipe
Oktoberfest Mac 'n Cheese is full of flavor from the Great Lakes Oktoberfest Beer to the bacon flavored cheese from Cabot Creamery. One bite of this mac n cheese will have you wanting to devour the entire pot of it. It is simply that good. A recipe from Seduction in the Kitchen.
Ingredients
1 1/2 cups elbow macaroni
3 tablespoons butter
3 tablespoons all-purpose flour
2 cups whole milk
4 ounces Cabot sharp cheddar cheese (shredded)
4 ounces Cabot smokey bacon cheese (shredded)
2 cup bottles of Oktoberfest beer (reserve 1/2)
2 teaspoons full strength prepared stone ground mustard
1 teaspoon garlic powder
1 teaspoon ⁄2 black pepper (freshly ground)
Instructions
Put the beer, all but 1/2 cup of it, into a pot and bring to a boil.
Gradually add macaroni and boil approximately 10 minutes or until pasta reaches desired tenderness. Drain.
Melt butter in a saucepan over medium heat.
Add flour to the pan, stirring constantly until a smooth paste forms.
Stirring constantly, gradually add milk and continue cooking until mixture is thick and bubbly (mixture should coat the back of a spoon).
Add the cheeses and stir until completely melted.
Remove from heat and 1/2 cup of beer, mustard, garlic powder, pepper. Stir well.
Let it sit for about 10 minutes, it will thicken as it cools.
Serve it up and ENJOY!
Recommended Products
As an Amazon Associate and member of other affiliate programs, I earn from qualifying purchases.
Nutrition Information:
Yield:
6
Serving Size:
1
Amount Per Serving:
Calories:

387
Total Fat:

23g
Saturated Fat:

12g
Trans Fat:

1g
Unsaturated Fat:

9g
Cholesterol:

65mg
Sodium:

555mg
Carbohydrates:

21g
Fiber:

1g
Sugar:

4g
Protein:

17g
Check out my the latest on my other blog: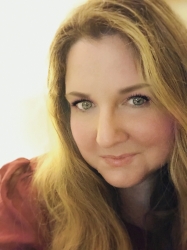 Latest posts by Deanna Samaan
(see all)