This post was most recently updated
Slow Cooker Potato Chowder is an easy and savory cheesy potato soup made in the slow cooker. This thick and hearty soup will warm you right up.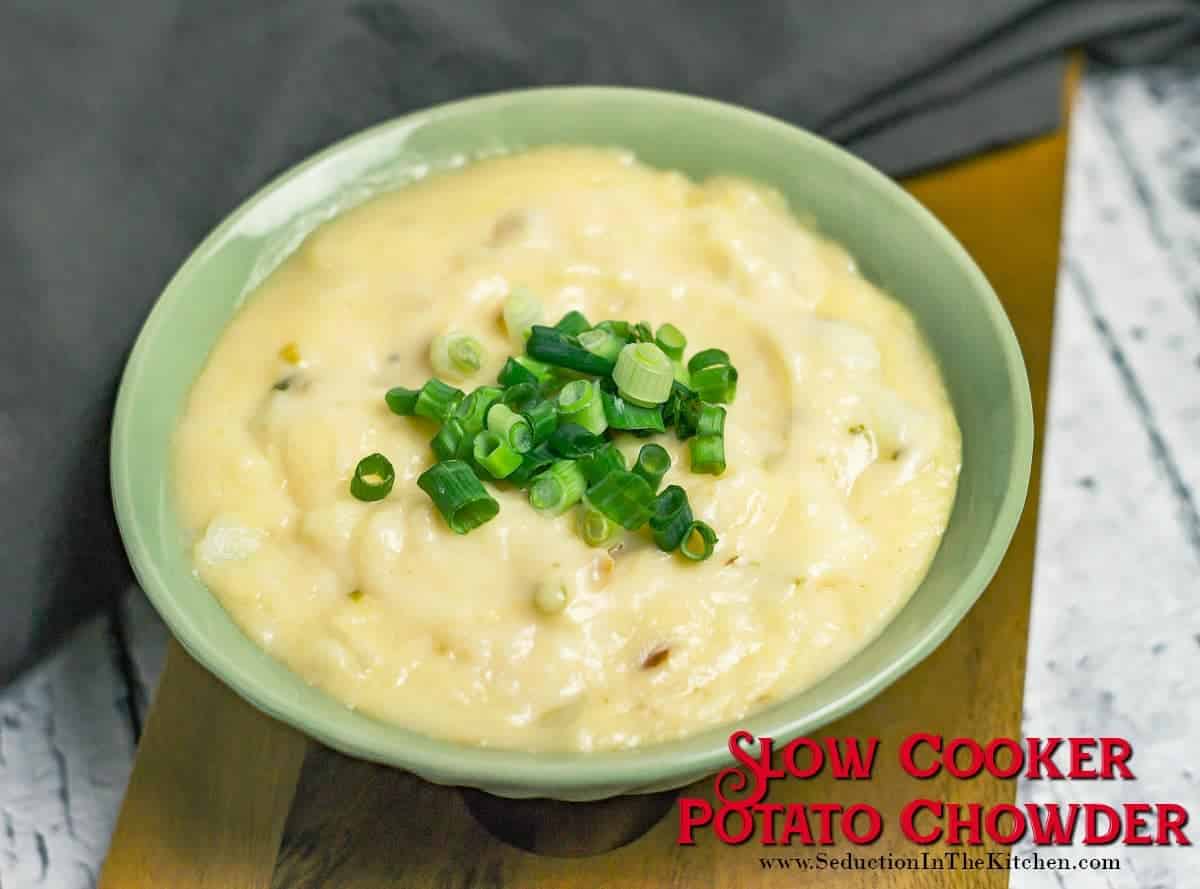 May 25, 2013
M
ay 25, 2013, was the original date for this Slow Cooker Potato Chowder. It was my 4th recipe I put up on Seduction in the Kitchen. I was also in the cast and I talked about my cats, Doodle Bug, Lily, and Angel in the post.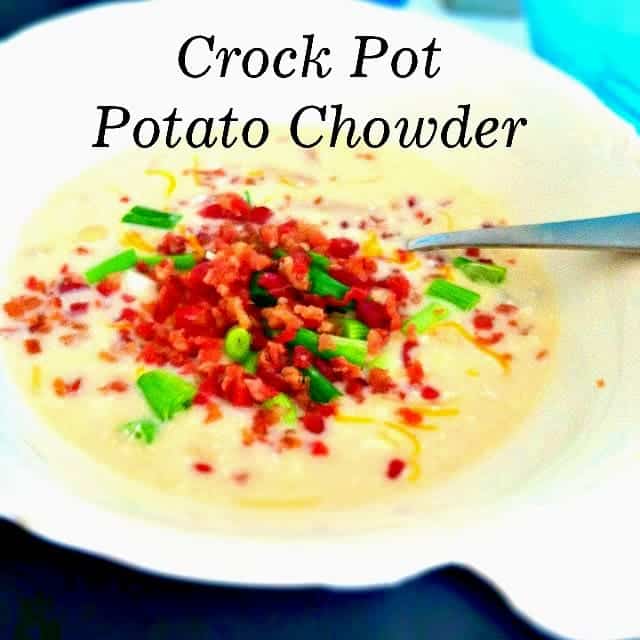 Well, now 2018 is about to happen, and time for a change. Yes, I had to post those old photos as the homage to the old post that once was. This is a redo on that post. Amazing how far I have come since 2013.
Stories
Before I get to the Slow Cooker Potato Chowder, I want to talk briefly about something. When I started Seduction in the Kitchen, it was a way for me to keep busy since I was in that cast and on bed rest for 3 months as you see with the photo with my cats. I never thought I get so far with this food blog.
Along the way, I wrote about what was going on in my life. I also have given out advice and navigating the roller coaster of life since May of 2013. I didn't know what I was doing, I simply wrote a blog.
Now, I do know what I am doing. I mean, my photos as you can see really have improved. I wrote about improving them so much here on Seduction. To me, it was my goal to just keep improving myself.
Now I find myself wondering about adding stories to the posts. There has been a rash of articles on the internet that has been written lately that are basically saying how people hate food blogs because the stories they have in a post the recipe comes up. I have seen the comments people reply to these stories and 90% of them agree with the article.
Well, what does a food blogger do? A while ago, I said I was trying to scale back on the personal side and tone down my stories, but I got people commenting that was what they love about my blog. I was told they love the heart it has. So I decided to go back to it but organize the posts with headings so if you don't want to read the story, you can scroll past it. Also, I added the jump to recipe option as well.
I don't know what to do. I am someone who loves to balance. I am after all a Libra and this what we do, we balance. So I am asking you as a reader, do you want the stories I have put up or would you rather I find some balance? Please let me know, I will do what you want, after all, I am not afraid of change as you well know.
Slow Cooker Potato Chowder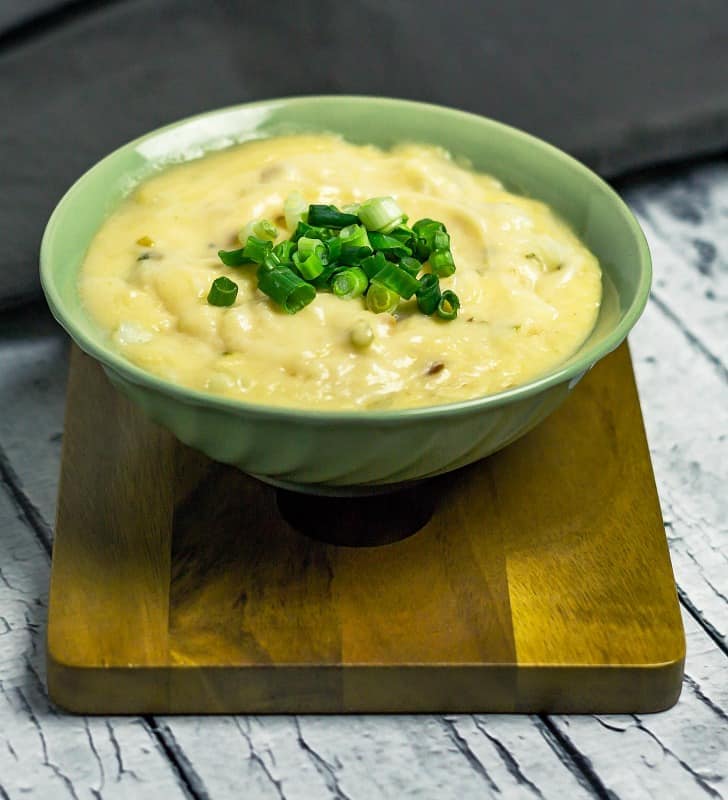 I love soup. Truthfully, soup is my ultimate comfort food. I basically live on different soups in the winter.
They are just fulfilling and it comes in different forms. It can be creamy like this Slow Cooker Potato Chowder or can be just broth and noodles. Soup is one of those recipes that can appeal to everyone.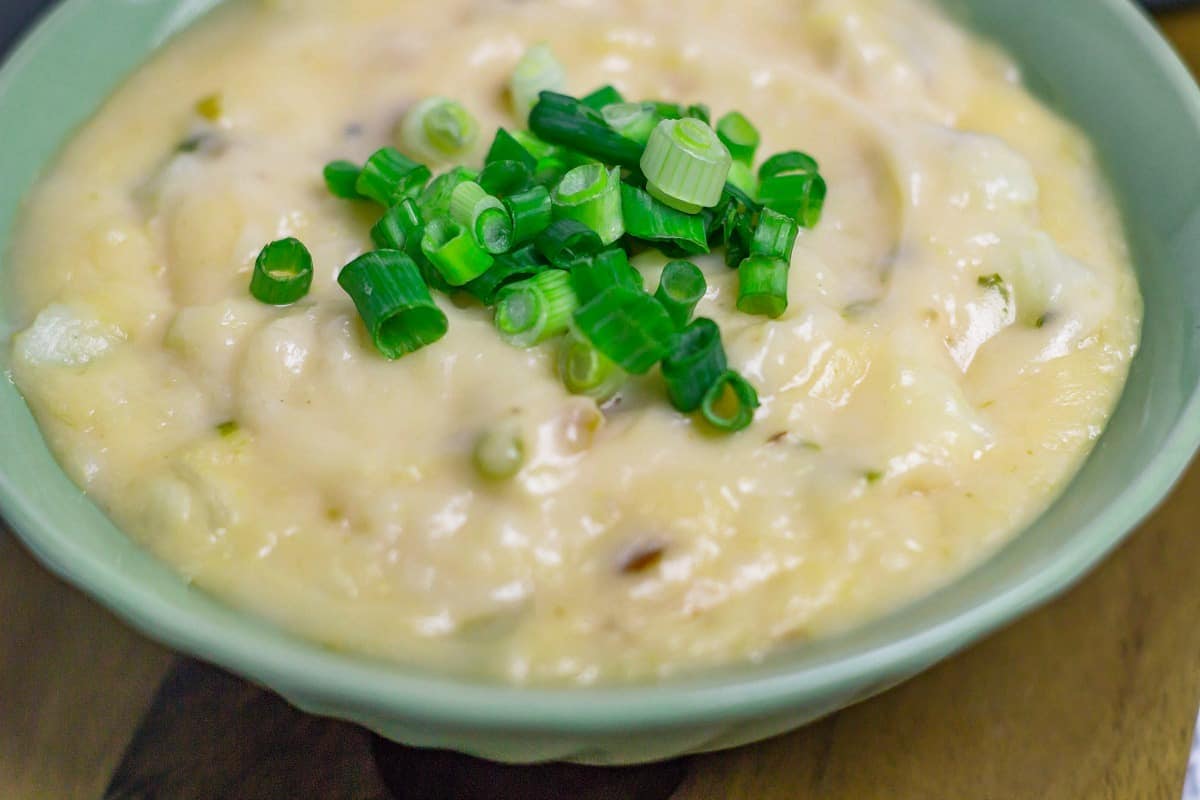 With this Slow Cooker Potato Chowder, I admit I make this quite a lot because it is so simple. Back in 2013, the reason I chose to do this recipe on the blog was I could really put in the slow cooker and forget about it. When you are in a cast, trust me you want simple.
A forget about it recipe is just perfect! Plus it just has a really nice taste to it. If you want a great potato soup recipe look no further than this one.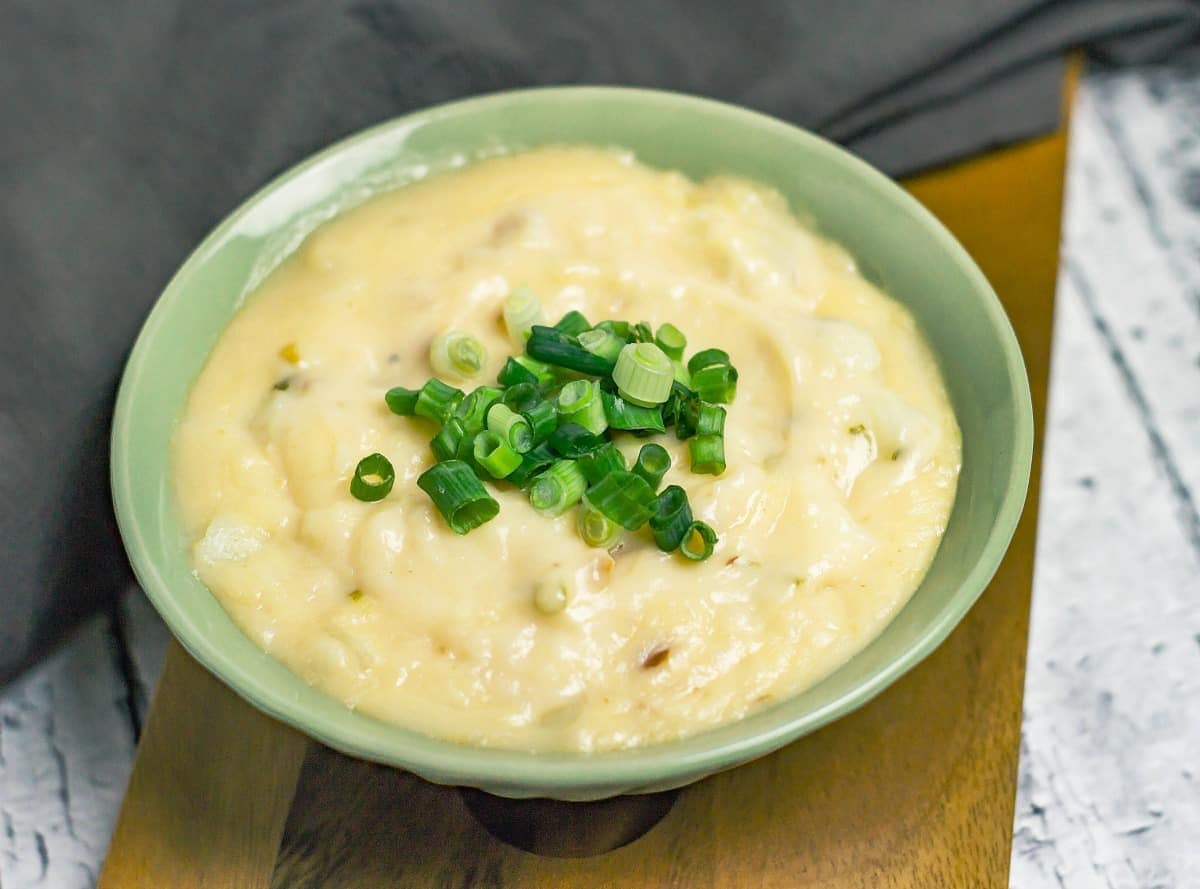 Check Out These Recipes:
Slow Cooker Bacon Cheeseburger Sheppard Pie
The Pittsburgh Panini: Pittsburgh Comfort Food Made In Panini Form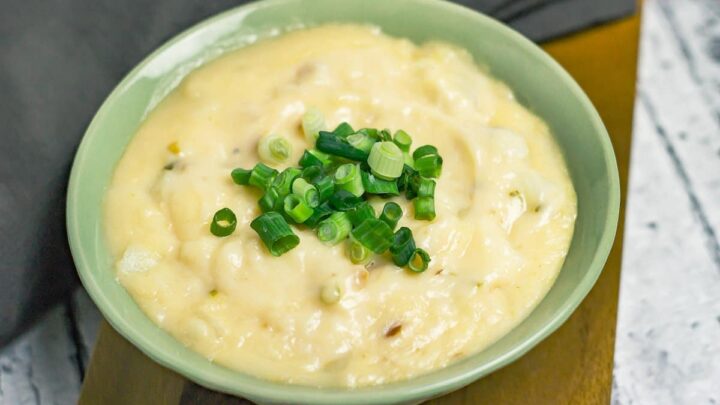 Yield:

8
Slow Cooker Potato Chowder
Total Time:
8 hours
10 minutes
A savory, easy potato soup made in the crock pot. A recipe from Seduction in the Kitchen.
Ingredients
8 cups diced potatoes
1/3 cup onion chopped
1 clove garlic, minced
1 1/2 teaspoon of rosemary
1/2 teaspoon fresh ground pepper
3 (14 1/2 ounce) cans chicken broth
1 (10 3/4 ounce) can condensed cream of celery soup
8 ounces cream cheese,soften and cubed
1 cup of shredded cheddar cheese
crumbled bacon
chopped scallions
Instructions
Chop up your potatoes and onions and add them to your crock pot.
Next add your soups, garlic, and seasonings. My black pepper is in a grinder so I give a few good cranks to add the pepper, so I estimated the amount I used for this recipe. You can add what you think your taste preference is. I don't add salt, the soups already have salt in them, so most the time I do not add extra salt. After it is all done I may add it. Normally not while I am cooking.
Put the lid on and set on low for 8-10 hours. Told you fix it and forget it. Go on about your day. This good during the weekday, put all in a slow cooker in the morning, go to work, come home and dinner almost done for you. Told you I love crock pots for that very reason.
When the 8-10 hours has past, personally I do it for 10 hours, You want to cube the cream cheese. It best to let the cream cheese sit out and let come to room temp, before you cube it. It will blend much better into the soup then cold cream cheese. Add it and the shredded cheddar cheese into the soup.
One the most common complaints about adding cream cheese to crock pot recipes, especially soup recipes, is it doesn't seem to blend well, you still get cream cheese chunks. A little tip take a whisk and whisk it in as it is melting. The whisk blends it much better for a smoother soup then just using a spoon to mix it in.
Finally it is time to serve the soup. Add a little bit of the shredded cheddar on top, along with some scallions (green onions), and some crumbled bacon, then enjoy!
Nutrition Information:
Amount Per Serving:
Calories:

294
Total Fat:

16g
Saturated Fat:

9g
Trans Fat:

0g
Cholesterol:

48mg
Sodium:

919mg
Carbohydrates:

30g
Fiber:

4g
Sugar:

3g
Protein:

9g