Pumpkin Spice Cookies with Vanilla Bean Frosting is an easy recipe for pumpkin spice cookies. These pumpkin cookies from a cake mix! This pumpkin spice cookie recipe will be your favorite to make! Serves 12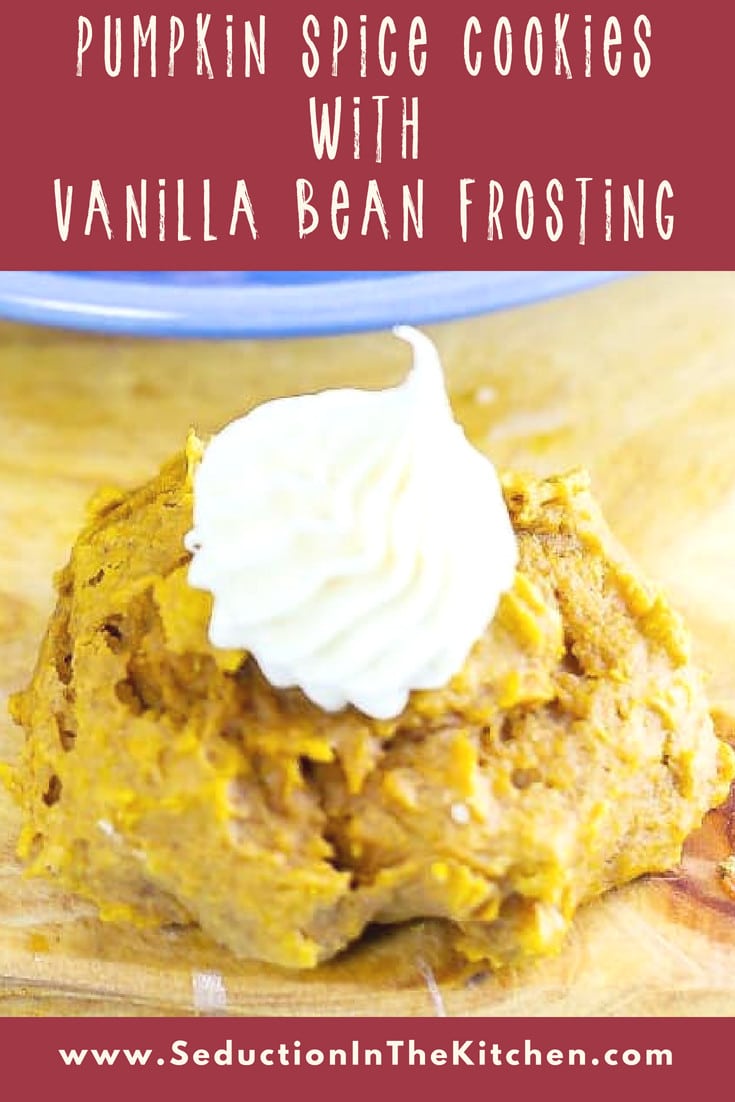 Pumpkin Spice Cookies Recipe
October 18, 2014, was the date of the original publication of this pumpkin spice cookies recipe. I came up with the recipe for pumpkin spice cookies when I was at my mom's house in PA. I decided it was time to give these pumpkin cookies with cake mix post a makeover!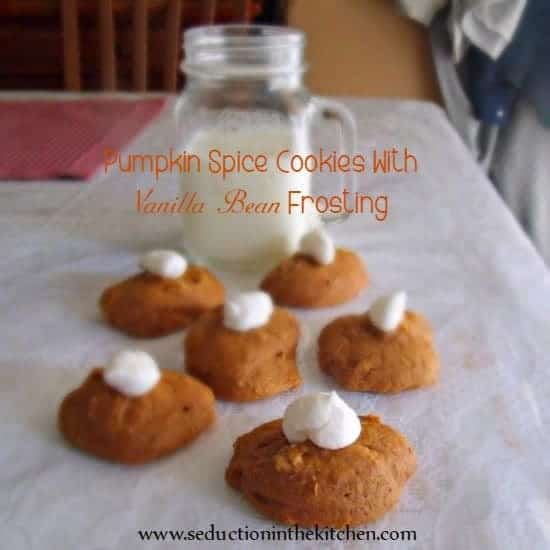 Recipe For Pumpkin Spice Cookies
When I stay at my mom's house in Pittsburgh, I have to keep recipe development simple. I needed this recipe for pumpkin spice cookies to be very simple. The best simple cookie recipe I know is cake mix cookies.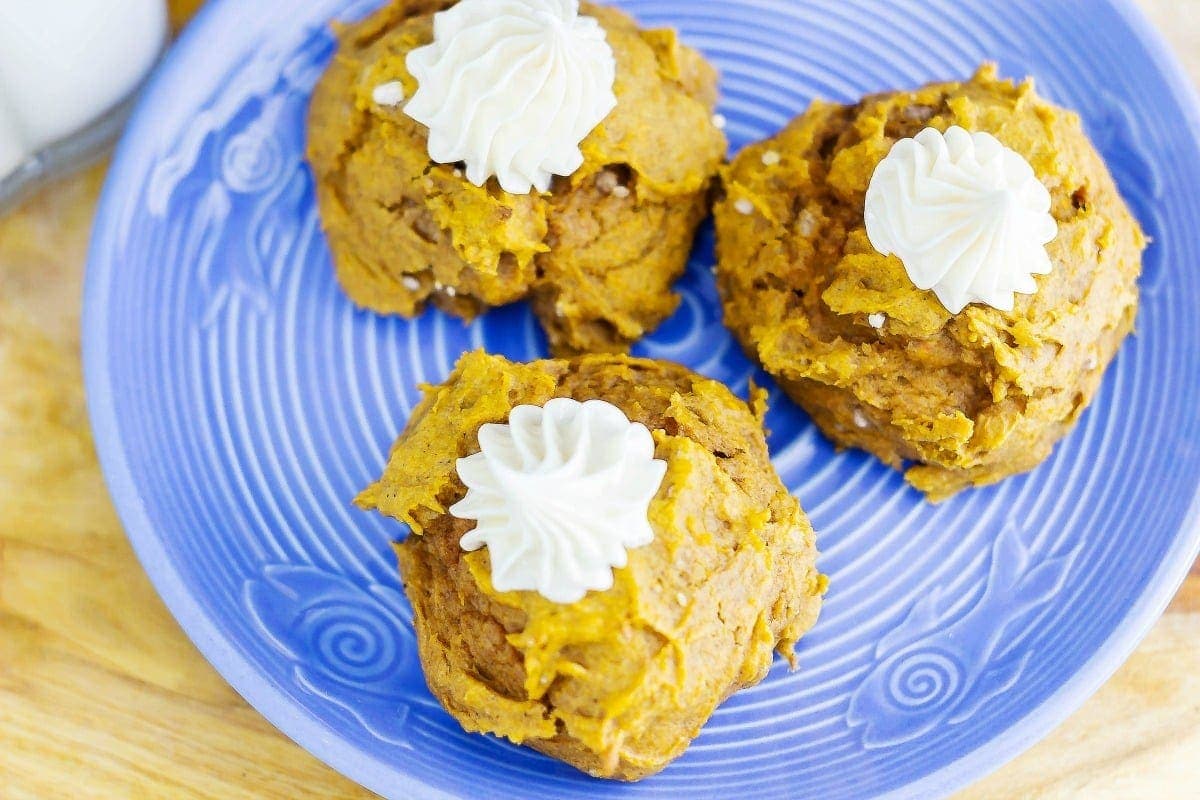 Pumpkin Cookies With Cake Mix
Why make pumpkin cookies with cake mix? Using cake mix for cookies keeps this pumpkin spice cookies recipe under 4 ingredients! See what I mean when I say these pumpkin spice cookies are simple!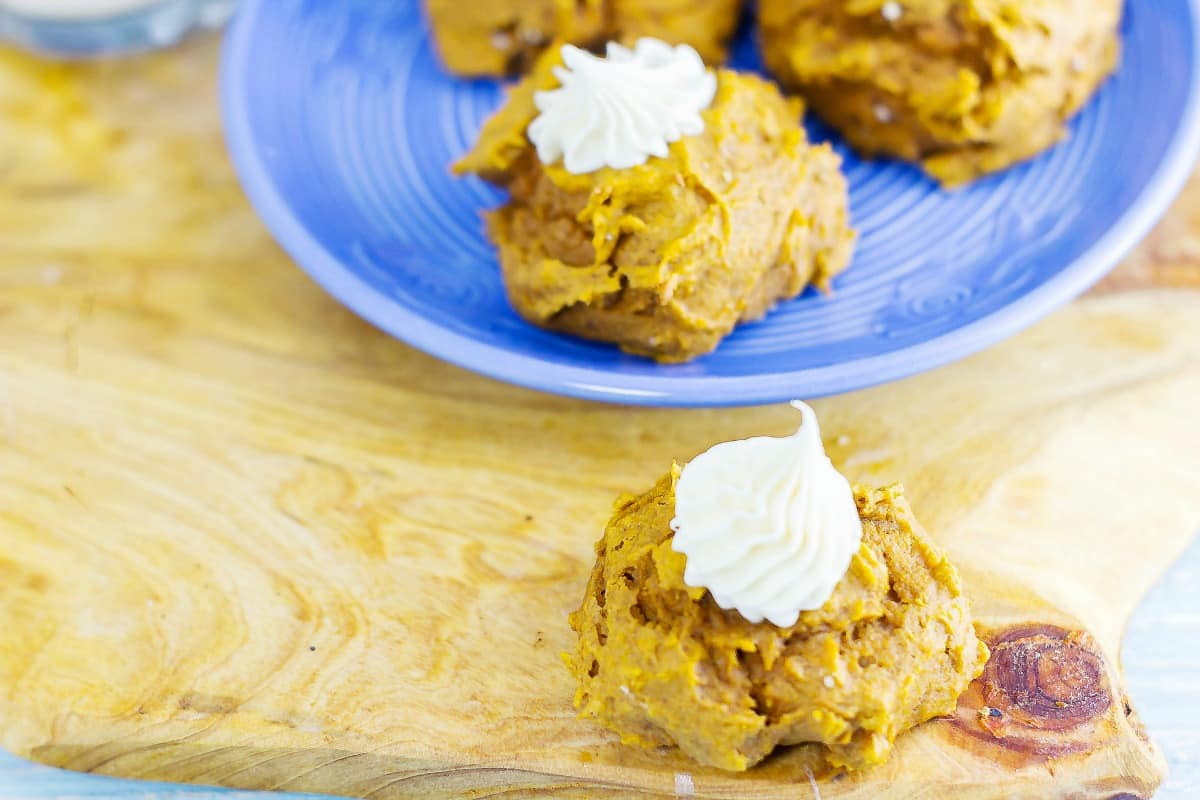 Vanilla Bean Frosting
Pumpkin spice cookies need some type of frosting. I choose to use my famous vanilla bean frosting I use on cakes. I love the light vanilla taste of this frosting recipe. You could do a cream cheese frosting for this recipe for pumpkin spice cookies if you want.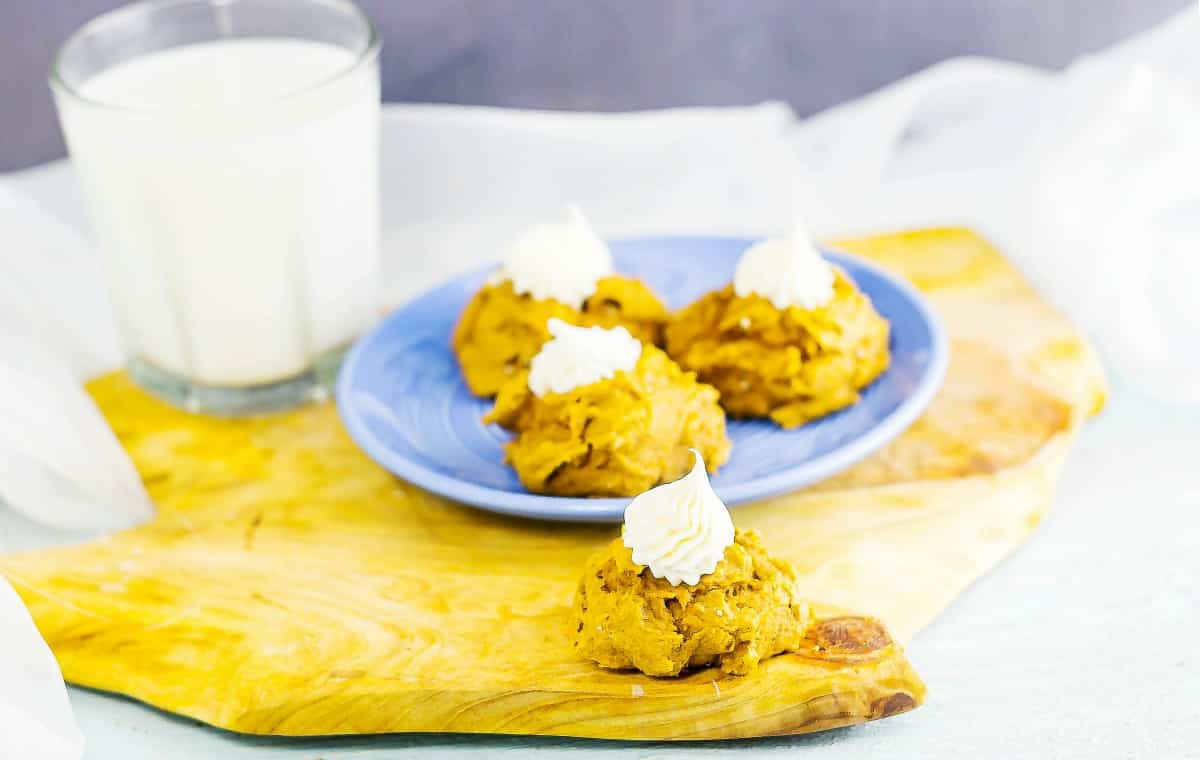 Spice Cake Mix
So how do I keep these pumpkin cookies from cake mix under 4 ingredients? The answer is simple, spice cake mix! The spiced cake mix, when mixed with pumpkin puree, makes for a great tasting pumpkin spice cookie recipe!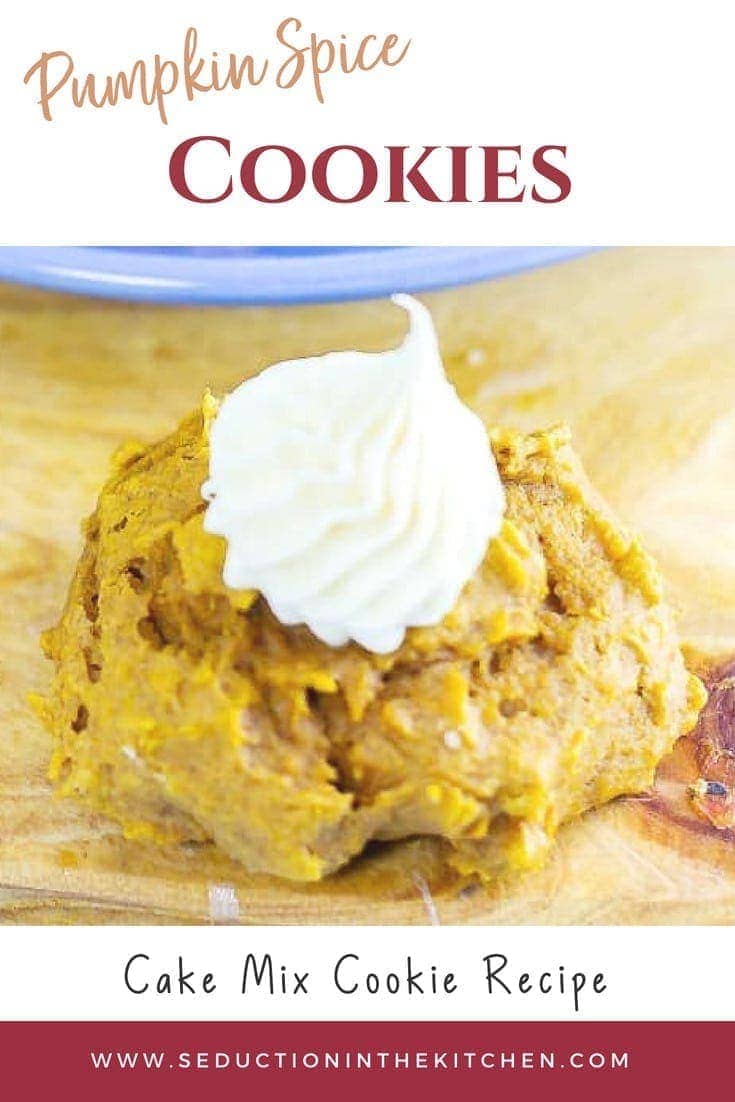 Pumpkin Spice Cookies
If you want to know a small secret about these pumpkin spice cookies, it is the idea to use spice cake mix and pumpkin puree was not my first thought. I was in the store and saw a display of this week's specials. I saw pumpkin puree on one shelf, spice cake mix on the next shelf down. That was when it came to me pumpkin cookies from cake mix!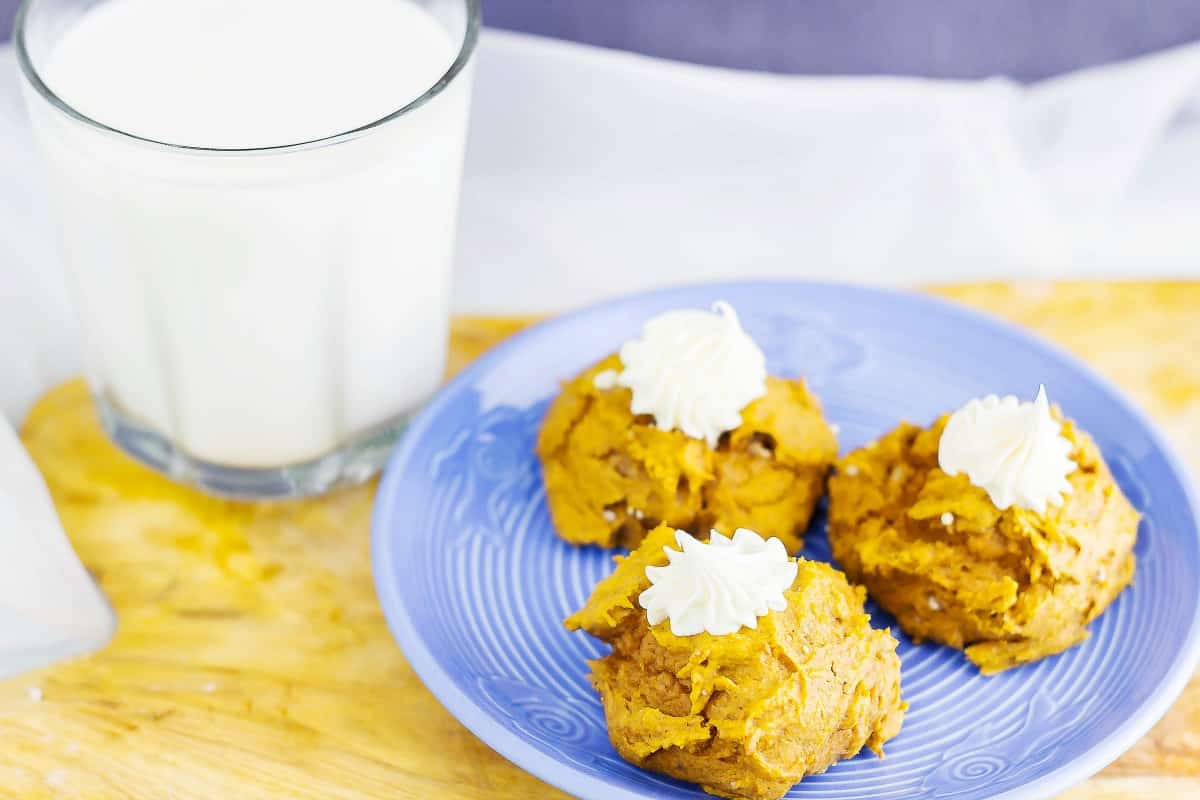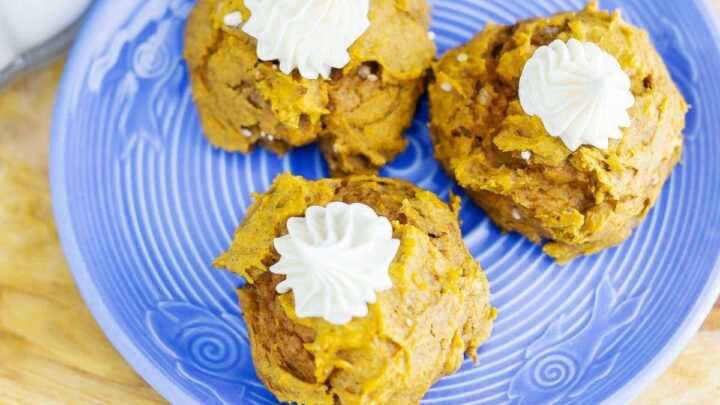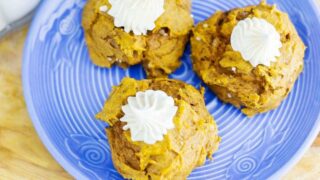 Yield:

12 servings
Pumpkin Spice Cookies with Vanilla Bean Frosting Recipe
Pumpkin Spice Cookies with Vanilla Bean Frosting is the perfect #pumpkin recipe for the #autumn pumpkin season. A #recipe from Seduction in the Kitchen.
Ingredients
Cookies
1 box of spice cake mix
1 egg
1/3 cup vegetable oil
1 small can pumpkin puree (15oz)
Frosting
1/2 cup sugar
1/3 cup evaporated milk
1 cup of shortening
1 vanilla bean
1 teaspoon vanilla
Instructions
In a large mixing bowl combine the cake mix, egg, vegetable oil, and pumpkin puree.
Pre heat the oven to 350F. Drop rounded teaspoonfuls of the pumpkin batter onto a parchment lined cookie sheet.
Bake the cookies for 10-12 minutes. It just till the bottoms are set and the tops are lightly browned. Let them cool on a bakers rack.
To make the frosting: Cream the sugar and shortening together.
Split the vanilla bean and crape the seeds into the shortening mixture. Add the evaporated milk and the vanilla. Mix it well.
After the cookies have cooled, spoon the frosting into a Ziplock bag or a icing bag. Snip off the corner the bag and pipe on a dollop of the frosting onto the cookies.
After the frosting is on them, then ENJOY!
Recommended Products
As an Amazon Associate and member of other affiliate programs, I earn from qualifying purchases.
Nutrition Information:
Amount Per Serving:
Calories:

320
[convertkit form=785110]
This post was most recently updated
I want to hear what you have to say about this recipe that is on
SEDUCTION IN THE KITCHEN!
Let's get this conversation started! What do you think of this recipe?