Chocolate Cookie Butter Blossoms is a twist on a peanut butter blossom by using cookie butter instead. It gives this classic cookie a whole new taste.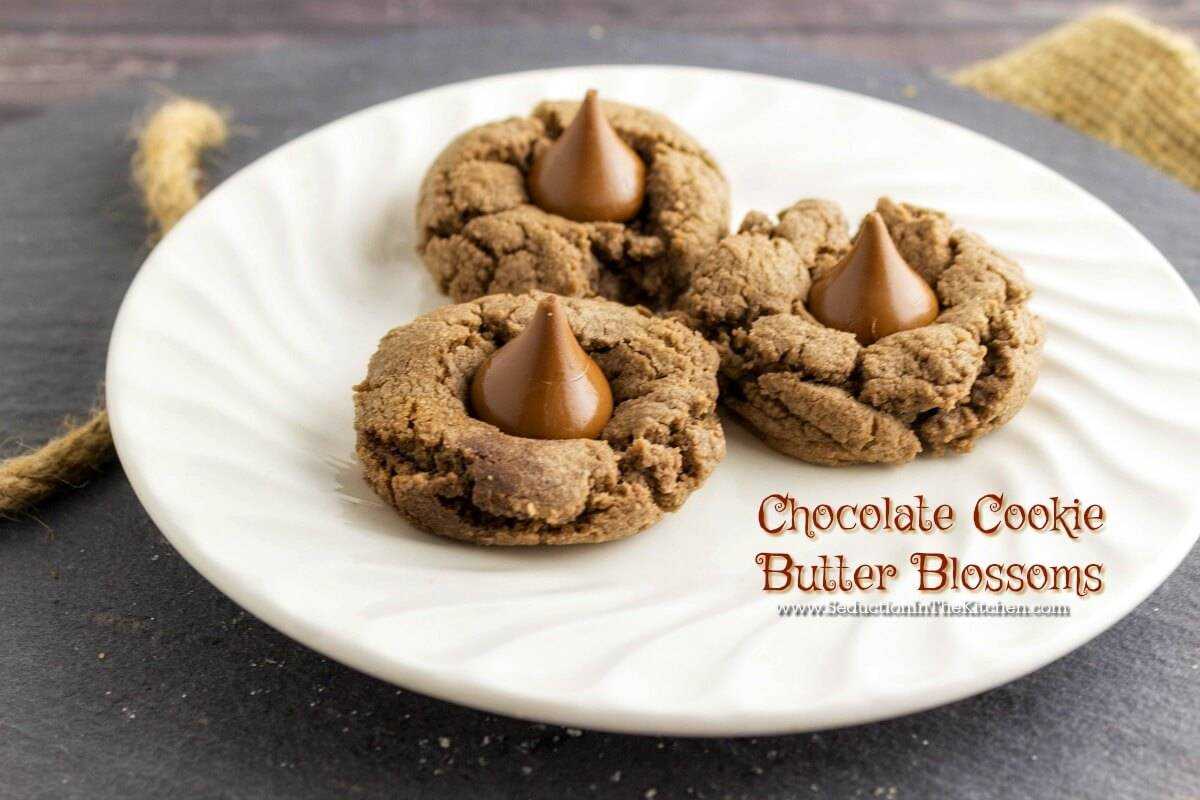 In Trouble
D
ay 2 in my big 12 days of cookies! I am getting great feedback on Cookie 1, the
Lemon Pomegranate Cookies
. However, will admit, I am a little trouble with that cookie. Why? Because I recently installed a new social share tool and it got me into trouble.
Long story short, I installed MassPlanner on the advice of another food blogger. I do love it. It is really helping me with engagement on my social sites like Instagram and Facebook. With the tool, I can schedule shares to the Facebook groups.
That was when I got into trouble. I'm in Facebook jail for 5 days. I can not post to groups. Posting to groups is vital for a food blog on Facebook. I didn't realize I set the group option so soon together. You see it uses seconds instead of minutes. It was posting every 30 seconds to 150 groups. It looks like I was a spammer.
Once my sentence comes off on Tuesday the 6th, I will set the tool up correctly and share these cookies. So I can not wait. Other than that mishap, I do love this tool.
Chocolate Cookie Butter Blossoms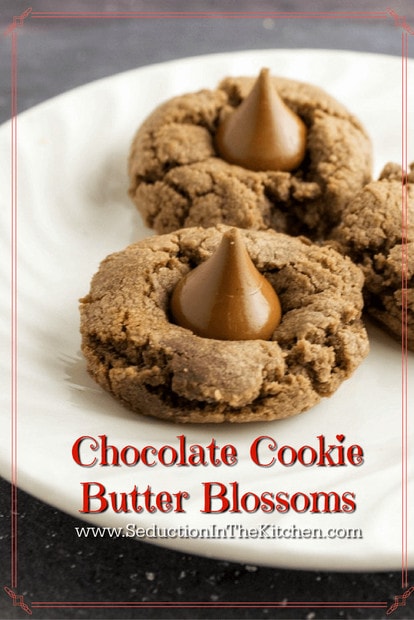 I have been doing my grocery shopping in Sandusky Ohio. Most know Sandusky because it is the home of Cedar Point. Anyway, there is a Meijers there and I love shopping there. I have an APP for Meijers on my phone, and it lets you clip and use coupons that when I check out all I need to do is put in my phone number. If I clipped the coupon on the APP, it takes the coupon off. So easy and I love it.
So, there was a coupon for cookie butter. Personally, I never heard of cookie butter, so I had to do a little research on it. They had three kinds and the chocolate cookie butter sounded the best to me.
So I bought it since I had the coupon. Flash forward to me coming up with this Chocolate Cookie Butter Blossoms recipe. I had asked my co-workers what cookies they liked. One said "Peanut Butter Blossoms."
That was when I started thinking. I have that chocolate cookie butter. What if I substituted that cookie butter for peanut butter? Would that work? Well you never know until you try, right?
I decided let's do this. I substitution, and the Chocolate Cookie Butter Blossoms was born! They are simply amazing. It really gives the classic peanut butter blossom cookie a whole new taste.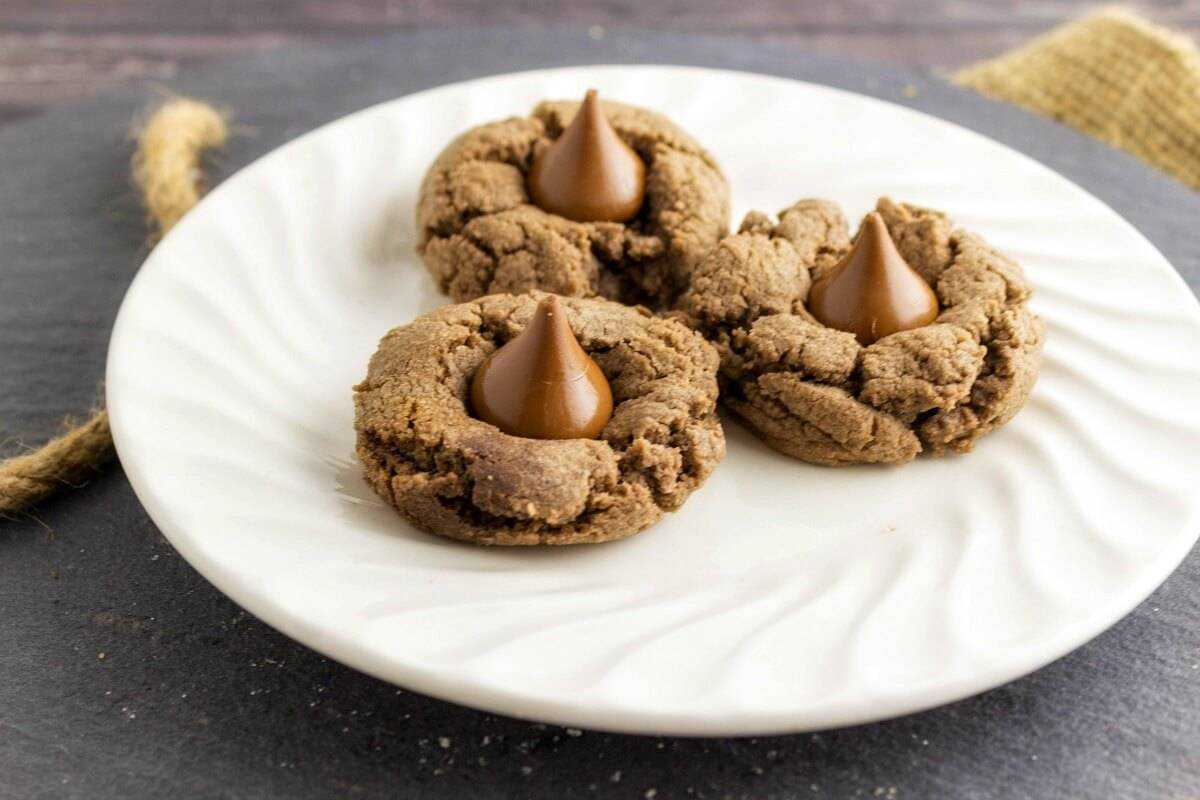 Check out these recipes: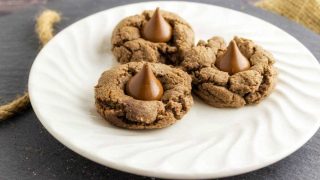 Yield:

48
Chocolate Cookie Butter Blossoms
Chocolate Cookie Butter Blossoms is a twist on a peanut butter blossom by using cookie butter instead. It gives this classic cookie a whole new taste.
Ingredients
1 stick butter soften
3/4 cup Chocolate Cookie Butter
1/3 cup brown sugar
1/3 cup sugar
1 large egg
1 tsp vanilla
2 cups flour
1 tsp baking soda
48 Hershey Kisses
Instructions
Preheat oven to 375F. Line a baking pan with parchment paper 

In the bowl  combine the butter, chocolate cookie butter, brown sugar, and sugar. 

Beat together on medium-high speed until light and creamy, about 3-4 minutes, scraping down the bowl as necessary.

Add the egg and vanilla and mix until combined. 

Add the flour, baking soda, and salt and mix until just combined.

Roll  tablespoon of dough into small balls.

Place on the prepared sheet pan about 2 inches apart.

Bake  about 10 minutes. Immediately after removing cookies from the oven, place a Hershey's kiss in the center of each cookie, pressing it down gently. After a few minutes, transfer cookies to a wire rack to cool.

Serve them up and ENJOY
Nutrition Information:
Amount Per Serving:
Calories:

72
Total Fat:

5g
Saturated Fat:

3g
Trans Fat:

0g
Cholesterol:

17mg
Sodium:

29mg
Carbohydrates:

6g
Fiber:

0g
Sugar:

2g
Protein:

1g
This post was most recently updated
I want to hear what you have to say about this recipe that is on
SEDUCTION IN THE KITCHEN!
Let's get this conversation started! What do you think of this recipe?