This post was most recently updated
Maple Bacon Bourbon Pecan Cupcakes is based on the Maple bacon donut! This maple bacon treat is a great addition to cupcake flavors. You are going to love these maple cupcakes with bacon.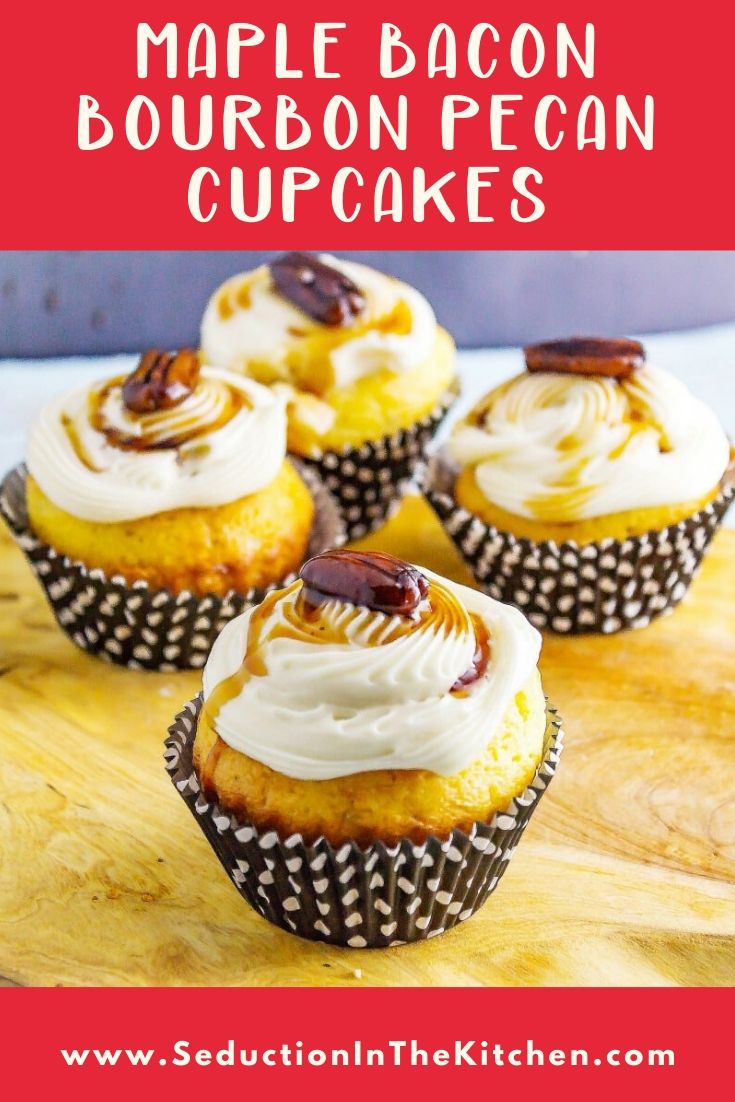 Maple Bacon
Maple bacon isn't new, in fact, maple bacon has been out for a while. But most know maple bacon as candied bacon you have for breakfast. However what if you put that maple bacon into a cupcake?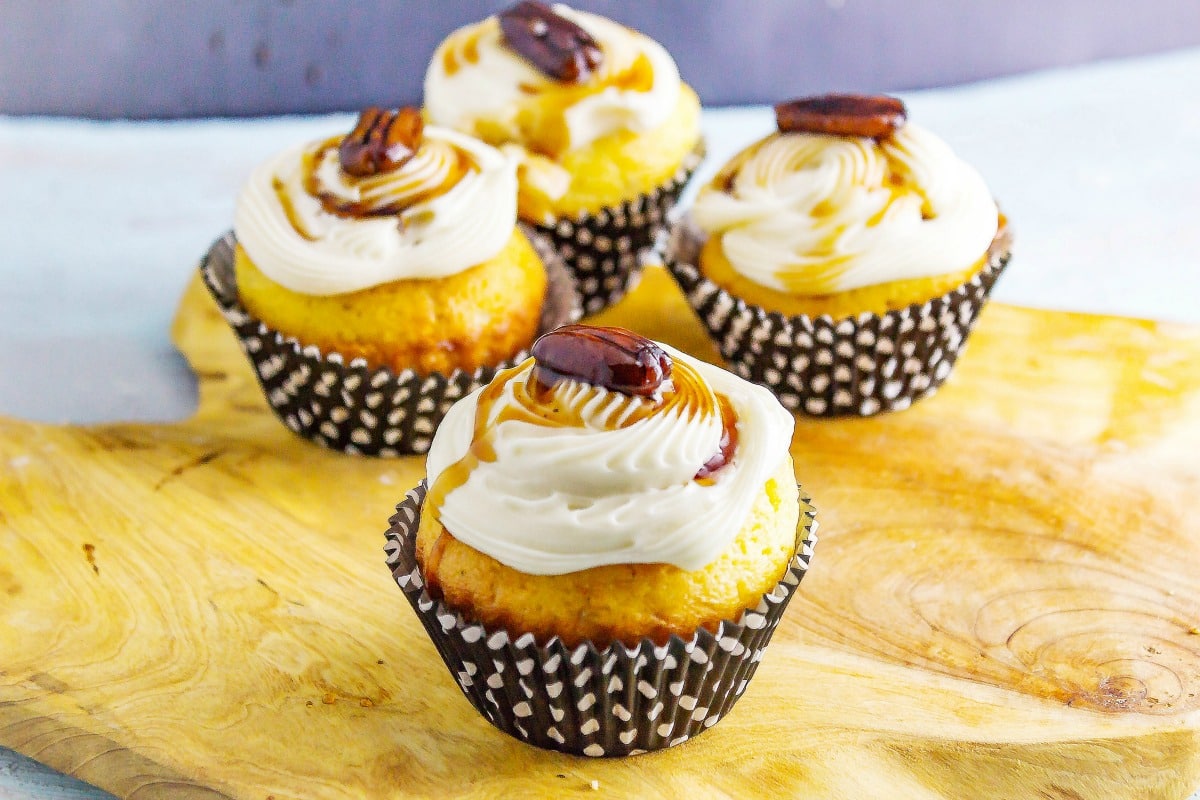 Cupcake Flavors
I really love playing with cupcake flavors. Cupcakes have come a long way since the days of just vanilla and chocolate. Today cupcake flavors come in all kinds like lemon, strawberry and maple bacon cupcakes.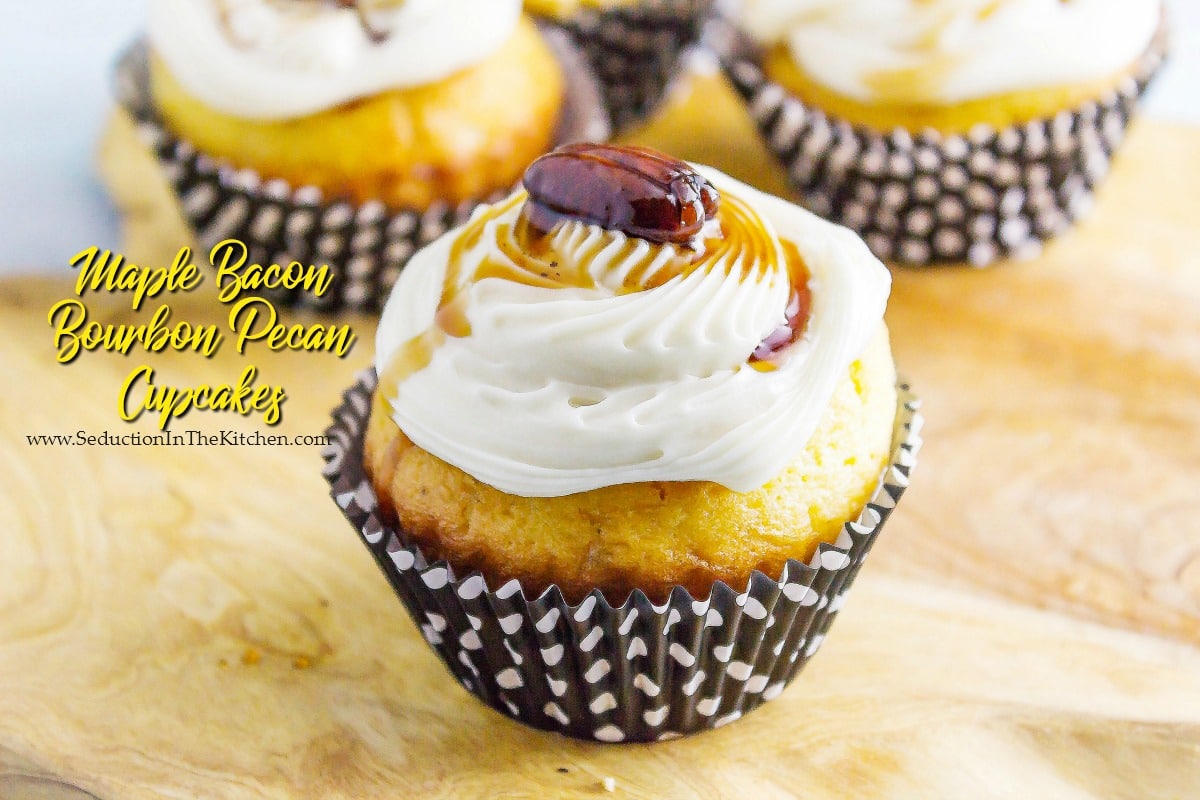 Maple Bacon Donut
The idea for these maple bacon cupcakes came from a maple bacon donut. In Cleveland, a bakery called Jack Frost Donuts was known for making these maple bacon donuts. One day I tried one and I instantly thought, this maple bacon donut would be good for a cupcake.
Bacon Cupcakes
Disney had a cupcake called Piggylicious Cupcake, The recipe for that bacon cupcakes were on my desk when looking through papers. It reminded me of the maple donut I had and with a little tweaking, I could make my version of bacon cupcakes.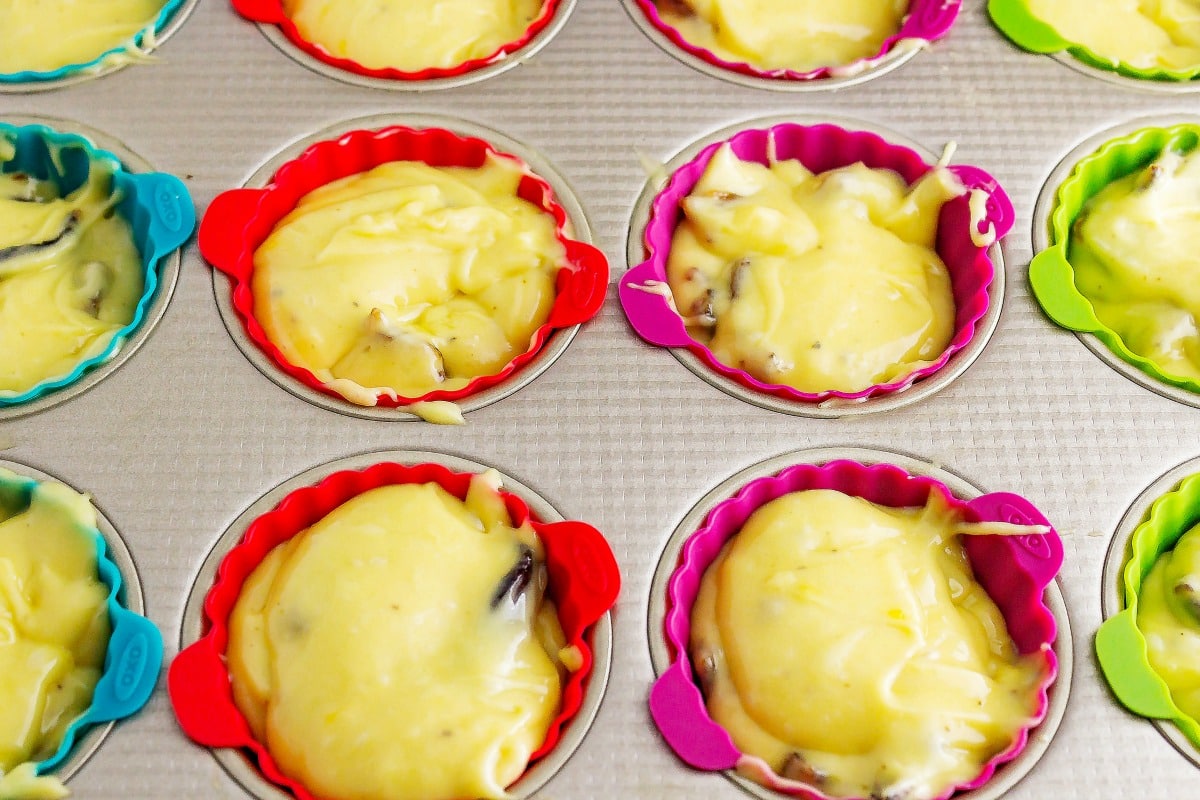 Silicone Cupcake Liners
I will admit this is my first time making a cupcake with silicone cupcake liners. One the reasons I never used them, I didn't think I could get the cupcake out the pan right.
However, the design on the OXO ones with the tabs actually made baking cupcakes so much easier. Why have I not used silicone cupcake liners before? That is how easy these silicone cupcake liners made baking up cupcakes!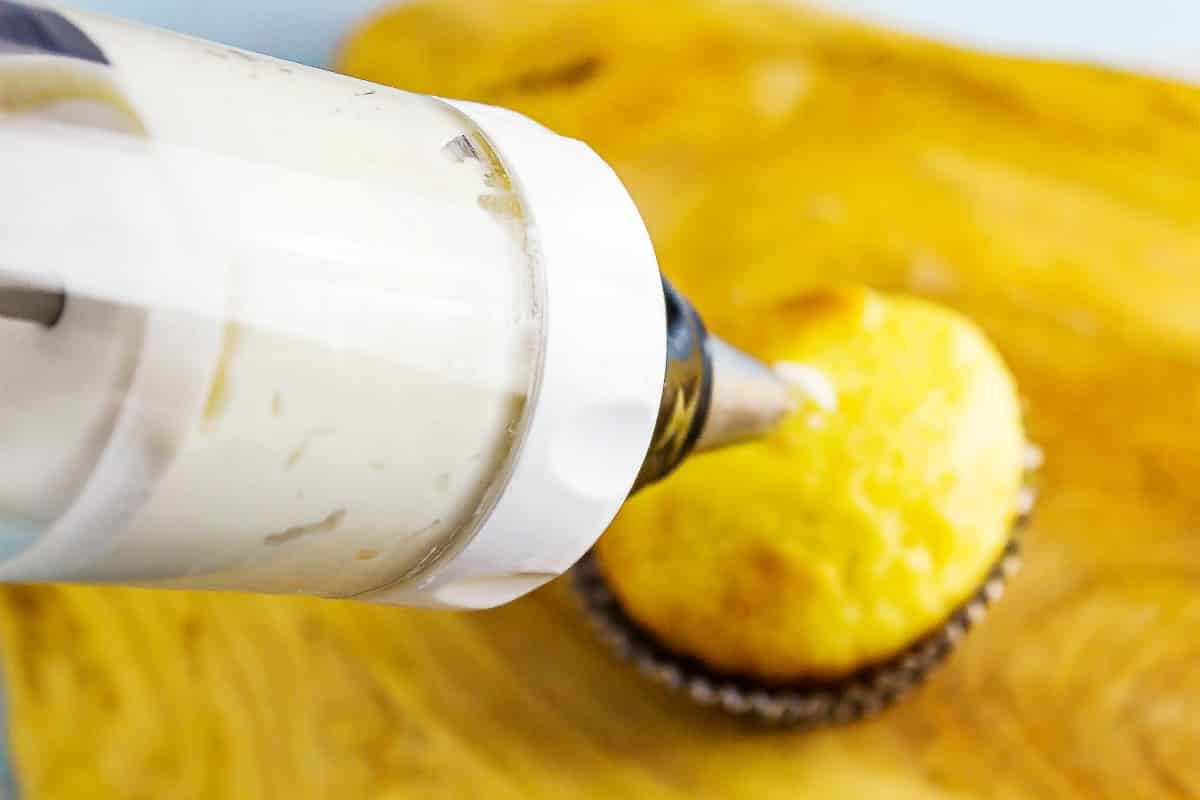 Maple Cream Cheese Frosting
I decided that these should be bacon cupcakes with maple cream cheese frosting. I piped on the maple cream cheese frosting onto these maple bacon cupcakes and realized that these maple cupcakes with bacon needed something else.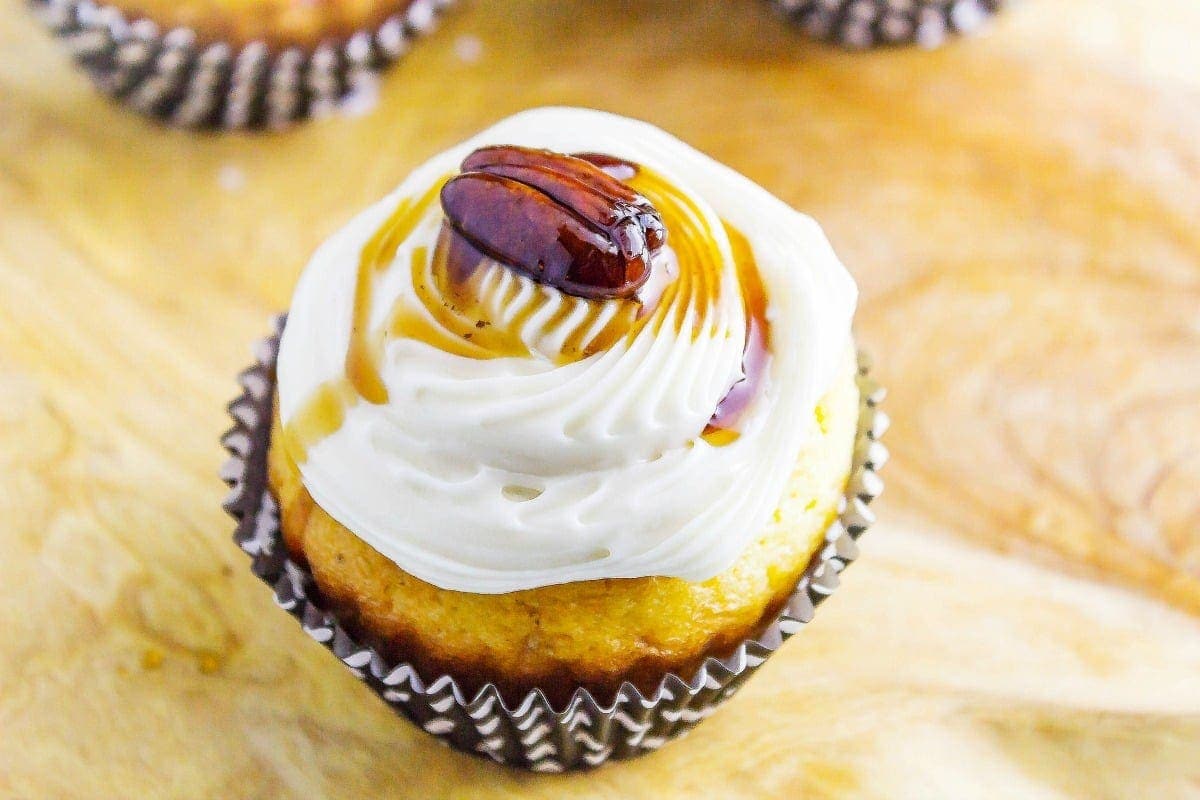 Bourbon Pecan Pie
In my cupboard was a jar of bourbon pecan pie filling. That what was needed to make these maple bacon cupcakes amazing. So I placed bourbon glazed pecans on top of the cupcakes. That bourbon pecan pie really makes the cupcake flavor pop.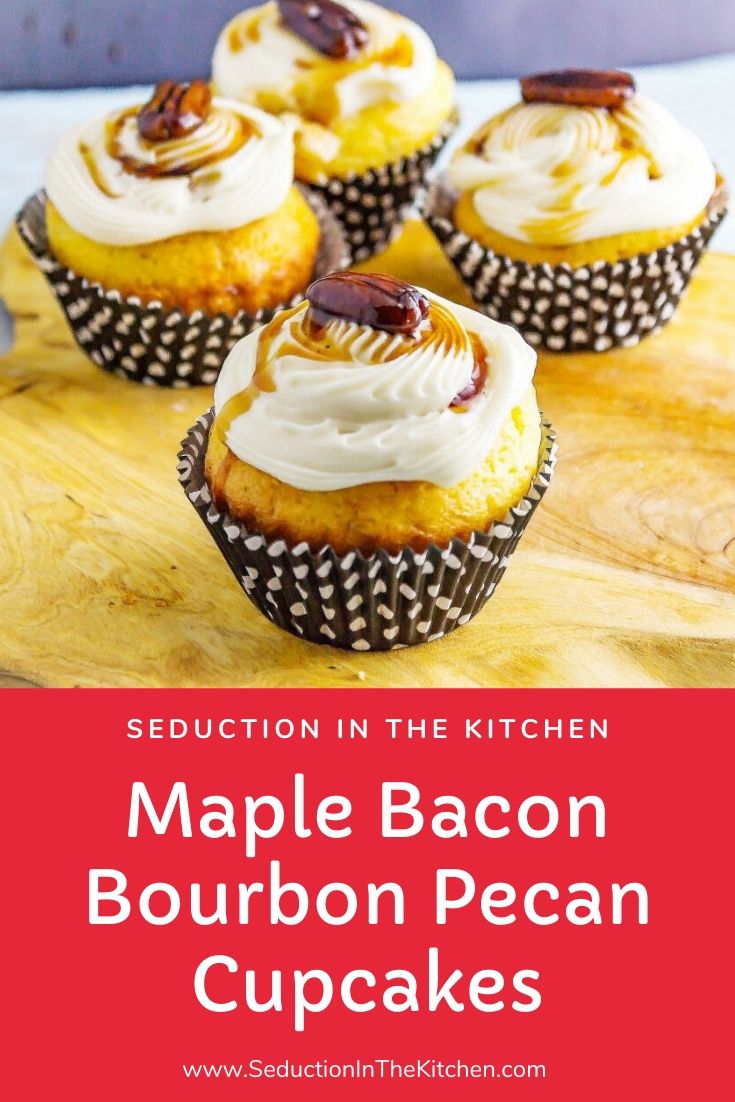 How To Make A Box Cake Moist
I do use a box cake mix when I make cupcakes. How to make a box cake moist? My secret ingredient: yogurt. It makes a boxed cake mix so moist.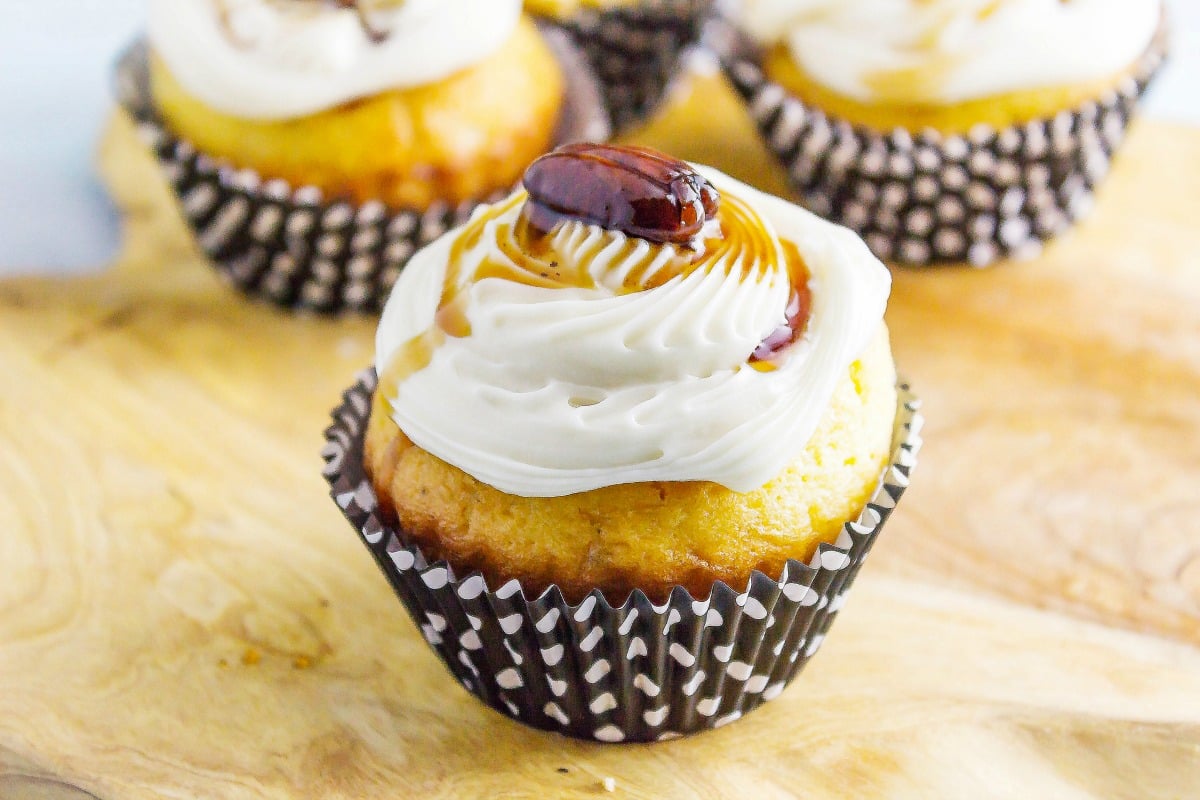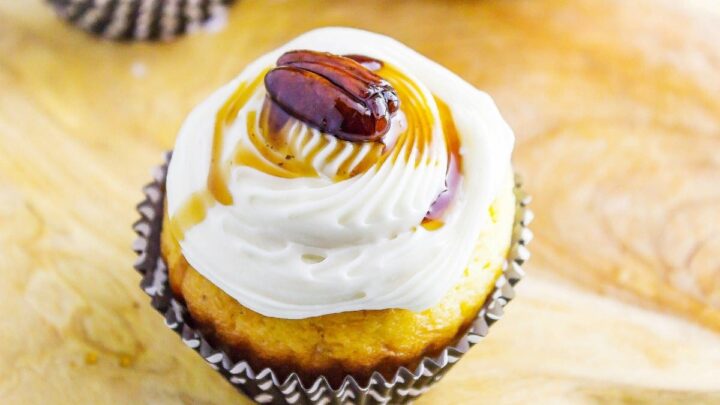 Yield:

12 servings
Maple Bacon Bourbon Pecan Cupcakes
Maple Bacon Bourbon Pecan Cupcakes is based on the Maple bacon donut! This maple bacon treat is a great addition to cupcake flavors. You are going to love these maple cupcakes with bacon.
Ingredients
Cupcakes:
1 box yellow cake mix
2 eggs
1 cup water
1/2 cup bacon grease
1 container Yoplait French vanilla yougurt
12 slices bacon, cooked crisp and crumbled
Maple Frosting:
1 (8oz) package cream cheese, softened
1/4 cup butter, softened
2 tablespoons Runamok Bourbon Maple Syrup
2 1/2 cups powdered sugar
Garnish:
Instructions
Cook the bacon, and reserve the grease from it. It should be about 1/2 cup's worth.
In a bowl, add the cake mix, eggs, the reserved bacon grease, yogurt, and water.
Mix it all together.
Crumble the bacon and fold it into the cupcake batter.
Line the muffin pan with the silicone liners.
Fill the cavities with the cupcake batter.
Bake the cupcakes according to the box instructions.
When the cupcakes are done, take out the oven and let cool for about 2-3 minutes.
Then take the cupcakes out the muffin pan by the tabs on the silicone liners. Allow them to cool completely.
Meanwhile, make the frosting as the cupcakes cool.
In the bowl of an electric mixer with the paddle attachment, beat together cream cheese and butter until light and fluffy.
Beat in the Runamok Bourbon Maple Syrup.
Slowly add the powdered sugar until all incorporated.
Once the cupcakes are cool, fill the cupcakes with a little bit of the maple frosting.
Then pipe on top the cupcakes the rest the frosting.
Next take out a pecan from the Pecan Pie In A Jar and place on top the cupcakes.
Drizzle on a little bit of the juice from the pecans ontop of the cupcakes.
Serve them up and ENJOY!
Notes
You can use regular maple syrup but make sure 100% pure.
I have had a hard time finding the bourbon pecan filling I had originally for this recipe. So I mix into the pecan pie filling 1/2 ounce of bourbon, and still very good.
Recommended Products
As an Amazon Associate and member of other affiliate programs, I earn from qualifying purchases.
Nutrition Information:
Yield:
12
Serving Size:
1
Amount Per Serving:
Calories:

525
Total Fat:

23g
Saturated Fat:

9g
Trans Fat:

0g
Unsaturated Fat:

12g
Cholesterol:

74mg
Sodium:

633mg
Carbohydrates:

71g
Fiber:

1g
Sugar:

46g
Protein:

9g
Looking for more cupcake recipes? Check out these recipes:
Check out my the latest on my other blog: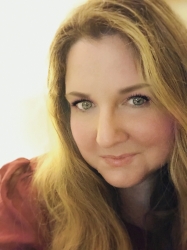 Latest posts by Deanna Samaan
(see all)