This post was most recently updated
Maple Bacon Bourbon Pecan Cupcakes is the sweet treat you can have for breakfast! Sweet maple cream cheese icing on top of a buttery delicious bacon filled cupcake garnished with bourbon pecans.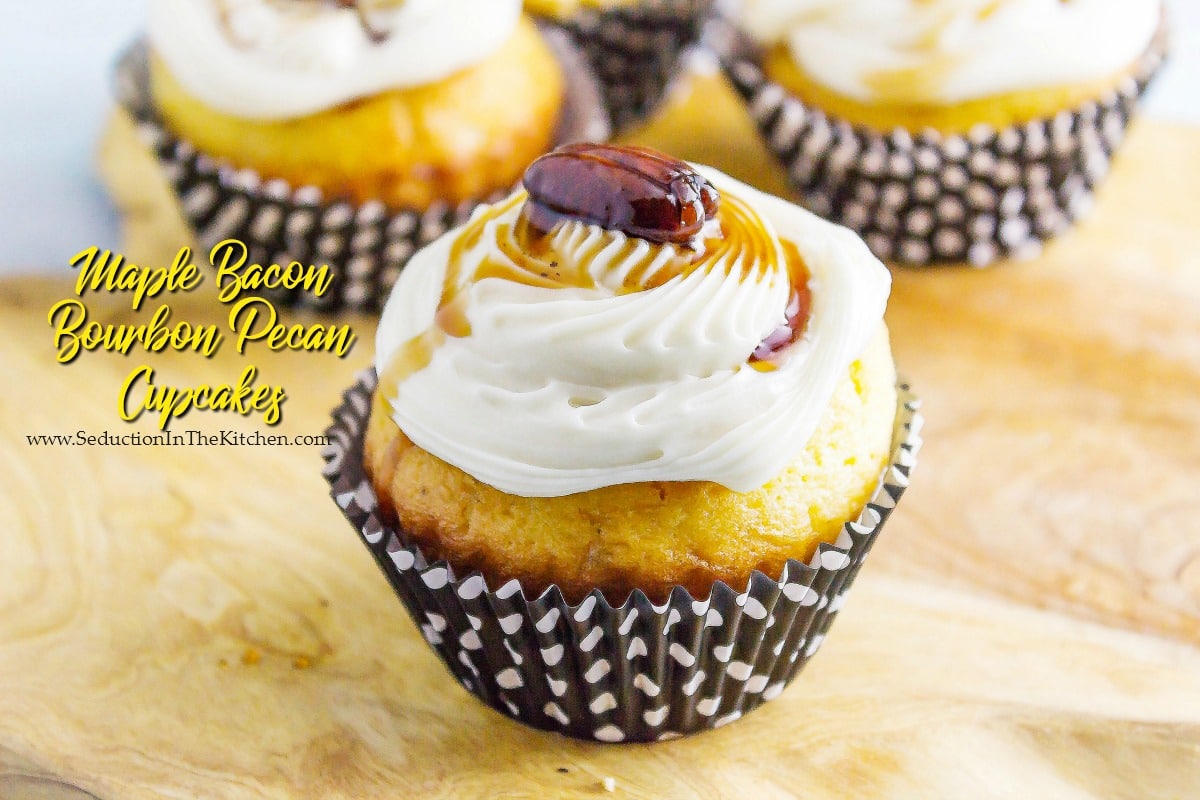 Cookies for Kids' Cancer
As you may know, I am a phlebotomist. Every day I do draw at least one person who is going through a cancer battle. I am also a pediatric phlebotomist, meaning I can draw children as young as a few hours old.
So in my 20 years as a phlebotomist, yes I have drawn children going through a cancer battle. Those kids are the bravest people I have ever met. Although cancer is rough on anyone, when you see a child about 18 months going through a cancer battle, you understand what I mean by saying they are the bravest people I see.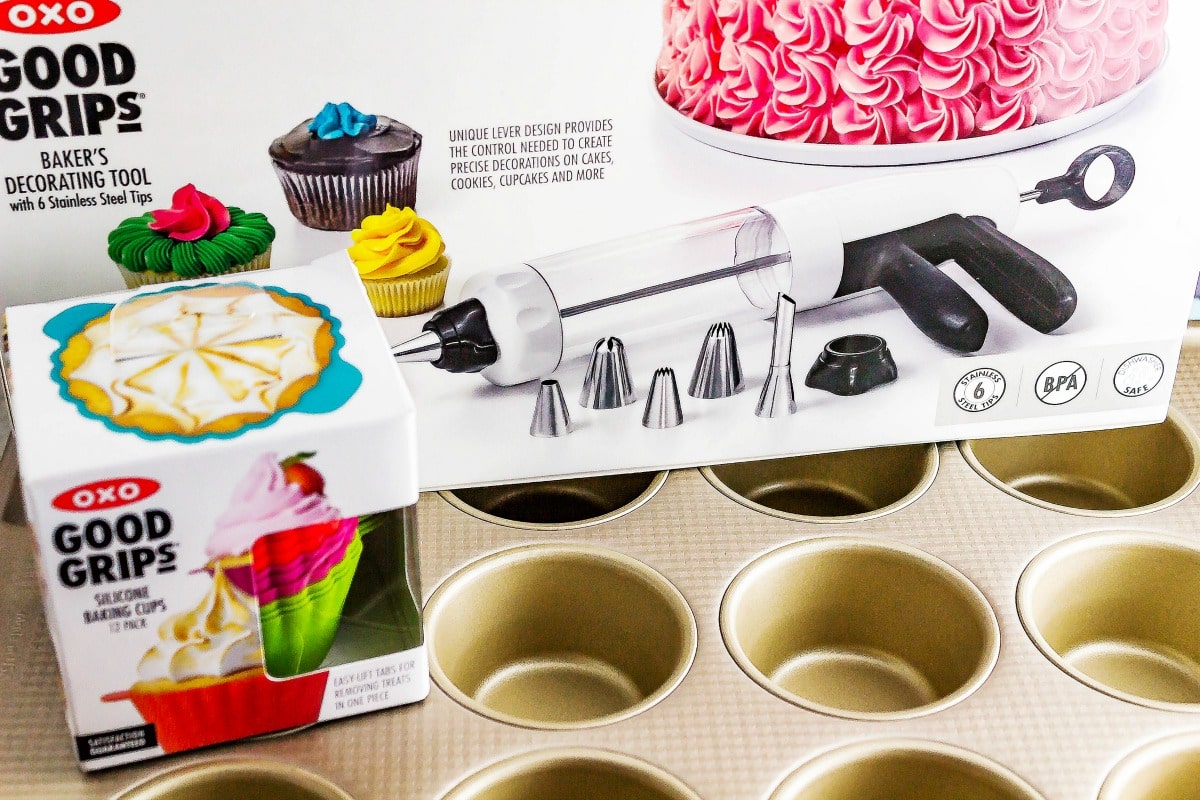 I teamed up with OXO for the Cookies For Kids' Cancer cause. Cookies for Kids' Cancer was founded by two OXOnians who were inspired by their son Liam's battle with pediatric cancer, a disease which claims the lives of more children in the US than any other disease. Cookies for Kids' Cancer provides inspiration and support to allow anyone to easily get involved in fundraising to find a cure for pediatric cancer.
OXO will donate up to $100,000* to support Cookies for Kids' Cancer. I am honored that they choose me to participate in this cause. It is something that is very dear to me since I am a pediatric phlebotomist.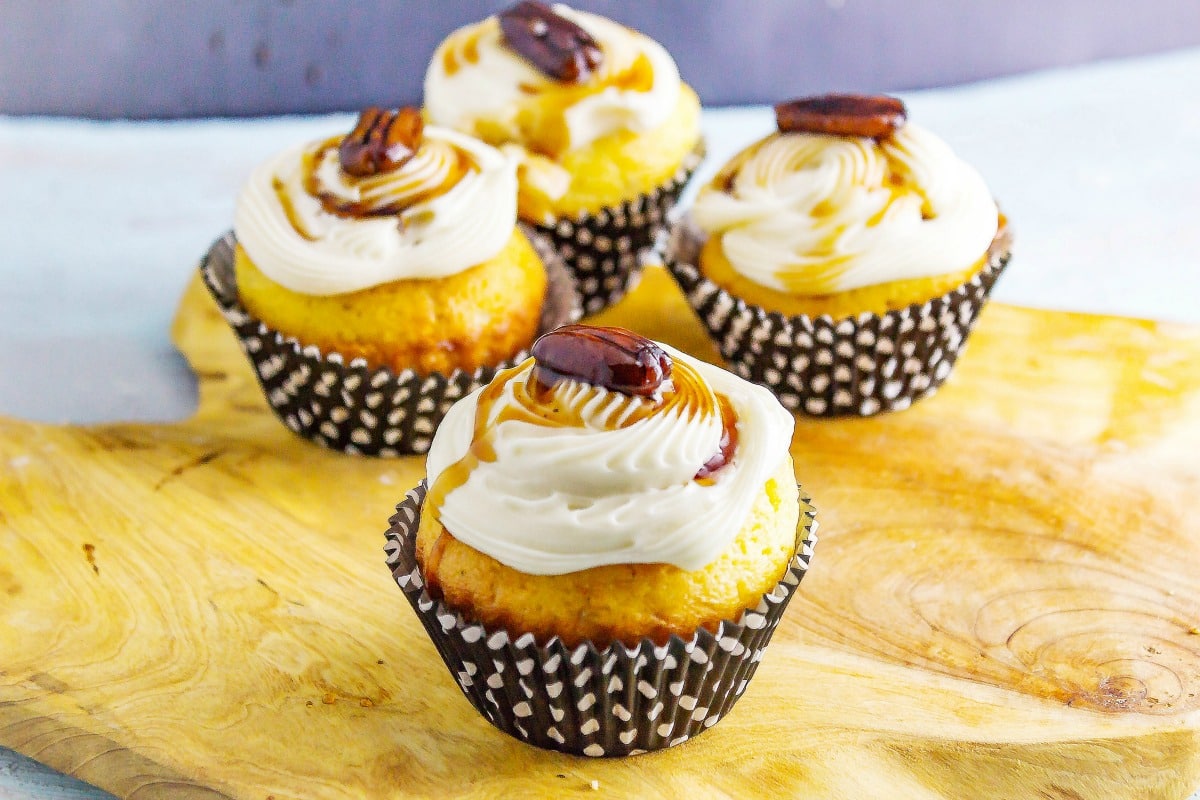 To create a wonderful treat for Cookies for Kids' Cancer, OXO sent me a wonderful set to create a great cupcake with. Here is what they sent me:
Non-Stick Pro 12 Cup Muffin Pan: The Non-Stick Pro Muffin Pan features a unique micro-textured pattern that ensures even baking and adds structural rigidity. It's made with a ceramic-reinforced, two-layer, commercial-grade coating that provides ultimate non-stick release and is scratch-, stain-, corrosion- and abrasion-resistant.
Silicone Baking Cups: The BPA-free Baking Cups have handy tabs to help remove them from muffin tins without making a thumbprint, and the inside of each Cup is smooth and non-stick to release your treat easily. With a fill line, your cupcakes will be consistent every time.
Baker's Decorating Tool: Our easy-to-use, easy-to-fill Tool is designed to give you complete control while decorating. The unique trigger provides a smooth stream of icing for clean lines, and the comfortable handles ensure a steady grip and protect icing from warm hands.
Baking Maple Bacon Bourbon Pecan Cupcakes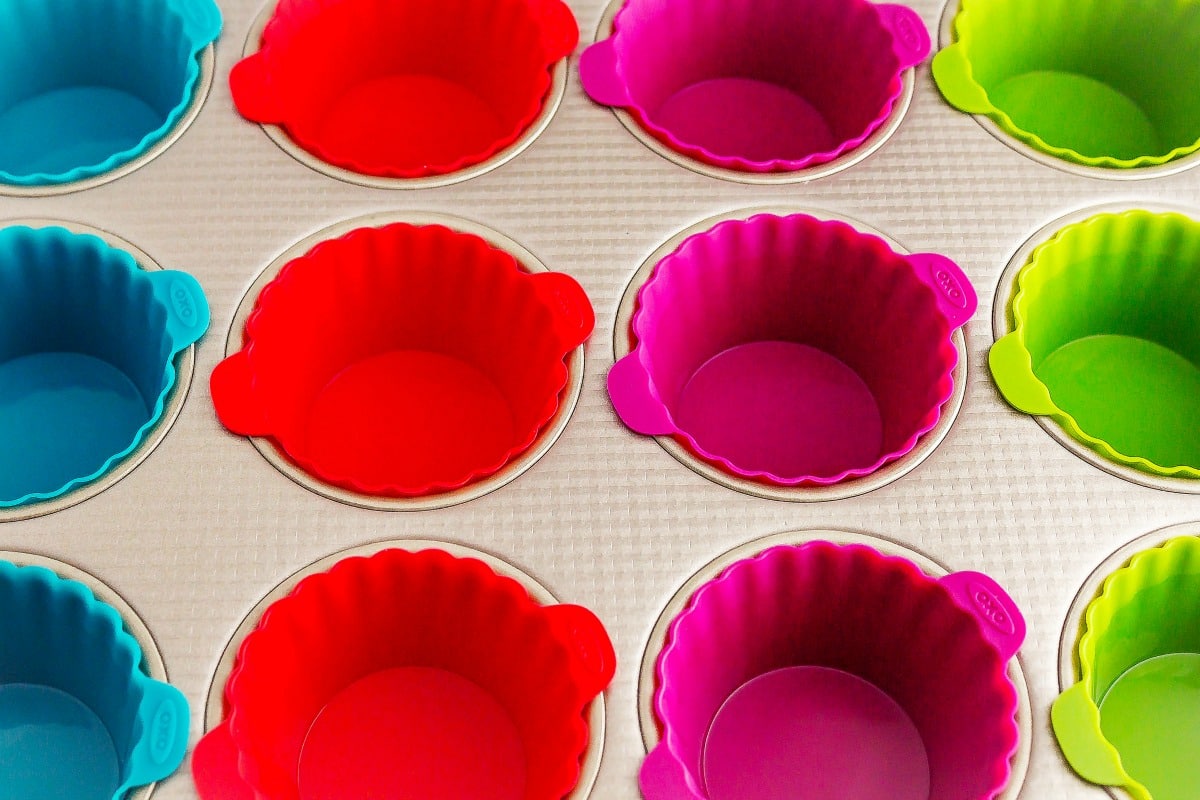 I will admit this is my first time making a cupcake with silicone baking cups. One the reasons I never used them, I didn't think I could get the cupcake out the pan right.
However, the design on the OXO ones with the tabs actually made baking cupcakes so much easier. Why have I not used these before? That is how easy these silicone liners made baking up cupcakes!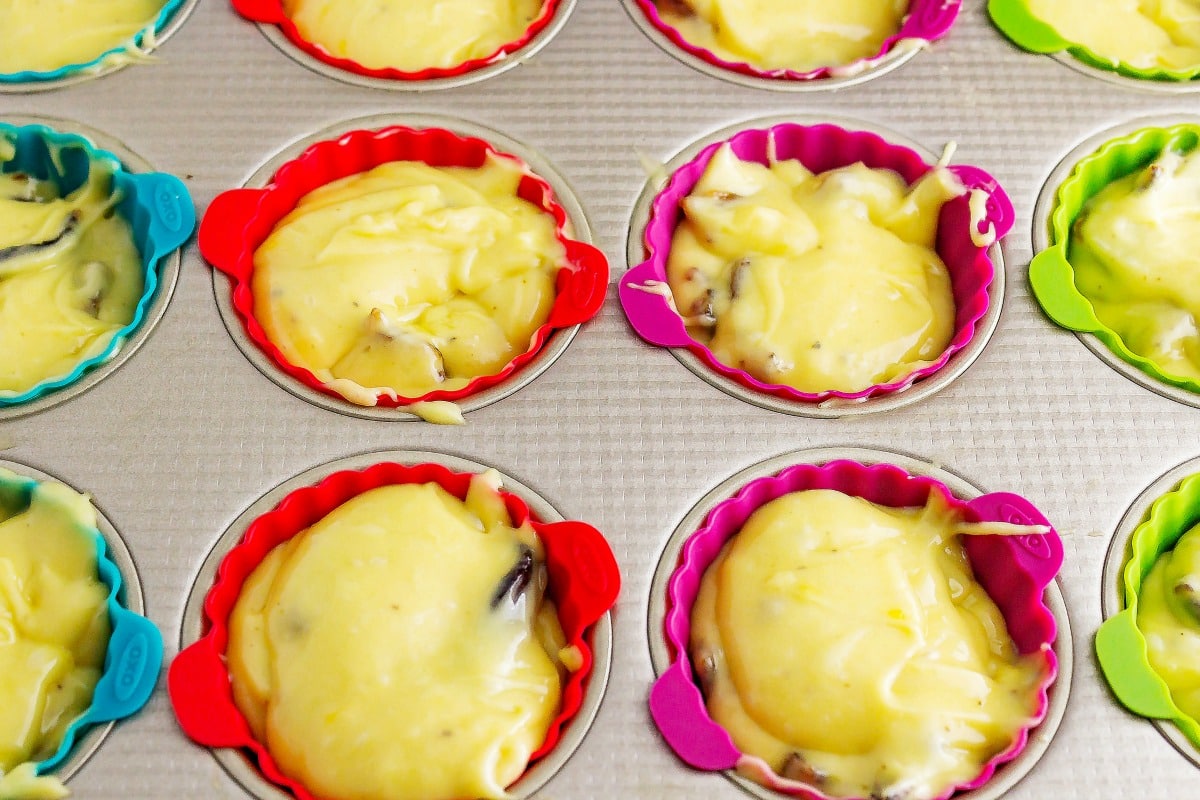 Plus, it had a fill line which really helps when filling up the cavities with batter. I admit I am a little messy when comes to filling the cavities with batter. The silicone liners really helped keep me under control with this Maple Bacon cupcake batter.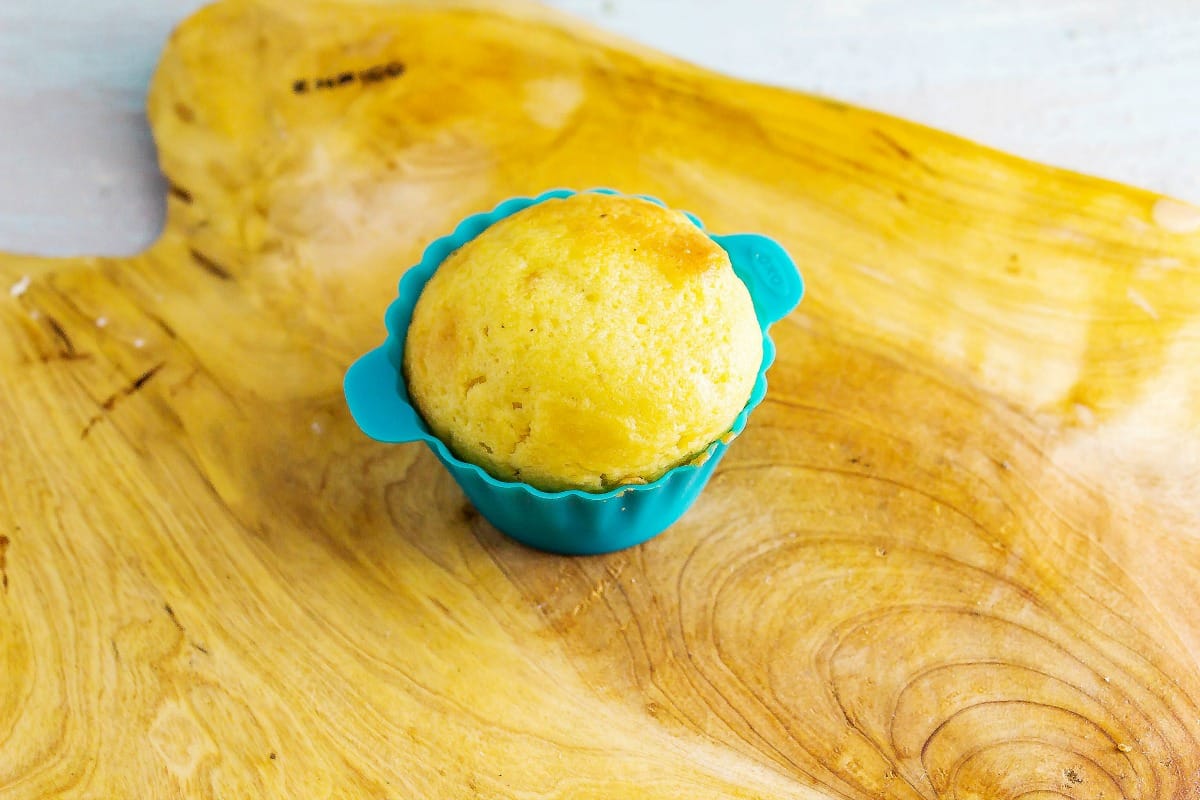 I am just complete awe how easy it was to pop the baked Maple Bacon Cupcakes out the muffin pan. Those liners really kept the shape the cupcake and they did not burn my fingers! That is a huge plus for me.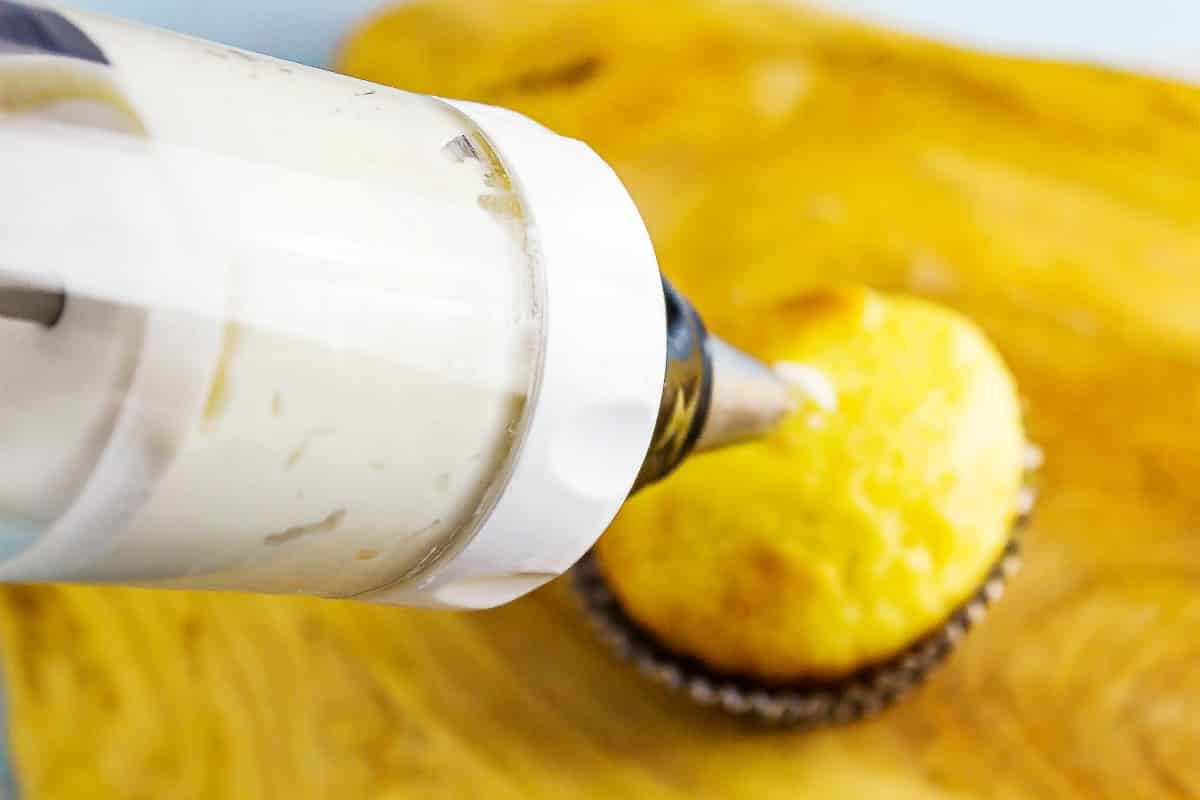 Then finally, I filled and piped on the maple cream cheese icing onto these yummy beauties using the decorating tool. This tool is so easy to make. I liked using it so much better than using a decorating bag. The icing just flowed so much better in my opinion.
Maple Bacon Bourbon Pecan Cupcakes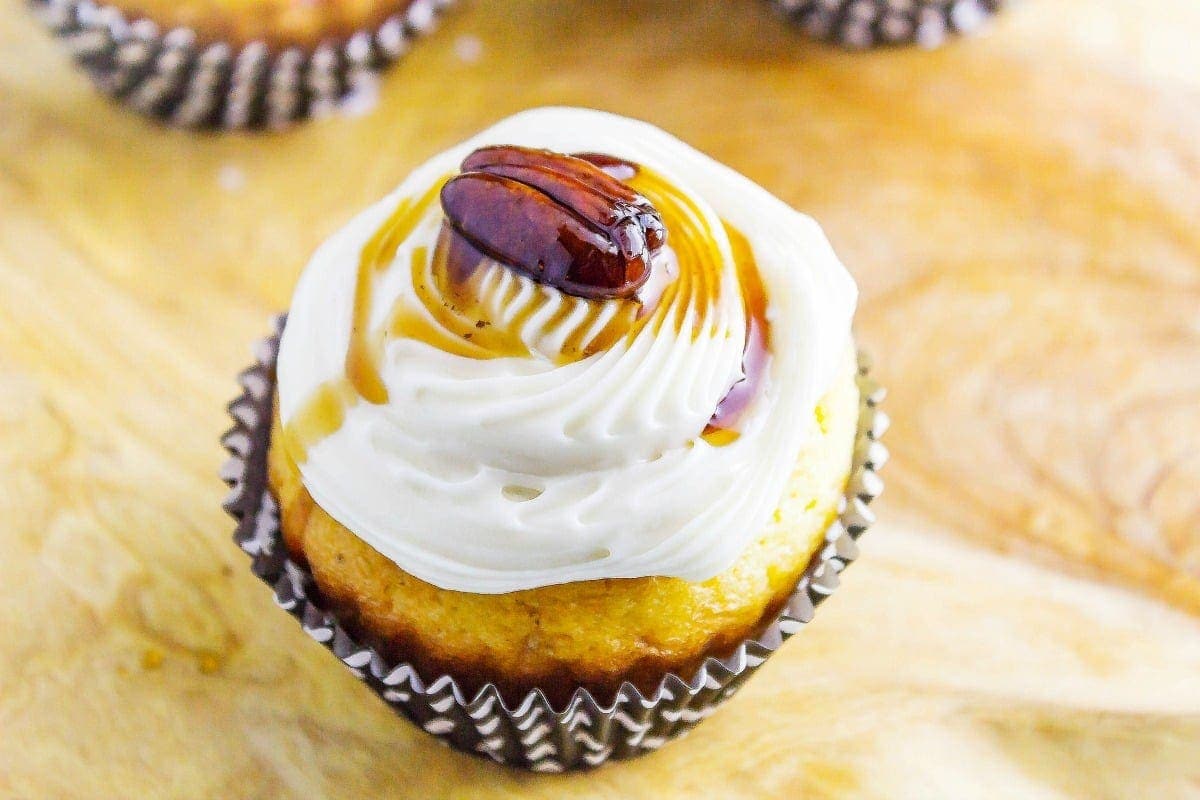 That was how I baked up these Maple Bacon Bourbon Pecan Cupcakes for the Cookies for Kid's Cancer for OXO. How did I come up with this idea? Honestly, it was from Disney.
As you may recall, I had a blog, which right now on hiatus, called The Recipes of Disney. I collected recipes from Walt Disney World. Hey, I am a WDW geek and a kid at heart.

Anyway, Disney had a cupcake at, I think it was its annual flower festival called Piggylicious Cupcake, The recipe for that cupcake was on my desk when looking through papers. I kept looking at it and realized I could tweak it just a little.
I wasn't too keen on a pretzel topping like they used. I knew I had this pecan filling that felt would be good as a topping. Plus I knew to make the cupcake I needed to use my secret ingredient: yogurt. It makes boxed cake mix so moist.
The end result was one yummy cupcake. I took these beauties to work and we had our own little bake sale to raise money as a donation to OXO's Cookies for Kids' Cancer. These were the hit of the sale, they taste like pancakes and bacon all wrapped up in a cupcake.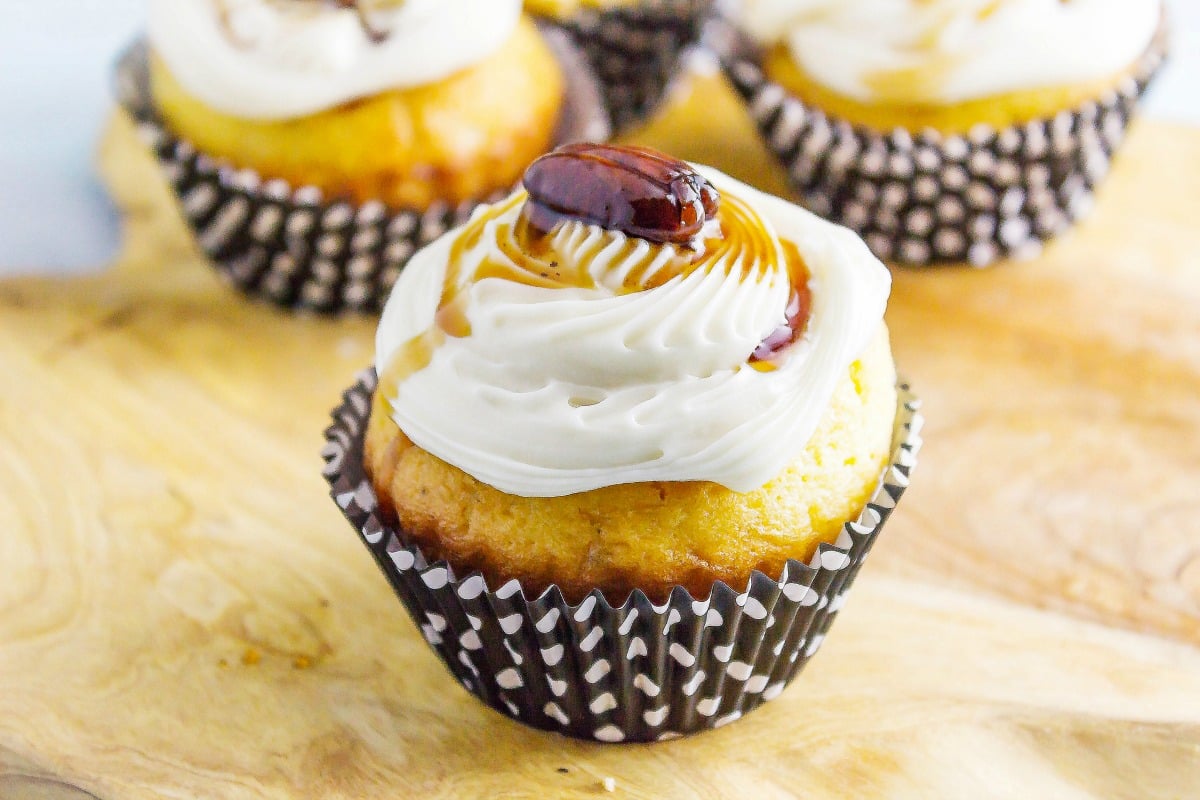 Your Bake Sale
Join the Cookies for Kids' Cancer 4th Annual 50 State Challenge in support of National Childhood Cancer Awareness Month this September. The goal is simple: inspire Cookies for Kids' Cancer events to take place in all 50 states to promote childhood cancer awareness and raise funds to help develop new, and less toxic pediatric cancer treatments.
Host a bake sale in your neighborhood, run a race, or throw a fundraiser at your school. You can join in the challenge by registering your event online today; if you mark that you were inspired by OXO when you register, they will match proceeds from your bake sale up to their $100,000 annual commitment.
**Disclaimer: OXO did provide me with the baking products mentioned in this post for free for the purpose of creating a recipe.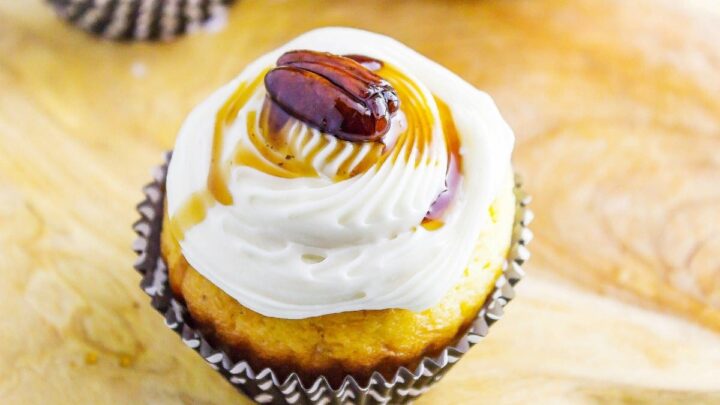 Yield:

12
Maple Bacon Bourbon Pecan Cupcakes
Maple Bacon Bourbon Pecan Cupcakes a sweet treat you can have for breakfast! Maple cream cheese icing adorn a delicious bacon filled cupcakes
Ingredients
Cupcakes:
1 box yellow cake mix
2 eggs
1 cup water
1/2 cup bacon grease
1 container Yoplait French vanilla yougurt
12 slices bacon, cooked crisp and crumbled
Maple Frosting:
1 (8oz) package cream cheese, softened
1/4 cup butter, softened
2 tablespoons Runamok Bourbon Maple Syrup
2 1/2 cups powdered sugar
Garnish:
Instructions
Cook the bacon, and reserve the grease from it. Should be about 1/2 cup's worth.
In a bowl, add the cake mix, eggs, the reserved bacon grease, yogurt, and water.
Mix it all together.
Crumble the bacon and fold it into the cupcake batter.
Line the muffin pan with the silicone liners.
Fill the cavities with the cupcake batter.
Bake the cupcakes according to the box instructions.
When the cupcakes are done, take out the oven and let cool for about 2-3 minutes.
Then take the cupcakes out the muffin pan by the tabs on the silicone liners. Allow them to cool completely.
Meanwhile, make the frosting as the cupcakes cool.
In the bowl of an electric mixer with paddle attachment, beat together cream cheese and butter until light and fluffy.
Beat in the Runamok Bourbon Maple Syrup.
Slowly add the powdered sugar until all incorporated.
Once the cupcakes are cool, fill the cupcakes with a little bit of the maple frosting.
Then pipe on top the cupcakes the rest the frosting.
Next take out a pecan from the Pecan Pie In A Jar and place on top the cupcakes.
Drizzle on a little bit of the juice from the pecans ontop the cupcakes.
Serve them up and ENJOY!
Notes
You can use regular maple syrup but make sure 100% pure. Also You can use a Bourbon Pecan filling for the garnish as well.
Nutrition Information:
Amount Per Serving:
Calories:

572
Total Fat:

32g
Saturated Fat:

14g
Trans Fat:

0g
Cholesterol:

84mg
Sodium:

597mg
Carbohydrates:

64g
Fiber:

1g
Sugar:

46g
Protein:

7g
Do you need other ideas for a bake sale?
How about: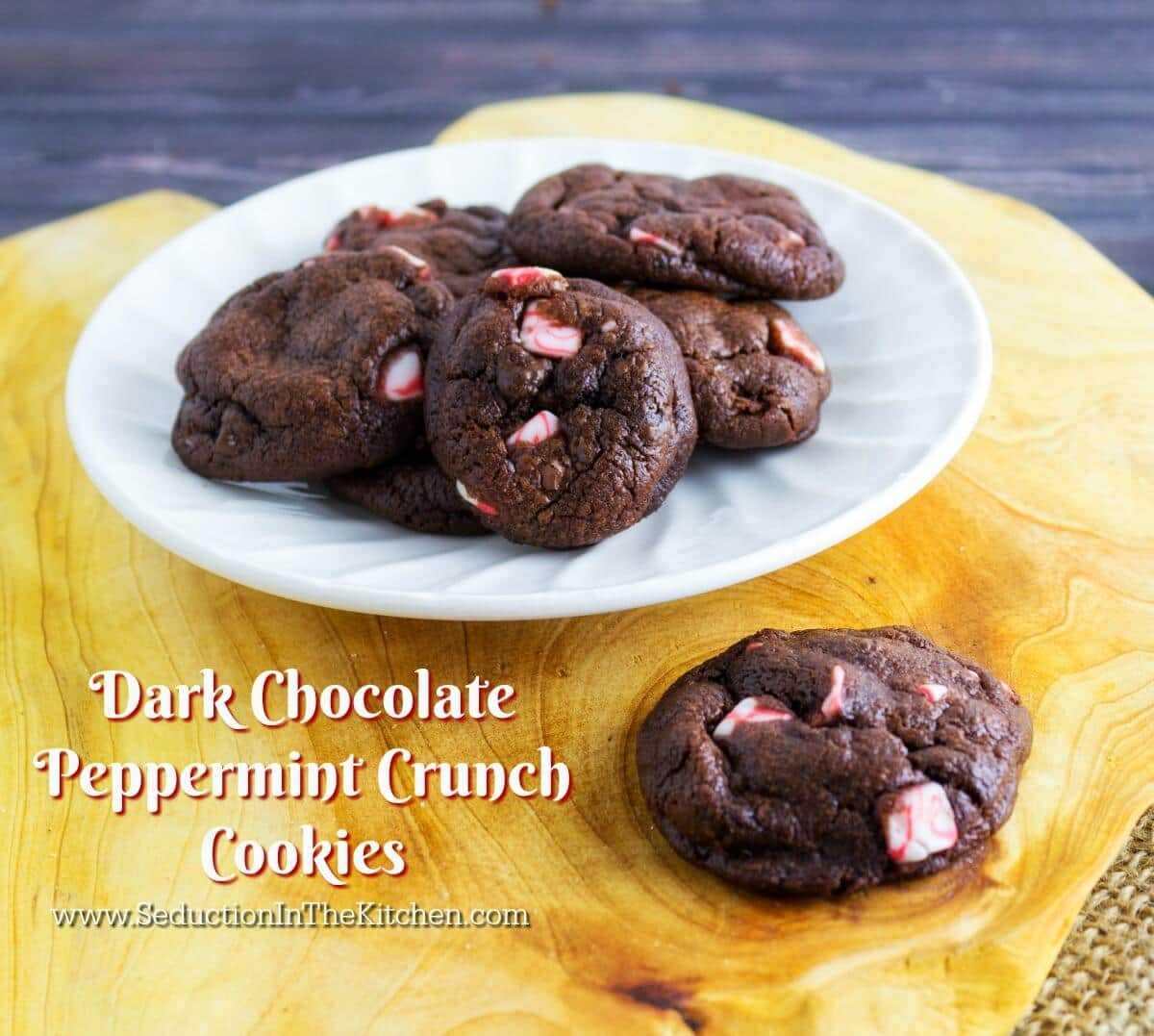 Dark Chocolate Peppermint Crunch Cookies,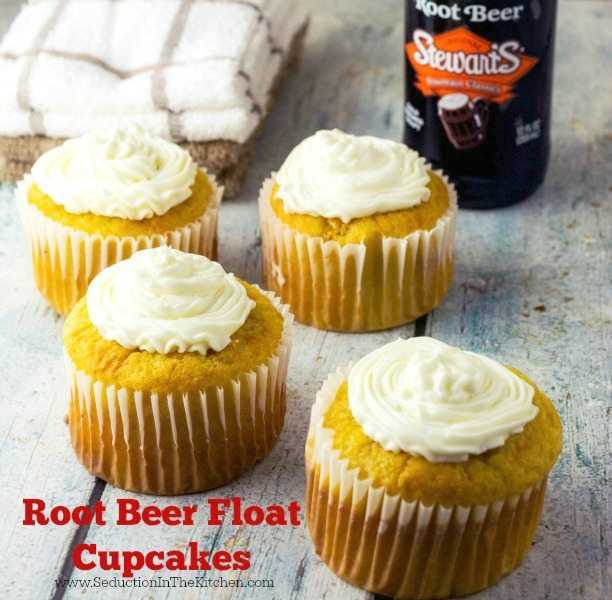 Root Beer Float Cupcakes,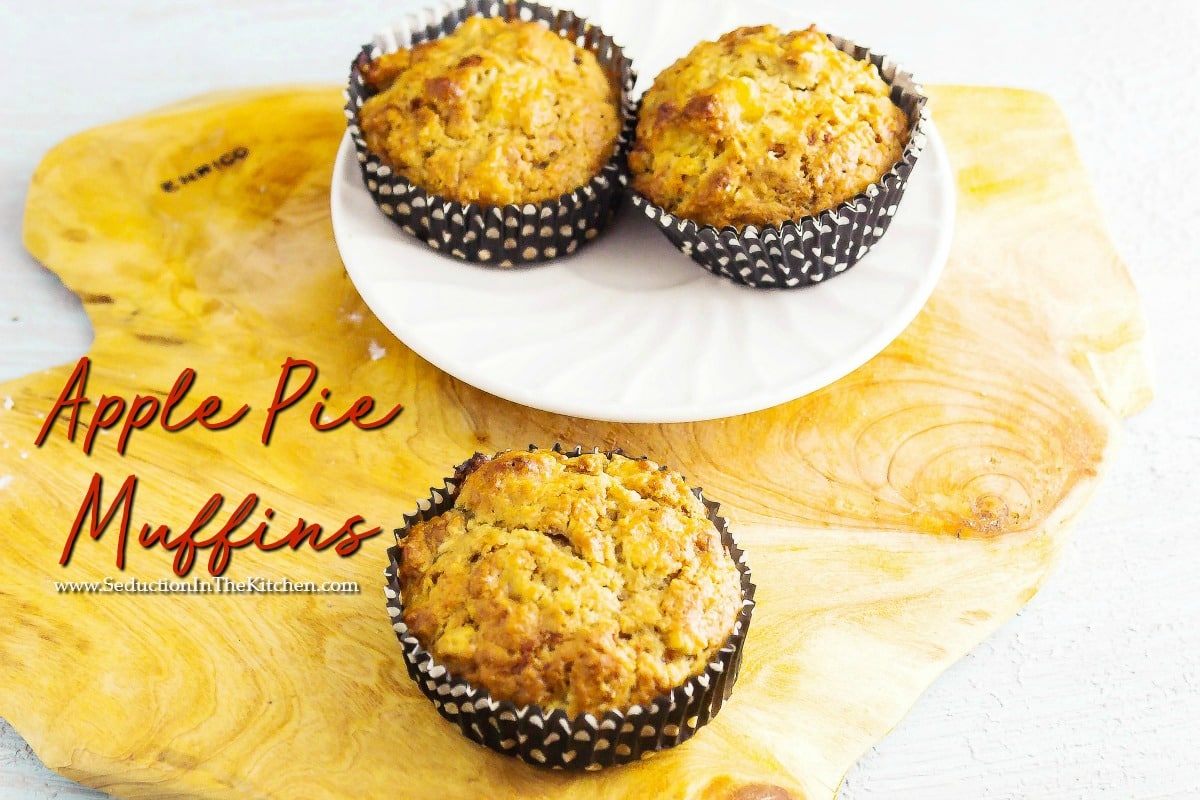 or Apple Pie Muffins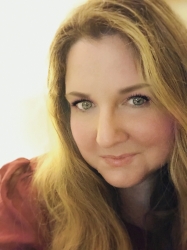 Latest posts by Deanna Samaan (see all)