This post was most recently updated
Bacon Wrapped Stuffed Fried Pickles is the best pickle recipe. These stuffed pickles are bacon-wrapped pickles that are baked. These baked fried pickles are a pure indulgence if you love pickle spears! Serves 8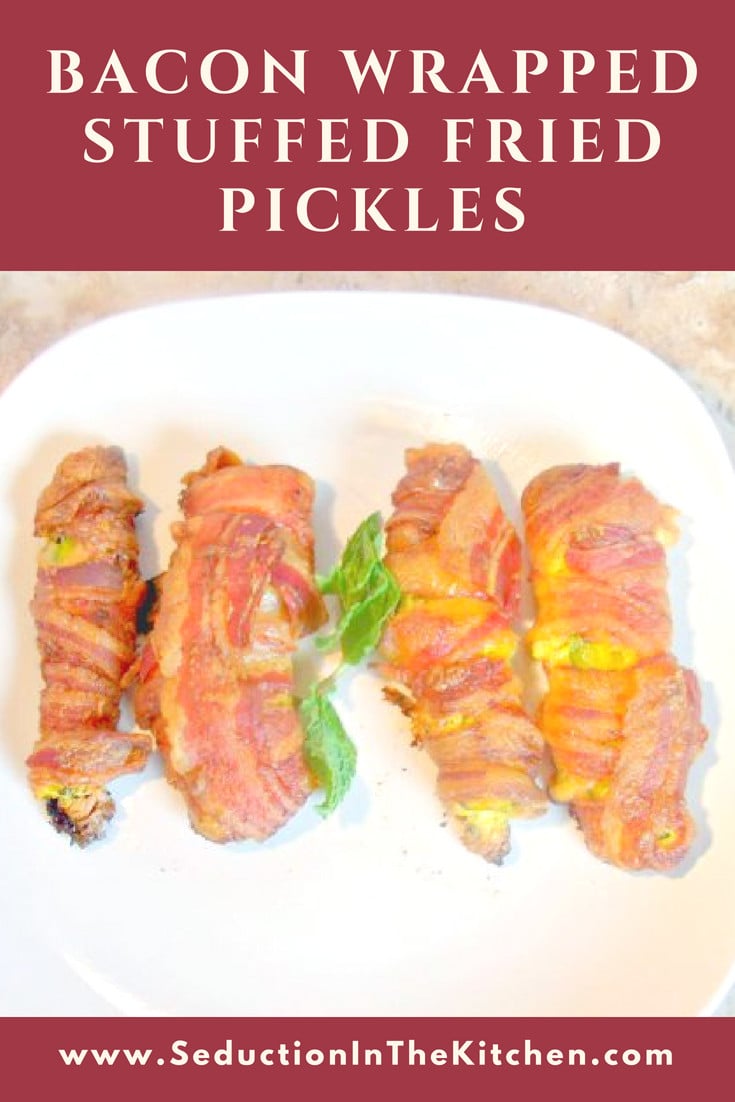 Best Pickle Recipe
I feel like this is the best pickle recipe when comes to bacon pickles. Why? Well, I originally posted these baked fried pickles back in 2013. I have seen keto recipes copying this bacon wrapped pickle.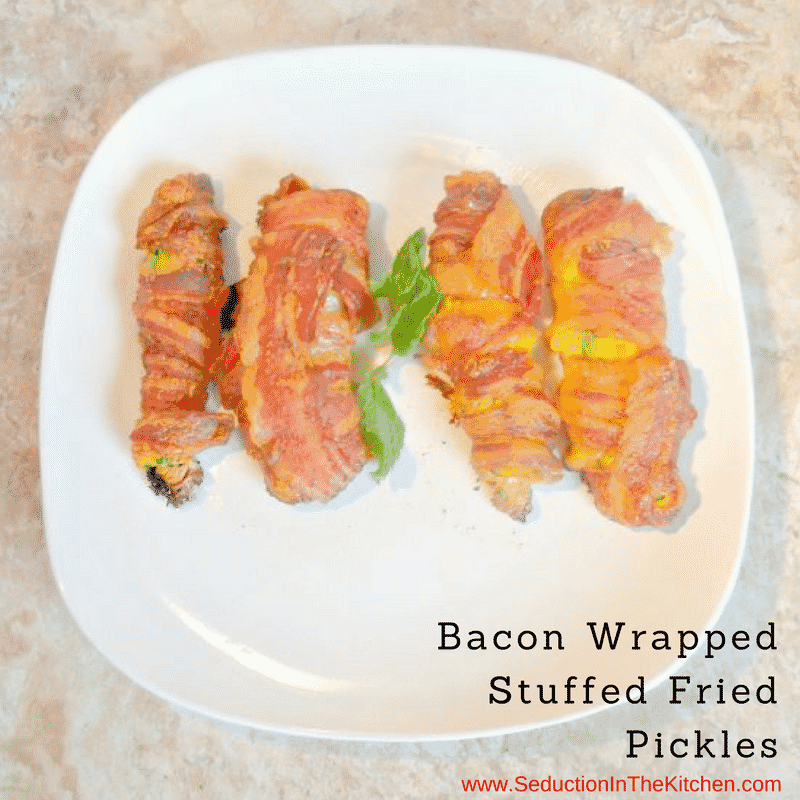 Bacon Pickles
These bacon pickles was the orginal. I came up with the idea of a bacon wrapped stuffed pickles from my GBF. These bacon wrapped appetizers became popular when I first published this recipe back in 2013. So Why I feel this is best pickle recipe for bacon pickles.
Bacon Wrapped Stuffed Fried Pickles Recipe
One of my very good friends, Richard, my GBF,  is a huge foodie. I will bounce ideas off him when comes to recipes.
We went out to chat and have some salads.  I told him I love to try and reinvent the fried pickle. He came up with this idea of a bacon wrapped stuffed pickles recipe.
Bacon Pickles Recipe
I offered to make theese pickle spears and test them out amongst my friends. This new  version of a fried pickles baked was a hit. A bacon pickles recipe was a winner.
For This Recipe You Will Need
Stuffed Pickles
So the Bacon Wrapped Stuffed Fried Pickles was born. The idea of a stuffed pickles with cream cheese was my  GBF's idea but I simplified it using stackers pickles instead of hollowing out a pickle.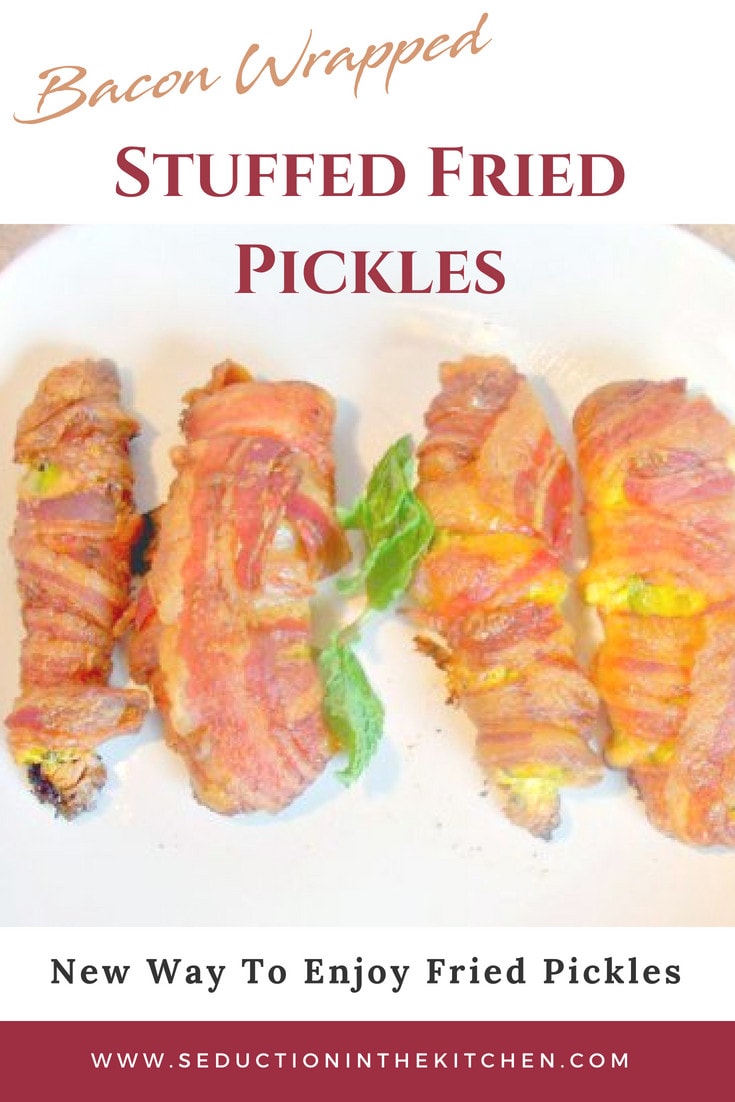 Bacon-Wrapped Pickles
What makes these pickle spears  amazing is that they are bacon-wrapped pickles besides being stuffed pickles. I was told I reinvented the fried pickle, just like I did with the BBQ Fried Mushrooms. That to tells me that these fried pickles baked is a winning recipe!
It also the orginal bacon wrapped pickle. The orginal is always best pickle recipe right?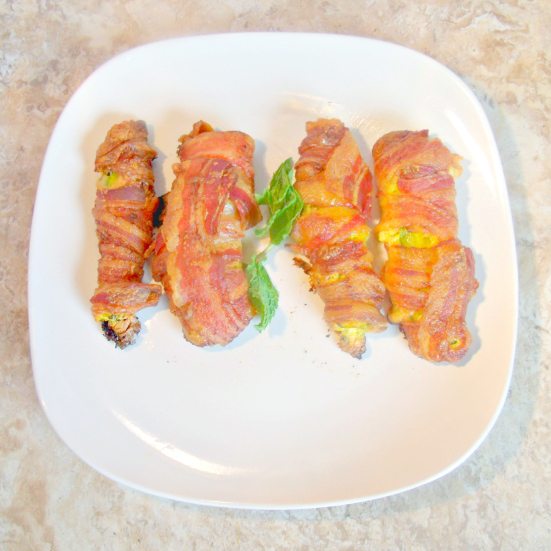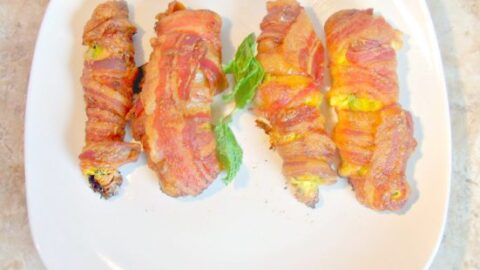 Yield:

8 pickles
Bacon Wrapped Stuffed Fried Pickles Recipe
A new twist on fried pickles, stuff them with cream cheese and wrap them in bacon. A recipe from Seduction in the Kitchen.
Ingredients
1 jar of dill pickles (stackers)
1 tub of onion and chive cream cheese
1 lb of bacon
5 tablespoons flour
1 egg
2 tablespoons milk
Instructions
First, you want drain the pickles out the jar, with a paper towel kind of dry them off. Try to get as much of the pickle juice off them. This will help keep the batter on the pickle. Then spread on some the cream cheese onto half the pickles. After the cream cheese is on them. Top them with the other half the pickles. Your making a pickle sandwich in a way. Much easier then hollowing out a pickle.
Next, combine the flour, egg, and milk to make a batter. Coat the pickles as best as you can in the batter. If the pickles still very wet it will slide off like the above photo shows. But as long as a little bit on it, it will be ok, do not panic.
Next it will get a bit messy your hands, but want wrap the bacon around the battered pickle sandwich. It takes about 2-3 slices of bacon to get them all nice and wrapped up. Place the bacon bundle pickles on a parchment lined cookie sheet. Bake them in a pre heated 350F degree oven. Yes I baked these. I just thought that would work better then frying them in hot oil. Plus. I didn't feel like playing with hot grease. Bake them for about 1 hour and 15 minutes. Keep checking on them, I like very crispy bacon, so why bake them as long as I did.
Take out the oven, let cool and then ENJOY!
Nutrition Information:
Amount Per Serving:
Calories:

0

I am Deanna Samaan, a phlebotomist by day and a blogger at night! Born in Pittsburgh, rebuilt my life in Cleveland, found my true self in Orlando. No matter where I am at, food always seduces me! Let your taste buds be seduced too!