I am a participant in the Amazon Services LLC Associate Program, an affiliate advertising program designed to provide a means for me to earn fees to Amazon.com and affiliate sites.
[intro]Caribbean Pulled Pork with Mango and Sorel Liquor BBQ Sauce is sweet and spicy and embodies what Caribbean food is about. This pulled pork recipe has a mango BBQ sauce that simply makes it over the top with yumminess.[/intro]
[spacer]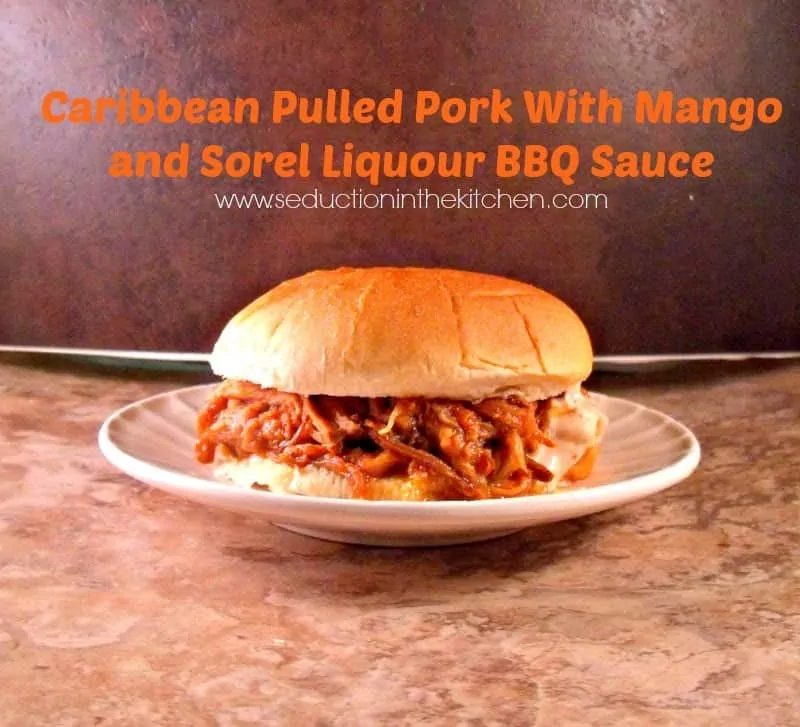 My Dad
[dropcap custom_class="normal"] I [/dropcap] know I been silent for the last week. I had personal family issues we are dealing with my father's health, it been stressful. As I write this post, I am in Pittsburgh with them.
My father had to have surgery and now we play a waiting game waiting for the results of the surgery. Did they get all cancer or does he have an aggressive form of colon cancer? They found a new growth when they went in to get more margins. So now the waiting game begins.
It is funny when you get to a certain age in life, you suddenly start realizing, mom and dad are not immortal. You really see them for the first time, the grey hair, the lines on the face, they have gotten older, and time is not that long. Seeing my dad in the hospital gown, I saw that, I saw him for the first time.
Yes, I know he is 65, but I have never thought of him as old> I have only seen him as my dad. The reality of it was, he isn't going to be around forever. It is just life.
We put blinders on, that is our mother, father, not an older person, that isn't my parents, they are not old. The reality is, yes they are. They also have gotten older, but they are still my parents.
No one wants to see their parents get sick. You want that person that taught you to ride a bike, ride that roller coaster with. Cried your eyes to over puppy love, put the band-aid on your knee. What is ironic, they accept getting older, but to us as the child, we don't want to accept that. That is our mother, our father, they are to be immortal.
Caribbean Pulled Pork with Mango and Sorel Liquor BBQ Sauce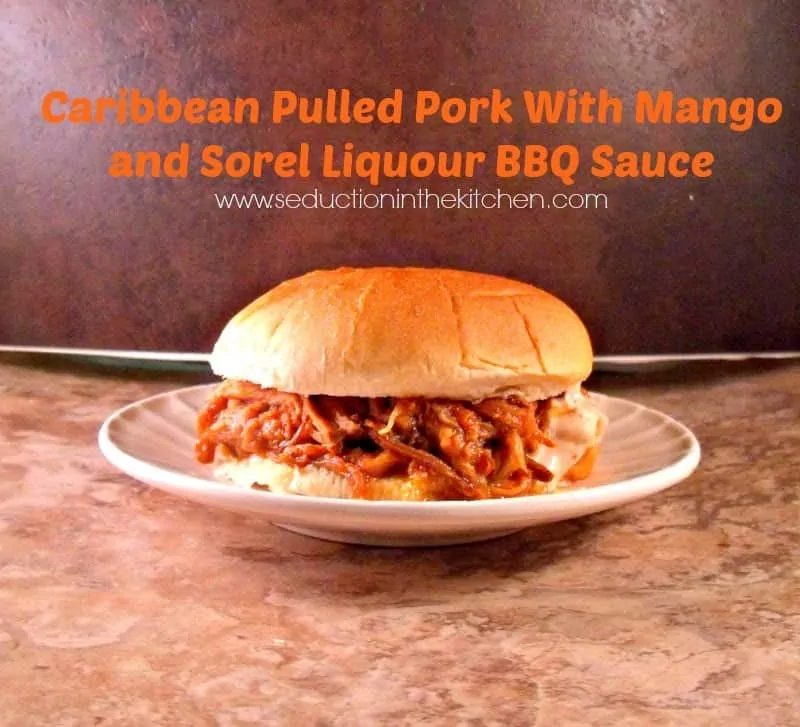 So with that, I will get on with this Caribbean Pulled Pork with Mango and Sorel Liquor BBQ Sauce recipe. You know I am a big slow cooker fan. Pulled pork is something that cooks so well in a slow cooker. I wanted to make this Caribbean pulled pork that was originally a Disney recipe.
Well, should say the mango BBQ sauce the Disney Recipe. However that recipe calls for pineapple pop or soda, we call it pop in Pittsburgh. Anyway, that pop is harder to find.
I can find it in Pittsburgh, but I have a harder time finding it in Cleveland. I got a Sorel Liquor from Jack From Brooklyn, I am in love with it. It has this sweet spicy taste to it, that, to me, I knew would be good in a mango BBQ sauce with Caribbean tones. It should give it a Jerk seasoning taste almost.
So I set about tinkering with this Disney mango BBQ sauce, instead of pineapple pop, I use just pineapple juice. Then change it up a little as I made the mango BBQ sauce, what I got was a great sweet yet spicy Caribbean Pulled Pork with Mango and Sorel Liquor BBQ Sauce sandwich that was simply amazing!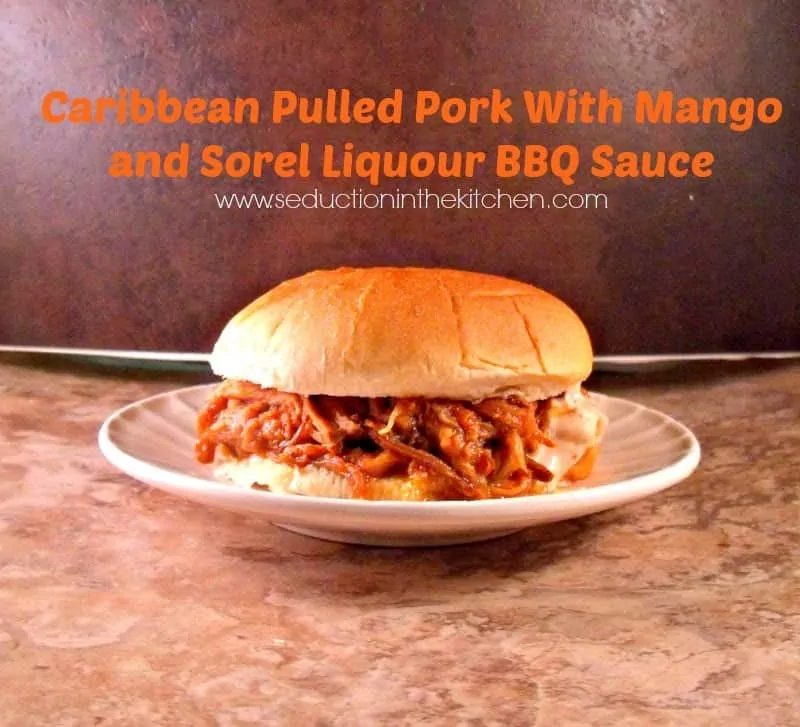 Check out these recipes:
BBQ Beef Tips with Mushrooms #CookoutWeek
BBQ Battered Fried Mushrooms
Yield: 8
Caribbean Pulled Pork with Mango and Sorel Liquor BBQ Sauce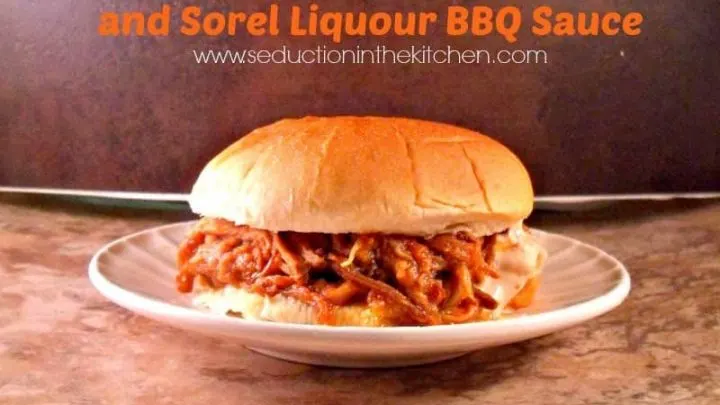 Sweet and spicy is what Caribbean food is about. This pulled pork recipe is just that, it has a mango BBQ sauce that simply makes it yummy. A recipe from Seduction in the Kitchen.
Total Time
6 hours
10 minutes
Ingredients
3 lbs Pork loin
1 1/2 cups pineapple juice
8oz mango nectar
1/4 cup tomato paste
2 teaspoons yellow mustard
1/2 cup brown sugar
1 teaspoon liquid smoke
2 tablespoons Caribbean Jerk seasoning
1/2 teaspoon black pepper
1/8 cup Sorel Liquor Optional
1 cup water
1/4 apple cider vinegar
Buns
Instructions
Place about 1 cup of the pineapple juice and about 1/4 of mango nectar in a crock pot, place the pork in the liquid and set on low and let it cook for about 4 hours. **Side note, I slow cooked this for a long time, this a good recipe to let it cook overnight if you wanted to host a BBQ**
In the meantime, make the BBQ sauce. In a sauce pot, combine the rest the mango nectar and pineapple juice, bring to a boil. When starts to boil add the tomato paste, brown sugar, mustard, liquid smoke, Sorel (optional), vinegar, water, and the seasonings. Taste it to adjust the seasonings to what you like. You can add some chili powder, garlic powder, and onion powder if you want, depends on your tastes. Let all dissolve and come to a simmer for about 20-30 minutes. Then set it aside.
After the pork has simmered in pineapple juice for a few hours, add HALF the BBQ sauce to the crock pot. Let it slow cook on low, I did it for 10 hours, really that was just taste you could slow cook it for another 4 hours and it will be fine. I wanted it very tender so why I opted for a longer time. It is all a matter of taste. The reason for cooking in the pineapple juice then adding the BBQ sauce, first I am infusing it with the sweetness, then adding the savory to it. I come to find it makes a great harmony of flavors doing it that way.
When it is done cooking, take the roast out the crock pot and put it in a bowl. With 2 forks, shred the pork.Add, about 1/4 cup the cooking liquid to the shredded pork.
Add the rest the BBQ sauce and mix it all together.
Serve on a bun and ENJOY!
Nutrition Information:
Amount Per Serving:
Calories:

422
Total Fat:

22g
Saturated Fat:

7g
Trans Fat:

0g
Cholesterol:

107mg
Sodium:

170mg
Carbohydrates:

21g
Fiber:

1g
Sugar:

18g
Protein:

34g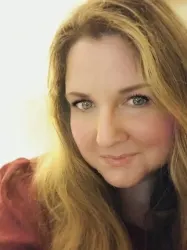 Latest posts by Deanna Samaan
(see all)