I am a participant in the Amazon Services LLC Associate Program, an affiliate advertising program designed to provide a means for me to earn fees to Amazon.com and affiliate sites.
Pittsburgh Devonshire Sandwich is an open face turkey sandwich that is part of the Pittsburgh sandwich's origins. This turkey Devonshire is perfect if you are craving a taste of Pittsburgh. The Devonshire recipe is a hot sandwich recipe that is very satisfying.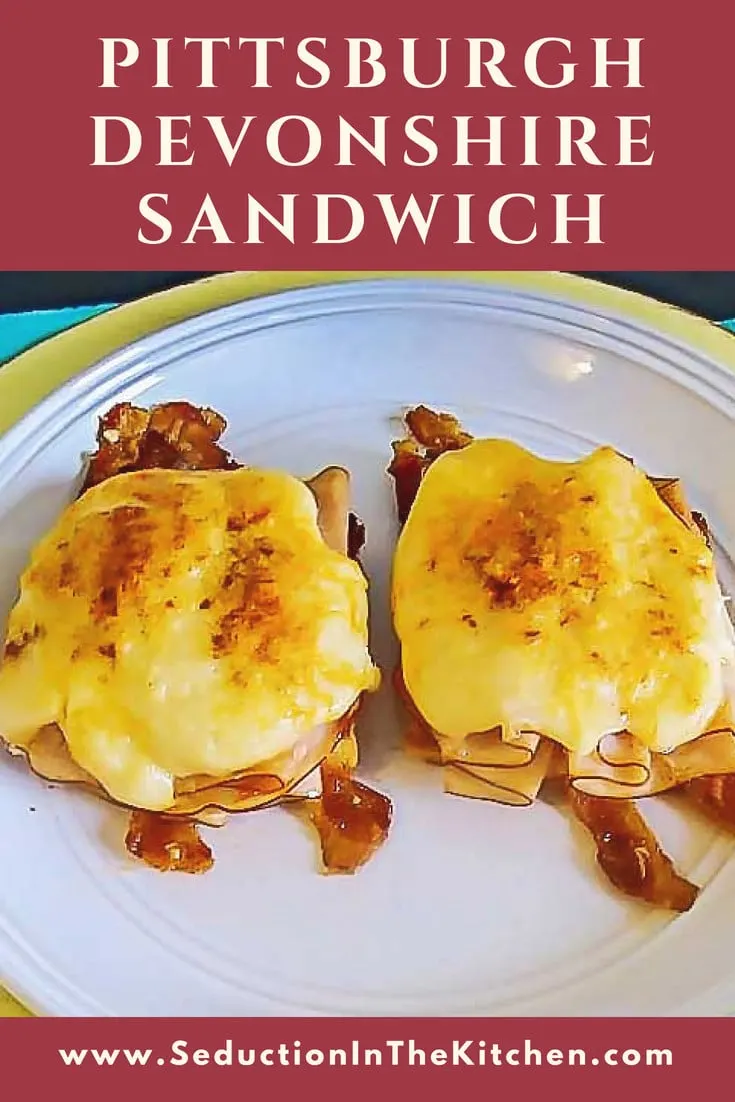 Pittsburgh Girl
I am a Pittsburgh girl who lives in Cleveland. Life can be interesting. Why? I am a native Pittsburgher living in Cleveland.
It is a football thing. Plus I get made fun of because I have the Pittsburgh accent. Clevelanders cannot understand my Pittsburghese.
I didn't know I actually spoke another language until I moved to Cleveland. Why? Well here is a little history lesson for you on Pittsburghese.
When immigrants were coming over to the US to live, something interesting happened in PA. In the Pittsburgh region, you learn they did not want anyone to feel out-of-place.
There is a huge diversity of people from different countries in the Pittsburgh area. They all started adopting how they talked. That is why you have "gum bands" and "yinz" in the Pittsburgh language.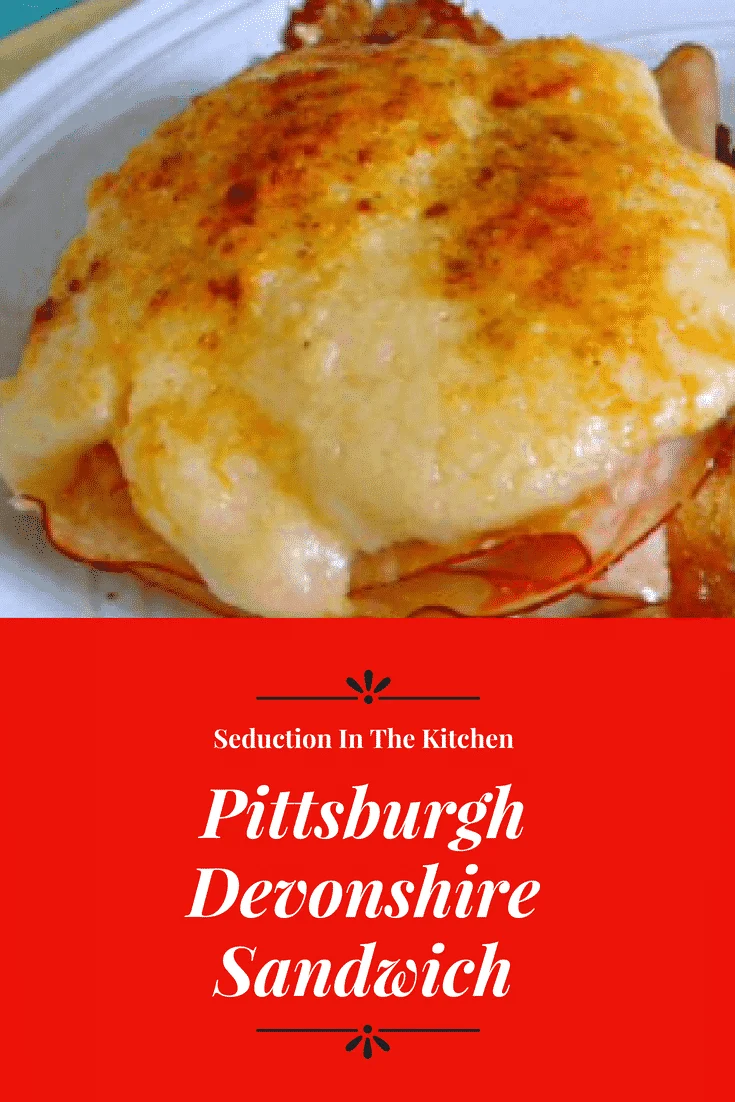 Pittsburgh Sandwiches
Why am I telling you all about my hometown of Pittsburgh? I decided to do the Devonshire Sandwich which is part of the Pittsburgh sandwiches family.
Pittsburgh has plenty of Pittsburgh sandwiches. The most famous of the Pittsburgh recipes is the Primanti Bros Sandwich.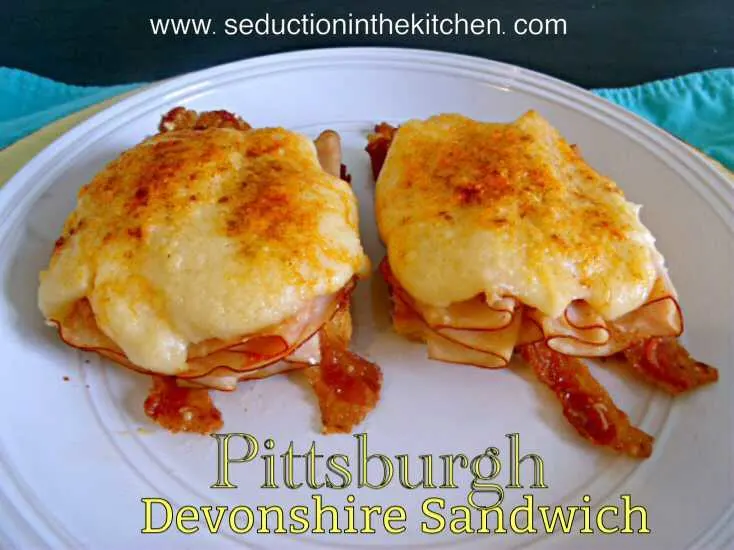 Turkey Devonshire
So I thought let's do another famous sandwich, the turkey Devonshire. Yes, the Devonshire recipe was invented in Pittsburgh. That open-face turkey sandwich is a Pittsburgh original recipe.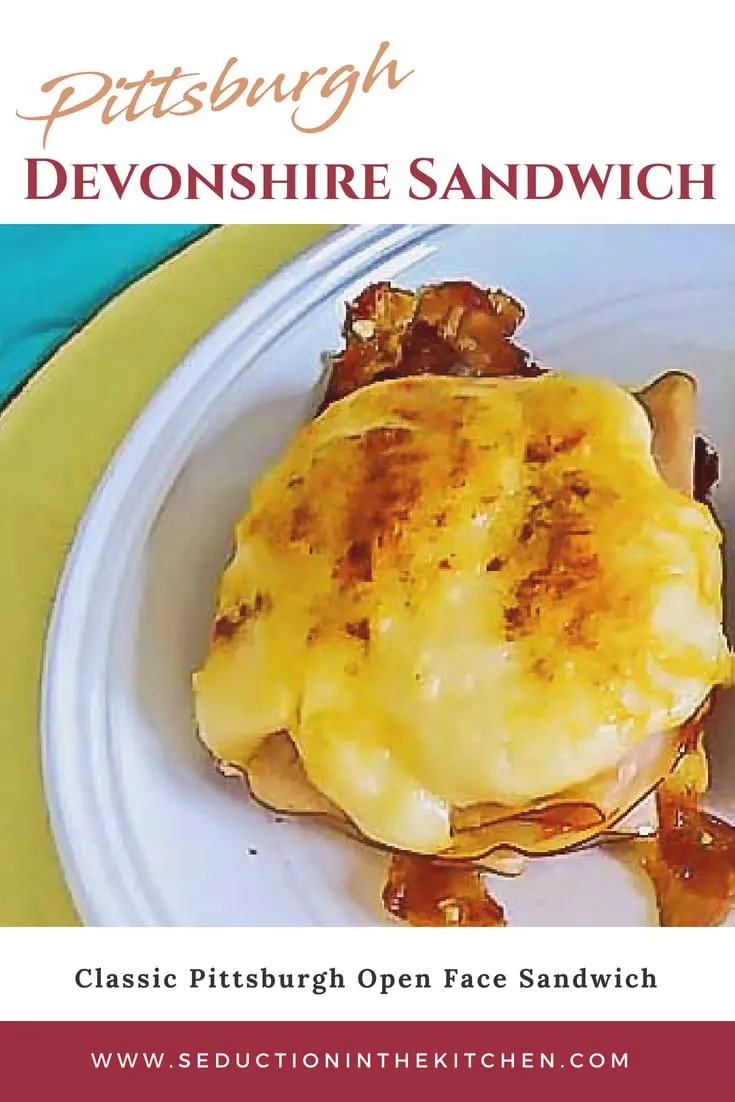 Pittsburgh Devonshire Sandwich
The Devonshire sandwich originated in the 1930s by a man named Frank Blandi. He first served them at The Stratford in the Shadyside neighborhood.
The name for this sandwich came to him when he operated the Lemont Restaurant in Mount Washington Looking down at the city of Pittsburgh, he could see Devonshire Street. He thought that would make a good name for a sandwich. That is how the Pittsburgh Devonshire sandwich got it's name!
The Devonshire
The Devonshire sauce is what makes this sandwich. That cheese sauce on this open face sandwich is so wonderful. Here is this hot sandwich recipe from Frank Blandi.
I got The original Devonshire recipe from an old Pittsburgh Post-Gazette clipping. So enjoy this open face turkey sandwich that is part of the Pittsburgh sandwiches.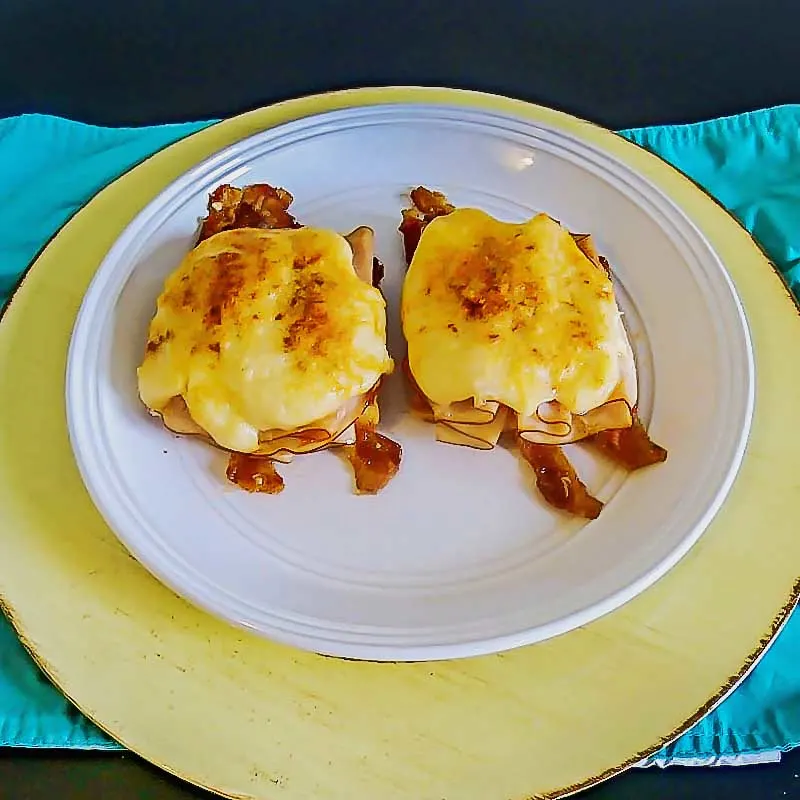 Yield: 2 sandwiches
Pittsburgh Devonshire Sandwich Recipe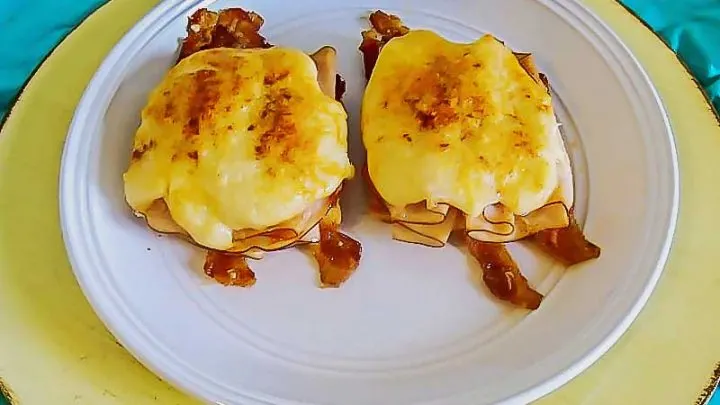 Pittsburgh Devonshire Sandwich is a sandwich you can make if you're craving a taste of Pittsburgh. Anyone who has lived in Pittsburgh knows the rich, satisfying open-face sandwich that was created by Frank Blandi.
Ingredients
3/4 stick butter (melted)
1 cup flour
1/4 pound Cheddar cheese (grated)
1 pint chicken broth
1 pint hot milk
1 teaspoon salt
1 slice good toast (crusts trimmed off)
3 slices crisp bacon
5 slices thin cooked turkey breast
Cream Sauce (recipe above)
Melted butter
Parmesan cheese and paprika
Instructions
To make the Cream Sauce:
Melt 3/4 stick butter in deep pan and add flour, stirring constantly.
Add chicken broth and then hot milk and salt, for 20 minutes, still stirring.
Cool to lukewarm. Beat with wire whip until smooth before using. This makes enough sauce for 6 Devonshire sandwiches.
Preheat oven to 450 degrees.
In each flat, individual oven-proof casserole dish, place 1 slice of toast and top with 3 slices bacon.
Add 5 thin slices of cooked turkey breast.
Cover completely with cream sauce.
Sprinkle with a little melted butter, then with the combined Parmesan cheese and paprika.
Bake 10 to 15 minutes or until golden brown.
Take out the oven and ENJOY!
Nutrition Information:
Amount Per Serving:
Calories:

0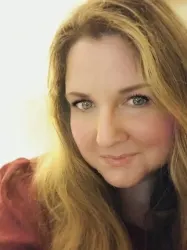 Latest posts by Deanna Samaan
(see all)