No Carb Vegan Portabello Panini is a healthy, no carb panini that uses portabello mushrooms. It is a vegan sandwich that anyone will love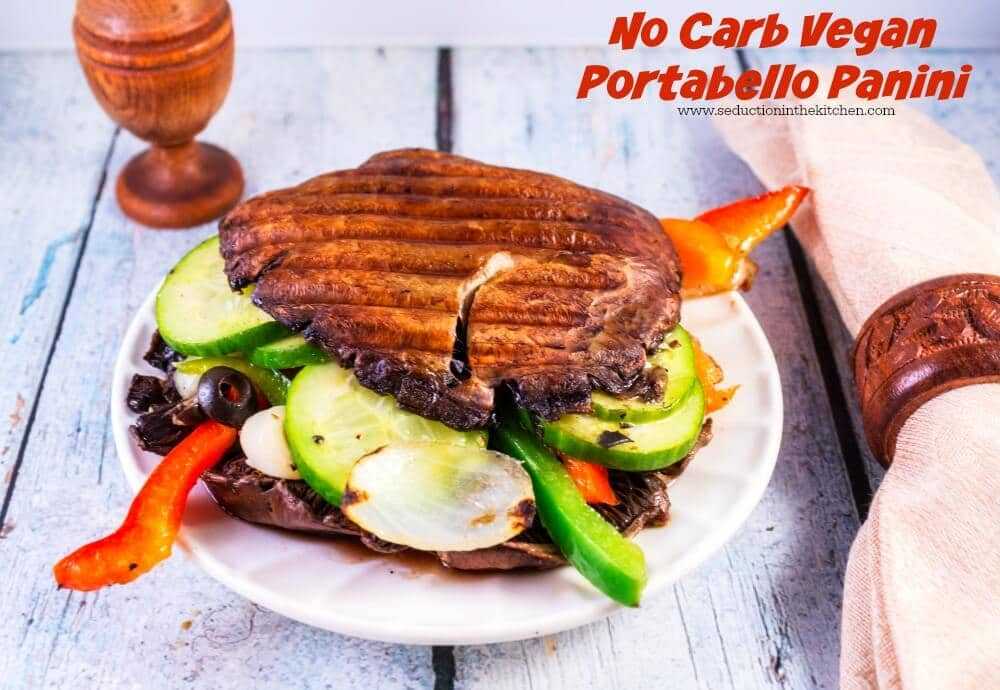 Set A Goal
H
ave you ever been just happy that you have accomplished something? You set yourself a goal, and you do what you can and you see yourself accomplishing it? That is me right now. One of my New Year's "hopes" I set for myself for myself was to get healthy and try to get serious about losing weight. As I mentioned in the last post on
One of my New Year's "hopes" I set for myself for myself was to get healthy and try to get serious about losing weight. As I mentioned in the last post on  Banana Foster Bread, I recently joined a gym with a friend. So we have been going very regularly and it feels wonderful.
I don't feel out-of-place in the gym. In fact, the motivation we are giving each other by going together is wonderful! I actually look forward to going to the gym, which I never did before.
My advice I can give someone who wants to go to the gym but can't go by themselves, speak up. Talk to friends and coworkers, admit you don't like going yourself and you found a trial and want to try it but need a someone to go with.  Someone might be interested in trying it with you.
You might be surprised at who else is just like you. Me speaking up that day at work was the best thing, if I didn't, I would never join the gym. I have been wanting to lose weight but not doing anything about it. Everything truly happens for a reason. I really believe that.
Could be the exercise high people claim they get from working out, but I really do feel wonderful. I can not explain this euphoria I have been feeling. All I can say is, once you start doing something like this, going to the gym regularly with a friend, it is a wonderful feeling you have.
No Carb Vegan Portabello Panini Recipe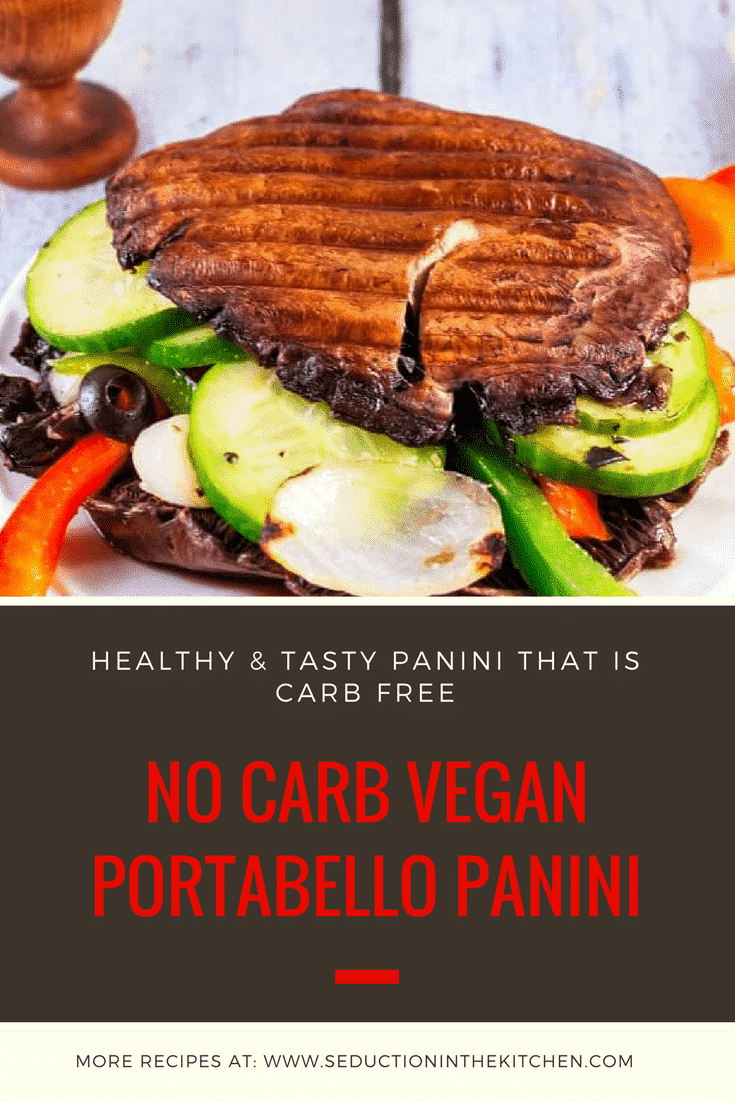 I'm on a health kick right now. I admit I been wanting to make a vegan dish for a while. So it is why I came up with this No Carb Vegan Portabello Panini.
Now I know you might be thinking, No Carb Vegan Portabello Panini? Vegan isn't as bad as you might think. Actually, the most popular recipe here on Seduction in the Kitchen is a vegan recipe. It is the Vegan Lemon Garlic Angel Hair Pasta. In my opinion, pasta is the easiest thing to make into a vegan dish because most pasta is just flour, oil, and water. I think more people are open to trying vegan, as long as it is easy to make.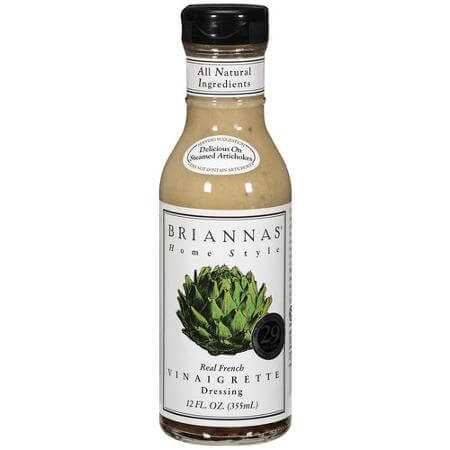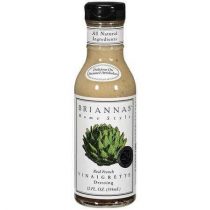 I really wanted to think outside the box for a carb-free recipe. Portabello mushrooms just simply intrigue me. Most will use them in place of meat in sandwiches.
So why not use them as the bread in a sandwich? To make this No Carb Vegan Portabello Panini pop with flavor, I knew I needed to give the veggies inside the sandwich a good marinade. To make this a vegan panini, I knew I needed a vegan marinade.
Hello, Brianna's Real French Vinaigrette Dressing! This dressing is vegan and it is also gluten-free! That is a  BONUS! I discovered Brianna's when I went to the Fabulous Food Show in November, and I am so glad I did because it is perfect for this No Carb Vegan Portabello Panini.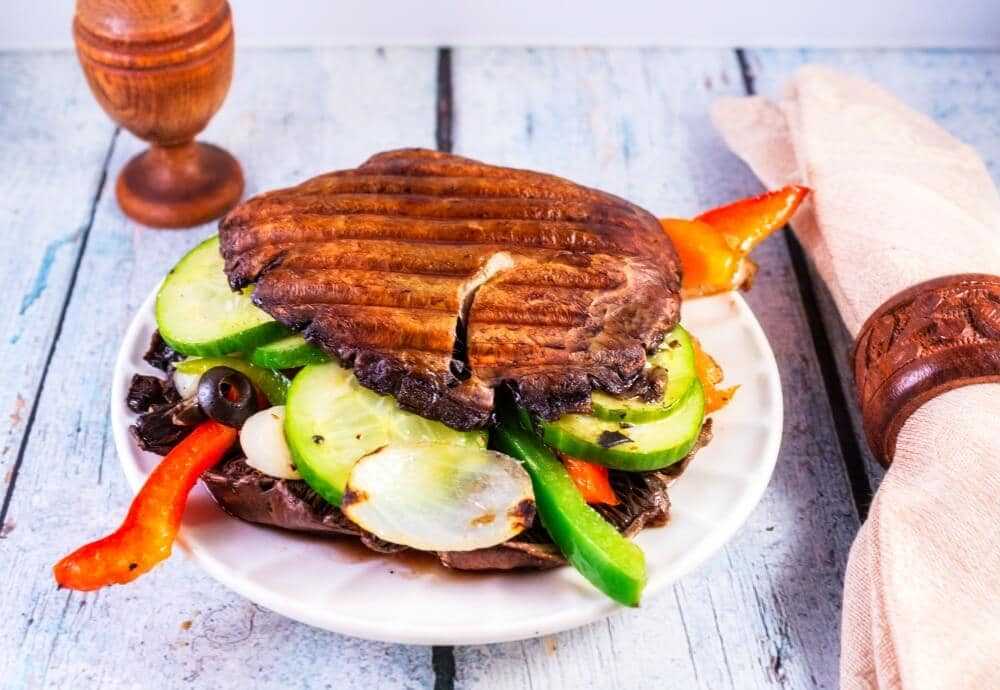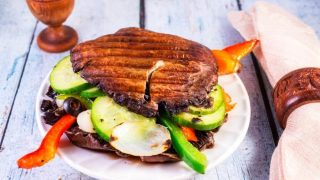 Yield:

2
No Carb Vegan Portabello Panini
A healthy, no carb panini that uses portabello mushrooms. It is vegan sandwich that anyone will love. A recipe from Seduction in the Kitchen.
Ingredients
4 portabello mushroom caps stem removed
1 small seedless cucumber sliced
4 oz sliced black olives drained
1 small onion quartered
1 red bell pepper chopped
1 green bell pepper chopped
1/4 cup Brianna's Real French Vinaigrette Dressing
Instructions
In a small bowl, add your veggies, except for t.he mushrooms, leave them aside.
Pour Brianna's Real French Vinaigrette Dressing over the veggies and make sure they are well coated, let them marinade for at least an hour in the dressing.
Heat up your panini press, brush it with a little olive oil.
Brush a little of the olive oil on the tops of the portabellos.
Place 2 of the portabellos on the panini press so that round side is on the grill and the underneth of the mushroom is facing up.
Put the veggies on top the portabellos.
Then put the other two portabello caps on top the veggies, so all sandwiched together.
Slowly pull down on the panini press. The mushrooms will want try and split and veggies may try to come out. Bringing the press down slowly does help with that.
Cook the mushrooms for about 2 minutes.
Take them out the press, and ENJOY!
Nutrition Information:
Amount Per Serving:
Calories:

278
Total Fat:

22g
Saturated Fat:

4g
Trans Fat:

0g
Cholesterol:

0mg
Sodium:

427mg
Carbohydrates:

20g
Fiber:

6g
Sugar:

9g
Protein:

4g
This post was most recently updated
I want to hear what you have to say about this recipe that is on
SEDUCTION IN THE KITCHEN!
Let's get this conversation started! What do you think of this recipe?