Marinated Garlic Mushrooms is a wonderful Syrian food recipe. It features marinated mushrooms that burst with a  wonderful garlic flavor. Syrian marinated garlic mushrooms will become your new addiction to snack on.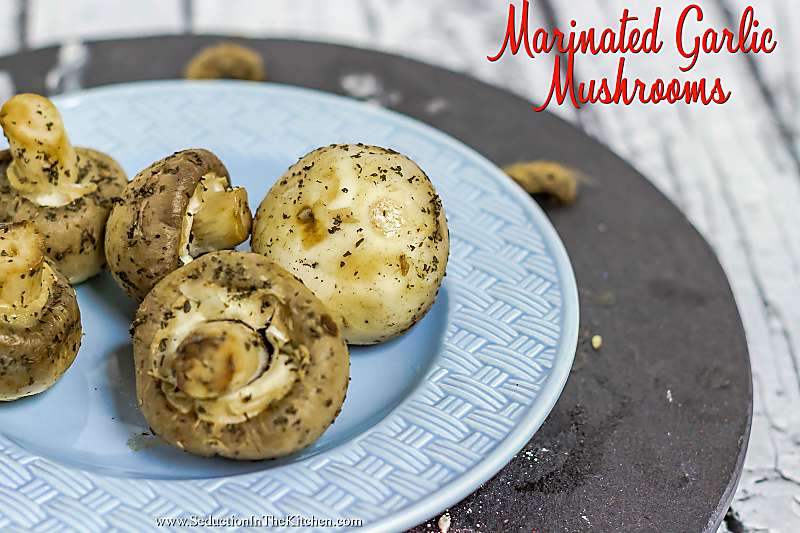 I married a Syrian man
A

s you may or may not know, my ex-husband was from Syria. In my attempt to try and please him, I wanted to learn Syrian food recipes. I believed that our home should be comfortable for both of us.

I wanted to have a fusion in our home of my Pittsburgh style and his Syrian heritage. His cousin encouraged me to believe in that because he thought I would be good for him to "loosen up."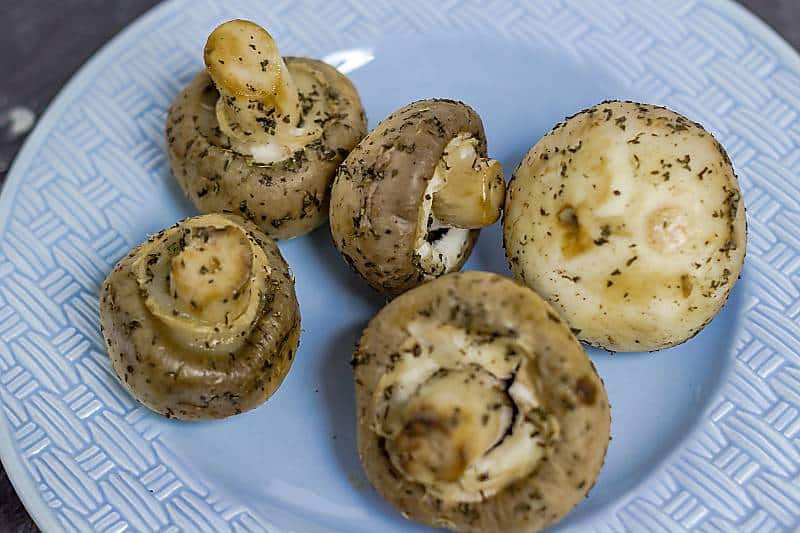 Syrian Marinated Garlic Mushrooms
To help me with living with the ass, his cousin, who loved to cook, showed me some of his prized recipes. One of which was these marinated garlic mushrooms. Everyone he made them for would go crazy over these morsels of yumminess.
What made these marinated mushrooms stand out was the garlic. Also that they are marinated mushrooms raw. So they are great for snacking. But wow, they can be very strong in the garlic area as well.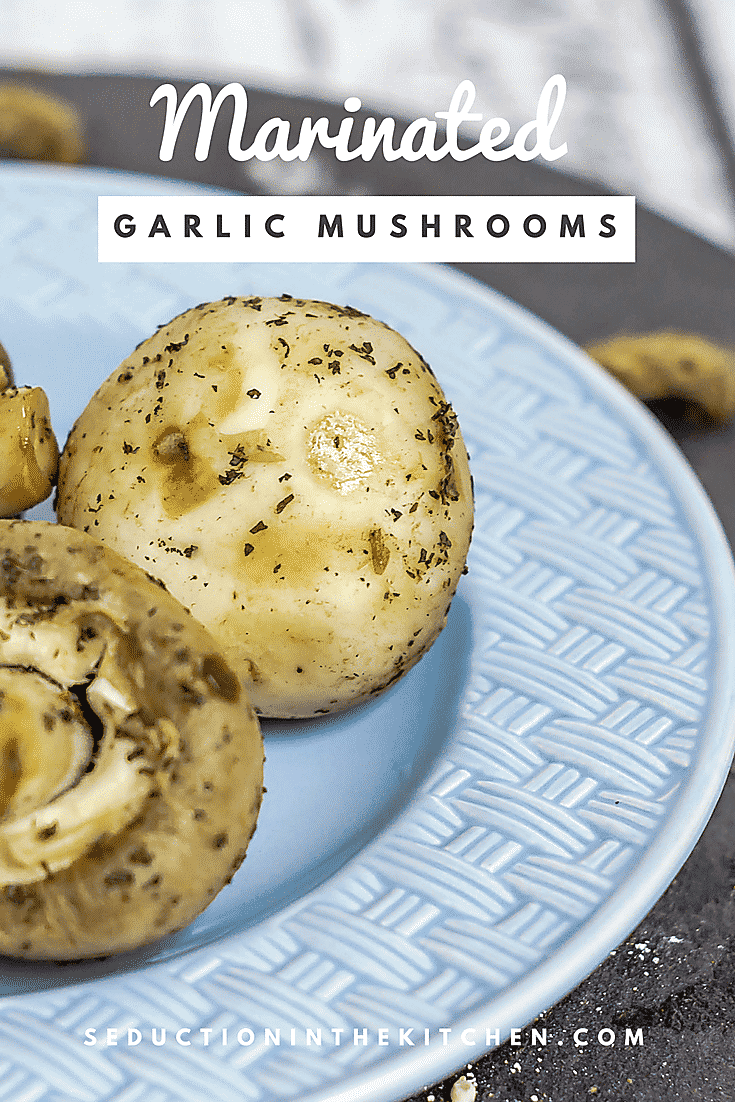 Marinated Garlic Mushrooms
So I had to dig into my past for this Syrian marinated garlic mushrooms recipe. My ex's cousin girlfriend gave me a community cookbook as a gift. It was from her hometown but he had published this marinated mushrooms recipe in it.
Truth is, when I was going through the divorce, I never saw his cousin again. When I was moving out the apartment I shared with my ex, I left that cookbook with him. I did not want any parts of him or his family at that point.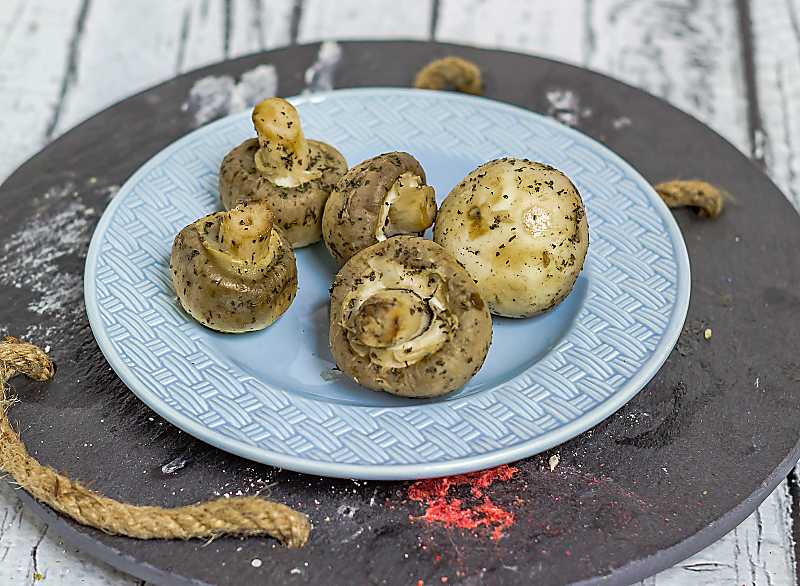 Marinated Mushrooms Craving
Well, recently I was craving these marinated mushrooms. I tried finding this Syrian food recipe online and no luck at all in finding it. Yet, I did have an idea of how he made these Syrian marinated garlic mushrooms. His cousin did show me when I was a newlywed.
I love mushrooms and was about to give up finding this marinated mushrooms raw recipe. Then I stumbled across a recipe for Italian mushrooms. That marinated garlic mushrooms recipe was like his cousin's Syrian marinated garlic mushrooms.
I had to make a couple of small changes to that marinated mushrooms raw recipe. For example, the Syrian marinated garlic mushrooms use mint instead of parsley. Also, this Syrian food recipe also uses lemon juice in it instead of vinegar.
I made the marinated garlic mushrooms recipe with the Syrian substitutes and BINGO! I cracked my ex-husband's cousins Syrian marinated garlic mushrooms recipe. I finally was able to please that craving I was having!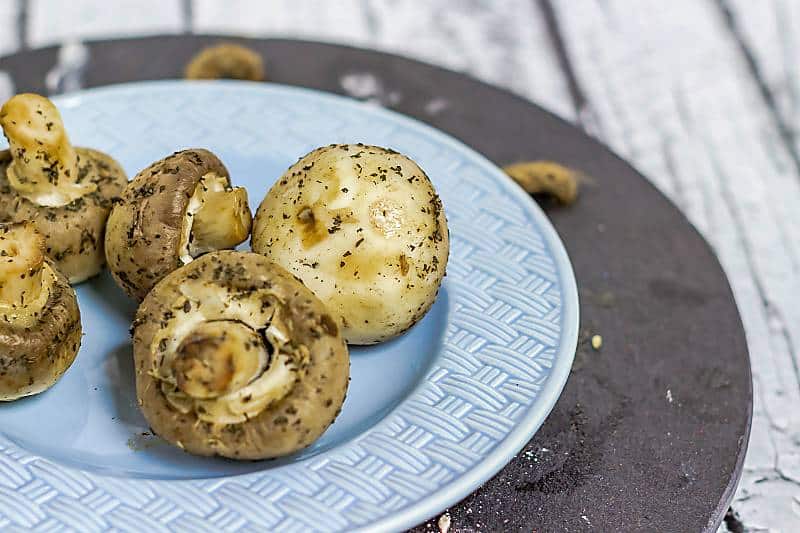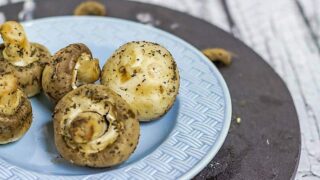 Yield:

16
Marinated Garlic Mushrooms Recipe
Syrian mushrooms is a flavorful appetizer that bursts with flavor that is very addicting. A recipe from Seduction in the Kitchen.
Ingredients
8 oz mushrooms
4 cloves garlic chopped
3 tablespoons mint
1 lemon, juice of
5 -6 tablespoons extra-virgin olive oil
salt
Instructions
In a bowl, whisk everything but the mushrooms together.
Add the mushrooms
Toss to coat the mushrooms well.
Refrigerate for at least 4 hours, tossing occasionally.
Serve them up and ENJOY!
Nutrition Information:
Amount Per Serving:
Calories:

185
Total Fat:

19g
Saturated Fat:

3g
Sodium:

213mg
Carbohydrates:

4g
Fiber:

1g
Sugar:

1g
Protein:

2g
This post was most recently updated
I want to hear what you have to say about this recipe that is on
SEDUCTION IN THE KITCHEN!
Let's get this conversation started! What do you think of this recipe?