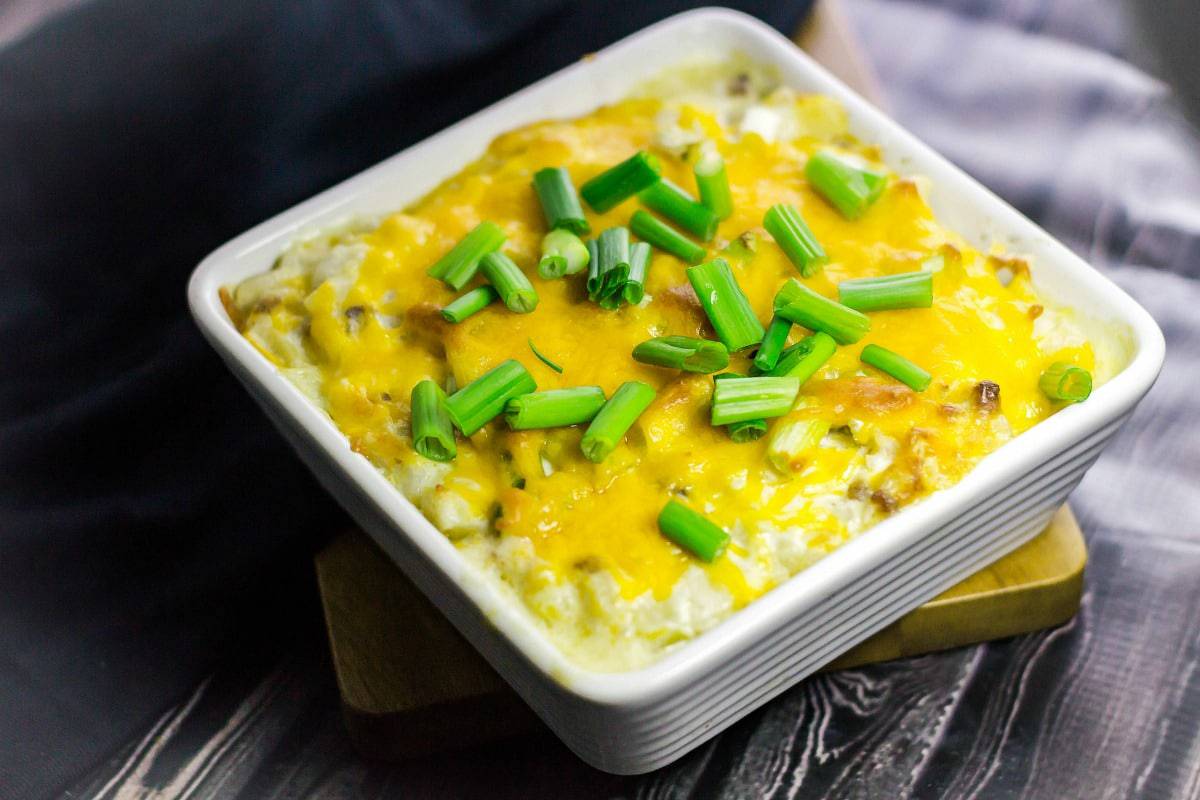 Disclosure: This post may contain affiliate links.
You are here:
Home » Side Dish » Loaded Mashed Cauliflower Casserole
Loaded Mashed Cauliflower Casserole is a wonderful healthy low carb alternative for loaded mashed potatoes! It will be your favorite new side dish!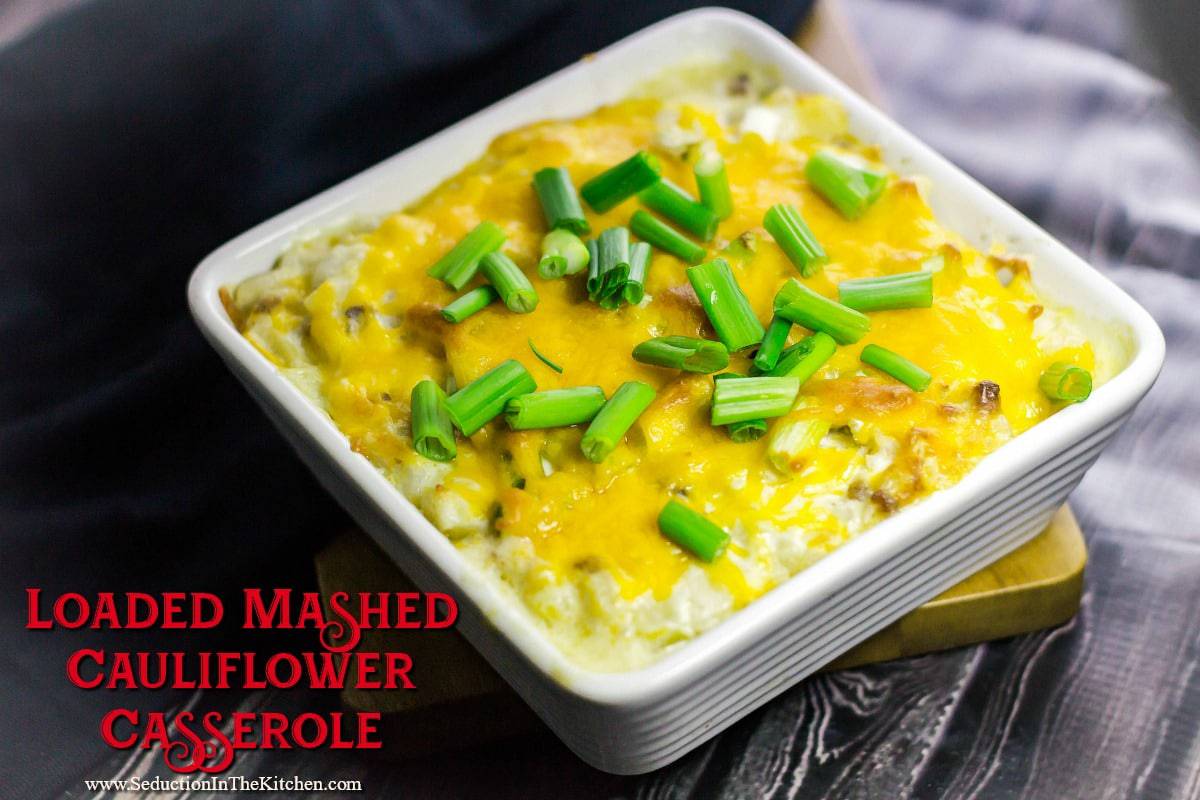 2018
2
018 has finally arrived. Yes, I am starting the first recipe of this year with this healthy Loaded Mashed Cauliflower Casserole. Healthy eating is one my goals this year like it is every year. How long I stick to it, well that is another story.
It not that I don't want to eat healthier my biggest issue truthfully is just how I work. I am a phlebotomist and when you work in healthcare you work over 40 hour weeks. I probably average 60 hours every week.
How do I get 60 hours when working in a health center? I give the average scenario that happens all the time. It not just to me it to all labs across the continent.
Ok, my lab closes at 4:30 pm. You walked in at 4:28 pm, I can not turn you away. Yes, I would like to I like to go home. I have been there since 7:00 am, but I cant.
It takes a good 5 minutes to get you registered, then another 5 minutes to get the labels pulled, the tubes needed for your blood test, and set up. Another 2 minutes to find the vein that is best for obtaining the sample. Then maybe 2 minutes for the actual draw. Then I wrap you up in the bandage, and you leave.
So now I get to go home right, because that was the last patient, and it was only 15 minutes past close time, right? Nope, not really, I still have to receive your blood then process it. If it a tube that has to clot before I can spin it. That takes 10 minutes for the average person sample to do that.
Next, it has to spin which is another 10 minutes. So now I am up to 35 minutes past the closing time of my lab. What you didn't know when you came minutes before we close is, I had to also work through my lunch.
99% the time I won't get a lunch. Why? The same situation, a person came in 2 minutes before lunch. Unlike this, I can hold off on spinning, but the 10 minutes to register and pull labels, then the draw, I am 15 minutes into my lunch break, which is only a half hour, so guess what, no lunch for me. That is how I get over 60 hours every week in healthcare.
With no lunch, and having to stay later, yeah the eating habits are horrible for me. So grabbing the unhealthy foods is easier when you have a work schedule like I do. I do try, I really do try to do healthy.
Loaded Mashed Cauliflower Casserole Recipe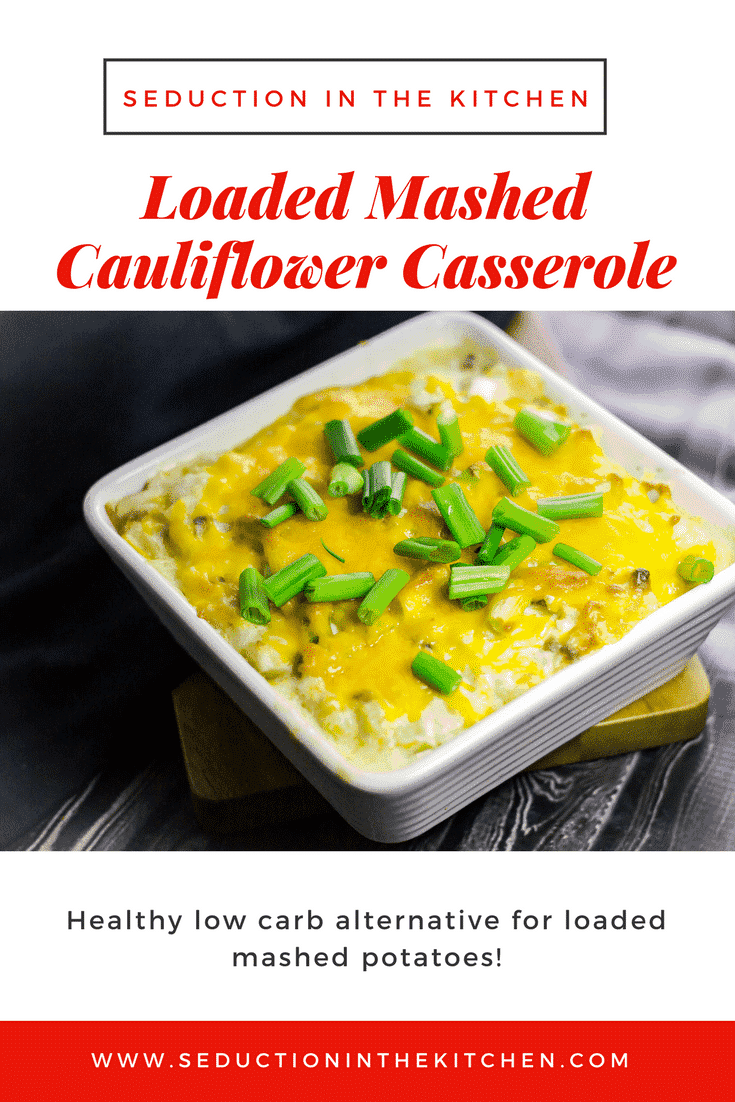 So this Loaded Mashed Cauliflower Casserole post I am trying something new and it is for Pinterest. I am one trying different stylings of the recipe pins. This graphic above is one the styles I am playing with. I also have another one hidden in the post as well for Pinterest.
I am always about improving myself. Last year the majority was learning SEO. This time it is Pinterest. I want to up my Pinterest game. So not only am I starting 2018 off with this healthy Loaded Mashed Cauliflower Casserole but also with a new Pinterest strategy.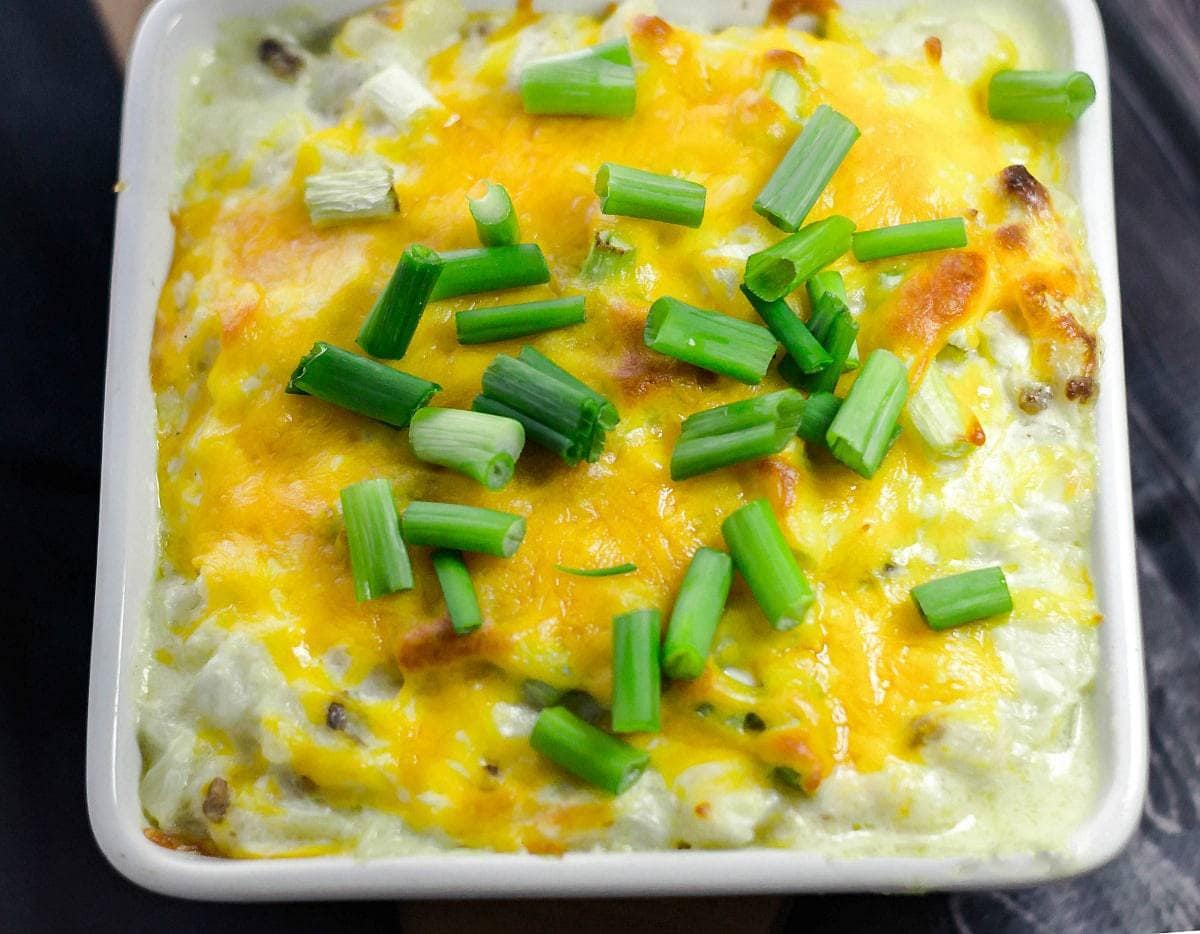 Let's get to this low carb Loaded Mashed Cauliflower Casserole now shall we? Right before Christmas, I wanted to develop healthy recipes because I knew in January that is what people look for. Well, I didn't get a lot done like I had hoped. In fact, I think I only got 2 recipes developed, this Loaded Mashed Cauliflower Casserole and a healthier version of Ranch dressing.
I have seen so many people talk and use cauliflower in recipes when they are going low carb. I personally never tried any of them. I didn't know how I would like the recipe in all honesty. If I have cauliflower, I like smothered in cheese, not as the crust for my pizza.
I am trying to be healthier as I said above. So a friend made what I thought was mashed potatoes for me to try one day. Imagine my surprise when I found out after eating a dish of her creation it wasn't mashed potatoes. It was mashed cauliflower.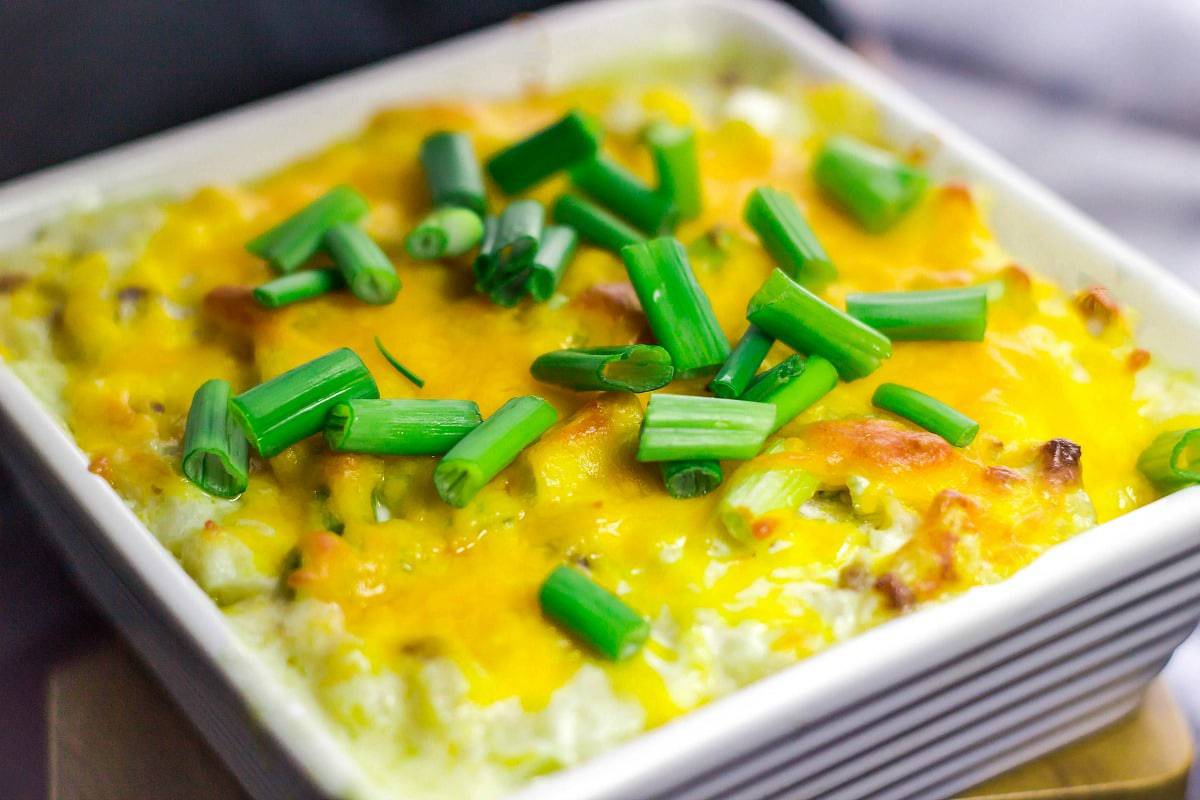 I didn't miss my potatoes. I am an Irish girl, potatoes are in our blood. This faux potato dish inspired me to do something with the cauliflower that I have been avoiding for so long.
Well, Loaded Mashed Cauliflower Casserole sounded like it would be something I like after I did a bit of research. It did not disappoint when I was playing with the recipe. Actually now has become one of my favorite side dishes I like to make.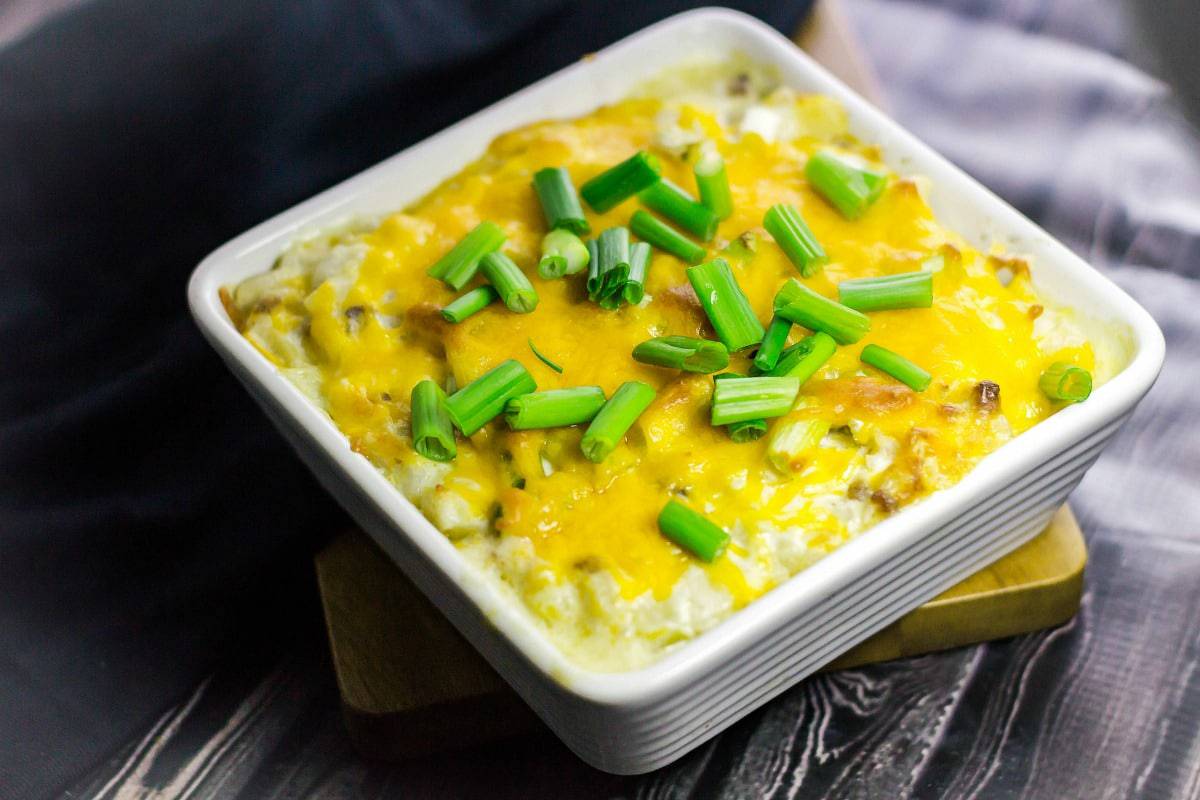 Check out these recipes:
Loaded Mashed Cauliflower Casserole
Loaded Mashed Cauliflower Casserole is a wonderful healthy low carb alternative for loaded mashed potatoes! It will be your favorite new side dish!
Ingredients
Directions
Cook the cauliflower accrording to the package
Once cooked, add the cauliflower to a medium bowl.
Add in the sour cream, about 1 cup of the smokey bacon cheese and 1/2 cup of the cheddar cheese, half of the green onions, bacon, and the onion powder, salt, pepper. Mix eerything well.
Spray a baking dish with nonstick spray.
Place the cauliflower mixture in it.
Top with the remaining cheese.
Place it in a preheated 350 degree oven and bake for about 20 minutes
Cook it till the cheese on top is melted and bubbly.
Remove from oven. Let the casserole rest for 2-3 minutes. Sprinkle the remaining green onions on top, serve it up and ENJOY!

Is this something you would love to whip up in your kitchen? Share it and inspire others with this recipe! 
Products from Amazon.com
‹
›
XOXO